*This article is still under development since the tournament schedule may not be final and may change at any given time.
EVO Japan 2020 is tomorrow and will feature the best of Japan, Asia, and America duking it out for glory and the top spot in many fighting games.
Said titles include Street Fighter V, Tekken 7, BlazBlue Cross Tag Battle, Samurai Shodown, SoulCalibur VI, and Super Smash Bros. Ultimate. You can read about the prize pool here. If you want to find out what time the matches are for each title, you've come to the right place.
All streams are in JST time (1 hour earlier).
Streams
Watch live video from evo on www.twitch.tv
Watch live video from evo2 on www.twitch.tv
Watch live video from evo3 on www.twitch.tv
Day One – 24 January
9:30am – 10:30pm ❘ Super Smash Bros. Ultimate Qualification

10:00am – 4:00pm ❘ Samurai Shodown Qualification

10:00am – 7:00pm ❘ Soulcalibur VI Qualification

11:00am – 10:30pm ❘ Blazblue Cross Tag Battle Qualification

12:00pm – 9:00pm ❘ Street Fighter V Qualification

12:00pm – 7:00pm ❘ Tekken 7 Qualification

16:30 – 19:30 ❘ Samurai Shodown Semi-Final

19:30 – 22:30 ❘ Soulcalibur VI Semi-Final
Day Two – 25 January
09:00am – 5:20pm ❘ Super Smash Bros. Ultimate Qualification

09:00am – 1:00pm ❘ Tekken 7 Qualification

09:00am – 11:30am ❘ Blazblue Cross Tag Battle Semi-Final

11:40am – 2:30pm ❘ Soulcalibur VI Final

1:00pm – 3:30pm ❘ Tekken 7 Semi-Final

1:30pm – 6:30pm ❘ Street Fighter V Qualification

3:20pm – 5:30pm ❘ Samurai Shodown Final

5:20pm – 8:20pm ❘ Super Smash Bros. Ultimate Semi-Final

6:20pm – 9:00pm ❘ Blazblue Cross Tag Battle Final

6:30pm – 9:00pm ❘ Street Fighter V Semi-Final
Day Three – 26 January
9:00pm – 12:00pm ❘ Tekken 7 Final

12:30pm – 4:00pm ❘ Super Smash Bros. Ultimate Final

4:30pm – 8:00pm ❘ Street Fighter V Final
Results
Street Fighter V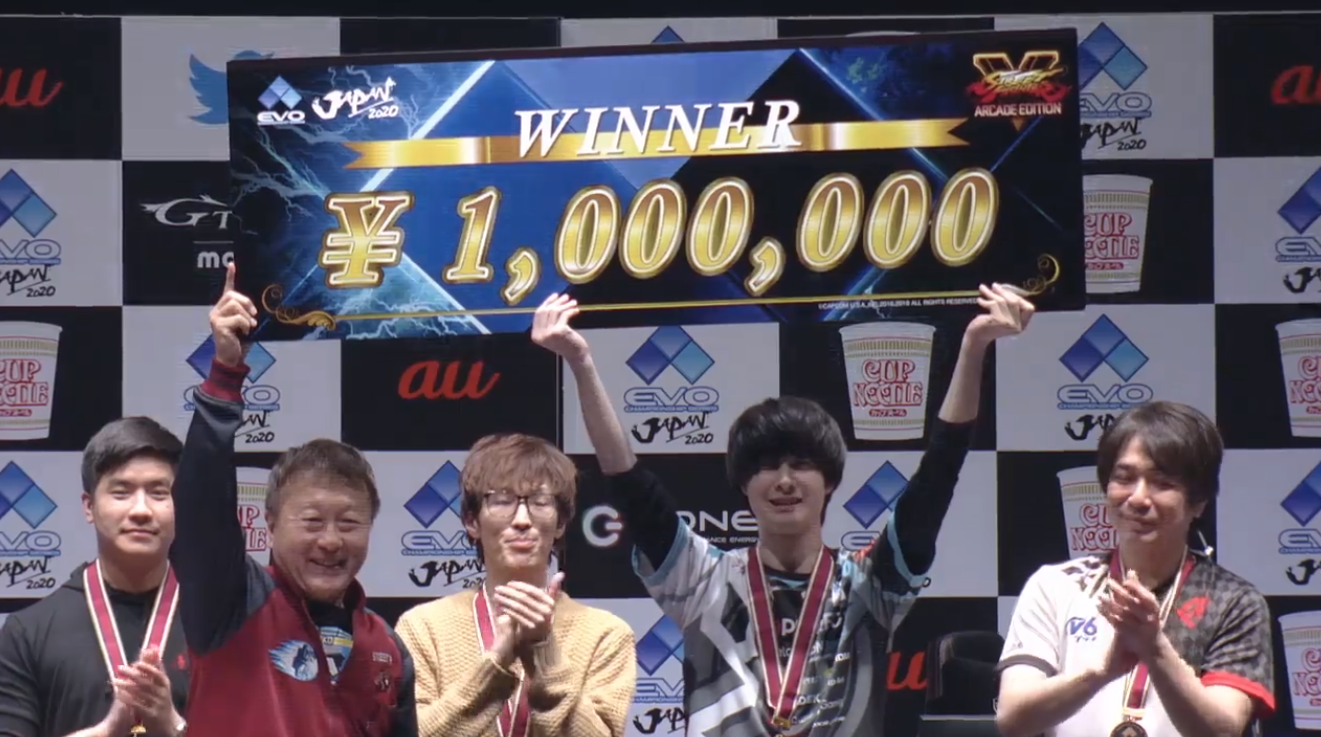 1. DNG|Nauman (Sakura)
2. Mago (Cammy, Karin)
3. FAV|Sako (Menat, Kage)
4. NuckleDu (G, R. Mika, Cammy, Guile)
5. Infiltration (Juri, Menat, Kolin)
5. DNG|Itabashi Zangief (Abigail, Zangief)
7. Trashbox (Birdie, Ed)
7. YG|Machabo (Necalli)
1. Talon|Book (Leroy)
2. ITO|Mikio (Julia)
3. COOASGAMES|Noroma (Leroy, Steve)
4. EQNX|Ulsan (Kazumi, Bob, Leroy)
5. Liquid|Gen (Leroy, Shaheen)
5. THY|Chikurin (Leroy)
7. Masa (Leroy)
7. Zeugal (Leroy)
Super Smash Bros. Ultimate
1. SST|Shuton (Olimar)
2. Kome (Shulk)
3. Tea (Pac-Man)
4. R2G|Paseriman (Fox)
5. GW|Zackray (R.O.B., Joker, Mario)
5. TG|Raito (Duck Hunt, Banjo-Kazooie)
7. KEN (Sonic)
7. Shky (Zero Suit Samus)
SoulCalibur VI
1. BDG|BlueGod (Azwel)
2. Yuttoto (Voldo, Zasalamel, Raphael, Azwel)
3. Illusion|Linkorz (Geralt, Siegfried)
4. PG|Shen Chan (Tira)
5. Oplon|Skyll (Mitsurugi)
5. ASL|TheKura (Kilik)
7. Jashin (Hilde)
7. PULSAR|Noobicyde (Azwel)
Samurai Shodown
1. Gamera (Shiki)
2. Emujima (Shizumaru)
3. AMTRS|Score (Haohmaru)
4. 7144|Hishow (Shizumaru, Charlotte)
5. Betel (Jubei)
5. KROne|AbaO (Shizumaru)
7. Katsuji (Wan-Fu, Jubei)
7. Teru (Haohmaru)
BlazBlue Cross Tag Battle
1. YG|Kubo (Yumi, Seth)
2. GRPT|DoraBang (Naoto S., Merkava | ν -No.13-, Naoto K. | Others)
3. nk_P (Chie, Vatista)
4. SPB|Noble (Carmine, Vatista | Carmine, Heart | Akatsuki, Heart)
5. Shiroitori (Yosuke, Seth)
5. LOK|Shige (Orie, Izayoi | Weiss, Orie)
7. Sakura Yukke (Yumi, Adachi)
7. Pizamayo (Yuzuriha, Hilda | Blake, Teddie)