Nintendo just revealed its revenue stats for its mobile division, and it's enough to fun a number of third world countries for a year or two. And it's all thanks to one particular mobile strategy title.
Nintendo's mobile games have generated more than US$1 billion in lifetime revenue from global players on the Apple App Store and Google Play, according to a Sensor Tower report. As you can see below, one title trumps over the rest – Fire Emblem Heroes with US$656 million. This is followed by Animal Crossing: Pocket Camp which generated US$131 million and Dragalia Lost which garnered US$123 million.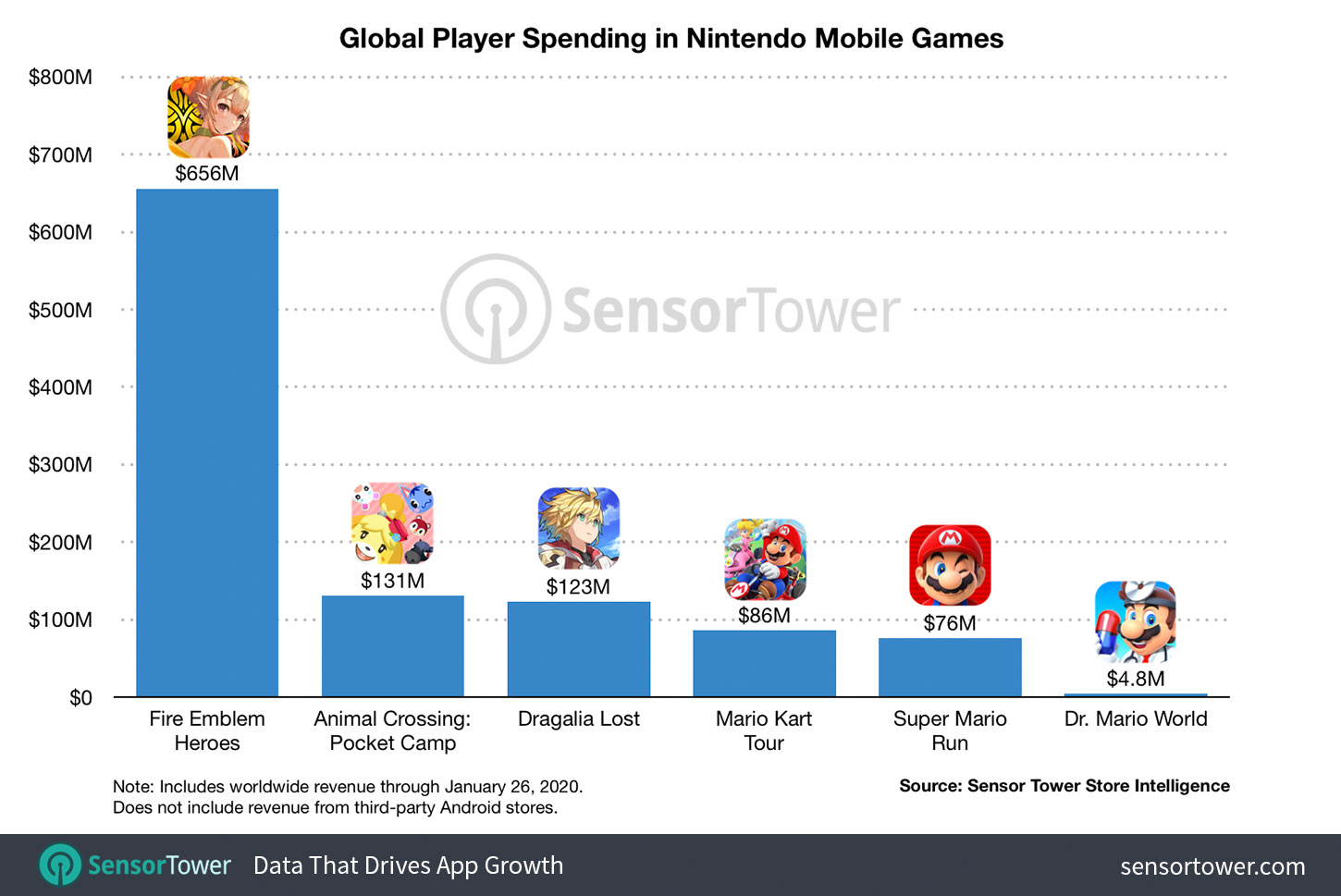 Fire Emblem Heroes has been around for three years compared to the previous two titles one-year-or-so lifespan. Regardless, these numbers are pretty impressive. Here's an additional breakdown about these numbers:
Mario games have surprisingly contributed smaller shares of overall revenue, with Mario Kart Tour, Super Mario Run, and Dr. Mario World being responsible for 8%, 7% and 1% of the revenue, respectively.
Nintendo is most successful in Japan ($581 million, 54%), the U.S. has come in second with $316 million (29%). Mario Kart Tour and Super Mario Run skew more towards the U.S., however.
The revenue distribution is a stark contrast to the downloads share; Super Mario Run is #1 with 244 million downloads (or 54% of all Nintendo mobile game downloads), Mario Kart Tour's 147 million installs represents 32%. Fire Emblem Heroes only accounts for 4% of the total.
Moral of the story here? JRPG gacha games with an assortment of collectable heroes are safer bets than Mario games, especially when it comes to getting more out of the free-to-play model. As someone who has personal experience working in the mobile games industry for a long while, I'm surprised it took a juggernaut like Nintendo to catch up to this market.