By Alleef Ashaari|February 8, 2020|
It all started when someone in Malaysia started complaining that he couldn't connect to the online Ubisoft servers when playing Rainbow Six Siege. There have also been reports of those not being able to log into Rockstar Games' servers when playing GTA Online or Red Dead Online.
Local gamers then went into a furore on social media when TM UniFi's first reply to the person allegedly suffering from the problem is this:
Since then, many gamers have claimed that they are allegedly sharing the same problem (via a tweet by our friends from Gamer Matters).
When more and more people started coming forward with similar problems, TM UniFi finally gave an official statement to clarify the matter. They claim that they are not currently restricting access to the Ubisoft server, though they neglected to mention any of the other servers that gamers have been complaining about, like Rockstar Games.
It turns out that what all these gamers suffering from online connectivity issues have in common is that the majority of them are TM UniFi users, which means that there's probably something else going on and the folks at TM UniFi aren't actually actively blocking any game servers at the moment.
In the first place, there was already something very suspicious about the very first person who complained about the server problem. The screenshot that accompanied his problem (shared by his friend on the Rainbow Six Siege sub-Reddit) clearly shows that the problem lies with the company's IT department blocking access, and not TM themselves.
Companies often block access to entertainment websites featuring gaming, gambling, or the like, in order to prevent their employees from being distracted from doing their work and being unproductive by playing games during working hours. It looks like that's exactly the case here from the very beginning.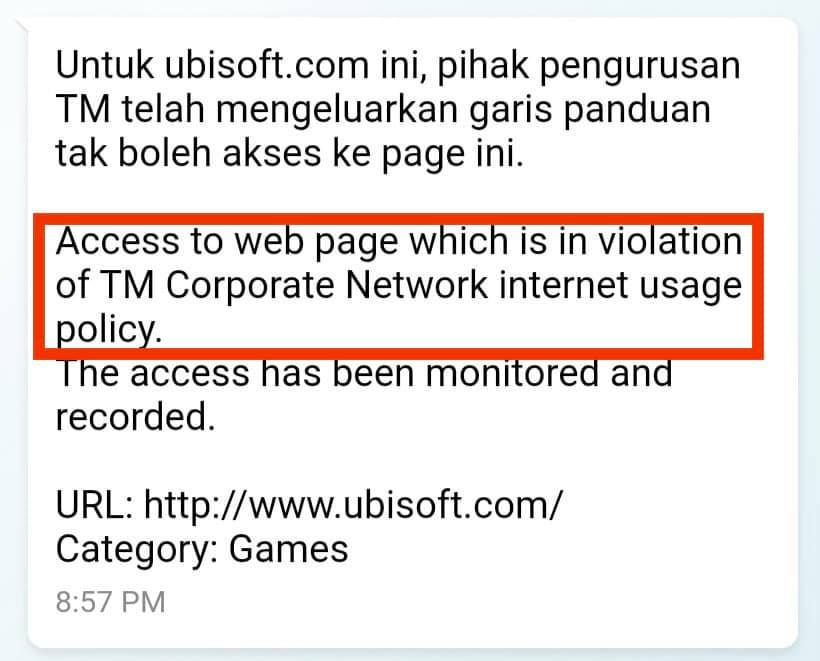 While all evidence to date point to the original complaint being fake and a hoax, this story is still in development at the time of writing. Stay tuned on Kakuchopurei for more updates as they come.
---