By Alleef Ashaari|May 21, 2020|
An Australian-based professional racing cockpit manufacturer may have accidentally leaked the existence of a Gran Turismo 7 game planned for sometime in 2020. Next Level Racing is a gaming peripherals maker officially licensed by PlayStation, and best known for making premium cockpits for racing game enthusiasts.
The speculation started when they posted on their Instagram page, asking "What racing game are you most looking forward to in 2020?" with a picture featuring four logos representing several games, including the recently-announced DIRT 5, F1 2020 and Reiza Studios' Automobilista 2. The post has since been deleted.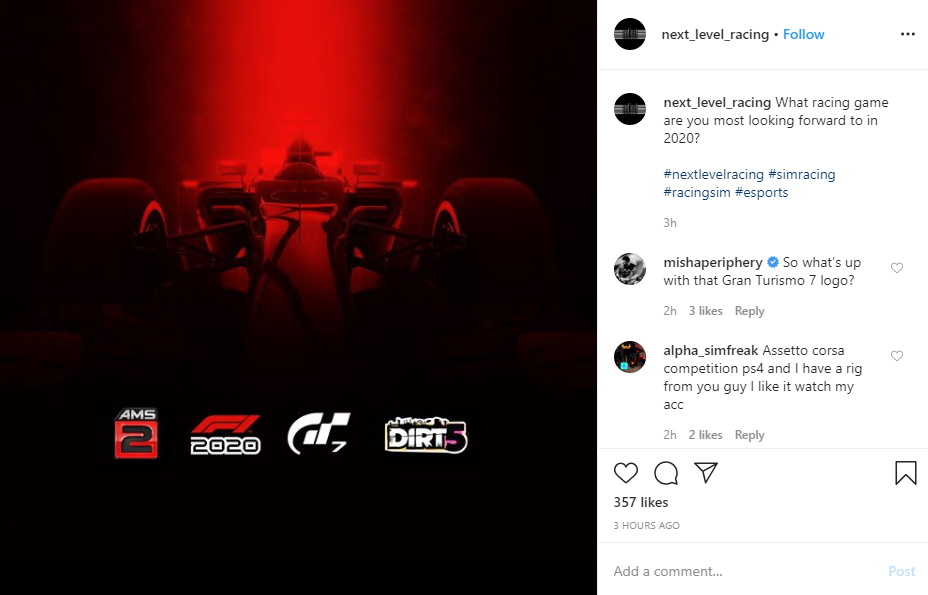 However, one of the logos seems to be of Gran Turismo 7, a game that is yet to be officially announced or even confirmed by developer Polyphony Digital or PlayStation (at the time of writing). In an official statement, Next Level Racing has denied any knowledge about the launch of Gran Turismo 7.
It reads:
"Our team has recognized that a recent post by us using a logo has been misinterpreted by media and it does not reflect any information from our end, and we deny knowing any information regarding the launch of GT7.

There have been assumptions made in the media that are quite simply untrue.

Due to this, we have decided to take down our previous social post.

Our Graphic Design Department used the mock logo that is circulated on the internet.

We do apologize for any confusion that this might have caused."
What's suspicious about the Gran Turismo 7 logo used by Next Level Racing is that its original source remains unknown. It's weird, especially considering the three other games included in the original post were titles that have already been officially announced.
Why would they include the logo of a mock game with confirmed ones? The company has yet to clarify the source of the apparently mock-up logo of Gran Turismo 7, which can't be found anywhere else on the Internet.
It's entirely possible at this point that perhaps Sony is planning to release the game as a launch title for the upcoming PS5. Still, it's better to take all this with a grain of salt, as it all remains mere speculation until we've officially heard from Sony, PlayStation, or Gran Turismo developer Polyphony Digital.
---
Related