Several famous streamers got into a heated argument on Twitter that laughably resulted in a lot of unnecessary drama and Ninja weirdly bringing up Alinity's previous controversy of abusing her cats.
The very public feud began because of comments made by streamer xQc made on Twitch. According to him, some streamers on Twitch apparently get paid to do charity streams, despite the objective of these is to encourage people to donate to charity.
This prompted Dr. Lupo, a friend of Ninja's and another top streamer on Twitch, to clarify that he has never been paid for any of his charity streams.
Another person joined to add fuel to the fire, as Jessica Blevins, the wife of Tyler 'Ninja' Blevins, became defensive over what xQc said. This is when the feud sparks.
After xQc used "sweetie" to refer to Jessica, she became upset and called him out for being sexist. Ninja himself then came in to defend his wife and called xQc a piece of shit.
After esports reporter/insider Rod 'Slasher' Breslau chimed in with a tweet of his own, another top streamer, Alinity, joined the conversation, making a joke about Ninja. Ninja responded harshly with, "Don't you have another cat to abuse?"
He was referring to the controversy from last year of Alinity seemingly abusing her cats last year during streams, throwing them around carelessly and even feeding them vodka.
The feud then ended with Alinity calling Ninja "the most toxic person in gaming".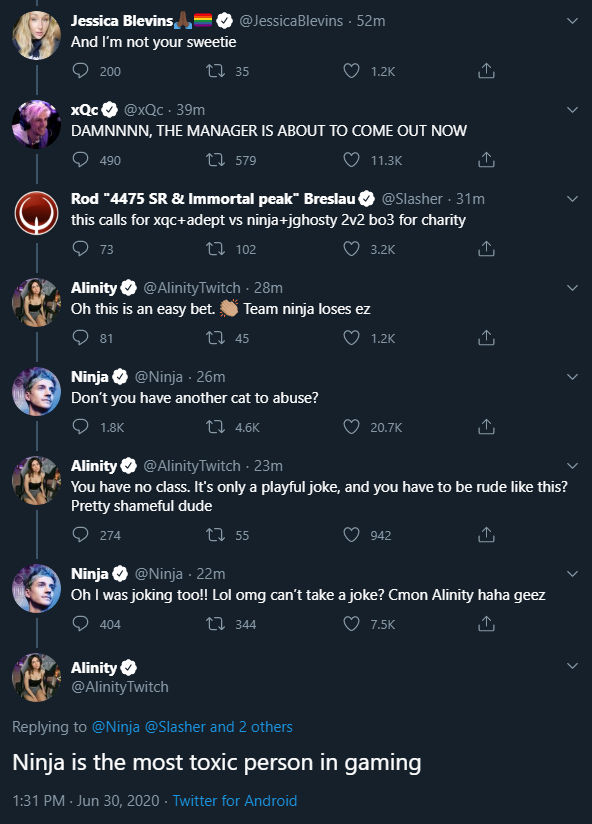 Wow, that's a lot of drama, and in bad taste too, considering the cases of sexual misconduct and harassment currently sweeping the industry. Let's hope these streamers act more professional next time, but what the heck, this is probably good publicity and fodder for their fans all the same.
---