Genshin Impact is a free-to-play online JRPG that you can jump into right now. But while the Mihoyo-developed game is installing onto your device of choice – PC, PS4, your mobile phone- why not read up on what to expect first before diving right in?
We're here to sort you out in the game's early stages so that you can prevent Teyvat's own Age of Calamity while you forge a link between worlds: yours and the game's. While you're at it, do check out our starter character & gacha guide that will help save your hard-earned currency for better things. With that said, here are your basic tips.
Balance Your Exploration & Story Campaign Completion
We won't lie: the world of Genshin Impact is huge and chock-filled with hidden secrets, puzzles, mini-games, and bosses. While its inspiration is clear as day from the mountain-climbing to the chasms-gliding, it's quite a populated world to explore in.
Having said that, the game's key features are locked in until you complete the game's Prologue. For example, you only get the glider an hour or so in. Our protip? It's best to just do both the story campaign while just getting distracted by minerals and plants you can mine and pluck out.
Get Your Adventure Rank To Level 20
Every activity here will contribute to your Adventure Rank. From completing daily quests to talking to different NPCs for quests, it all goes towards this one unifying rank. On that note, resist the urge to fast travel early on. Just go from point A to B slowly, then just kill whatever's in your way and harvest whatever resource is on that pathway.
Here are the rewards and features that are unlocked, so get to doing Story Mode and finishing the Prologue.
Adventure Rank 8: Ley Line Blossoms (ie: world boss & special mobs).
Adventure Rank 12: More Ley Line Blossoms and daily missions.
Adventure Rank 14: Expeditions that let you send unused characters o.ut for resources.
Adventure Rank 16: Multiplayer co-op.
Adventure Rank 20: Spiral Abyss, a massive, multi-floor dungeon, and the battle pass for extra loot. Bring friends for this.
Adventure Rank 22 and 27: Access to higher-level Domains and dungeons.
Use Your Gacha Wishes In Groups Of 10
Genshin Impact uses a gacha system for earning new characters and powerful weapons. Loot boxes, in other words, but the game is free, so hey!
These loot boxes are called Wishes; you get Fate points to do wishes up to 10 at a time to get your waifu, husbando, or weapon determined by the game's random number generator. You also get two different Fate points: Intertwined Fate and Acquaint Fate. Intertwined is meant for special limited-time banners, while Acquaint Fate can be used for the regular banners. Limited time banners will be highlighting a special character be it Venti or Klee or some other 5-star character.
First off, you should always do these wishes in groups of 10. If you do just one at a time, the pity bonus won't come into play. Trust us: save up your Primogems (which you can get by doing almost everything in Genshin Impact), buy the Fates, and just roll for 10 every chance you get.
Also, which type of wishes should you prioritize: Intertwined Fates or Acquaint Fates? Lean towards Intertwined Fates because the banner events using this will have a higher rate of giving you better characters to form a decent party. If you need a good idea on who should you aim for in your rolls, just check out our Starter Guide. 
Learn To Swap Characters During Combat
It won't take very long until you find yourself with a handful of characters to play in Genshin Impact; you should be able to make a party of eight favourites like Noelle and Jeanne. Each one has an elemental damage type that, when combined with different elements, triggers all sorts of explosive effects called Elemental Reactions.
For example, if you hit an enemy with a Hydro spell, they get Wet. If you use a Cryo spell after, they get Frozen. If you shoot an Anemo tornado through a campfire, you will create a fiery Swirl vortex. The tutorial will explain all of this, but the takeaway here is that you should be swapping between characters frequently in combat to trigger these effects.
Plus, the damage from Element Reactions is as clear as day (see below).
Most action RPGs let you focus on one character for the whole journey, so it'll take a while until you get used to swapping. Normal attacks are cancellable so you can just switch in the middle of an attack.
Because of this flexible system, you can use this to set up devastating combos, like casting one character's water-ability, swapping to a fire character, and using a fire spell to trigger the intended elemental reaction. Each character also has their Elemental Burst ability, which is their Super attack. These are different for each of Genshin Impact's unique characters, but they all amount to one thing: they help create status effects which you can use to trigger Elemental Reactions.
Protip: you can swap a character and then trigger their Elemental Burst by pressing Alt key + their associated number. Just make sure their Elemental Burst special is filled up, which is highlighted on the right side where the character numbers are.
Study This Elemental Reactions Chart
It'll save your life and let you make informed decisions when making a party. Our very own Mr Toffee built his Hydro, Cryo, and Electro party to make use of Superconduct, Electro-Charged, and Frozen elemental reactions to the fullest.
Spend Your Resin; All Of It
Primogems make the world go round, but they're not always the end-all goal for everything in Teyvat. In Genshin Impact, upgrading characters and weapons are also tasks in themselves, as you'll need all kinds of different materials before you can push your party to the next level.
You'll need to learn to spend Resin (stamina that regenerates over time) on EXP cards, Mora, Ascension materials, Weapon materials, Talent materials, Artifacts of each kind, Trounce Domains, and more. So basically use all of it when you can via Ley Line, Domains, and boss fights with elemental cubes and plant bosses you find all over Teyvat.
If you need a more in-depth explanation, head here. 
Collect Amenoculus & Geoculus If You Spot Them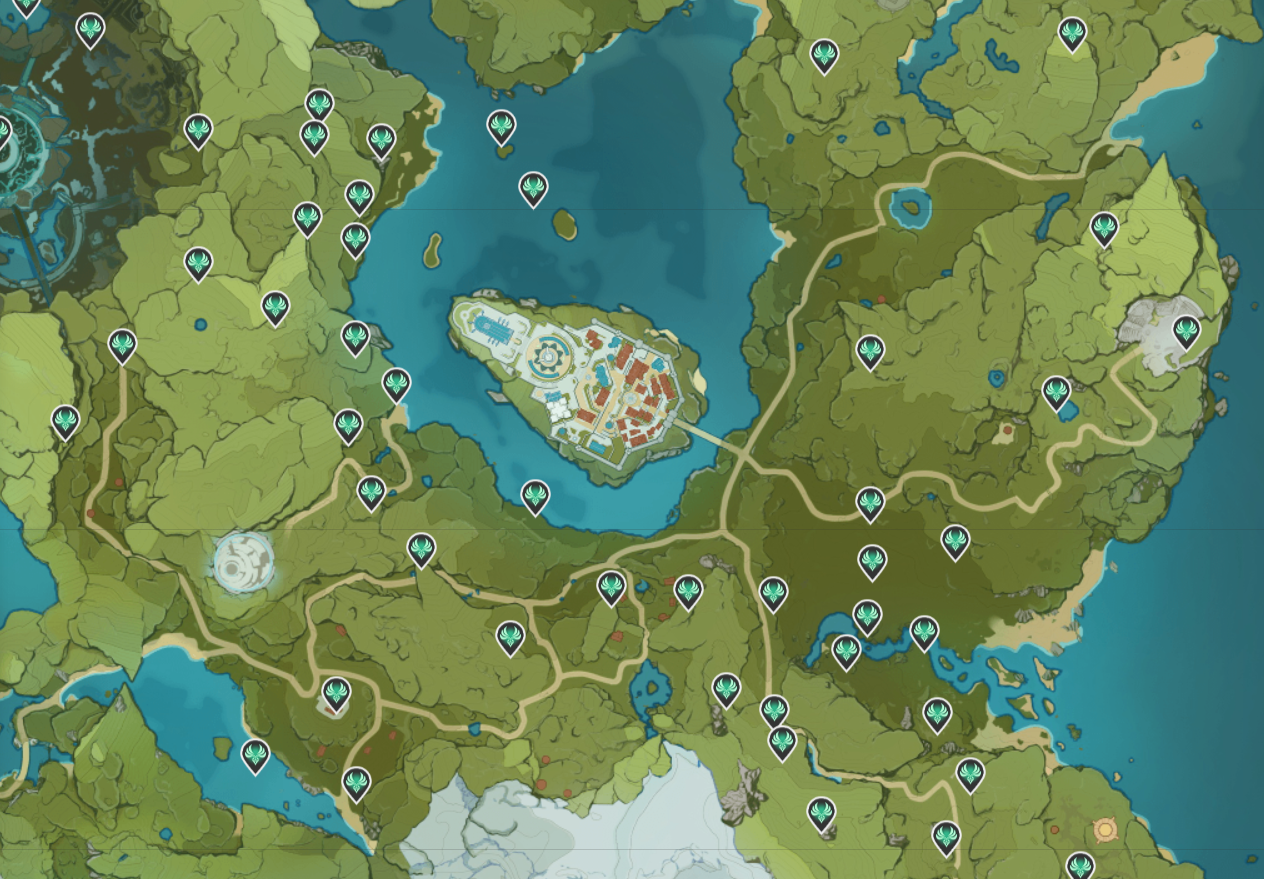 As you explore the world of Teyvat, you will come across floaty-looking collectibles called Geocolus and Anemoculus. These objects can be traded into the Statue of the Seven scattered around the world to level it up. Doing so gives you a bunch of rewards, including more stamina so you can climb higher or paraglide for longer.
Use this handy-dandy interactive world map app to sort you out, be it Anemoculus, Geoculus, or even locked shrines and teleporters.
Complete The Adventurer Handbook Quests & Objectives When You Can
There's this handbook you have on the menu screen that gives you rewards and ups your Adventurer Rank a tad called the Adventurer Handbook. It gives you a ton of resources and helps ensure you're not forgetting about some crucial progression system. Refer to it if you're lost early in the game.
Level Up Your Party Evenly
Like we said earlier, pick four (out of eight) of your favourite characters in a party and level them up evenly so that they don't end up being a liability during Domains and boss fights. Then when you reach a threshold, level up the other four. Why eight? Because of Spiral Abyss domains and challenges that require you to have at least that many.
Check Out Our Best Starter Character Guide
In case you need a primer on which starting character you should level up first, watch our video below.
That's all we got so far. Stay tuned for our advanced guide later this month.
Related