This Borderlands 3 DLC5 guide will be updated periodically.
Borderlands 3 is now on its second season, and with it comes new content. Dubbed the Designer's Cut, the 5th DLC features a new skill tree for each Vault Hunter (instead of a new Vault Hunter), and a few new legendaries. The catch? You can only get most of these hot new weapons from the Designer's Cut's new stage: Arms Race.
Arms Race is a PvE mode where you and your pals go into a Dahl prison complex empty-handed and fight your way to get the best loot (to extract) and just enough weapons & armour to power through the stage boss. It's also the only spot where you can get the best DLC5 loot. Before we get to that, here are the changes and hotfixes you'll be getting starting 9th November.
New Content from Designer's Cut
Once you purchase the Season Pass 2 for Borderlands 3 for US$39.99, you'll gain access to Designer's Cut content which is Arms Race mode and the fourth purple skill tree for each Vault Hunter.
Mayhem 11
Mayhem 11 is a copy of Mayhem 10 without any active modifiers. The quality and amount of rewards from world drops are cut in half, but you won't get annoying modifiers like Buddy System and The Floor is Lava.
14 New Action Skill Damage Anointments and Updated Anointments To Support Purple Skill Tree
This one's nice: we not only get weapons with purple skill tree-related anointments, but also 14 new Action Skill Damage anointments. However, Amara cannot "Fakegrasp" to trigger anointments & skills, while Fl4k cannot Gamma Burst while looking at the sky to trigger anointments.
Vault Hunter Buffs/Nerfs
Zane gets a bit of a rework again. Now his Duct Tape Mod grants him immunity to damage from his weapons and grenades, while Death Follows Close and Seein' Red have their positions switched on the Hitman Tree. However, his Seein' Dead class mod is heavily nerfed, having his kill skill damage reduced.
Full breakdown at the bottom after the loot and purple skill tree vids. Now, here's a list on what to get and how to get it.
Arms Race Exclusive Legendary Loot
Here's a quick Arms Race map for reference (via Moxsy).
Plasma Coil – Maliwan SMG. High damage, fast reload, high firing rate.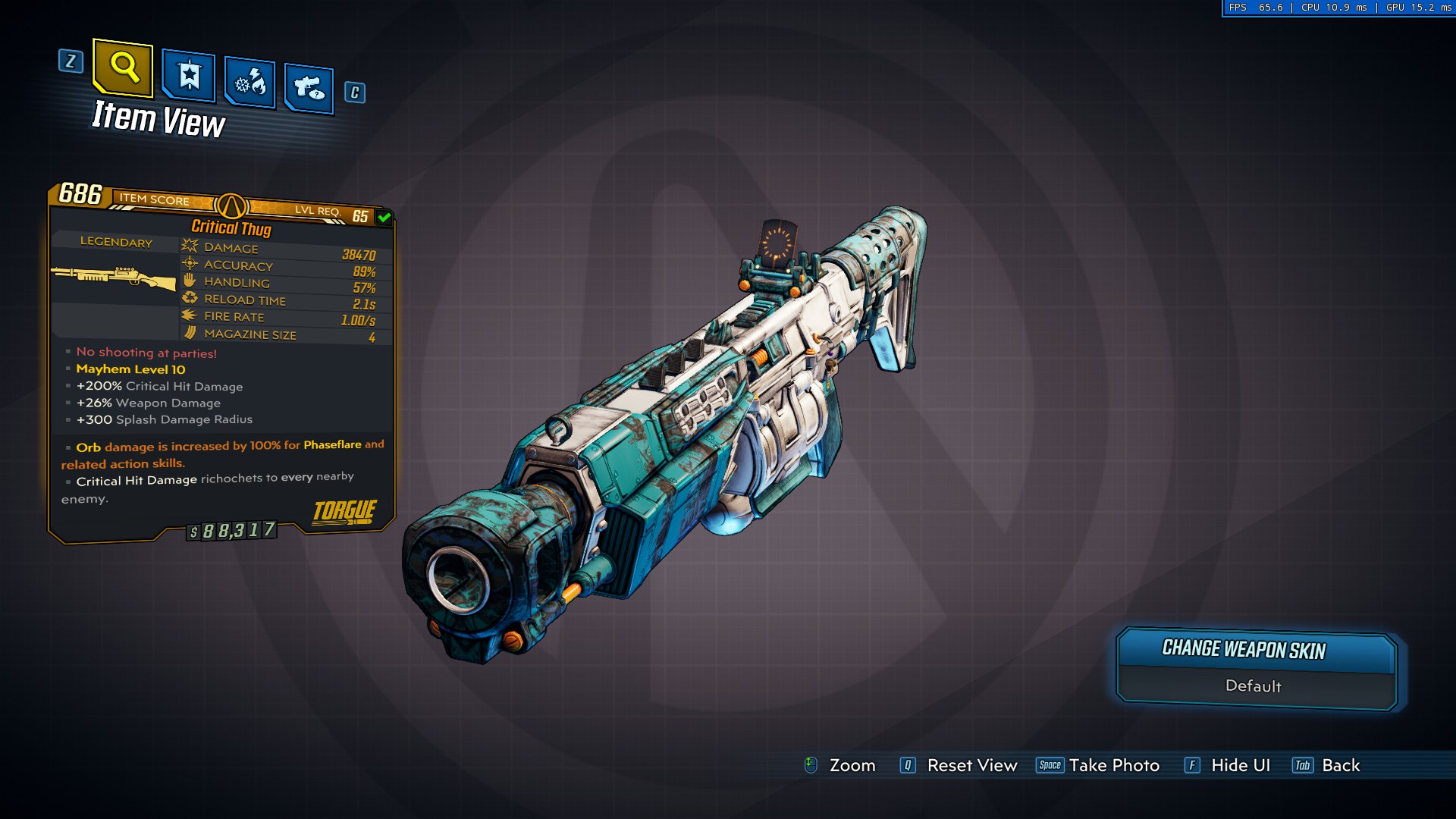 Critical Thug – Torgue Shotgun. Critical Hit Damage ricochets to every nearby enemy. Has splash damage.
Tizzy – COV Pistol. Ramps up in speed once you hold the trigger, like a Shreddifier. Ammo consumption is really high though.
Binary Operator – Maliwan Sniper. Deals 2 base damage. We're not sure why this weapon exists.
Hotfoot Teddy – Torgue Assault Rifle. Increases damage the longer you fire. Always Incendiary elemental.
Boogeyman – Vladof Sniper Rifle. When you kill an enemy, there's a chance to spawn a Boogeyman (homing skull that hits for grenade damage). High chance to not consume ammo. Splash damage.
Clockwork Res – Atlas Pistol. If firing on allies, heals an ally or revives them when they are in FFYL mode. 30-second cooldown.
Gas Mask – Hyperion Shield. FFYL time increases by 50%. Boosts max health, absorbs bullets as ammo, movement boost while shield is depleted.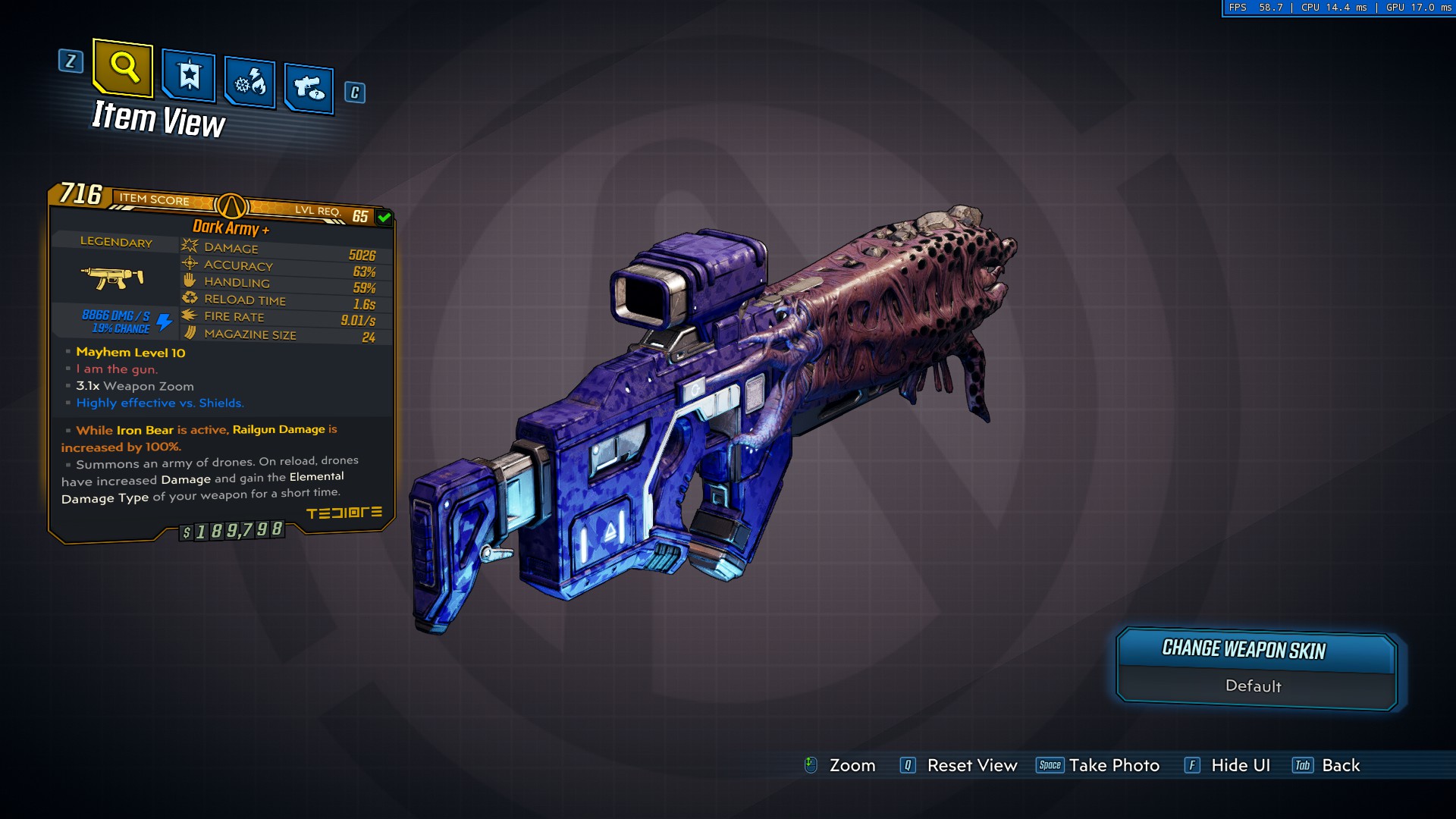 Dark Army + – Tediore SMG. Summons an army of drones. On reload, drones have increased damage and gain the Elemental Damage Type of your weapon for a short time.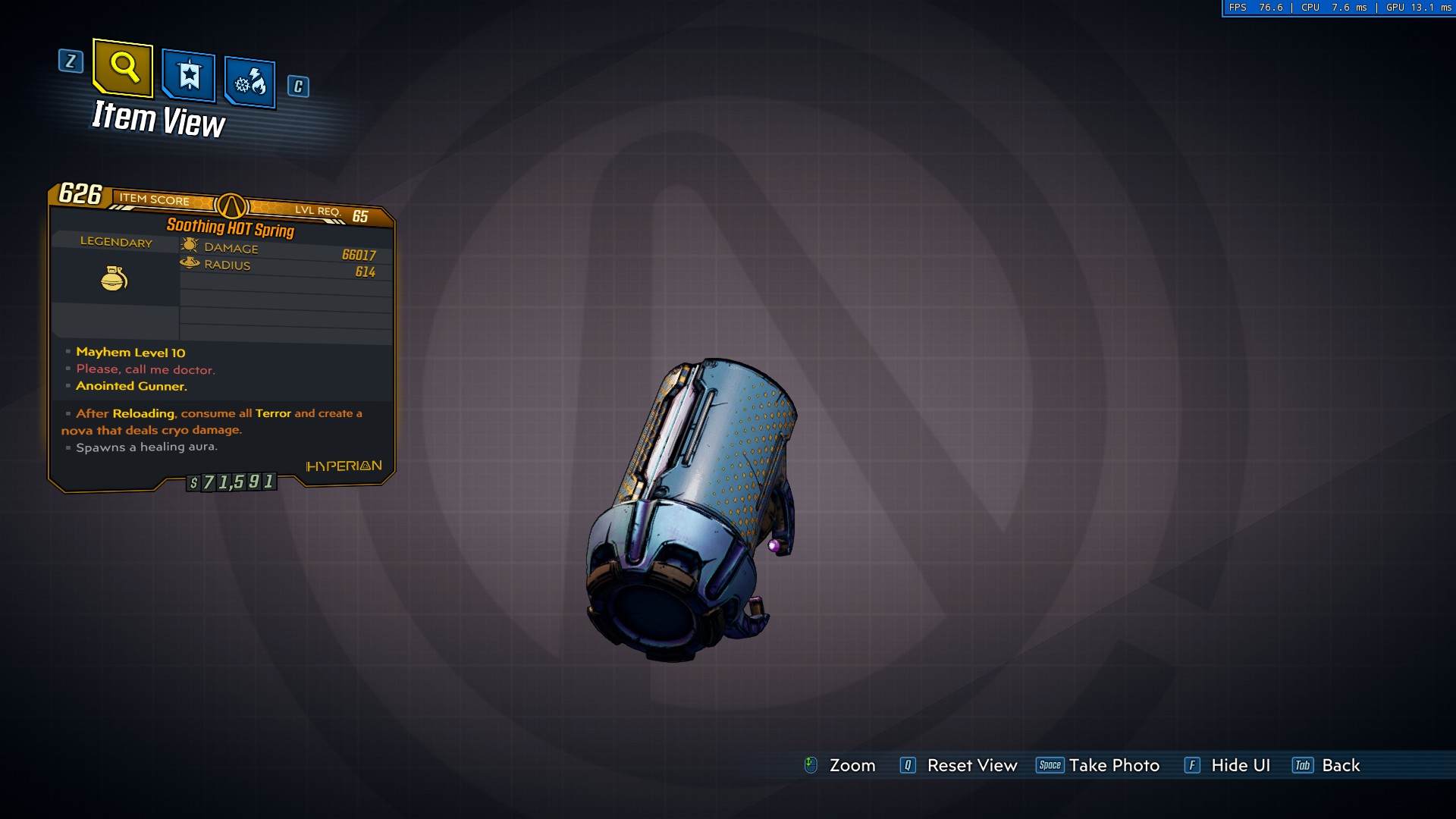 Soothing HOT Spring – Hyperion grenade mod. Spawns a healing aura.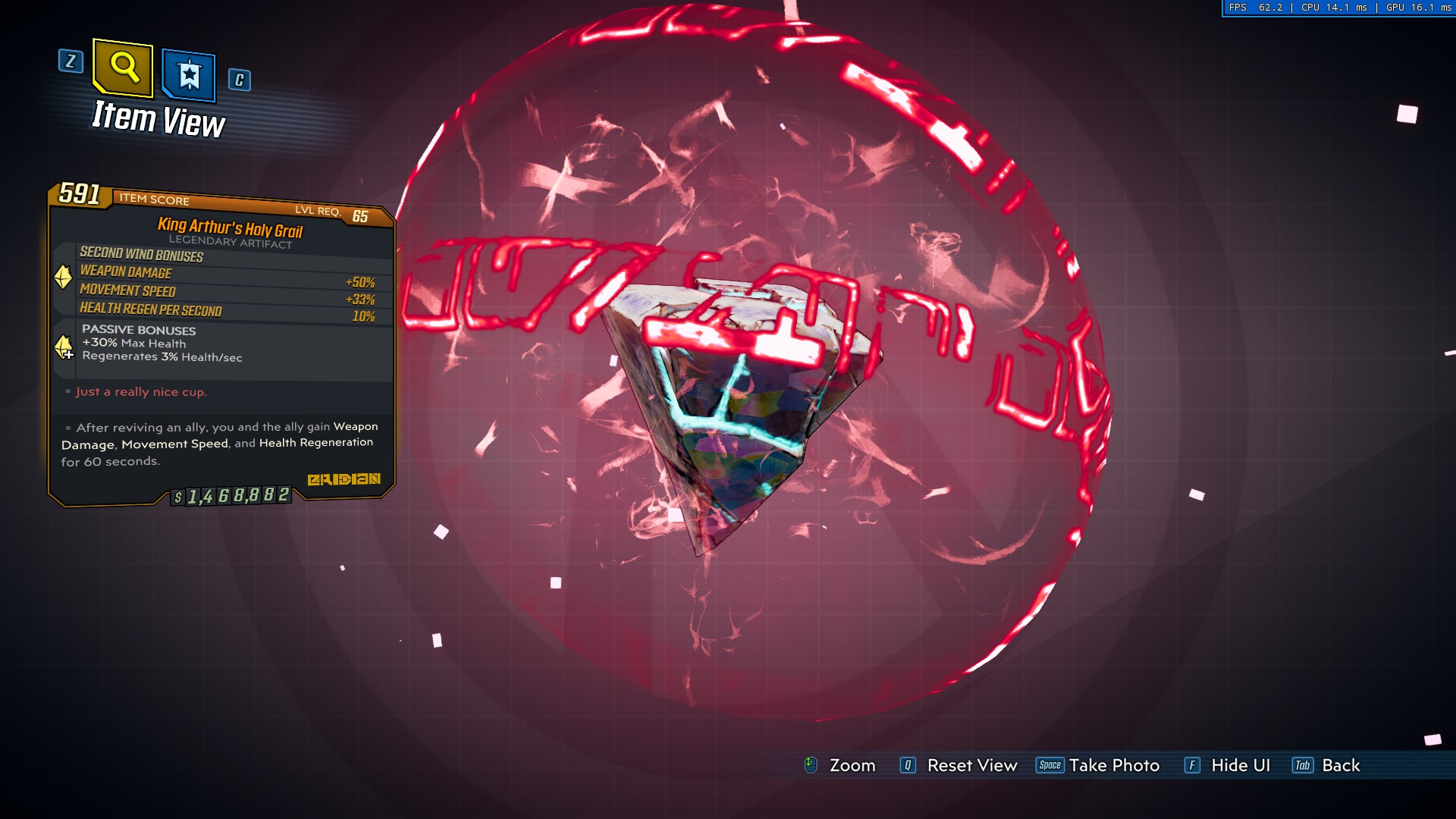 Holy Grail – Artifact. After reviving an ally, you and the ally gain Weapon Damage, Movement Speed, and Health Regenration for 60 seconds. Passive bonuses: +30% max health, regenerates 3% Health/sec. Second Wind bonuses apply (see above).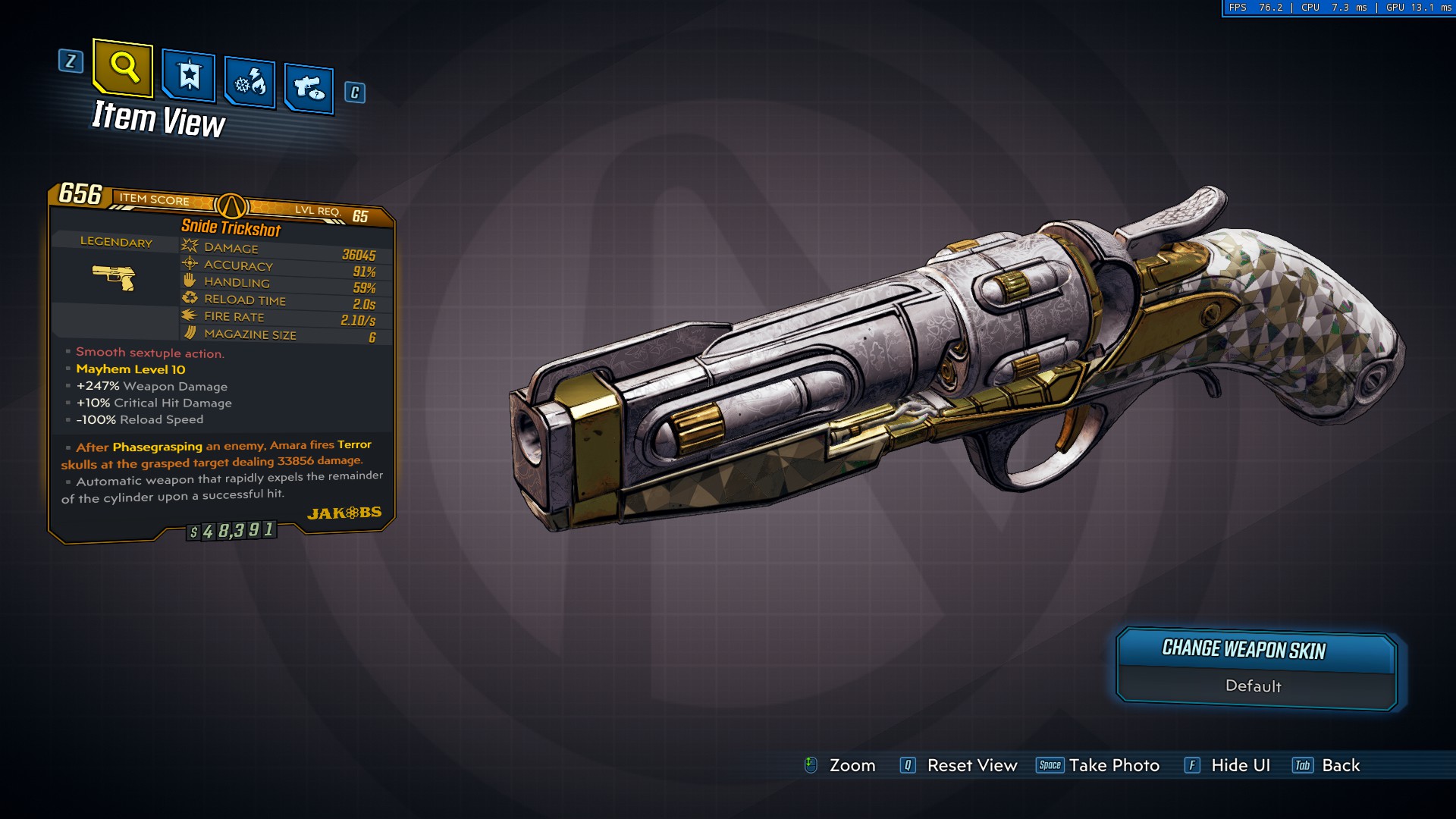 Trickshot – Jakobs Pistol. Automatic weapon that rapidly expels the remainder of the cylinder upon a successful hit.
Unrelenting Kensei – Amara Class Mod. After activating her action skill, Amara deals 10% Bonus Melee Damage of her attuned element type with her weapons for the next 6 seconds. Purple skill tree-focused. Class mod buffs: Unweave the Rainbow, Joyful Freedom, No Mistakes In Nature.
Eternal Flame – Moze Class Mod. Whenever Moze ignites an enemy, she has a 15% chance to reset her action skill. Purple skill tree-focused. Class mod buffs: Really Big Guns, Nitrotrinadium Engines.
Silent Spy – Zane Class Mod. Whenever Zane uses the last charge on his MNTS Cannon, he activates all of his kill skills. Zane's kill skills gain 10% effectiveness and 8 seconds duration. Purple skill tree-focused. Class mod buffs: Commitment, Headman's Hand.
3RROR Cmdl3t – Fl4k Class Mod. Whenever Fl4k damages an enemy, their pet has a 20% chance to automatically attack that enemy and use its attack command. This skill has a 6-second cooldown. Purple skill-tree focused. Class mod buffs: Keep Them Safe, Capacitance, Better Toys.
Purple Skill Tree Showcase
Check out the video below to see our thoughts & suggested Vault Hunter builds for the purple skill tree. More to come!
Moze
Amara
Zane (via Moxsy)
We were going to tweak around with Zane's MNTS Shoulder Cannon build, but it's more or less similar to this video from BL3 content creator Moxsy. And he already has better gear than we do, so we'll just put that vid here instead.
Full Vault Hunter Buffs & Nerfs In DLC 5
Zane
Hitman Tree
Death Follows Close is an incredibly strong passive skill, much stronger than the effects of the capstone Seein' Red. This feels backward, so we have swapped the position of these two skills to better represent their value relative to each other. Please remember the changes require you to save/quit your character once to function properly.
Swapped the positions of Death Follows Close and Seein' Red on the Skill Tree
Added Kill Skill Bonus +15% to Seein' Red
Under Cover Tree
Like the Hitman Tree, the mid-tier passive and capstone skills of this tree had an inverted value relative to their position. This change also allows players to get more value out of their shields and Barrier via Distributed Denial being much lower in the tree. Please remember the changes require you to save/quit your character once to function properly.
Swapped the positions of Confident Competence and Distributed Denial on the Skill Tree
Buffed Gun Damage from Confident Competence
Double Agent Tree
Given the percent chance of Duct Tape Mod proccing, it could spell disaster for Zane in close quarters combat. Now players don't have to worry about accidentally downing themselves when a grenade is launched.
Duct Tape Mod now grants Zane immunity to damage from his weapons and grenades
Infiltrator Class Mod
Reworked the ability to allow the shield to refill before it is broken whenever an Action Skill is activated
Seein' Dead Class Mod
This Class Mod has been over-performing, so we have removed some of the power from the mod. To counter this change, the Seein' Red passive skill within Zane's Hitman Skill Tree has been given a buff, effectively giving all players access to additional damage without the requirement of using this Class Mod.
Lowered the Kill Skill Damage bonus
Amara
Updated Ties that Bind to only pass weapon and melee damage to enemies
Weapon Anointments that increase weapon or melee damage after Phaseslam now properly increases damage
Updated Muse Class Mod to prevent double-dipping on damage modifiers
Fl4k
Pets will now receive damage buffs from the global grenade anointment
Addressed a reported concern that when dealing critical hits in rapid succession while using the Rakk Attack Action Skill and Headcount Passive, Rakk Attack charges would not be gained properly, and the cooldown timer was reset