PlayStation 5 Southeast Asia F.A.Q.
There's a lot to unpack here with the arrival of PlayStation 5 in Southeast Asian doorsteps, less than a month after first-world countries received theirs. Instead of the usual swathes of paragraphs, we're going to do an F.A.Q. from the perspective of someone who bought the machine at around this time. 
Let's dive right in!
Why is this review a month late?
Because we're not influencers with the right physical assets. 
Joking aside, our team went the traditional route of buying the machine after much back-and-forth; that's why we got the console late. Just to be clear to our audience again, we not only cover Malaysia gaming news, but we cover Singaporean tech and gaming beats (hence our Xbox Series reviews being up early); it's part of being in the Southeast Asia beat, after all. So normally we would get game reviews and hardware writeups early or on the week of release.
While our content is borderless, we are still restricted and subjected to local and market limitations. But through some miracle, we got ours in the end. It wasn't easy to secure one, as many people can attest to, but we got it somehow, following Malaysia's release date for the next-gen console. 
Any disclaimers before we start with the questions?
Yeah, the reason why I said the following is because I'm going in as someone who already had a lovely taste of next-gen 2020 and beyond gaming. So one can argue that my viewpoint is already skewed and adjusted. 
If we received the PS5 around the same timeframe (or even month) as the Xbox Series X|S, things might be different. But that didn't happen and we had to work with the hand we're dealt with, as writers and content creators who prioritize consumers above a publisher's modus operandi.
At the end of the day, we are here to provide informed purchasing decisions based on practicality. 
Are you feeling buyer's remorse yet?
Kind of? But we're getting ahead of ourselves.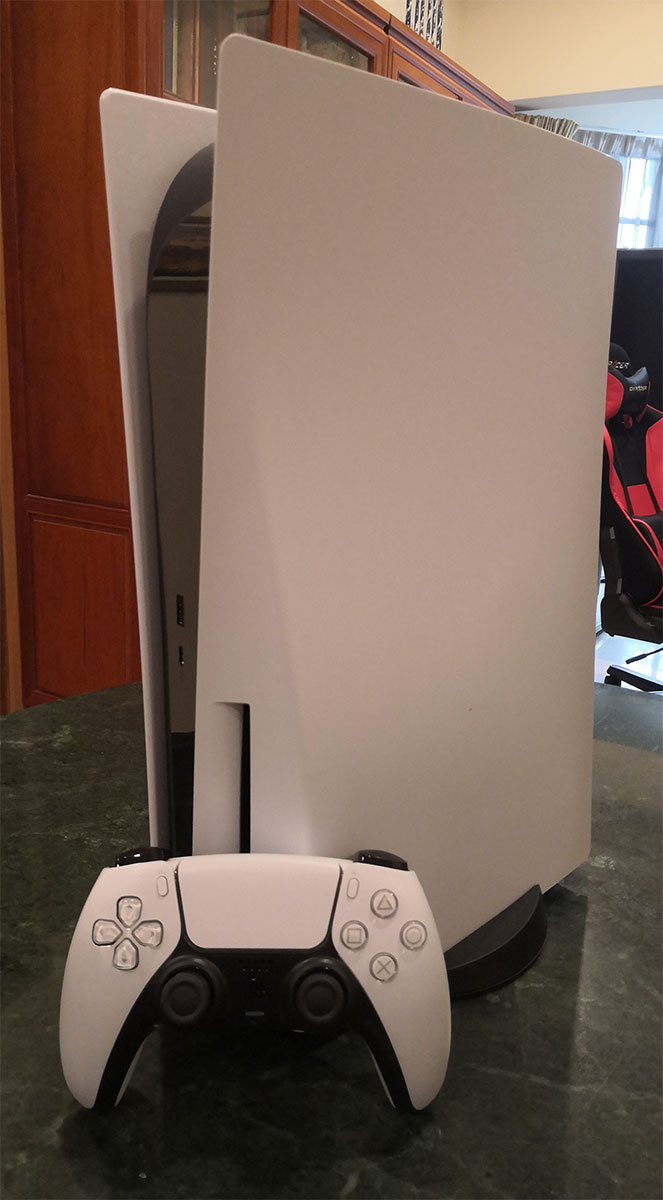 Let's talk overall console experience. How is it?
Pretty, pretty good from the get-go. As soon as you boot it up, you realize how everything loads seamlessly, shows you its slick UI and menu screen, and how the bare essentials are arranged. Installed games stand in a line of up to nine titles on the homepage, with the library button at the end that opens up your full collection. Instead of the PlayStation Network and Store being a separate entity, it feels integrated into the system, hence that's why it loads really fast. 
It doesn't change much from the PS4's layout, but at the same time, it's streamlined for easy access and navigation. Accessibility options are also a boon, with color correction, text size, the options for inverted colors, and reducing motion being a few examples. Why change up what worked back in 2014?
This also applies to basic options like difficulty, graphics mode, language, and controls. Say you want to keep your left analog camera controls in inverted mode. Instead of doing it for every single game, you load up, you can just set it up on the PS5's main options so that it sets that setting for all your games. Pretty nifty, I must say. 
So is it truly the elephant in the room? 
Yes, but a lovely, oblique, art deco, obnoxious-looking white elephant. It weighs about 5kg; it's not that heavy, but finding an optimal spot for it (apart from vertical) can be tricky. You'll need to dedicate enough space for its protruding pop collar sleekness. Its middle "black bar" sandwiched between its white plates is quite a dust magnet, so you have to watch out for that.
I personally am a fan of stacking my consoles atop one another, so I had no problems rearranging the placement of my PS4, Xbox One, Nintendo Switch, and now an Xbox Series X to fit my humble gaming table set. I can't really do the same with the PS5; being economical with space is not the PS5's forte.
But its shape isn't the whole deal-maker of a new console; it's the new tech. 
Speaking of which, what is the one key feature of the PS5?
That's easy: the DualSense controller. The DualSense controller is slightly bigger than a PS4 DualShock 4, but it features adaptive triggers and haptic feedback motion rumbling tech. And let me tell you: these tech words are more than just extra vibration gimmicks. 
The former lets its triggers react in different manners to highlight different weapons and objects you're using. Using a bow will feel different than using a minigun or handgun when adaptive triggers work their magic. From the tension of a bowstring to the pop you feel for each bullet fired from a minigun, you'll get a range of sensations that will keep you immerse without disrupting your gaming flow.  
The latter bit lets you feel what's going on with your avatar in the game, albeit in more subtle ways. If you walk on metal, you'll feel a more sharp and short rumble compared to walking through grass where you feel each reed via the DualSense's smooth and soft vibrations. When done right, the games will keep players way more immersed with another element more than visuals and audio: sensory feedback. And so far, the DualSense and its potential can be felt. 
As much as I'm selling it with sugar-laced words, you have to try it out for yourself to be a believer. There's a lot of cool s*** developers can do using this tech on a PS5, be it to amplify horror games or make trekking in open-world and survival games a lot more immersive than usual with haptic feedback technology. 
Something like this needs a free game packaged with the console. A tech demo that can supersede the one bundled with the Wii back in the mid-2000s. 
Wait, THERE'S a tech demo better than Wii Sports right now?!? 
Yes, and its name is Astro's Playroom. It's a simple 3D platformer where you control a little bot named Astro as it goes through a bunch of themed levels to get from point A to B. Said levels are filled with collectibles that are basically PlayStation relics of the past and console doodads, coins that let you in-game gacha more PlayStation memorabilia, and scenes of past PlayStation games being re-enacted by a robo film crew. It's really cute. 
But really, the whole point of Astro's Playroom is to showcase the DualSense controller and its potential; a tool to convince developers to align themselves to PlayStation's next-gen tech and gamers who need a good reason to invest in the company's future products. It definitely works, from its implementation of the DualSense and motion sensors to its PlayStation-savvy tribute with its cameos, trophies, collectibles, and design.
Whether you've just joined in the gaming fray a few years ago with the PS4 or have been loyal to the PlayStation brand since late 1994 and remembered the echoing quotes of Steve Race and that T-Rex tech demo, Astro's Playroom is a pop-culture treasure that should be experienced by all.
That is, if you can get a PS5; the game comes free with the console so that's part of the battle won. 
Wow, sounds like you genuinely love the PS5 and your opinion is in no way being influenced, swayed, or pressured by a publisher who has a stranglehold over Southeast Asia. 
Cool your jets. Those points I mentioned are the only things that distinguish this console from being just another piece of hardware with better horsepower. 
Let's talk about performance: yes, you can run most games in 60fps and in high-res 4K TV glory. Some titles let you pick between performance and fidelity mode; the former runs at the aforementioned frame rate while the latter cuts it to 30fps but showcases some impressive ray tracing. Say if you have a superhero open-world game that features a ton of lovely evening vistas and skylines, you'll be impressed with how the PS5 renders it either in ray-tracing mode or in true 60fps mode. 
Having said that, some games like Bloodborne and Final Fantasy VII Remake don't run like they're uncapped and for PS5. Let's hope an update down the line sorts that out, but for now, only specially-selected titles are picked to have themselves play untethered and in 60fps glory on the PS5. 
The PS5's internal SSD loads games fast and on record outmatches most SSDs you can buy on the market. The problem? Sony requires all PS5 games to run off this internal SSD. You can only use external SSDs to play backwards-compatible PS4 games and for storing save data, screenshots, and videos. This might not be an issue right now, but with games requiring more hard disk space these days (like Call of Duty: Warzone), the SSD's 667GB capacity might seem limited in comparison to Xbox Series X's option. 
There's also the Tempest 3D AudioTech featured in the PS5 that you can experience via headphones. It's fine; it's nothing to rave on about like the DualSense.
All these next-gen additions are still significant yet expected. Though in the end, it's all about the games and how they perform. 
Ah, yes; games. The only reason you buy these damn machines in the first place. How are the PS5's offerings?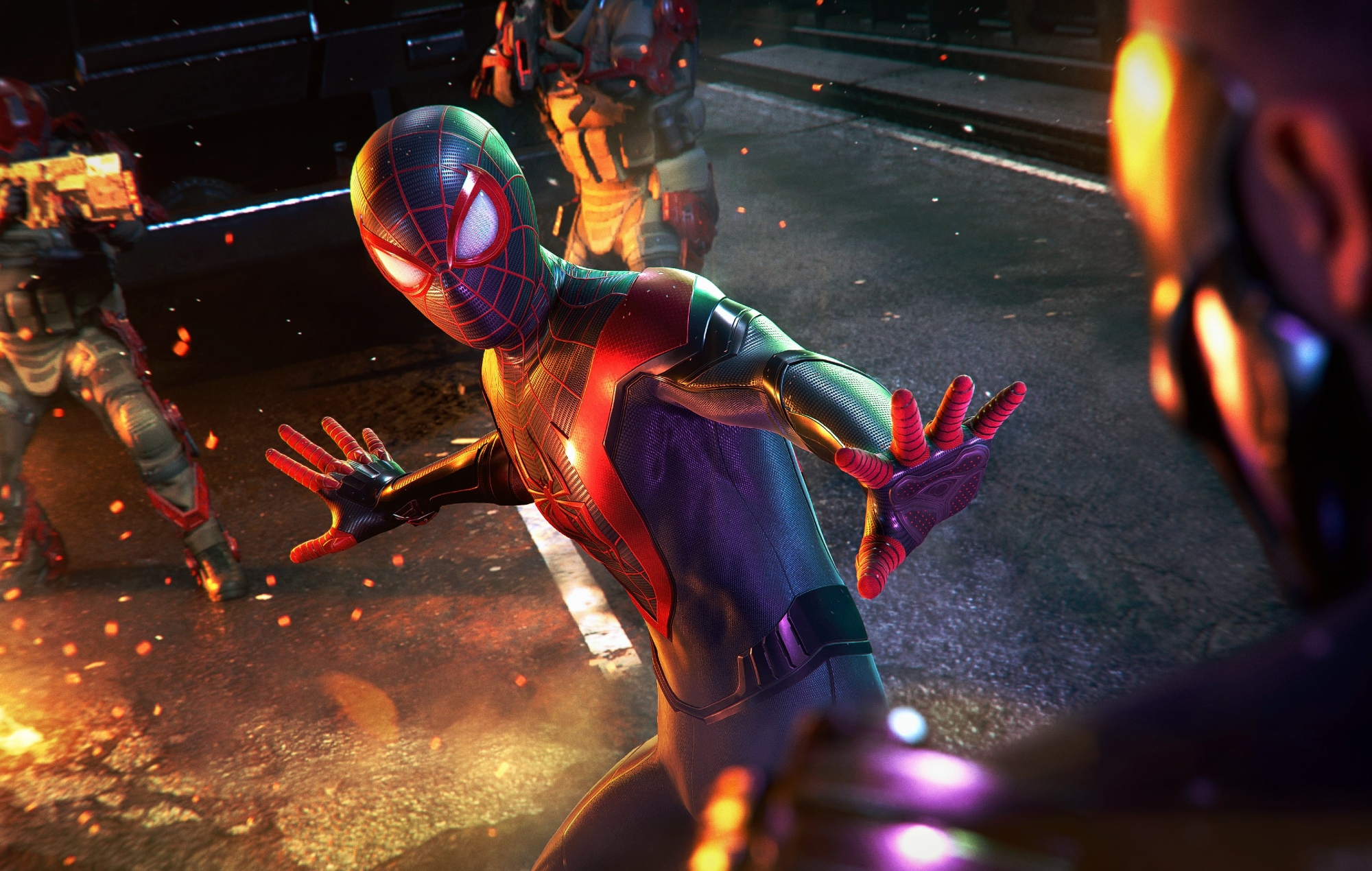 On the surface, the PS5 has the Xbox Series beat with more exclusives. If you get a PS5, you can buy Spider-Man: Miles Morales, Sackboy: A Big Adventure, and Demon's Souls. 
But here's what you're getting after you've cleared out the FOMO air from your brain:
A stand-alone expansion of a 2018 breakout superhero open-world action game. My colleague Kenn may rave on about Spider-Man: Miles Morales, but I'm not on the same boat. Apart from a decent story, you're pretty much playing the same game, with the same kind of hero archetype, with minimal change, and minimal additions like a bio-electric charged super punch. Cool ray tracing effects & 60fps mode though. 
A clone of Super Mario 3D World with Sackboy in it. I already have one installed on the PS5 and it's free; why spend an extra US$70 on this? 
 A graphically-enhanced game that came out 10 years ago, which comes with the same pros and flaws that are both improved and corrected in the sequels. This is just my way of saying you can play the Dark Souls trilogy on your PS4. 
Also, two out of those three exclusives are out on the PS4. Yes, you may have more exclusives than your rival and you may have a number of fanboys fooled. But if you want to have folks jumping onboard your new console, you'll have to do better than this.
Considering PlayStation's past exclusives and launch titles being numerous during its PS2 and PS4 days, this is pretty dismal on PlayStation's part. 
Well, at least I can play my old PlayStation games on it.
Your old PS4 games, you mean. PlayStation missed a huge opportunity to have its past titles be compatible with the PS5. The brand has a boatload of titles from its PS1, PS2, and PS3 catalog, and it's a shame that its new launch console is putting the kibosh on older games. At least for now. Might I suggest having a back catalog of games you can pay for monthly and access online?
I'll say this though: your PS4 copy of Cyberpunk 2077 will run just fine on a PS5, so maybe don't return your copy yet if you stumble across a PS5. Also, make sure to get the regular PS5 if your PS4 collection is made up of physical discs. The digital version of the PS5 does not have a disc drive.
Uh-oh, I sense a foreboding negative rant oncoming. Are we getting one? 
You're not getting a rant, but more like a cautionary tale that's most likely going to be amplified for months to come. 
I'm all for next-gen and new consoles. But the PS5 is not a leap that justifies paying RM2,000 for right now. Yes, the PS5 has exclusives but Sony needs to do more than just a graphical remake of an 11-year old game and a stand-alone expansion to 2018's hit Spider-Man game. And sure, you can play your past PS4 games, but good luck revisiting the rest of PlayStation's catalog. 
The PS5 had an opportunity to have a huge backwards compatibility catalogue system going on, but opts to move forward, which is fine for the future. As of now though, in terms of value-added games volume, the Xbox Series has it beat.
Still, I can't deny that the PS5 is a lovely piece of hardware that opens up potential and feels truly "next-gen". And if you need a new machine for your PS4 games to run better, there's no other console that can do it. If you can get one, go for it. 
If you're planning on getting one mid-2021, get it in your country. Keep your receipt so that you have a good warranty window in case the PS5 you purchased gets borked. As far as we know, the PS5 has faced numerous technical issues, so just make sure to cover your ass in this regard.
While we're on that, Sony Interactive Entertainment offers much more support in the Southeast Asian market compared to Microsoft. True, they dropped the ball for the PS5 launch outside of US, Europe, and Singapore markets, but you cannot deny the home base support they have right now, like they did for the PS4 back then.
Sum it up for us, Mr Toffee.
That's not a question, but ok…Â 
Long story short, it's a big hop than a full-on technological jump. But I'm definitely on board with the new stuff it offers on the table.
We look forward to 2021 and 2022 where the PS5's potential might be fully realized. Until then, buyers need to be cautious not to fall to FOMO and scalper nonsense, unless you like having an alien-looking dust magnet of a paperweight on your counter. 
OK, I'm sold. Where can I get one right now?
Beats me. At this time of writing, all PS5 orders and stock are sold out.
You can try your luck with the stores on our guide, but odds are you'll need a plutonium-powered DeLorean to go back a few months in time to pre-order it.
Or you could try buying it right now for three times the price, but we do not recommend it. No shiny next-gen console is worth humoring scalpers and extortionists. COVID-19 is a bitch, ain't it? 
Any more things to add? 
I really wish the X button wasn't the confirm button. The Westernization of PlayStation's brand has truly come full Circle. Or lack thereof.
Pros
DualSense controller is revolutionary.
Fast loading & performance.
Attached with awesome tech demo.
Improved UI & in-game store features. 
Cons
Lackluster exclusives (for now).
Missed opportunity for backward compatibility.
SSD space woes.
Final Score: 80/100
---
Vital Statistics
Price
Regular Edition: RM2,299/S$729/PHP27,990
Digital Edition: RM1,869/S$599
Processors
x86-64-AMD Ryzen™ "Zen 2", 8 Cores / 16 Threads, Variable frequency, up to 3.5 GHz
Memory & Storage
GDDR6 16GB system memory with 448GB/s Bandwidth, 825GB of SSD with 5.5GB/s Read Bandwidth (Raw)
Video Capabilities
AMD Radeonâ"¢ RDNA 2-based graphics engine, Ray Tracing Acceleration, Variable frequency, up to 2.23 GHz (10.3 TFLOPS)
Sound Capabilities
"Tempest" 3D AudioTech
Design
Size: 15.4″ x 3.6″ x 4.09″
Weight: close to 5kg