Platform(s): PC (version reviewed), PlayStation 5, Xbox Series X | S
Genre: Survival horror
Described as a spiritual nightmare, The Chant is the latest horror game of the spooky season. A single-player, third-person horror action-adventure game set on a remote island spiritual retreat. A peaceful weekend soon turns to dread after a group chant opens The Gloom, a psychedelic dimension of terror that feeds off negative energy. Interact with a recurring cast of characters, untangle the complex history of the island, and witness terrifying revelations about the cosmos.
A Gloomy Game?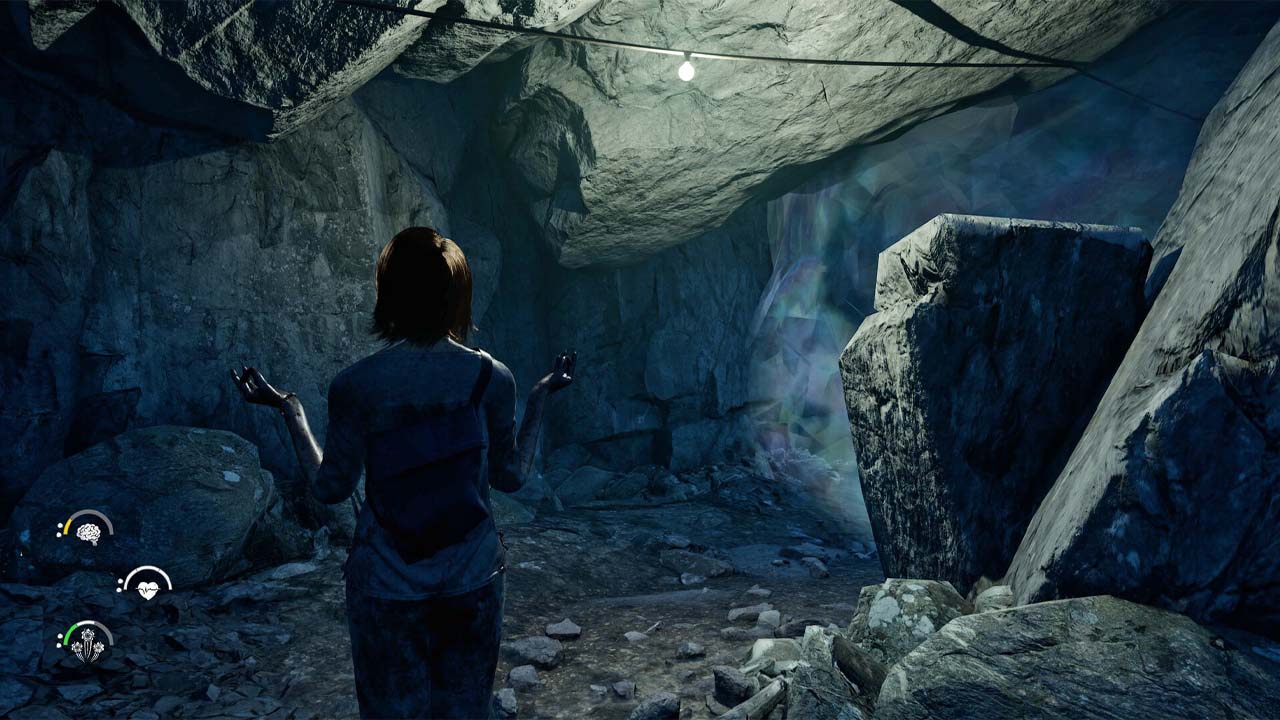 You play Jess Briars as she joins the Prismic Science Spiritual Retreat on remote Glory Island to get over her past and move on with life. As Jess, you fight off the creatures, reason with the survivors, and unravel the legacy of a cult from the 1970s to reverse the ritual.
As mentioned before, the main threat to Jess is something called The Gloom, a plant-based parasite that can take on many different forms that can lead to psychedelic trauma and produce various monstrosities that you will come across throughout the game.
These creatures range from Mimicrawlers—similar to Resident Evil's Lickers—and Cankertoads to unhinged cultists wearing animal masks. While running is always a viable option, you are able to craft different weapons for different scenarios by gathering materials scattered across the island. For example, witch sticks can do extra damage to Gloom-based enemies; sage sticks hurt swarms of flies; fire lash can burn cultists with great effect, and oils can be thrown to trap and damage. Other tools that you gain as you progress the game are a two-way radio and a flashlight. Prisms are also another tool which can be used to slow enemies, damage them, and more.
If running away or past these creatures is more your style then, salt can be thrown at them to cause a brief period of distraction. Jess can use light and heavy attacks as well as dodging. Dodgin is a vital mechanic that you will need to utilise as you can move out of the way of an incoming attack. Although you can simply move to survive, you might fall over and this helps to highlight just how vulnerable you are.
Oh, The Horror
The survival elements are something that does make this game extremely unique as you manage Jess' Mind, Body, and Spirit levels. Letting either of these gauges drop can lead to some interesting and unique results. If your mind gauge drops, you'll have a panic attack and weapons can't be used. The body is essentially your health, and Spirit is what supplies the power to the prisms. By finding lavender, ginger, and spirit caps across the island, you'll refill these gauges.
Finding these resources isn't too hard from my experience, but be sure to ration them well as certain areas lack resources. Finding Prismic Crystals will upgrade certain attributes, such as gaining more health or mind when using resources, or holding more of it in stock. You're not unlocking powerful abilities or attacks, which makes perfect sense, but they do help to acclimatise Jess to the island and the horrors it harbours. Although the island isn't huge in scale, there're plenty of areas you'll visit, all home to the freaks and monsters that want you dead.
Most of the puzzles follow a similar formula which involve finding key items like geometric shapes that are put together to form a key, machine parts, or actual keys to unlock padlocks. Other puzzles had me find various fuses for light-darkened areas. Although simple, given the environment and the enemies the puzzles were more than enough to raise my stress levels.
Like A Prayer
By no means is The Chant a bad-looking game per se but I feel that for a current-gen game, it definitely could have looked better. I feel that if the developers went with a more hyper-realistic art style, it definitely could have added to the creepiness of to the horror aspect of the game. One other thing I did notice was that the lip-syncing could do with some work. I find that some characters' mouths look way too wide when speaking and just look unnatural. Another thing is given the fact that this is a PlayStation 5 title, I expected the movement and transition to feel smoother. I also had various issues following an auto-save. After dying, I was loaded right back into an enemy attack, which was frustrating as I had no way to evade it.
Despite all this though, I'd say The Chant is a very solid entry into the survival horror genre, especially for someone like me who isn't really a big fan of the horror genre in all media. The acting is strong, and the crafting elements help to bring a sense of defencelessness to Jess. The story kept me enthralled, and The Gloom did its job of keeping me on my toes and giving me that horror game experience. The Chant may not look as good as it perhaps should on current gen, but the griminess of the island acted as an eerie backdrop to what first seemed like paradise.
Final Score: 60/100