A Recap Of How CD Projekt Red Done Effed Up Cyberpunk 2077's Launch Week [Update]
This article was published on 19th December. New info has come to light since 16th January 2021, thus we've updated this piece accordingly as the story is still ongoing.
Nine days ago, CD Projekt Red released its biggest game yet, the sci-fi RPG action-adventure odyssey Cyberpunk 2077. It's lauded as the biggest launch in PC gaming history, but instead, all eyes were (and still are) on all of the numerous problems surrounding it.
The release of Cyberpunk 2077 was met with a lot of complaints and controversy. CD Projekt not only made questionable decisions surrounding its release (dating back to the game's development as well) but also did not communicate with its player base properly.
It's a heckuva mess, and because we at Kakuchopurei love to detail these kinds of what-the-f***ery, here's a recap. Whether you're new to the drama or need a quick refresher of why CD Projekt are looking weary these past few days, this quick guide will sort you out.
8th December, 2020
Cyberpunk 2077 reviews started coming in as the embargo for the PC version lifted. Major media outlets like IGN and GameSpot reviewed the game on PC; CD Projekt apparently did not allow anyone to touch the PS4 and Xbox One versions of the game until after launch.
CD Projekt also added a number of crazy stipulations to the PC review embargo, including:
No gameplay screencaps and footage until after the release window of the game; reviewers had to use press assets.
A hefty fine to the publication if their review broke embargo dates.
9th December, 2020
YouTube content creators who haven't played Cyberpunk 2077 commented and criticized GameSpot reviewer for not "playing the game". Video did not age well after the game's release.
10th December, 2020
Cyberpunk 2077 was released for PC, Xbox One, and PS4. At this precise moment in the date, everyone who defended the game and lambasting the critics for not giving the game higher than a 9 out of 10 were slowly questioning their allegiance.
The game was extremely buggy. Not only were there clipping issues with vehicles and the environment, but there were (and still are) multiple bugged quests, disappearing NPC companions, and glitches that prevented players from completing the tutorial. The base console versions of the game ran like garbage if we're being nice about it. Low resolutions, near-unplayable frame rates, long pauses before textures load in, vacant areas with little to no NPCs; the works.
This recent parody of the E3 2018 trailer pretty much sums it up.
12th December, 2020
Cyberpunk 2077 received a hotfix that fixed a few bugs and a EULA warning about in-game scenes potentially triggering seizures. The launch game did not have these warnings, triggering a seizure for a Game Informer writer.
13th December, 2020
Cyberpunk 2077 developers will be paid bonuses regardless of Metacritic and Opencritic review averages, according to a leaked email circulating within CD Projekt. To quote studio head Adam Badowski concerning the change in policy:
"We initially had a bonus system that was focused on the game's ratings and the release date, but after consideration, we believe that measure is simply not fair under the circumstances. We underestimated the lengths and complexity involved to make this a reality, and still you did everything you could to deliver an ambitious, special game."
14th December, 2020
CD Projekt acknowledged the performance issues of the game on base current-gen consoles, thus asking its player base and fans to seek a refund through Microsoft and Sony. While Microsoft will refund a game within two weeks of purchase, doing that for the PS4 version may not be easy.
PlayStation said they should contact CD Projekt directly. So CD Projekt changed its message and ask its players to wait for the company to get back to them.
15th December, 2020
CD Projekt's CEO and higher-ups held an emergency call with investors to placate them and bring more light to the Cyberpunk 2077 launch fiasco. Long story short, CEO Adam KiciÅ"ski admitted that many of the game's issues were ignored.
"We underestimated the scale and complexity of the issues, we ignored the signals about the need for additional time to refine the game on the base last-gen consoles. It was the wrong approach and against our business philosophy".
16th December, 2020
GOG, a digital gaming platform owned by CD Projekt, will not be distributing indie horror game Devotion due to "many messages from gamers", a few hours after developer Red Candle Game joyously announced its return on online stores.
Keep in mind that Red Candle Games are Taiwanese developers, and Devotion came out in early 2019 before being pulled from online stores and digital storefronts for mocking China president Xi Jinping in a hidden easter egg. This made Chinese players review-bomb the game prior to being removed from Steam, as well as the game's publisher Indievent having its business license revoked due to this easter egg.
Because of this, CD Projekt is getting a lot of flak for the "many messages from gamers" post, with many tweets alluding to CD Projekt doing this just to get in good graces with China and its money.
18th December, 2020
PlayStation has removed Cyberpunk 2077 from its PS Store "until further notice".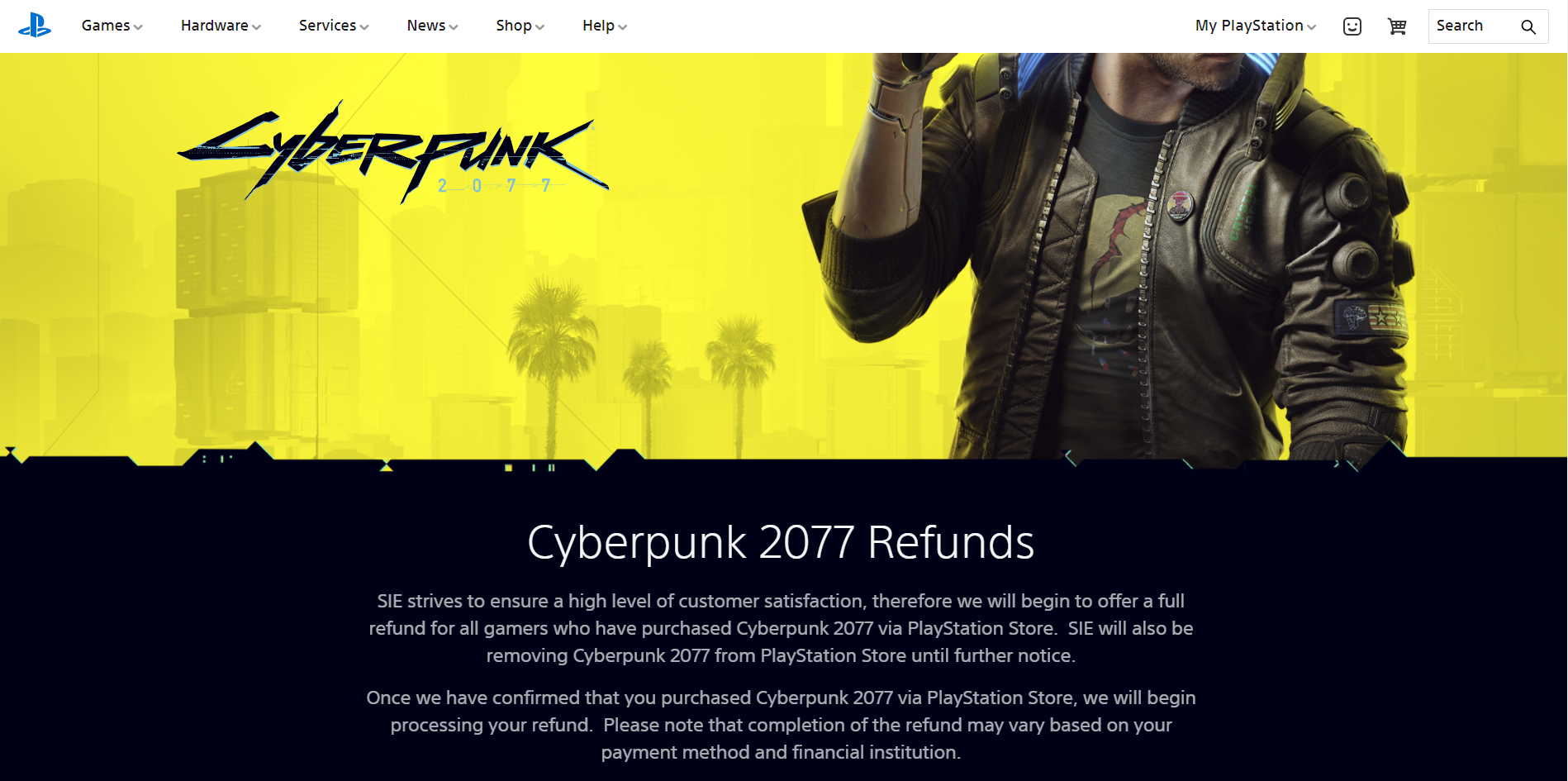 Parody account KazHiraiCEO came out of slumber to drop this killer retort to CD Projekt.
Southeast Asian gamers who want to get a refund from Cyberpunk 2077 (region 3 versions) can do so via Epicsoft. They're the Asian distributors of the game for Southeast Asia, Hong Kong, and Taiwan. However, the refund period will end on 21st December.
19th December, 2020
Frustrated and angry staff members in CD Projekt fired questions at the board during an internal video meeting on 17th December (via Bloomberg). They asked blunt questions about the company's reputation, unrealistic deadlines, and relentless overtime in the months and years leading up to Cyberpunk 2077's 10th December release date.
20th December, 2020
A New York Times report revealed that lawyers and investors in Warsaw are contemplating a class-action lawsuit against CD Projekt. Here's a quote from a CD Projekt investor/Mikolaj Orzechowski Polish law firm partner Mikolaj Orzechowski:
"We are currently analyzing, together with the law firm's team, the grounds for bringing a class action together with the notification of the possibility of committing a crime under Art. 286 of the Penal Code. – misrepresentation in order to obtain financial benefits."
New York law firm Wolf Haldenstein Adler Freeman & Hertz LLP has released a press release announcing its investigation and a class-action lawsuit against CD Projekt.
21st December, 2020
The Citizen Kane of Cyberpunk 2077 bugs video has graced the internet.
26th December, 2020
CD Projekt Red will be facing a class-action lawsuit on behalf of investors via Manhattan-based Rosen Law Firm. Press release words below:
"(1) Cyberpunk 2077 was virtually unplayable on the current-generation Xbox or Playstation systems due to an enormous number of bugs; (2) as a result, Sony would remove Cyberpunk 2077 from the Playstation store, and Sony, Microsoft and CD Projekt would be forced to offer full refunds for the game; (3) consequently, CD Projekt would suffer reputational and pecuniary harm; and (4) as a result, defendants' statements about its business, operations, and prospects, were materially false and misleading and/or lacked a reasonable basis at all relevant times. When the true details entered the market, the lawsuit claims that investors suffered damages."
So yeah, CD Projekt had a helluva week since the game's launch. Still, we are playing more of the game on Xbox Series X and PC despite the numerous immersion-breaking bugs. For more on Cyberpunk 2077, check out our review and guides.
14th January, 2021
The New Year has come and gone, but it's not like problems like these are going to vanish overnight. CD Projekt Red has finally made an official apology video regarding the bugs and console quality of its hit RPG Cyberpunk 2077. The video is helmed by co-founder Marcin IwiÅ"ski, who apologizes for the state of the game, asks fans not to condemn the developers of the game, and also shares a roadmap for updates to the game coming in the future.
16th January, 2021
Bloomberg writer Jason Schreier published an exposé about Cyberpunk 2077's behind-the-scenes work. This confirmed a LOT of suspicions from us; here are some examples:
The E3 2018 demo the media got to check out was entirely fake. Developers said the demo felt like a "waste of months that should have gone toward making the game".
Adrian Jakubiak, a former audio programmer for CD Projekt, said one of his colleagues asked during a meeting how the company thought it would be able to pull off a technically more challenging project in the same timeframe as The Witcher. "Someone answered: 'We'll figure it out along the way,'" he said.
"There were times when I would crunch up to 13 hours a day — a little bit over that was my record probably — and I would do five days a week working like that," said Jakubiak, the former audio programmer, adding that he quit the company after getting married. "I have some friends who lost their families because of these sort of shenanigans."
Even as the timeline looked increasingly unrealistic, management said delaying wasn't an option. Their goal was to release Cyberpunk 2077 before new consoles from Microsoft and Sony, expected in the fall of 2020, were even announced. That way, the company could launch the game on existing PlayStation 4, Xbox One, and PC, then "double dip" by releasing versions down the road for the next generation consoles. Management dismissed developer & technical concerns, citing their success in pulling off The Witcher 3.
Cyberpunk 2077 was announced 8 years ago, but development only started in 2016. Ergo, the game was made within 5 years.
17th January, 2021
CD Projekt Red CEO Adam Badowski officially clarified some of the points brought up in the Bloomberg exposé. Specifically, he responded to the "fake demo", the fact that the staff knew it wasn't ready for 2020, and the language barrier.
22nd January, 2021
Cyberpunk 2077's major 1.1 patch has arrived, fixing a number of bugs. We'll list them down for your convenience.
Various stability improvements including:
Memory usage improvements in various systems within the game: characters, interactions, navigation, in-game videos (news, tv, etc.), foliage, laser effects, minimap, devices, AI, street traffic, environmental damage system, GPU-related, and more.
Various crash fixes (related to, among others, loading saves, game opening/closing and Point of No Return).
Quests/Open World fixes:
Fixed an issue where calls from Delamain would end immediately and seem like they cannot be picked up in Epistrophy.
Fixed an issue where players would not receive calls from Delamain when approaching relevant vehicles in Epistrophy.
Fixed an issue where the objective could get stuck on "Answer the call from Mr. Hands" in M'ap Tann Pèlen.
Fixed an issue where Judy could teleport underground in Pyramid Song.
Fixed an issue where it would be impossible to talk to Zen Master in Poem of The Atoms.
Fixed an issue where Takemura wouldn't call in Down on the Street.
Fixed an issue where Jackie could disappear in The Pickup.
Fixed an issue where it could be impossible to get out of the car in The Beast in Me: The Big Race.
Fixed an issue where players could stop receiving calls and messages after moving too far away from A Day In The Life area.
Fixed an issue where opening the package wouldn't update Space Oddity.
Retro-fixed the saves affected by a rare issue where speaking to Judy in Automatic Love would be impossible due to an invisible wall. The underlying issue is under investigation.
Fixed an issue that prevented players from collecting the reward in Gig: Freedom of the Press. The quest will auto-complete for those who could not collect the reward previously, and the reward will be provided automatically.
Fixed an issue where Delamain would remain silent throughout Epistrophy if the player initially refused to help him.
UI
Fixed an issue where prompt for exiting braindance could be missing.
Removed an invalid item from loot.
Visual
Fixed an issue where a grenade's trajectory could be displayed in photo mode.
Fixed particles' hue appearing pink when viewed close up.
Fixed cars spawning incorrectly in Reported Crime: Welcome to Night City.
Achievements
Fixed an issue where completing one of the assaults in progress in Santo Domingo would sometimes not contribute towards progression for The Jungle achievement, preventing its completion.
Miscellaneous
Addressed the issue responsible for saves getting oversized (related to the modifier indicating if the item is crafted), and trimmed the excess size from already existing saves (note: this won't fix PC save files corrupted before 1.06 update).
Fixed an issue where input could stop registering upon opening the weapon wheel and performing an action.
Fixed an issue where the "Continue" button in the Main Menu could load an end game save.
PlayStation-specific
Performance optimization of crowds on PlayStation 4 Pro and PlayStation 5.
Various crash fixes on PlayStation 4.
Xbox-specific
Improved memory usage for character creation, mirrors, scanning, camera remote control, menus (inventory, map) on Xbox One, Xbox One X and Xbox One S.
PC-specific
It will now be possible to obtain achievements while in Steam offline mode. Note: Offline mode needs to be enabled before starting the game. This change does not work retroactively.
Addressed the game startup crashes related to loading cache on NVIDIA graphics cards.
Stadia-specific
Concert audio should no longer be inaudible in Never Fade Away.
Fixed corrupted textures on several melee weapons.
Tweaked default deadzone settings to be more responsive. Note: the change will not affect settings unless they're set to default.