Former Penny Arcade Report Senior Editor Reveals Company's Alleged Shady Practices
Back in 2011, video game comic/expo/entertainment juggernaut Penny Arcade launched a news and games report site that focuses on publishing honest no-nonsense editorials & think-pieces. It was called Penny Arcade Report and it had a good two-year run worth of exposé and honest critiques about the industry.
Turns out that things weren't that rosey behind the scenes. It was controlling its messaging and was fine killing stories to protect its main business, according to former Penny Arcade Reports senior editor Ben Kuchera (who has recently written for Polygon and Ars Technica). He stated the following on his Twitter feed about 4 hours ago.
Penny Arcade is the only company he's ever worked with that killed stories to protect their business.
The Penny Arcade Report offshoot was the outlet where Kuchera's bosses told him he couldn't report on certain things because it would hurt their ability to make money.
The Penny Arcade group berated Kuchera during a company vacation for not being supportive during the Penny Arcade Dickwolves incident (ie: the one about perpetuating rape culture). In public.
Kuchera was also cornered by a Penny Arcade "person selling ads", pressuring him to get the Penny Arcade Report website "numbers up to support the buys".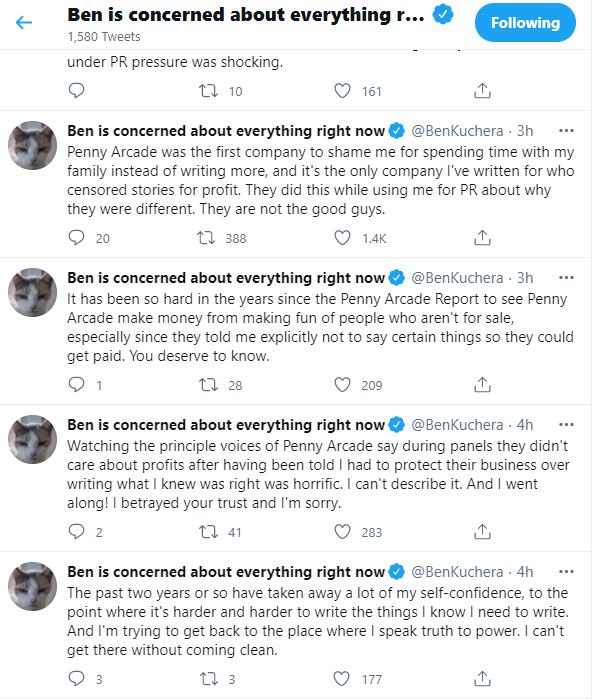 Seeing as Penny Arcade is a major games expo and game culture influencer of the highest degree, it's only natural that it controls its so-called honest news site so that it doesn't piss off its main investors and advertisers. Still, it is a shame that its then-news outlet resorted to the aforementioned alleged tactics.
How did the creators of Penny Arcade respond to these alleged misdeeds? Well, Penny Arcade co-founder Michael "Gabe" Krahulik has blocked notable Polygon and Vice editors and writers from his Twitter feed.
https://twitter.com/plante/status/1362498377364221959
We'll be sure to update this story when the second half of Penny Arcade, Jerry Holkins, has a public response.