Genshin Impact's Eula is now available in the game's new gacha banner, meaning she's up for grabs if you have Primogems to spare.
If you do: congratulations! Here's a guide to maximizing her potential in your party.
Eula In A Nutshell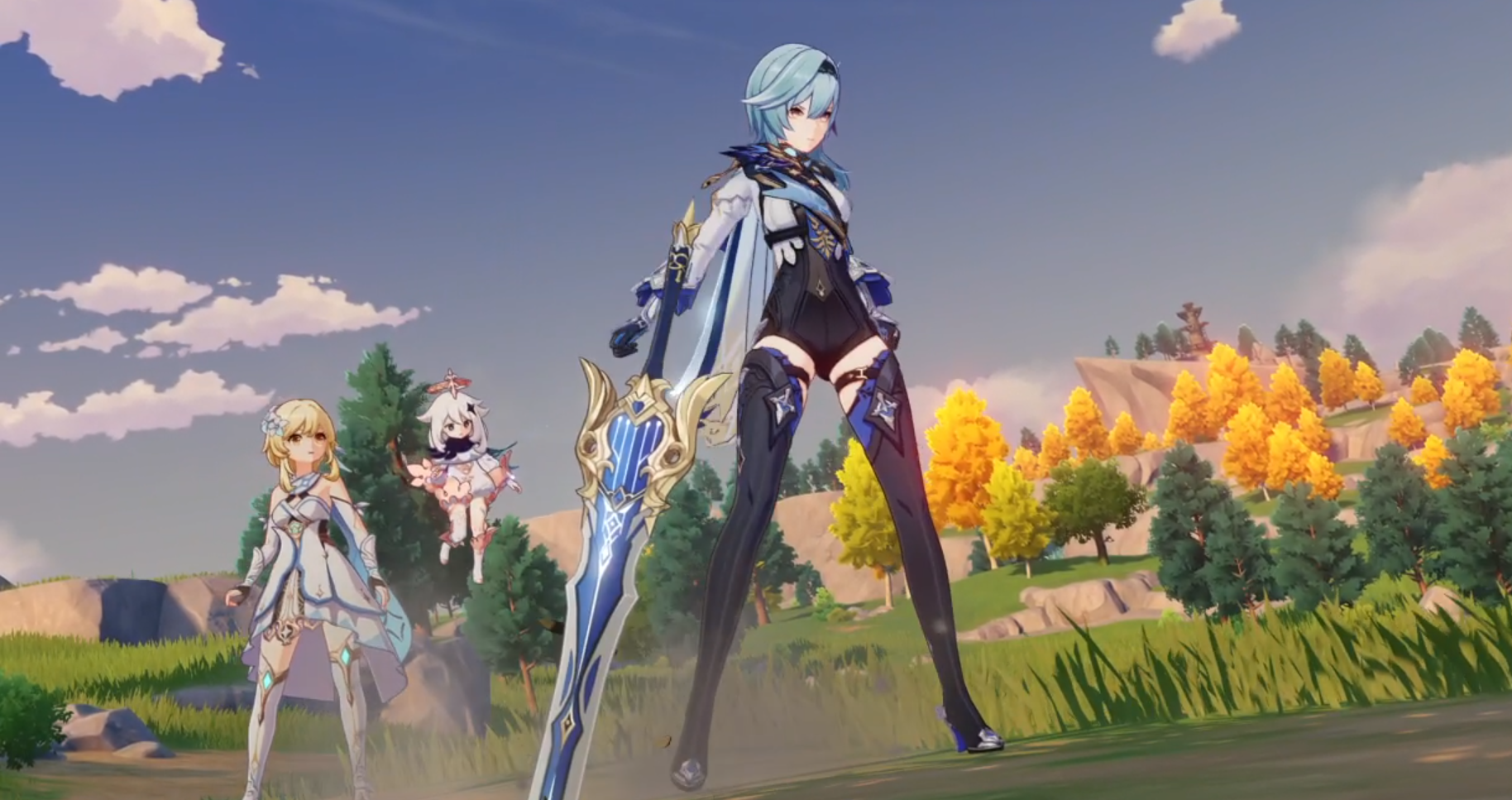 Eula has surprisingly fast attacks for a Claymore user and a pretty awesome buff-heavy number of Elemental skills. When she performs an Elemental Burst, she gains a temporary pet companion, the Lightfall Sword, that explodes in a burst of damage after 7 seconds.
During these 7 seconds, you need to deal as much damage as Eula as possible to give the sword additional stacks so that the subsequent explosion deals bigger damage. Just use Eula's regular attacks on enemies and you should be fine. She also gains resistance against interruption whenever she triggers her Skill and Burst, which is pretty useful if you want to deal damage unimpeded. Just be mindful of her health since she still takes damage.
A typical Eula skill rotation goes like this.
Elemental Skill (press) – She gets 1x Grimheart.
Elemental Burst – Spawns the Lightfall Sword, resets the elemental skill cooldown, and grants 1x Grimheart stack.
Elemental Skill (press) – She gets 1x Grimheart. However, since you already have two stacks, this wouldn't matter. This is mostly to hit more enemies for the Lightfall Sword's stacks.
Elemental Skill (hold) – Consumes 2x Grimheart stacks and debuffs enemies.
This rotation is more useful once Eula is past level 70. To make the most of Eula's moves, pair her up with Pyro and Hydro characters to get the Melt and Freeze triggers, which can help in getting enemies close to Eula's giant-ass sword swipes.
---
Talent Breakdown
Normal Attack: Favonius Bladework – Her attacks are faster than most claymore users, giving her a slight edge.
Elemental Skill: Icetide Vortex – She deals Cryo damage and gains a stack of Grimheart. Grimheart boosts her defense and resistance to interruption. Can be stacked two times. Charging the Elemental Skill makes Eula deal AoE Cryo damage in front of her. The charged skill will consume Grimheart stacks; doing so will boost the charged attack's Cryo damage and lowers enemy Cryo and Physical resistances if they're hit.
Elemental Burst: Glacial Illumination – Deals AoE Cryo damage and summons a Lightfall Sword. Dealing damage with regular and special attacks will give the Lightfall Sword stacking charges. After 7 seconds, the Lightfall Sword explodes and deal big damage depending on the charges it receives.
You may want to focus all your talent-leveling materials on her Elemental Burst over everything else, since it's her strongest move in her kit.
Constellations, In Case You Lucked Out Getting Multiple Eula Copies
C1: Tidal Illusion – Each time the Icetide Vortex's Grimheart stacks are consumed, Eula's Physical damage is increased by 30% for six seconds. Each stack consumed adds to the duration of this effect by six seconds up to a maximum of 18 seconds.
C2: Lady of Seafoam – Decreases the 10-second cooldown of Icetide Vortex's holding/charged skill. It'll simply have the quick press' cooldown of four seconds.
C3: Lawrence Pedigree – +3 levels for your elemental skill; maximum level is 15.
C4: The Obstinacy of One's Inferiors – +25% Lightfall Sword damage against opponents with less than 50% health.
C5: Chivalric Quality – +3 levels for your elemental burst; maximum level is 15.
C6: Noble Obligation – All Lightfall Swords created by the elemental burst have five energy stacks already. All hits with normal attacks, elemental skills, and the elemental burst have a 50% chance to add an extra stack of energy.
If you're thinking of rolling multiple Eulas, just keep in mind that it will be an incredibly expensive procedure. For a rough idea of your chances, go watch this video.
---
Eula's Ascension Materials
Being a Monstadt region hero, she will need a lot of Dandelion Seeds to max her level. She's also a Cryo-based heroine, so she'll need Shivada Jade stones and Crystalline Blooms; the latter materials can only be found on the game's new Cryo Hypostasis enemies.
Here's a nifty Dandelion Seeds farming guide from Syrx, in case you need 53 of them in one run.
---
The Best Weapons & Artifacts For Eula
Eula uses Claymores, so she hits like a beast but has slow startups in her swings. We suggest the following swords for her:
Wolf's Gravestone – Adds +20% to ATK and triggers a big ATK buff if you hit an enemy with low health.
Prototype Archaic – A great F2P option if you want to save Primogems. Gives a chance to deal 300%+ ATK to enemies; happens once every 15 seconds.
Snow-Tombed Starsilver – Another F2P option for Eula. This weapon can summon random icicles if you hit them with regular or charged attacks. These icicles deal more damage to enemies with Cryo effects, which is perfect for Eula. You can get this by finding all the stone tablets in Dragonspine.
Song of Broken Pines – Gives users the Millennial Movement buff, which increases ATK by 16% if you land normal or charged attacks. Getting 4 stacks of this buff will grant players the Millenial Movement: Banner-Hymn buff that increases ATK and normal ATK speed. You can only get this weapon from the Epitome Invocation banner though.
Eula's DPS skills are top-notch, so it makes sense to give her artifacts that amplify her regular damage-dealing options.
Pale Flame artifact set – Two pieces of these artifacts will give you a +25% Physical damage buff, while four of them will grant an ATK bonus that stacks if you hit enemies with an elemental skill. You can obtain these from the Ridge Watch domain.
Bloodstained Chivalry artifact set – Two pieces of these will give you a +25% Physical damage buff.
Noblesse Oblige artifact set – Two pieces of these will grant you a +25% elemental burst damage buff.
Ideal rolls for artifact stats include ATK and Physical damage boosts, as well as critical rate.
---
Eula's Story Quest
Eula's story quest requires only one story key to unlock. You can get story keys by completing daily quests.
Related