Mythic Quest is one of the best and most refreshing sitcoms of recent times. Produced by the creators of It's Always Sunny In Philadelphia and Ubisoft Film & Television, the first season of the Apple TV+ series showed that it wasn't afraid to be both funny and over-the-top while also being hard-hitting and packing an emotional gut-punch.
It helps that the games industry setting is one that's ripe for all kinds of hilarious shenanigans and situations.
Who's The Boss?
At its best, Mythic Quest feels like The Office meets Community (one of the actors, Danny Pudi, also starred in Community). In Mythic Quest, the characters are all co-workers in a games developer/studio responsible for making an MMO game called Mythic Quest, which is pretty much a fictional version of Blizzard's World Of Warcraft. By way of a familiar workplace comedy set-up, its debut outing offered more than just a comforting distraction last year.
The two lead characters behind Mythic Quest are the egomaniacal creative director Ian Grimm (played brilliantly by Mythic Quest showrunner Rob McElhenney) and the stressed out and always overworked lead engineer Poppy Li (Charlotte Nicdao). At the end of Mythic Quest Season 1, Poppy finally gets promoted to the same position as Ian and becomes the studio's co-creative director. Of course, whenever the status quo gets shaken, things don't always go silky smooth.
Only two episodes have been released for Mythic Quest Season 2, and Poppy is struggling with being in a new leadership position as a co-director, which she's not used to. This results in another interesting dynamic being explored, as her relationship with everyone at the studio has now changed. She's no longer a fellow colleague, but a boss, and she's working on how to best perform her new job.
She's not the only one feeling that way, as executive producer David Brittlesbee (David Hornsby) once again feels insecure. He's technically the boss of everyone at the studio, but they don't really treat him that way. Just like Poppy, he now has to learn how to be a better boss and assert his dominance, so to speak.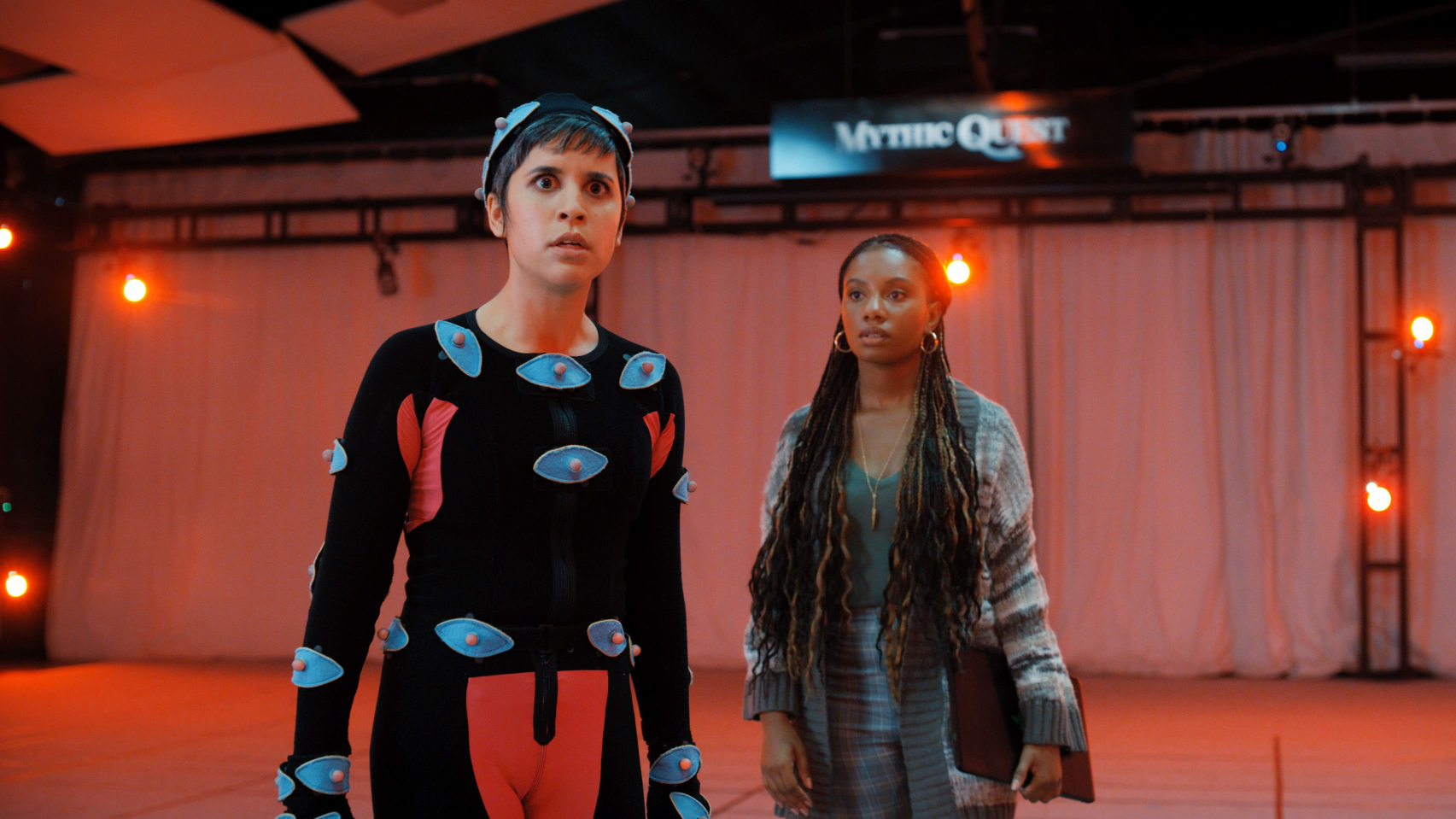 Besides Poppy and Ian, two other relationships that will seemingly be the focus of the new season are those between monetisation head Brad Bakshi (Danny Pudi) and his protégé Jo (Jessie Ennis), who was previously David's assistant back in Season 1, as well as the budding romance between QA testers Rachel (Ashly Burch) and Dana (Imani Hakim). It will be exciting to see how Season 2 will explore these new relations moving forward.
Mythic Quest Season 1 had a lot of crazy plots, including one where the developers have to deal with childish and arrogant video game streamers, who are hilariously almost always children or teenagers in the Mythic Quest universe (which is even funnier considering they're supposed to mirror the attitudes and personalities of real-life streamers). There's also another noteworthy plot thread where they have to deal with the toxic and borderline-abusive behaviour of gamers.
In the two episodes of Mythic Quest Season 2 so far, we have a running joke where the main characters keep taking advantage of and exploiting the studio's art team, forcing them to work according to their whims without any regard to their well-being (which will surely lead to something later this season). One of my personal favourites where they're trying to make a mobile game while also attacking the very idea of mobile games.
Arguably the standout and best episode of Mythic Quest Season 1 was the excellent "A Dark Quiet Death", which was a standalone episode that featured none of the main cast. Instead, it focused on Jake Johnson's Doc and Cristin Milioti's Bean as a couple in the 90s who goes on to form a games studio of their own.
This episode was notable for turning down the over-the-top tone of the usual episodes and goes straight to showcasing the realistic struggle of a company in the games industry trying to balance creativity and business. The episode doesn't end well, as business and commercial profits ultimately triumph over creativity and heart; putting the spotlight on real game companies who start out being beloved for their great games before succumbing to selling out for purely financial reasons (like BioWare, Blizzard, and more, if you know, you know).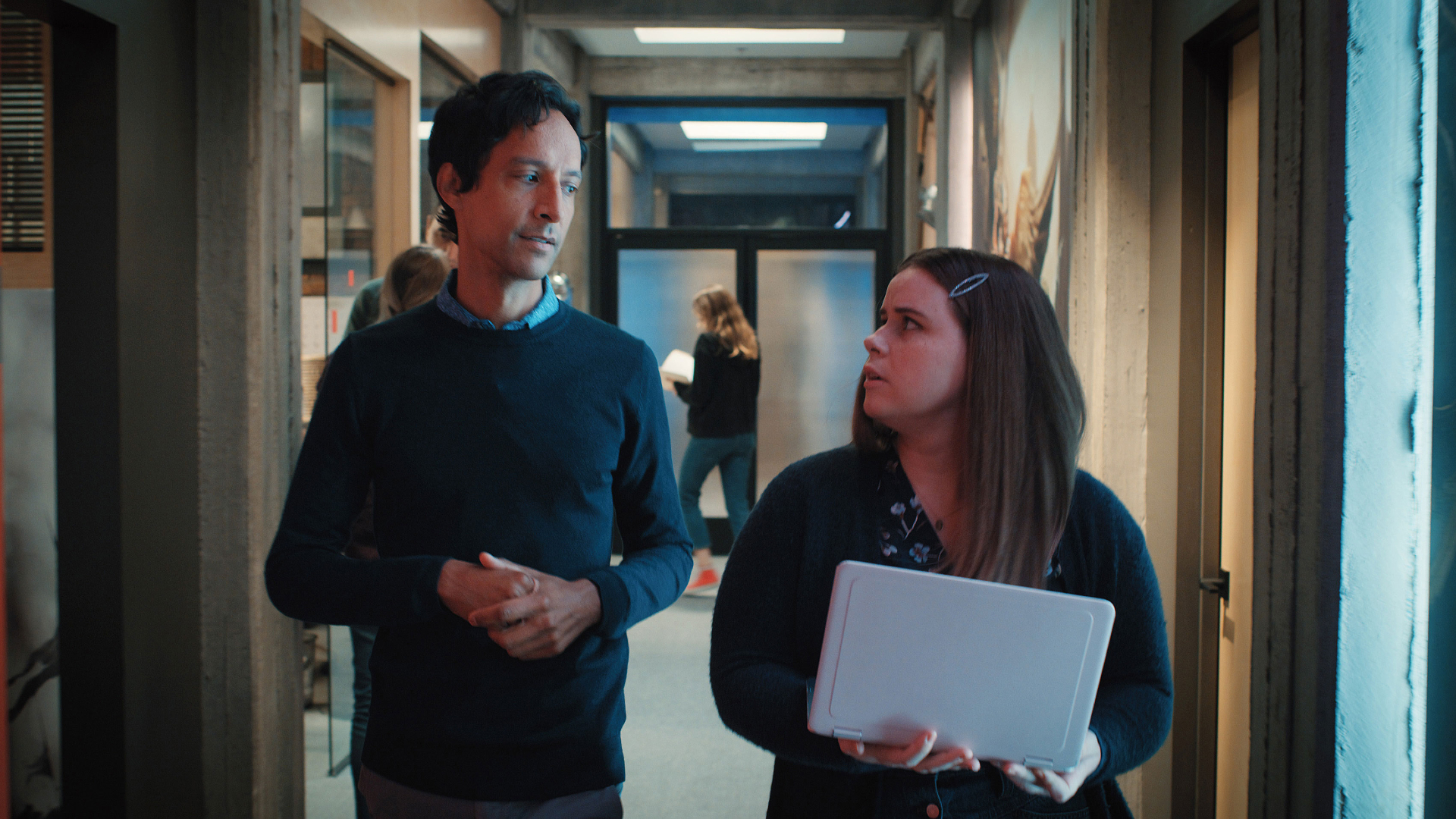 Other great Mythic Quest episodes include the specials released in between the first and second seasons. "Quarantine" focused on the struggle of self-isolation while "Everlight" had a fun LARPing element while still being emotionally satisfying. I really hope the Mythic Quest Season 2 will try to do more of these insane and experimental episodes since the first two episodes have pretty much been the usual tamer stuff.
If you're looking for a new sitcom to spend about 30 minutes with once a week, you can't go wrong with Mythic Quest. Viewers who are gamers or game developers themselves will probably be able to appreciate the show more, but casual viewers will still be able to love the jokes and characters. I'm definitely looking forward to the rest of Mythic Quest Season 2. In the words of F. Murray Abraham's C.W. Longbottom: Huzzah!
FINAL SCORE: 90/100
The first two episodes of Mythic Quest Season 2 premiered on Apple TV+ on 7 May 2021. Subsequent episodes will premiere every Friday. There will be nine episodes in Mythic Quest Season 2.
Related