Star Wars The Batch Batch is the latest animated series in the long-running franchise and it's currently ongoing with nine episodes so far available to stream on Disney+ Hotstar Malaysia.
Star Wars The Bad Batch follows the elite and experimental clones of the Bad Batch as they find their way in a rapidly changing galaxy in the immediate aftermath of the Clone War. Members of Bad Batch; a unique squad of clones who vary genetically from their brothers in the Clone Army; each possess a singular exceptional skill that makes them extraordinarily effective soldiers and a formidable crew.
The Bad Batch was originally introduced in the final season of Star Wars The Clone Wars, and they were the focus of the first major story arc in the aforementioned season. The Bad Batch is an elite clone commando squad consisting of four clone troopers designed with genetic mutations. These include:
"Tech," a clone with heightened mental capacity and intelligence.
Clone Sergeant "Hunter," a clone with improved sensory abilities.
"Wrecker," a clone with enhanced strength.
"Crosshair," a clone with sharpshooter abilities.
Each member of the Bad Batch could be identified by a skull icon on their clone trooper armour. Following the Battle of Anaxes (which happened in the first four episodes of Star Wars The Clone Wars Season 7), fan-favourite Clone Corporal "Echo" also officially joined the squad.
Star Wars The Clone Wars creator and The Mandalorian executive producer Dave Filoni returns for Star Wars The Bad Batch as executive producer alongside Athena Portillo (Star Wars The Clone Wars, Star Wars Rebels), Brad Rau (Star Wars Rebels, Star Wars Resistance) and Jennifer Corbett (Star Wars Resistance, NCIS).
We managed to participate in a roundtable interview with head writer and executive producer Jennifer Corbett as well as supervising director and executive producer Brad Rau, courtesy of Disney+ Hotstar Malaysia. This interview has been edited for clarity.
Q: What are the challenges of making a Star Wars show with almost zero Jedi presence?
Jennifer Corbett: That's a good question. As you know, a lot of people, when they think of Star Wars, it's always Jedi-related but we view Star Wars The Bad Batch as a successor series to The Clone Wars because now we're at a point in the timeline where it's a dark period for the Jedi and it's post-Order 66. We're really kind of diving into the Clone troopers. We've gotten to know them during the Clone Wars and we got to really get attached to them.
Now, what happens to their story is that the chips have been activated and the Empire is rising and how the Bad Batch fits into this. They (the Bad Batch) never really dealt with Jedi. They worked with Anakin Skywalker once for like a single mission but they were really kind of their own entity.
They aren't as attached to them (the Jedi). While good soldiers follow orders from the Empire, the Bad Batch don't often follow orders so how does this misfit team find their place in the Empire. They don't, because they don't like orders and how they find purpose moving forward.
Brad Rau: I agree, as a Clone story, it makes sense that we don't see too many Jedi. Also, after the events of Star Wars Episode III Revenge Of The Sith, the Jedi have either been destroyed or whoever's left have been scattered to the far rims of the galaxy.
It's really interesting that in the Original Trilogy, not everybody believes in the Force. Jedis are an anomaly, it's a weird thing. What is this weird thing that's happening? Over a period of 18 years, there must not have been hardly any Jedi seen by hardly anybody anywhere so it does make sense in this era to navigate forward.
For us, it's an opportunity to, as much as we love Jedi, not dwell on that side of Star Wars but what is the characters' story and what is the drama at this point in the timeline.
Q: With all the cameos from Rex to Cad Bane, Star Wars The Bad Batch feels like The Clone Wars 2.0. What do you think distinguishes The Bad Batch from the others?
Jennifer Corbett: Brad and I are such massive Star Wars fans. In telling the story of the Bad Batch and it being such a big galaxy, the idea of them coming across certain people because in this timeline there are a bunch of people who are bouncing around. Would the Bad Batch come across them?
We're always very careful as to why we're bringing in who we're bringing in and how that services the story of the Bad Batch and Omega. We don't want to just bring everybody in and have it be a cameo fest. I think we've done a good job in making sure that the reason that they're there serves the purpose of the story that we're telling.
Brad Rau: If you're following each episode, is there another bounty hunter but you forget about it and it's all very intentional until you hear that guitar music playing. What's going on, and you see Cad Bane. When we were in the writers' room talking about that, we were so excited.
We started looking at the old designs from The Clone Wars that were never realized for Cad Bane and how we can fine-tune them and bring them in, we were writing scripts and working with Corey Burton (the voice of Cad Bane) to record it and animating them.
We would get chills when we see him coming into the show so it seems like the fans will be very, very excited to see him as well.
Q: Who would you say is the real villain of the series; Grand Moff Tarkin, Admiral Rampart or Crosshair?
Jennifer Corbett: Ooooh, that sounds spoiler-y. I would say, the Empire. It's just the entity itself and they're all a part of it and they all represent different aspects of the Empire. It's all a matter of a certain point of view, who do you think the true villain is. I'm sure none of them thinks they're the villain though. I'll add that.
Q: What is the potential of Star Wars The Bad Batch moving forward?
Jennifer Corbett: Speaking about the stories for The Bad Batch, we didn't want to get too big earlier on. There's a long way to go until Star Wars Episode IV A New Hope or even Star Wars Rebels, but it's really about the turmoil of when one government falls and another rises. It's also about how this squad, they were created for the sole purpose of following orders and now that's taken away from them and they don't know where they belong.
They don't know how to navigate in a galaxy outside of that realm of following orders and being part of a military. You can really relate it to real-life when all of a sudden your job is taken away and you're left to start from scratch and you don't know what that means. We just wanted them to experience all the things that are going on in the galaxy and open their eyes to different worlds and different people that are having issues with the Empire. Now that they're in charge of Omega, they're her guardians and how they struggle to be parents and brothers in this new world order.
Brad Rau: As fans, anything to do with the Clones, what happened to the Clones. Even though there's a big period of time between Star Wars Episode III Revenge Of The Sith and Star Wars Episode IV A New Hope, there's a massive story there of what happened to the Clones. We're very excited to get a perspective on all sides of what that means and how that looks.
Like Corbett was saying, the whole family dynamic, super-soldiers, rising Empire, it's all juicy, let's get into it. I know, as we've started to create more and more of these stories, that family dynamic has been the most interesting thing more often than not, seeing this kid fail and then have to learn to overcome things. Seeing these guys who are so tough and cool, seeing them fail and having to learn from the kid, that dynamic has been really magical, it's kind of lightning in a bottle. It's been fun developing that.
Jennifer Corbett: It's a story like transition because it's not just them transitioning into being mercenaries or guardians but it's also the transition of the galaxy at that time because it's not like Order 66 happens and all of a sudden, the Empire has galactic dominance everywhere.
Like, there's a presence but it takes time for them to become what they are in the Original Trilogy. It's fun to lay those seeds where an audience member is going to be like; that's going to be a problem and sure enough, later on, it does but right now, for them in this story, it's the building blocks of what the Empire becomes.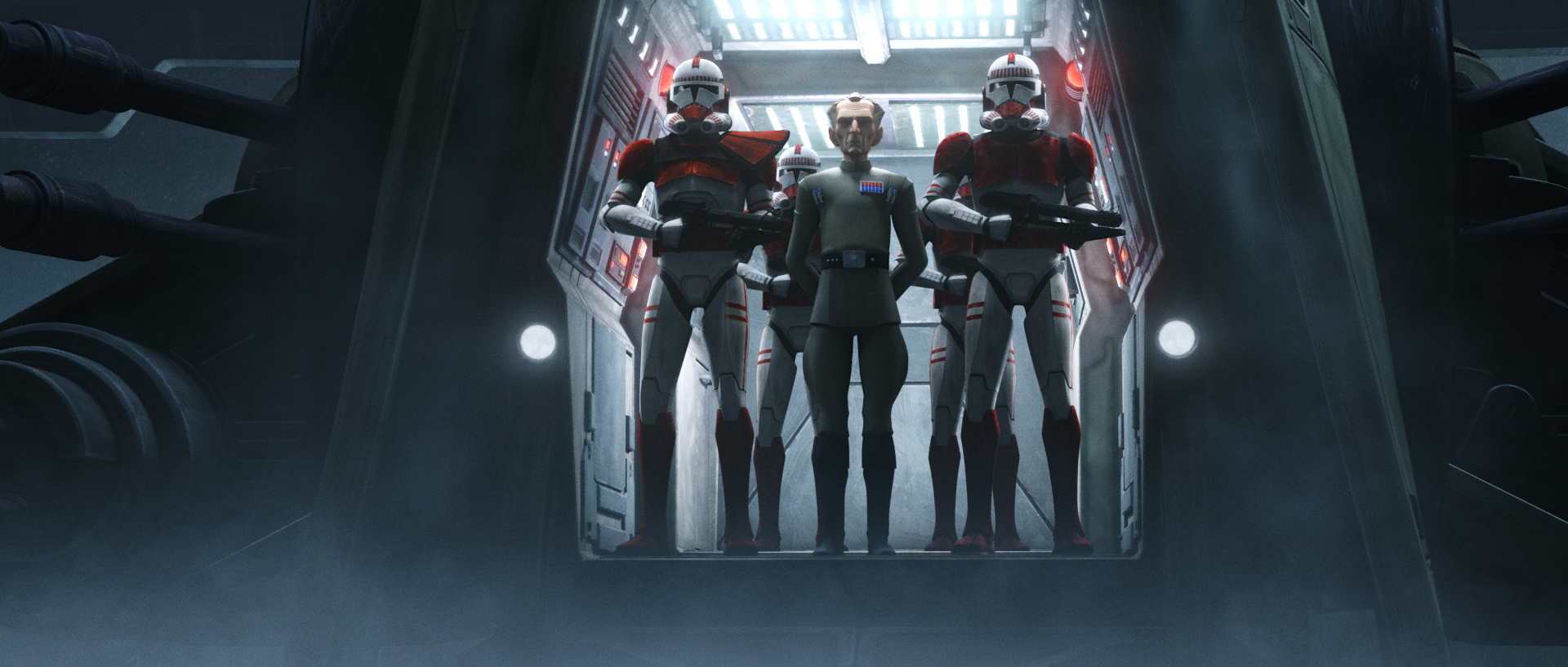 Q: Who is your favourite Star Wars character?
Jennifer Corbett: I'll say, Ahsoka Tano. We're so invested in her story and her journey and loves how she changed so much from when she was originally introduced to how she ended in The Clone Wars. I think she spoke a lot of being a part of something but also being able to question when you think something's not right. When she walks away, those decisions just really resonated with me as a person. As a massive fan of Star Wars, it was really her dynamic with Anakin Skywalker and how she helped him grow, which really changed things for me in how I view Star Wars.
Brad Rau: For me, I got to go with Darth Vader. My favourite movie is Star Wars Episode V The Empire Strikes Back. When I was a young boy and I saw that movie in the theatres, it blew my mind when he says Luke, I am your father. My brother and I looked at each other and dropped our popcorn. That was it, we were Star Wars fans our whole lives.