We Talk To E1 Championship Season One Champion Aleef Hamilton About His Aspirations, Rivals & More
A few months ago in June 2021, the E1 Championship Season One came to an epic close when Singaporean sim racer Muhammad Aleef Hamilton and his team, Team Flash, was crowned driver and team champions.
Now In August 2021, the E1 Championship is counting down to the first race of Season Two, which kicks off on 25 August 2021.
A total of 20 drivers will be competing for E1 glory, including defending champion Ar Muhamad Aleef 'Hamilton' (SIN) of Team Flash, Naquib Azlan (MAS) of Stratos Motorsports, Kalen Chin (AUS) of Blackwolf Wot Performance Racing, and Inigo Anton (PHL) of GT Radial Eurasia Motorsport.
They will need to prove their skills on the track to compete for the RM67,000 (US$16,000) prize pool.
How did it feel to become the champion of Season 1?
It was a very proud and humbling moment for me, especially to have won with Team Flash and clinched both titles in our debut season!
What is next for you now that you've won the first season of the E1 Championship?
To try and do our best for Season 2, as well as to attack regional and international tournaments like the Toyota GT Cup and Logitech G Challenge! 
Do you have any plans to race in actual live cars following your successful esports career?
Definitely! However, as I'm still serving my National Service, coupled with difficulties brought by COVID-19 and limited funding, it is tough to do so. But we will have free test sessions at Sepang in a Formula Renault car real soon, so I will definitely try my best there and hopefully be able to impress a few people!
How are you preparing for the upcoming E1 Championship Season 2?
Pretty much the same way I prepare for every championship, which is to study the details and practice efficiently to extract the most when it matters.
Who do you consider to be your fiercest rivals in esports?
This is a question I haven't really asked myself, because I have great respect for all my competitors and generally get along very well with them. But if I had to pick a name it would be Naquib Azlan, he's really quick both in real life and on the sim, and is a whole package for any race. But I do work with him when we do endurance races, and we banter, laugh and joke around almost all the time! 
How and why did you start taking part in sim racing esports?
I started esports thanks to my love for Formula One, and it is my dream to be a Formula One driver. But due to the high cost of racing, I started to compete in free esports events around Singapore during the F1 season and learned my trade from there. I usually study off real F1 onboard laps from Hamilton, Vettel and Alonso, and apply it into my sim racing.
Sim racing felt like the perfect sport for me, where the weak could work hard enough and beat the powerful without breaking the bank. It was also the only driving thing I could do, and I loved it from the get go!
Who would you consider your idol when it comes to racing or esports?
Definitely Lewis Hamilton. I grew up watching him and even interacted with him a few times. He's just someone that I relate to very much, the way he carries himself and performs on track is second to none and such an inspirational figure to me and millions of others.
Do you support any particular professional racer today?
Lewis, and probably a few others like Nyck De Vries in Formula E, Scott McLaughlin in IndyCars and more.
Do you have any advice for aspiring sim racers out there?
I would say enjoy yourselves first and foremost, and to focus on self-improvement while balancing it out with other aspects of your life because sim racing is heavily dependent on mental fitness and fortitude. So never give up and keep having fun! 
Do you have any favourite non-racing video games you play in your free time?
Yup! Games like FIFA, Call of Duty, Grand Theft Auto, all help me to de-stress and chill with my friends.
---
As was previously mentioned, you can check out Naquib Azlan in action during the E1 Championship Season 1 by tuning into Astro eGG Network or their official Facebook page every Wednesday starting from 25 August 2021 2021 at 9pm GMT+8.
Check out the E1 Championship Season 1 schedule and format below: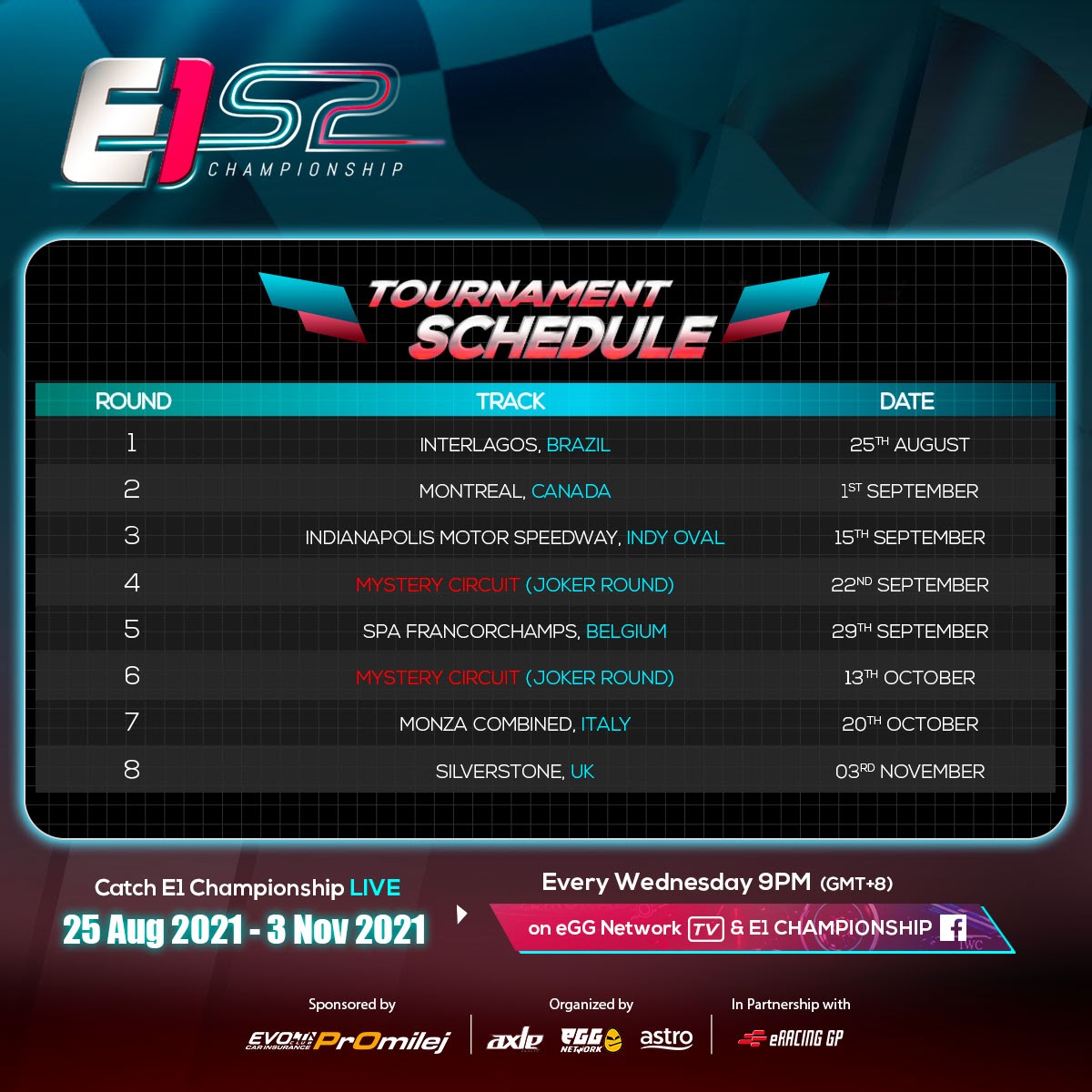 For more on the E1 Championship, head on over to the official Facebook page here or their YouTube channel here. In the meantime, you can check out a video recap of the E1 Championship Season Zero finale below:
Related