Platforms: Android, iOS
Genre: Open-World Action RPG
There is perhaps no better time for a game like Marvel Future Revolution to release than now. This is especially so with Marvel's concept of the Multiverse and alternate versions of the same characters being all the rage (despite it already being a mainstay in comics for decades).
The story in Marvel Future Revolution begins when multiple Earths converge in the multiverse to form an entirely new 'Primary Earth' filled with unique zones and missions to explore, such as the high-tech New Stark City, the dangerous Hydra Empire, the wild and rugged Sakaar, and many more. If you're familiar with the comics, it's basically similar to the Battleworld concept featured in the Secret Wars comics.
As agents of the newly formed 'Omega Flight' Super Hero team, players will work together to 'Primary Earth' from threats and supervillains. There will be eight playable characters at launch, including Captain America, Captain Marvel, Spider-Man, Black Widow, Iron Man, Doctor Strange, Star-Lord, and Storm.
Fans of online multiplayer will have plenty to look forward to with various PvP modes, ranging from 1v1 up to 10v10 matches. As players progress, more modes will unlock, including Blitz, Special Operation, Raids, and more.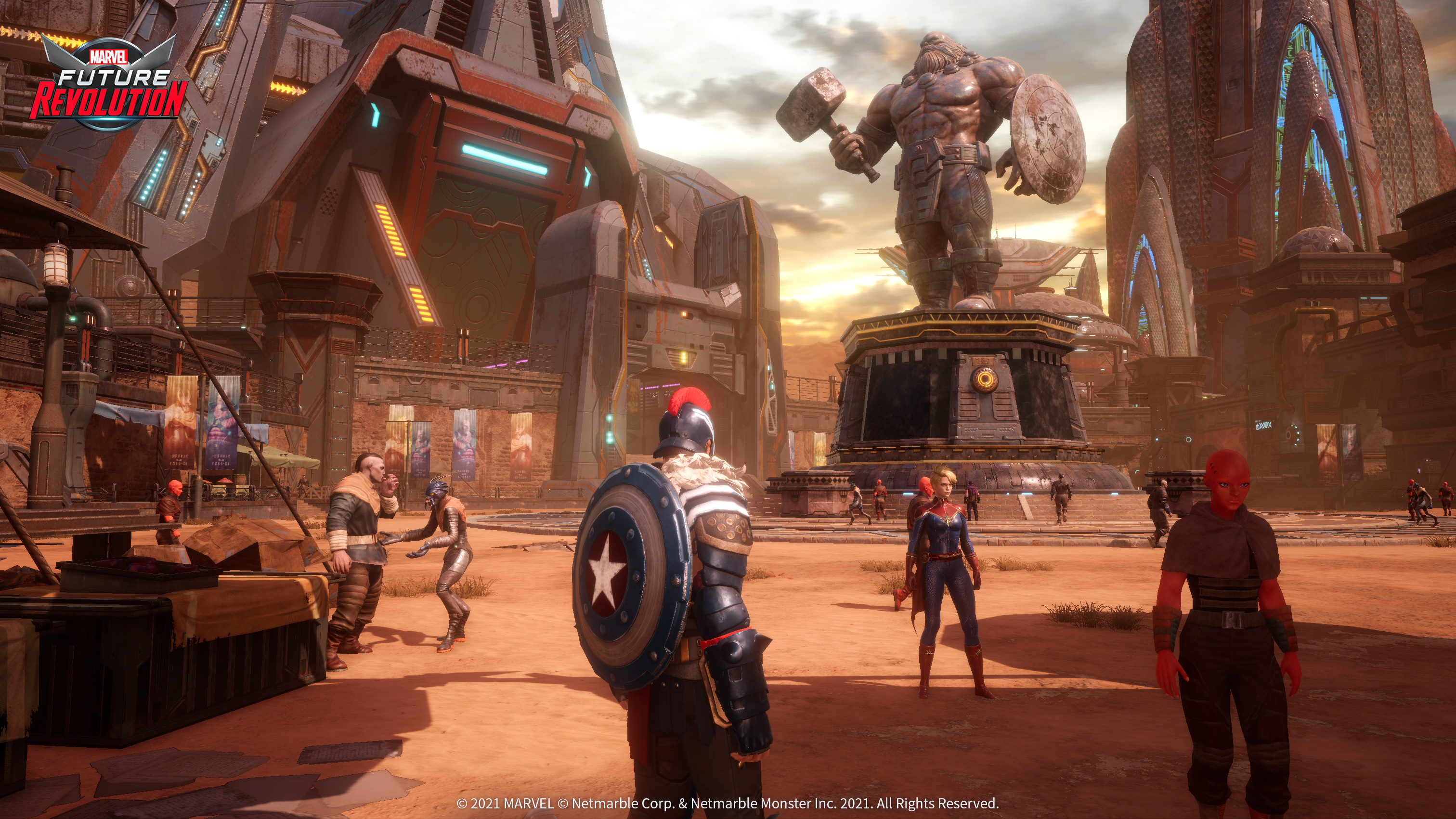 When I first booted up the game, Marvel Future Revolution begins with a bang and a tutorial that acts as a giant setpiece to set up the game's eventual multiversal setting. I took turns using several different characters like Star-Lord and Storm in between epic cutscenes complete with voices. There are also QTE sequences during the cutscenes, which adds an interactive element, I suppose.
The first thing I immediately was that the game wasn't beholden to taking everything from the Marvel Cinematic Universe. As a comic book, I hated it when even games or comics had to be altered to conform to the tone and style of the movies. Thankfully, Marvel Future Revolution is its own thing, and I was happy to not only see non-MCU characters like Storm from the X-Men and an adult Spider-Man that doesn't look or sound anything like Tom Holland's version.
That's not to say that the game doesn't feature anything from the MCU. Its versions of Captain Marvel and Iron Man are clearly moulded after the MCU versions and not the comics. The graphics are pretty impressive too. Despite my Sony Xperia XZ Premium not being capable of running the game at full specs, I was still impressed by how good the game looks, especially for a mobile game.
As for the gameplay, there's nothing groundbreaking here. Marvel Future Revolution offers a simple MMO-like experience and combat mechanics that you often see in other similar mobile games in the same genre. The game is described as open-world, but there's not much freedom, really. You'll spend most of your time doing fetch quests and completing objectives.
Just like other mobile games, Marvel Future Revolution feels like it provides quick gratification or just to keep yourself busy in your free time. Complete a mission, obtain new pieces of armour and level up; rinse and repeat. It's easy to pick up and play, so what's not to like? It's exactly what you'd expect from a mobile game, though this has a shinier polish due to the Marvel brand and IP.
All in all, I appreciate that the game goes beyond just being another game based on the MCU. In that regard, it doesn't feel as limiting in terms of scope. This will appeal to both fans of the MCU and the comics if you're looking for a fun and relatively uncomplicated game to play in your free time.
Marvel Future Revolution is slated to launch worldwide on 25 August 2021. Pre-registration is currently open via the App Store and Google Play.
Marvel Future Revolution was played on a Sony Xperia XZ Premium via a preview build courtesy of Marvel Games.