Spider-Man No Way Home Trailer Breakdown: Sinister Six & How This Comic Book Arc Inspired It
Sony Pictures and Marvel Studios have finally unveiled the first trailer for Spider-Man No Way Home during CinemaCon 2021. Directed by Jon Watts (who also directed 2017's Spider-Man Homecoming and 2019's Spider-Man Far From Home), Spider-Man No Way Home is slated to premiere on 17 December 2021.
It's a very interesting trailer and the ComicsLord is here to dissect what's happening. Let's check it out:
Everyone Now Knows Peter Parker Is Spider-Man
The post-credits scene of 2019's Spider-Man Far From Home revealed that J. Jonah Jameson (as played by J.K. Simmons) of The Daily Bugle broadcasted doctored footage of the London incident in which Beck a.k.a. Mysterio (Jake Gyllenhaal) frames Spider-Man for the drone attack and his death, as well as exposing Spider-Man's secret identity to the world.
Peter's Framed For Mysterio's Death, Cast In A Negative Public Light
The police are questioning him and his friends. Even the public is now against him, protesting in the streets and one sign even calls him a "devil in disguise".
Mephisto confirmed? (This is just a joke, people).
Peter Goes To Doctor Strange To Help Make Everyone Forget He's Spider-Man
Peter Parker goes to Doctor Stephen Strange (Benedict Cumberbatch) to make everyone forget that he is Spider-Man.
What's interesting is that there's actually a precedent for this in the comics:
This Happened Before In The Comics; One More Day / Brand New Day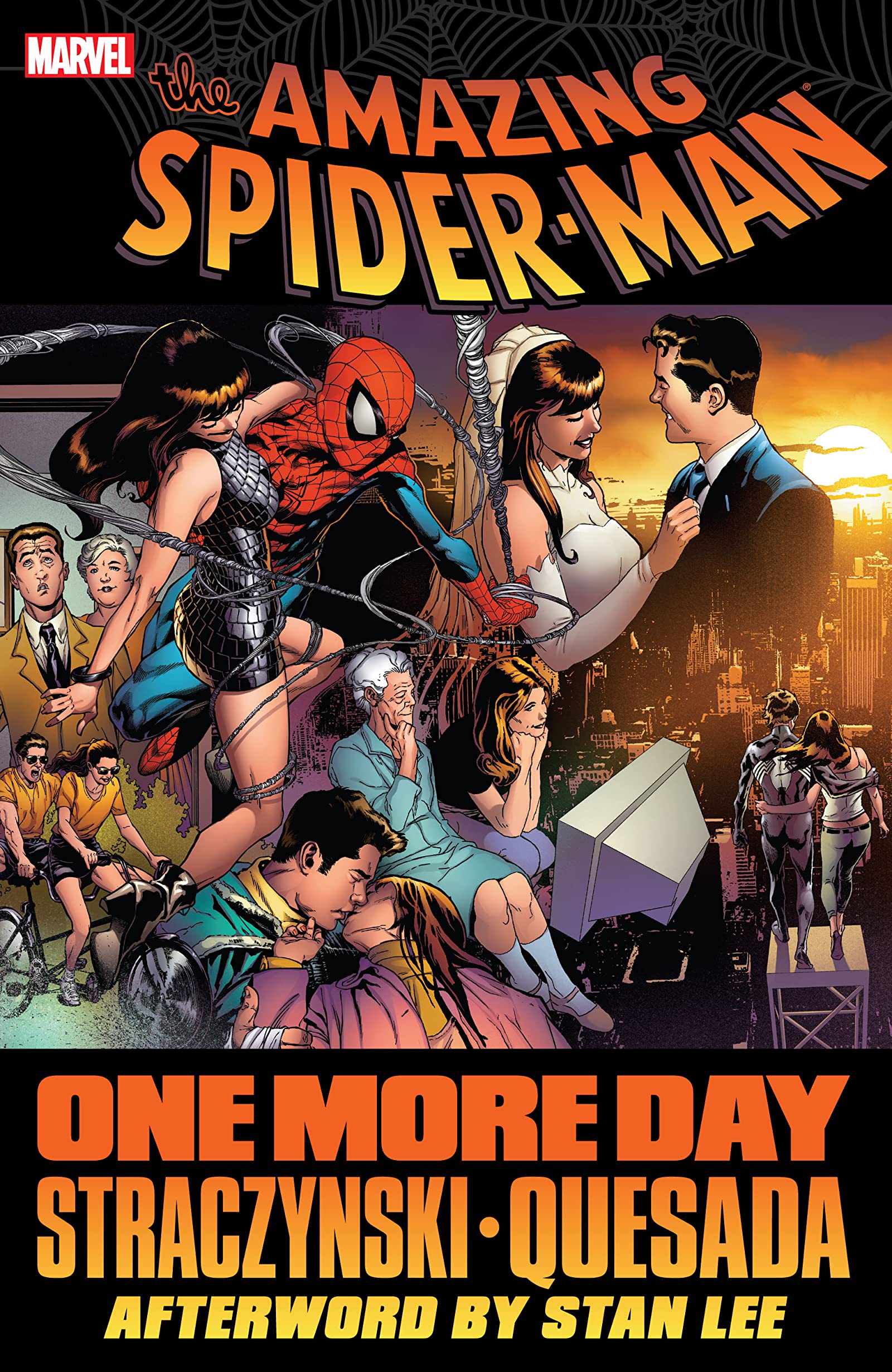 The idea of Spider-Man having his secret identity as Peter Parker out in the world and wanting a convenient way to make the world forget about it is not a new concept. It happened before in the comics. It will all sound familiar to comic book fans.
Namely, 2007's Spider-Man One More Day and 2008's Spider-Man Brand New Day.
One More Day by J. Michael Straczynski and Joe Quesada is one of the most controversial storylines in Spider-Man history, perhaps even more so than even the 90s' Clone Saga. In Spider-Man One More Day, Peter Parker makes a deal with Mephisto to save a dying Aunt May (who got shot). In exchange for saving Aunt May's life, Peter has to give up his marriage to Mary Jane.
When the deal was done, not only was his marriage to Mary Jane erased, Mary Jane also requested that the world forget that he's Spider-Man (after voluntarily revealing his identity to the world in 2006's Civil War).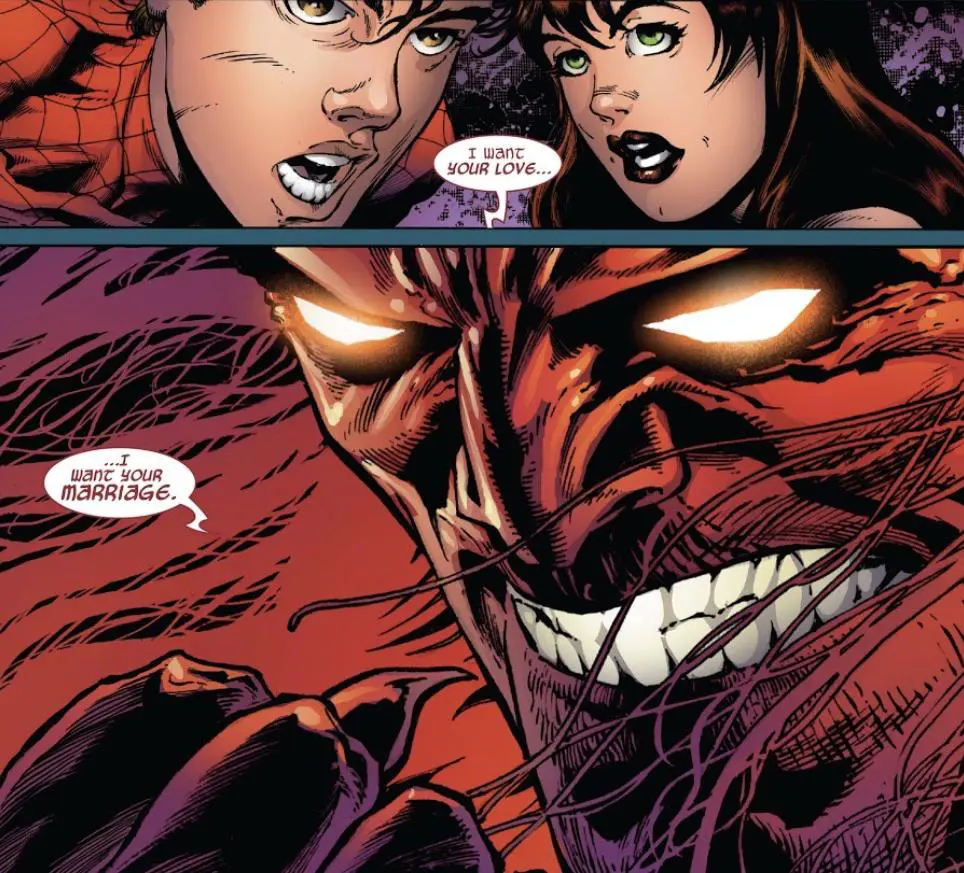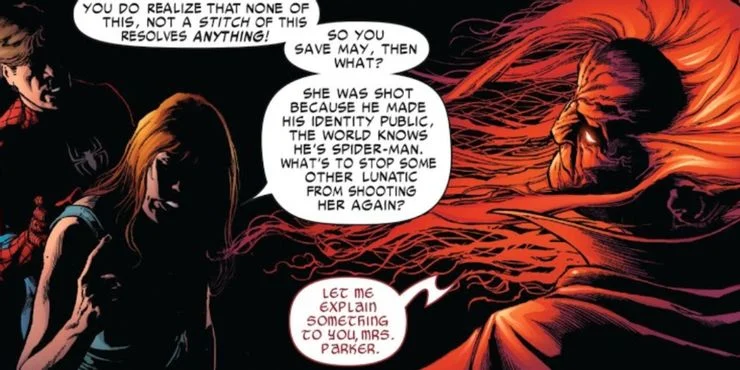 Why did he turn to Mephisto? He already asked for help from Doctor Strange and several others, but they couldn't do anything to help Aunt May. The whole storyline was basically just an excuse and a deus ex machina to retcon Peter into a new status quo where he is single and his identity is secret again, which is why many fans hated it.
A few years later in the One Moment In Time storyline by Joe Quesada and Paolo Rivera, it was revealed that Mephisto only changed one thing to make it so Peter and Mary Jane never married. It was also revealed what actually happened in the revised timeline is that Doctor Strange worked with Iron Man and Mister Fantastic to make the world forget about Peter being Spider-Man.
It's complicated.
But it does look like the MCU is going a different route by having Doctor Strange actually directly helping Peter bend the laws of Multiverse to make the world forget that he is Spider-Man. I don't want to encourage any more Mephisto theories, but it is maybe a bit possible that perhaps the Doctor Strange who helps Spider-Man isn't really Doctor Strange?
Is this Doctor Strange really Mephisto in disguise?
Is This A Doctor Strange Variant?
At one point in the trailer, we see Spider-Man going up against Doctor Strange for some reason. However, this Doctor Strange is wearing a darker costume with no cape. Could this be an evil or dark version of Doctor Strange from another universe? A Doctor Strange variant?
It doesn't necessarily mean that this is an evil Doctor Strange from the costume alone. In the comics, Doctor Strange has previously had a red and black costume before, which was introduced back in Defenders by Matt Fraction and Terry Dodson when he lost the title of Sorcerer Supreme in the comics when he used forbidden dark magic. During this time, Brother Voodoo became the new Sorcerer Supreme. Will this happen to the MCU version as well?
Peter Goes Back To His Iron Spider Costume
In another scene in the trailer, we see Peter re-donning the Iron Spider suit again for some reason. Why isn't he using the new red and black costume from Far From Home?
This Might Be The Lizard Or Venom
This split-second scene is extremely dark, but it seems like a large growling villain is slashing at Peter.
It sounds like it might be either Doctor Curt Connors AKA the Lizard (from The Amazing Spider-Man) or even Venom (either the Topher Grace or Tom Hardy version).
When I brighten the picture, it's still really unclear.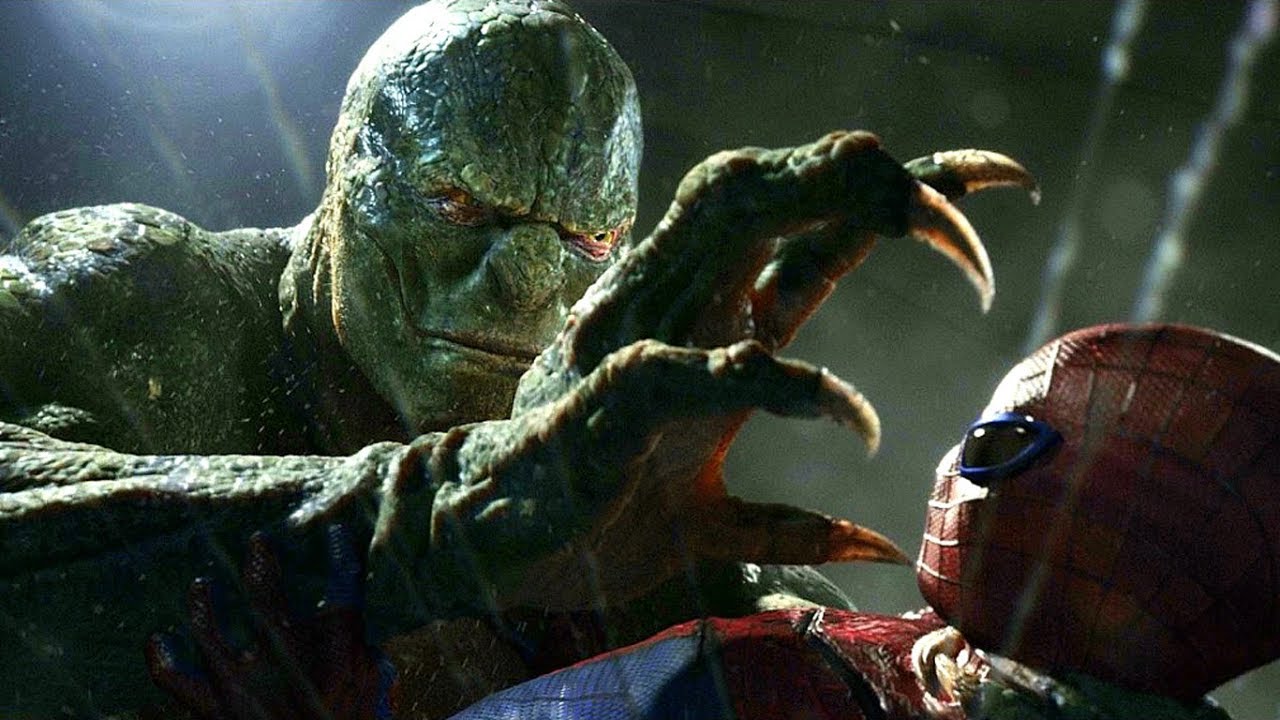 It's Electro (Jamie Foxx)
We already know that Jamie Foxx will be reprising his role as Electro in Spider-Man No Way Home, but it seems like he might be playing a different version of the villain. In 2014's The Amazing Spider-Man 2, his version of Electro was closer to the comics' Ultimate version with blue-tinted lightning.
Meanwhile, the Spider-Man No Way Home version looks more comics-accurate to the 616 version, as the lightning is yellow. It's worth pointing out that Spider-Man is wearing his new black and gold costume in this scene (the suit was officially revealed a while ago via toys and merchandise announcements).
The sand might also indicate the return of Sandman, but it's dubious at this point in time. Sandman was played by Thomas Haden Church in Spider-Man 3.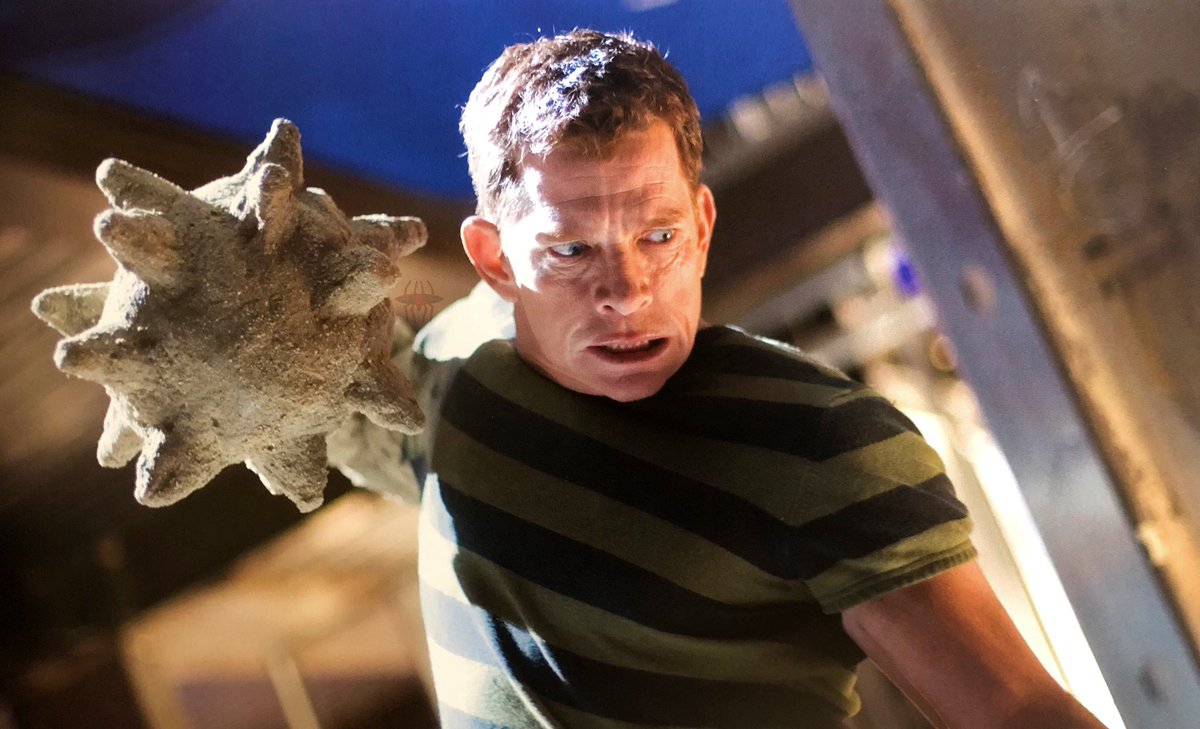 It's The Green Goblin (Willem Dafoe)
That pumpkin bomb and the iconic laugh could only mean one thing. The return of Willem Dafoe's Green Goblin from the original 2002's Spider-Man.
It's Doc Ock (Alfred Molina)
The biggest bombshell of the trailer is the return of Alfred Molina's Doctor Otto Octavius AKA Doc Ock from 2004's Spider-Man 2. He's the only villain so far that we actually see clearly in person in the entire trailer.
Sinister Six Assemble
It's not confirmed but we might be seeing a Multiversal version of a Sinister Six slowly assembling. From this trailer alone, we already have four out of six members:
Doc Ock.
Green Goblin.
Electro.
Mystery villain who could either be the Lizard or Venom.
If it really is the Sinister Six, it's probably more likely that the mystery villain is the Lizard. Of the remaining two, the Vulture (Adrian Toomes as played by Michael Keaton in Spider-Man Homecoming) and the Scorpion (Mac Gargan as played by Michael Mando in Spider-Man Homecoming) are possible candidates. Both of them are already in the MCU, and while Beck AKA Mysterio is dead, there's no reason why another person can't pick up the mantle.
Also, Sandman might also be in the movie, so there are already several candidates to fill the remaining two spots.
That's all I have to say for now based on this one Spider-Man No Way Home that we've received so far. You can watch the trailer below:
Related