There are three things in life that are certain: death, taxes and Alienware's latest flagship gaming laptop receiving significant improvements from its predecessor.
In my review of the M15 R3 last year, I equated it to a sportscar. Like the 911 GT3, both 'tick all the right boxes when it comes to serving their purpose, while also offering something extra for other 'normal' tasks'. Still going with the sportscar theme, where do I put this year's version then?
Thanks to the awesome folks at Dell, we were able to test the latest Alienware M15 Ryzen R5 edition not only on how it is able to run all the latest games releases, but also how it functions as a daily driver.
The unit we were given was powered by the AMD Ryzen 9 5900HX with Radeon Graphics 3.30 GHz processor. With 16GB worth of RAM onboard and a disgustingly powerful NVIDIA GeForce RTX 3070 graphics card, it's quite obvious this machine is more than capable of handling your daily routine.
AMD Ryzenâ"¢ 9 5900HX
NVIDIA® GeForce RTX™ 3070 8GB GDDR6;
16GB, 8GBx2, DDR4, 3200MHz;
15.6-in. display;
1TB PCIe M.2 SSD
In between that, weighing at a mere 2.44kgs (according to my kitchen scale), the M15 R5 should be the most wieldy Alienware to date. Like last year's model, add in the power brick and you'll tip the scale over 3kgs but that is still a big deal. Laptops are meant to be portable, yet many makers seem to forget this important point.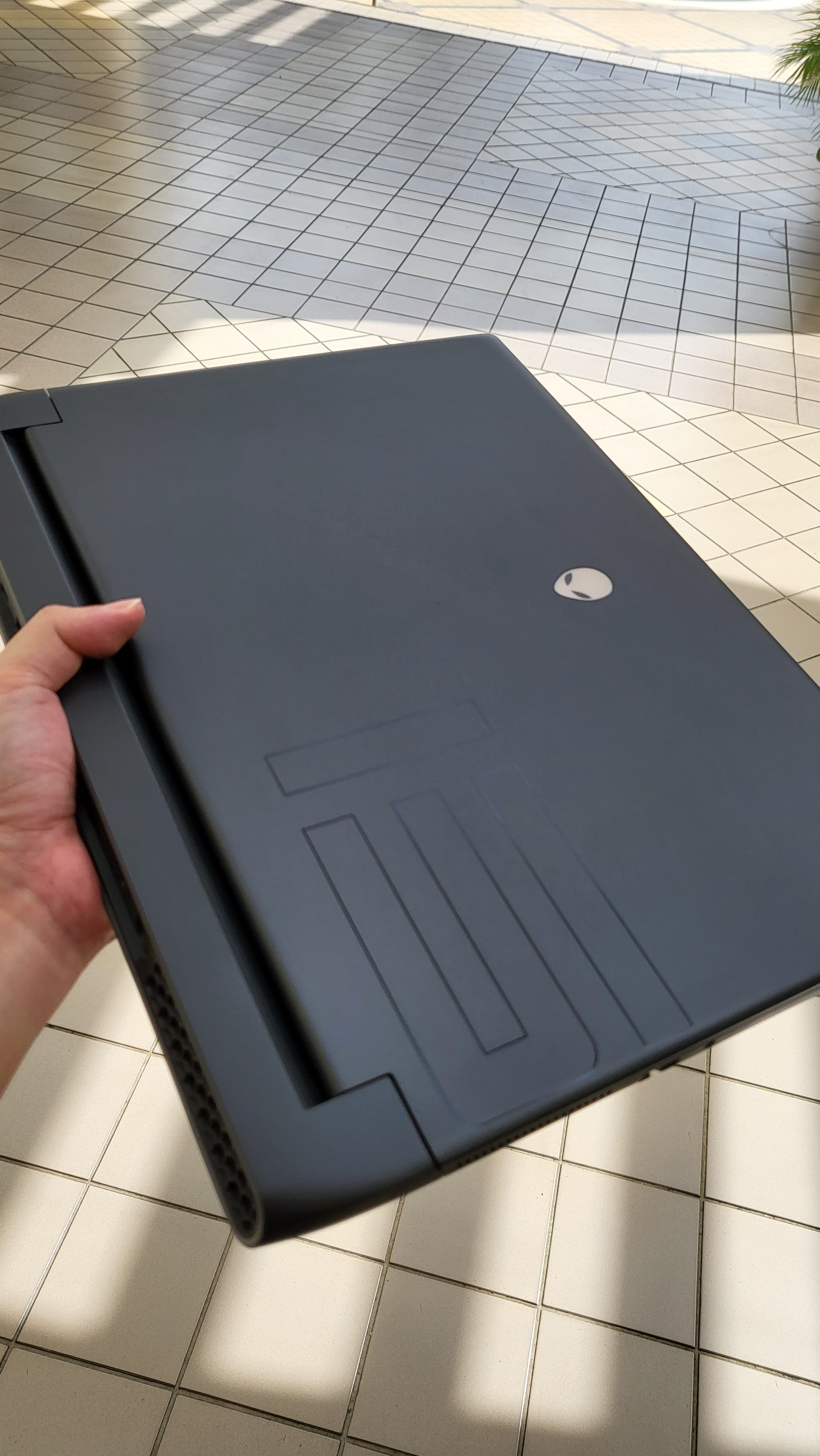 The fact that the engineers at Dell were able to cram so much power into so little space should not be understated.
Style and Substance
Looks wise, I am glad that days of the garish and aggressive lines seen on the outer shell of a gaming laptop are long gone. The newer M-line gaming laptops sport a sleek look that'll effortlessly blend in with other 'more corporate' looking machines whilst comfortably outperforming each and every competitor.
No longer sporting chunky profiles that'll make a classic video cassette tape rewinder blush, modern Alienware laptops have grown sleeker by the year and the same goes with this latest version. Stylish and elegant, the modern build of the M15 R5 still carries the signature Alienware 'alien head' logo on the power button and back cover.
Want to blend in? Easy. Turning off the light-up features and suddenly you don't look out of place in a room filled with C-level executives.
Dell heeded our need for more ports by including the following ports:
RJ45 Ethernet port
3.5mm jack
USB 3.2 Gen 1 port (x2)
USB 3.2 Gen 1 port (with power share)
USB 3.2 Gen 2 Type-C port with DisplayPort
HDMI port
Flanking the front-facing camera are two microphones while the RGB Infrared camera and emitters are optional additions. Sound-wise, two side-firing speakers are situated under the keyboards. Speaking of the keyboards; if it ain't broken, why fix it, right? Just like last year's model, the keyboards on the M15 R5 are a joy to type on.
So with all that power and the potential under the hood paired with a relatively lightweight construction, I come to a conclusion for its supercar equivalent – it's the Bugatti Chiron.
'Ryzen' d'etre
Just like the Chiron when it comes to the M15 R5, it's very hard to ask for more once it's in your hands. Hereon, jumping back to its closest contemporaries are significant downgrades.
Dell's website claims that the M15 R5 achieved a 3DMark Time Spy score of 8620 which mean it is able to run games at 60 FPS or more at 1440p resolution with highest graphics settings. The same site also claims that you are able to hit the following frames for the following titles;
Call of Duty: Modern Warfare: 150+FPS (Full HD 1080p)/ 90+FPS (4K)
League of Legends: 250+FPS(Full HD 1080p)/ 230+FPS (4K)
Fortnite: 270+FPS(Full HD 1080p)/ 110+FPS (4K)
PUBG: 140+(Full HD 1080p)/ 90+FPS (4K)
For those wondering, you get a 1080p screen out of the box and 165 Hz refresh rate by default. If you have some extra cash to spare, you can consider upgrading it to a QHD panel with 240 Hz and G-Sync support.
We ran the M15 R5 through its paces with whatever AAA-title we were able to get our hands on, including unreleased ones in the form of Electronic Arts' Battlefield 2042 beta and the machine took it like a champ.
In addition to that, this system also exceeds the recommended hardware requirements and testing (maintaining 90FPS) for the HTC Vive and Oculus Rift.
The machine remains oh so quiet even when pushed and runs significantly cooler too. You'd be forgiven to think you are working on an ultrabook to be honest.
The only downside thing with all this power is that, I have nothing left to blame when I get steamrolled in multiplayer games!
Rounding up the Ryzen Edition
If you are in search for a portable gaming rig that'll not just take, but conveniently gobble up whatever game you throw its way without any much as a hitch (and you happen to have a cool RM10k budget set aside), this is the machine you should really consider. Yep. We aren't hiding the fact that it is an expensive gaming machine even more with the current state of the economy but once you take future-proofing into consideration, the M15 R5 suddenly starting to sound like a decent deal.
The performance warrants the price and you'll end up with more. It is easily the most 'plug and play' gaming laptop we've used to date. Leave the worrying of whether you'll hit over 120FPS for any particular game, or if you aren't fretting over the starting price tag of RM7,699.
Pros
Easily one of if not the most powerful gaming laptop in the market
By far the prettiest looking gaming laptop
Awesome keyboards – same as last year
Complete overall package
Cons
Still disgustingly expensive.
Final Score: 90/100
---
Vital Statistics
Screen: 15.6in 1,920 x 1,080 Nvidia G-Sync 165Hz IPS.
Processor: 3.2GHz AMD Ryzen 78 5800H.
Graphics: Nvidia GeForce RTX 3060 Laptop 6GB.
Memory: 16GB 3,200MHz DDR4.
Storage: 512GB Kioxia SSD.
Ports: 3x USB 3.2 Gen 1, 1x USB 3.2 Gen 2 Type-C/DisplayPort, 1x HDMI 2.1, 1x audio jack.