Trust Razer to brand itself as the go-to gaming peripheral brand for the elite and the hardcore, all the while charging its base audience up the wazoo. Don't feel too sorry for them; they have the disposable income to fall for this ploy time and again.
But I digress. Even if most of these peripherals are overpriced to the point of absurdity, the company has at least released one or two gems worth keeping. And surprise, surprise: the best ones aren't obnoxiously splattered with their signature lizard green.
Like the classy-looking Kraken Ultimate PC-branded headphones, which thankfully doesn't look as monstrous as its namesake squid monster.
Sexy Beast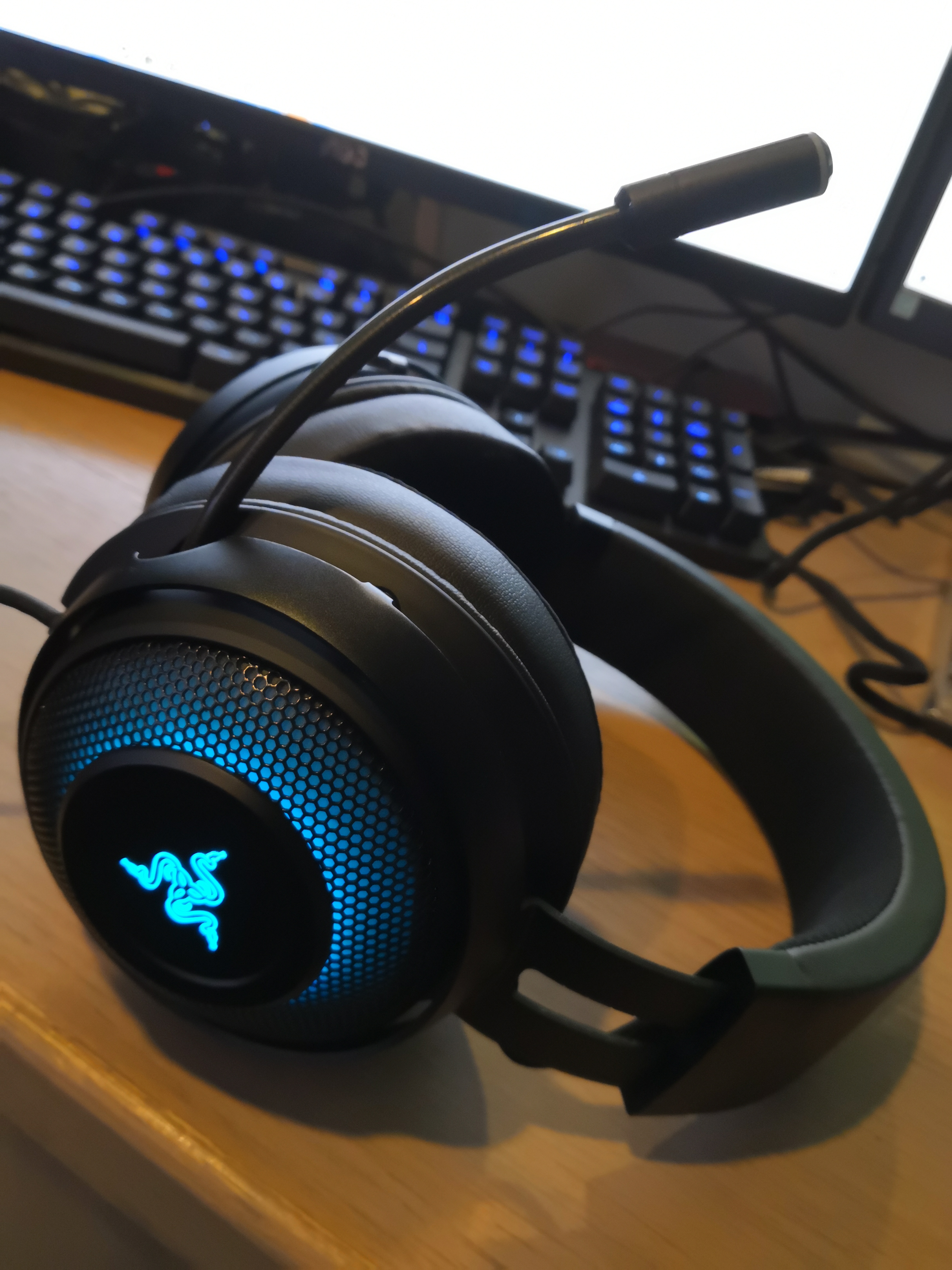 In fact, let me point out how sleek and classy these gaming headsets look. The Razer logo only lights up if you turn on the "Chroma" RGB lighting options (which can be tweaked via the Razer Central app). But again, you can turn it off if you can't stand it.
That's not the whole point of the Kraken Ultimate though. The only thing that matters is that it feels good on your ears and it sounds excellent.
I'm sure you already know by now that I'm not a fan of peripheral buzzwords. Razer's got a ton of them at the back of their sleek packagings, but this is probably the first time I'm sold on headphone "cooling gel cushions". The headphone pads feel so, so good to even to the most sensitive and abrasive of ears.
It's not pressing down onto your ears and the headband notches can keep track of your size fit. I can definitely attest to this after 10 hours of combined Borderlands 3 grinding and Slay The Spire sessions with the Kraken Ultimate being my audio companion.
I'm also a fan of minimalism on peripherals; the Kraken Ultimate only features a volume dial, a spatial audio toggle button on the left rear side of the headphones, and a mic mute button on the retractable mic. The latter lights up red via an LED strip on its receiver if it's on mute, so it's a nice indicator for your teammates if they can hear you or not.
Talk about saving space in the best of ways; I do hope other peripheral companies copy this. Also, props to them for upgrading its cans using hardier materials and not feeling like you're wearing two plastic cups.
Coupled with its sleek look, I can assure that the Kraken Ultimate is more attuned to human heads. Actual kraken heads? Not likely.
Earful of Myth
Speaking of sound quality, the Kraken Ultimate features THX Spatial Audio than you can toggle on and off on the fly. Basically, it's just another version of surround sound to make your gaming experience more immersive and precise; you can detect footsteps in CS:GO or Overwatch better with this. Our favourite headphones of 2019 do this well, so can the Kraken Ultimate keep up? Yes, it can.
The THX Spatial Audio option can make certain non-echo sounds feel, well, echo-ey, so the headphones' stereo setting is still the more flexible choice for overall gaming audio-listening. Everything from the aforementioned Borderlands 3 loot-hunting to even some Outer Wilds space-faring sounds really vibrant and impactful on my Kraken Ultimate. You may need to spend more time using the Razer Synapse app to get the sound equalization you need, but it's worth it just to amplify the respective sounds of space-themed gunfire and banjo-strummings.
I should also point out that Call of Duty: Modern Warfare's gunplay gets way more heated and tense in the best of ways.
With the good comes the bad, and the Kraken Ultimate has a few problems that need addressing. The lack of a 3.5-millimeter audio option limits its potential to be used outside of pure PC gaming. Sure, you can use a USB female to audio jack to solve that problem, but you can hear some compromise in its overall output.
Its price tag may seem like a lot -RM600+ – given its inclusiveness towards PC-centric gamers and audiophiles. Still, if you're not too hung up on not using it outside of PC gaming, then, dive in. This is a Razer product after all; the company lives in a world of their own when it comes to market rates for peripherals.
Squid Worth
The Kraken Ultimate may seem like much for a PC-only USB-specific headset, but its aesthetics, its ergonomics, and great surround sound capabilities justify its price tag a tad.
Razer fans will eat this up, no questions asked. With these, at least they have a good strong counterpoint to naysayers who declare Razer products as "overpriced substandard gaming peripherals".
I'm still on the fence on whether it deserves the "Ultimate" moniker, but I'm willing to dub it "Better Than The Sum Of Its Parts" instead. Let this Kraken's tentacles sink into your ears for your PC aural pleasure, possibly for all of eternity.
Final Score: 80/100
Vital Statistics

General

THX Spatial Audio
Custom-tuned 50mm drivers
Active noise-canceling microphone
Eyewear-friendly cooling gel cushions
Razer Chromaâ"¢ RGB underglow lighting

Headphones

Frequency response: 20 Hz – 20 kHz
Impedance: 32 Ω @ 1 kHz
Sensitivity (@1 kHz): 112 dB
Drivers: 50 mm, with Neodymium magnets
Inner ear cup diameter: 65 x 60 mm
Connection type: USB Digital
Cable length: 2.0 m / 6.56 ft.
Approx. weight: 390 g / 0.86 lbs
Oval ear cushions: Designed for full-ear coverage with cooling gel, for sound isolation and comfort

Microphone

Frequency response: 100 Hz – 10 kHz
Signal-to-noise ratio: > 60 dB
Sensitivity (@1 kHz): -38 ± 3 dB
Pick-up pattern: Unidirectional ECM boom
Mute Function: Click-to-mute

On-Earcup Controls

Volume up and down
THX Spatial Audio on/off toggle

Audio Usage

Audio Usage: Devices with USB Connector
Audio + Microphone Usage: Devices with USB Connect