Platform(s): PS4, PS5, Xbox One, Xbox Series X/S, PC
Genre: FPS, Open-World
At this point, the Far Cry franchise has been running for almost two decades now, but the open-world FPS formula has pretty much stayed the same. The series arguably reached its peak with 2012's Far Cry 3 (and its spinoff, Far Cry 3 Blood Dragon)Â and Ubisoft has been trying (and failing) to reach that same height ever since.
2014's Far Cry 4 was forgettable, while 2018's Far Cry 5 streamlined and polished the gameplay experience further but didn't really take many risks and preferred to play it the same. The less said about Far Cry Primal and Far Cry New Dawn, the better.
This time, Far Cry 6 brings us to the fictional South American island of Yara ruled by a fascist dictator named Anton Castillo (portrayed by the amazing Giancarlo Esposito of Breaking Bad's Gus Fring and The Mandalorian's Moff Gideon fame). The setting of a revolution and uprising against a tyrannical ruler feels similar to Far Cry 4, but fortunately, Ubisoft has injected the game with a lot more personality and style in comparison.
Going Guerilla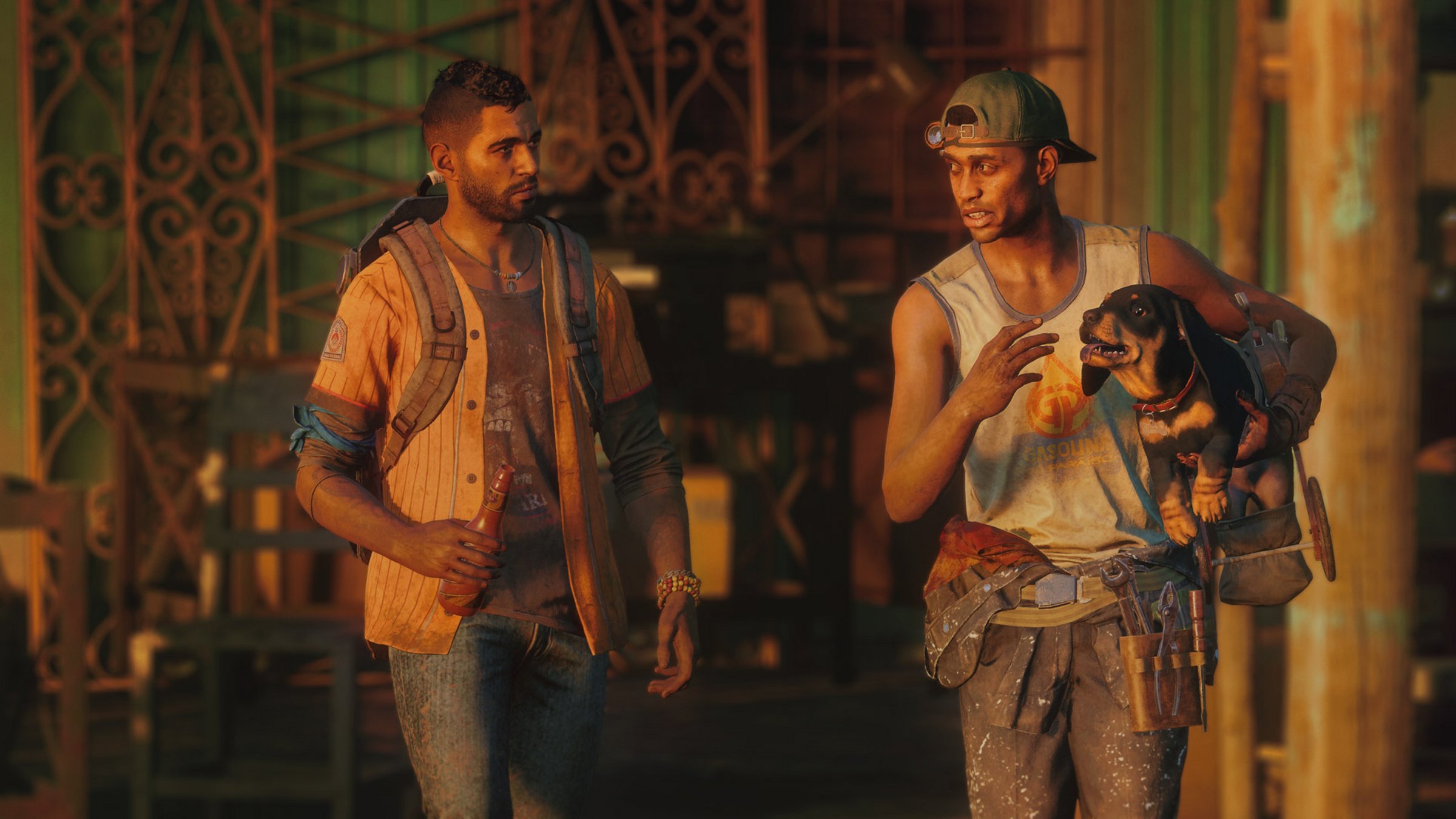 One of the biggest criticisms about Far Cry 5 was its silent unnamed protagonist. It was terrible because not only did it limit the potential of the narrative by making a lot of the dialogue one-sided and awkward, but it also made for a bland protagonist with all the personality of cardboard. In Far Cry 6, I chose the female version of Dani Rojas (who is voiced by Nisa Gunduz), and she really reminds me a lot of Assassin's Creed Odyssey's Kassandra.
Having a voiced protagonist with her own motivations and personality makes a huge difference in making the narrative more engaging for players, and a strong female character like Dani Rojas is definitely appreciated.
The game claims that male and female Dani are both canons. However, it's clear from the game's own marketing campaign and promotional material that the female Dani is given more of a spotlight.
It probably doesn't help that the male version of Dani looks so generic and plain compared to the female Dani.
Still, I should warn you that Far Cry 6's plot and narrative aren't much to talk about, despite the casting of Giancarlo Esposito as Anton Castillo and Pixar's Coco actor Anthony Gonzales as his son, Diego Castillo, as well as the game's politically-charged anti-establishment setting. It's disappointing that Ubisoft chose to once again play it safe, with a rushed and abrupt ending towards the game's climax.
It took me more than 35 hours to finish the game's story, and for the bulk of that duration, I was busy spending most of my time going from region to region trying to recruit the game's various rebel groups and getting to know a variety of characters who hail from these groups.
Admittedly, this cast of characters from different rebel groups can be memorable and great to spend time with, but some of them drag on way too long. As a result, you don't really spend time with several important characters, including Giancarlo Esposito's Anton Castillo and Anthony Gonzales's Diego Castillo. With how much effort Ubisoft spends trying to promote them, it's funny that you spend so little time with them. I only received a cutscene or two featuring these two characters every time I reached a certain point in a rebel group's specific storyline.
The two Castillos don't get as much development as one would expect, and the climax feels a lot more rushed as a result, despite the fact I spent more than 30 hours spreading the spirit of revolution throughout Yara. My advice? Lower your expectations if you want to buy Far Cry 6 for character development.
Both still make great use of what little time they have onscreen, especially, and unsurprisingly, Giancarlo Esposito's Anton Castillo. At this point, it's like this man was born to play incredible villains and antagonists, and his performance in this role is definitely another notch in his long career.
Guns And Chickens
I haven't even touched on Far Cry 6's gameplay yet. As I previously mentioned above, Far Cry 5 did a lot to streamline and improve the franchise's gameplay. Far Cry 6 took a lot from that game, alongside introducing its own many improvements. Firstly, the biggest gameplay change of all is the absence of any skill trees or unlockable perk mechanics whatsoever. No longer will you accumulate experience points just to unlock more skills or perks. Instead, Far Cry 6 puts a lot of emphasis on gear and weapons.
In actuality, players in Far Cry 6 do still gain experience points to increase their Rank levels. Each Rank level will unlock more weapons and gear, which can either be discovered or purchased at any of the game's many NPC vendors. The progress mechanic relies a lot on the stats of your weapons (damage, accuracy, etc.) and the perks you get via armour pieces (which includes separate pieces for the head, chest, gloves, legs and wrists).
However, a majority of the perks activated via the armour pieces you wear are passive in nature, like the ability to endure more fire damage or to reduce movement noise for stealth. Only a few still offer useful manual abilities like enabling players to use an enemy's sidearm immediately after a stealth takedown to chain it with a ranged takedown using that sidearm.
Previously, customization felt a bit redundant, due to the fact that you won't see what you are wearing until your character dies onscreen. Now they serve a purpose since each of them now has a specific perk or trait, and that's not all. Now that there are in-engine cinematic cutscenes in Far Cry 6, you can actually see your character this time in them, wearing whatever you've customized them with. It makes the game that much more immersive.
Weapons are now essential to making it out alive in Far Cry 6. In the entire franchise, Far Cry 6 felt like the most difficult one yet, as I died so much more in this game than in previous games. This is at the default normal difficulty, mind you. Combat is extremely intense and kept me on my toes.
Not only are the enemy AI the most aggressive they've ever been in a Far Cry game to date, you actually need to keep getting better weapons and strategize to excel in combat. Why? Because of some of its weapon & equipment system changes.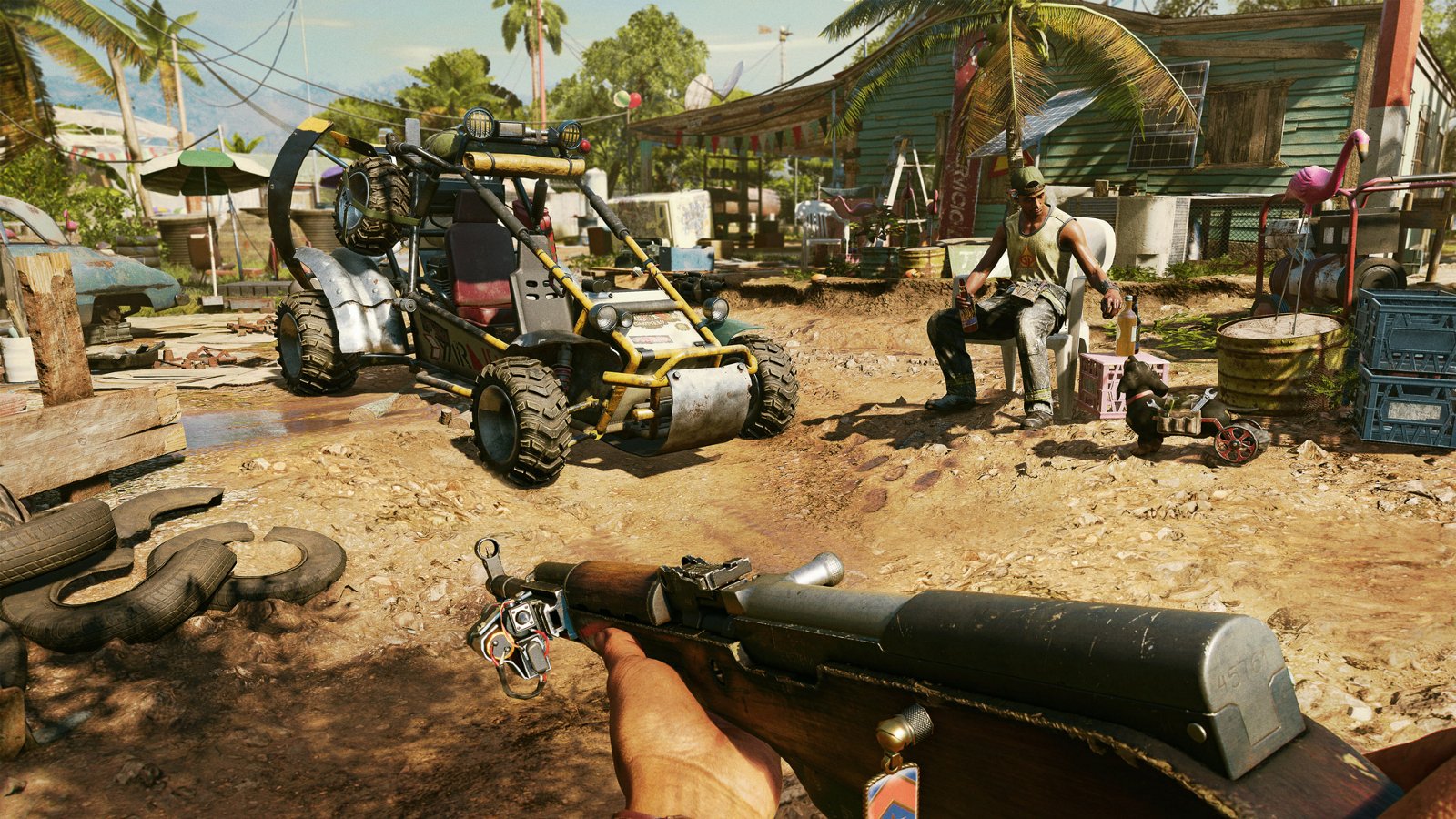 Far Cry 6 features a system with several types of damage categories. The simplest is fire damage, which is obviously the damage you get from getting burnt, but there are others. Blast damage is damage from explosions. Soft target damage is the damage you get from normal ammo, while armour piercing damage is what you get from armour piercing ammo.
You can mitigate the amount of damage from specific types of damage by wearing particular armour pieces. Vice versa, you also need armour piercing ammo to deal with enemies with thick armour and blast ammo to deal with tanks or vehicles. Using normal ammo against armoured enemies and vehicles will deal little to no damage. Thus, this encourages players to switch weapons often.
Plus, with different stats, you'll need to keep obtaining better weapons. In previous Far Cry titles, I rarely had a reason to change weapons. This time, getting new weapons actually means something. Far Cry 6 also features a decently robust customization system for weapons. Each weapon (except unique ones) can be upgraded by modding them with scopes and different ammo types, as well as charms and skins. This is where the game's resource system comes into play.
There are actually a lot of different resource types in Far Cry 6. So much so that it will feel confusing and overwhelming at first. What do I even need Gasolina and Medicine for? Metal and Parts? Well, some of them are used to improve weapons, others to build buildings with specific purposes and some to improve your Supremo. The game introduces a new Supremo mechanic, which is basically a backpack that comes with unique weapons and abilities. During combat, you'll charge up your Supremo meter and once full, you can unleash your Supremo's ability. The first Supremo in the game launches missiles into the air which lock onto enemies, while another Supremo will spew poison gas or allow you to unleash a berserker Machete mode.
You'll gain these resources by taking over enemy outposts. Yes, outposts are still here because like I said, this is still the same old Far Cry game at heart. Thankfully though, outposts aren't just the same generic repeated bases from previous titles. I mean, the smaller outposts in Far Cry 6 are called Checkpoints and they're just toll booths you need to clear out.
FND Outposts are more like the traditional outposts with alarms and a bunch of enemies scattered around. While most FND Outposts were factories and the like, some had unique settings like a school or even a farm.
Animal Farm
The basic gameplay loop in Far Cry 6 is that there are three main regions of the Yara map. Each region features a certain rebel group that you'll have to recruit by doing story missions. As you progress, the region's Rank requirement will get higher, which means that you'll have to do side stuff like FND Outposts, Checkpoints and side missions like Yara Stories to increase your Rank and get better weapons. That's how the level-gating in the game works.
One of my favourite new mechanics in Far Cry 5 and Far Cry New Dawn was the Guns For Hire/Fangs For Hire companion system, which enables players to summon an NPC to help in combat. Far Cry 5 had a whopping 12 companions to choose from, which is why it's a bit disappointing that Ubisoft has clearly downgraded the mechanic in Far Cry 6.
Far Cry 6 doesn't have human companions at all. Instead, it only features half of the number of companions available in Far Cry 5, and all of them are animals now. Sure, animals make for the best companions to spice up the gameplay, but I miss the human companions, some of whom were actually great in combat. Far Cry 5 had a bear, a cougar, a dog and humans (one who will provide air support for the player and even deliver airstrikes from above while another is an expert marksman who uses her sniper rifle to pick off enemies from afar).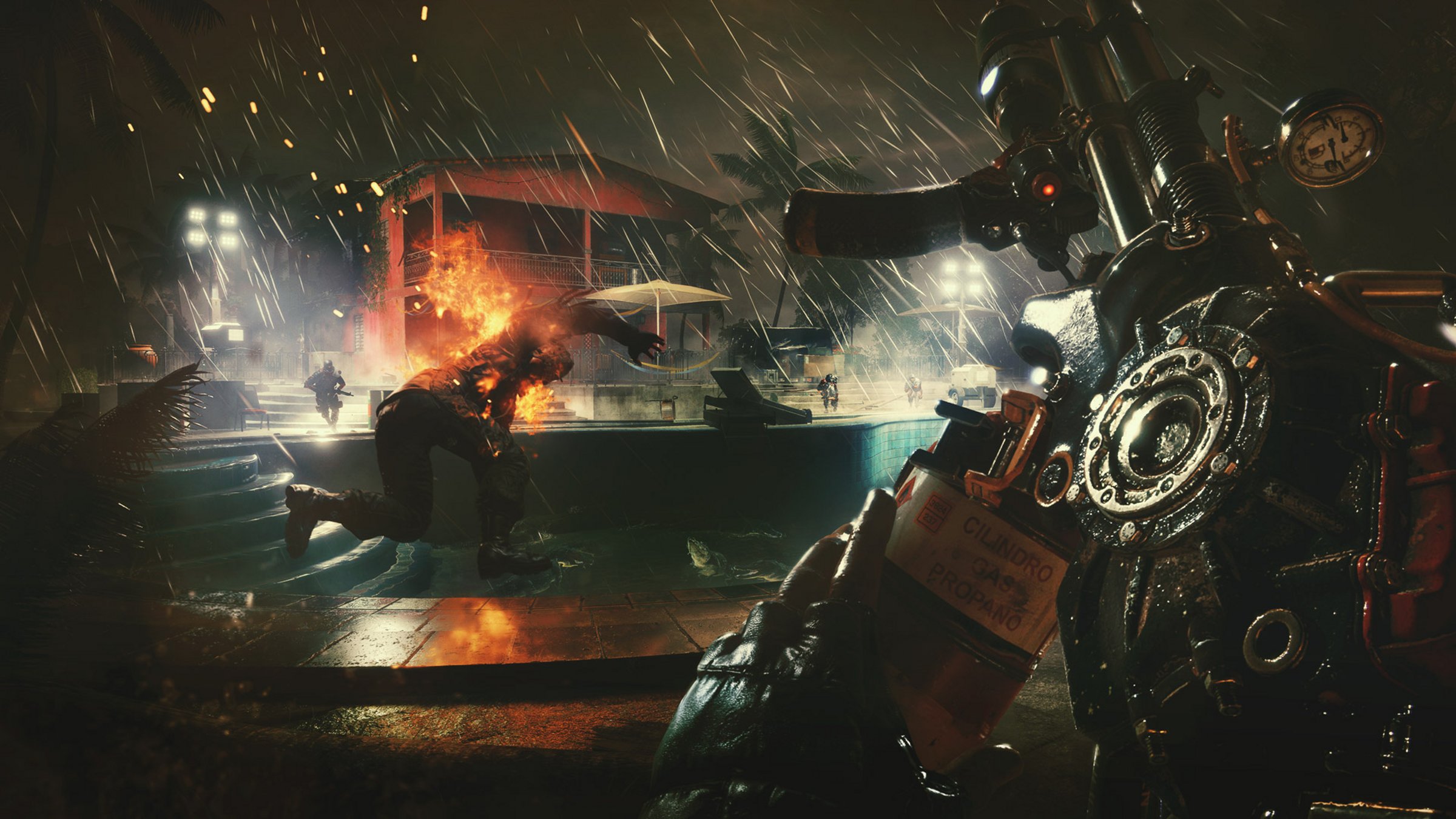 Far Cry 6 only has 6 companions (they're called Amigos and all of them are animals), and three of them are dogs. One is a crocodile, one is a rooster chicken and another is a black jaguar. I was also disappointed to learn that this mechanic has been scaled back somewhat in Far Cry 6, as players are now only limited to one companion at a time.
What's an open-world game without ridable vehicles? The usual ones are here, including cars, motorbikes, helicopters, planes, boats, and even tanks. However, what's new in Far Cry 6 is the ability to ride horses in first-person mode. Honestly, it actually works much better than I expected, to the point that I would prefer to ride a horse to get to places if they're not far away.
The horse-riding in Far Cry 6 even feels better than the ones in the new Assassin's Creed games like Assassin's Creed Valhalla. The AC teams could use some pointers in this regard from the FC teams.
As for other mechanics, fishing and time attack racing course both return in Far Cry 6. There's also a cockfighting minigame that plays like an actual fighting game, where you choose a rooster and fighting other roosters in matches. If that's not your cup of tea, you don't have to worry because the game doesn't force you to play these minigames (unlike, cough, Lost Judgment, cough). You can even go all the way from the beginning to the end of the game without participating in any of these minigames.
Cry Freedom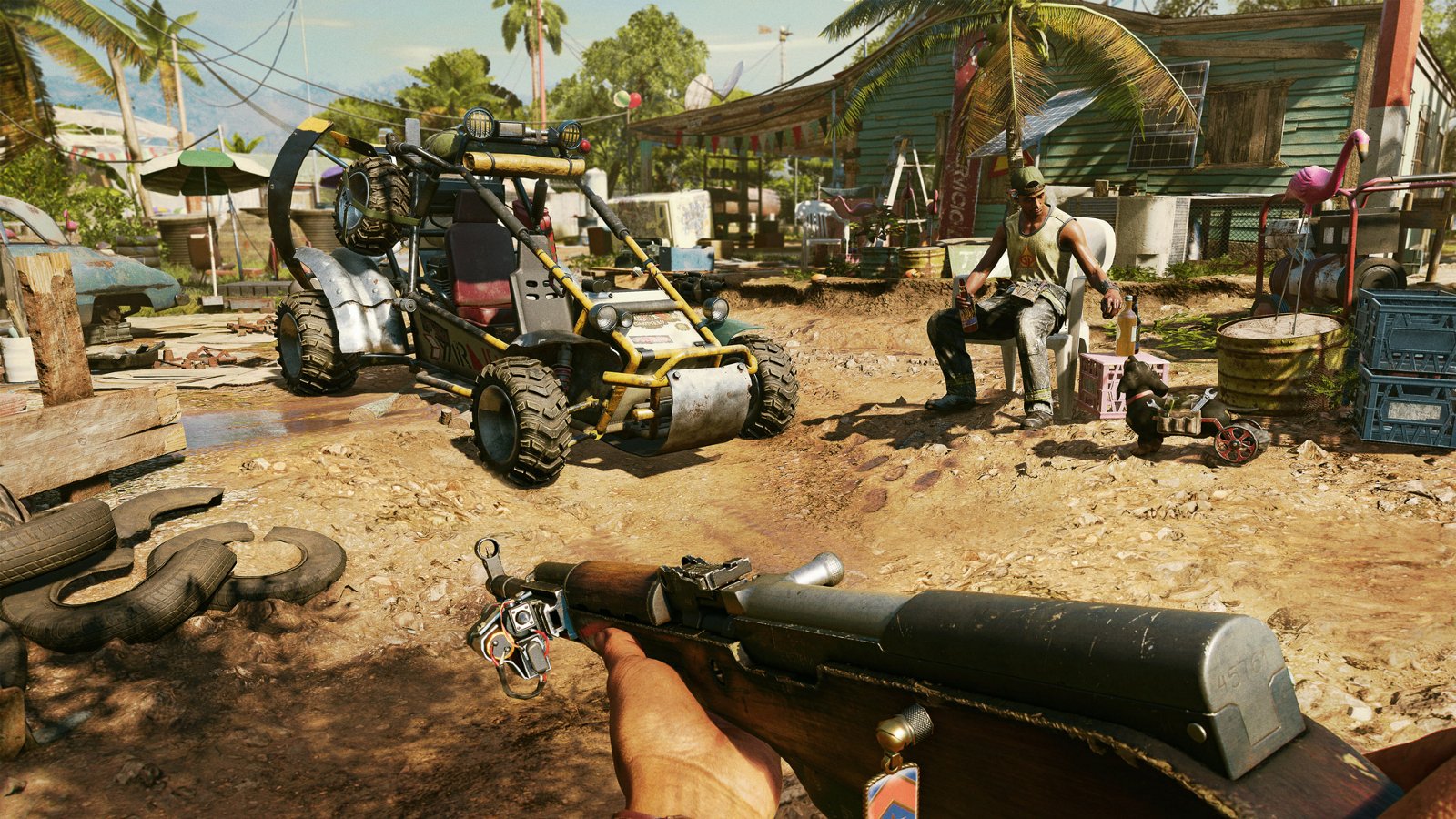 Simply put, if you like the previous Far Cry games, you'll like Far Cry 6. I'd say that people play Far Cry games for their gameplay and not for their story or narrative complexity. If you want more of Ubisoft's trademark chaos-instilling and explosives-filled action, then Far Cry 6 is the game for you. In the grand Far Cry pantheon, I'll put this slightly above Far Cry 5 since it reiterates and improves an already surefire open-world action game, adding in a much-needed new locale & flair.
Pros
Beautiful and lush visuals.
Satisfying shooting & first-person gameplay.
Unique and customizable weapons.
Colourful characters & antagonists, especially the protagonist.
Horse-riding feels great in the first person.
Cons
The story & narrative feel rushed & sparse, especially at the end.
Some gameplay changes & saving mechanics feel like downgrades.
Final Score: 80/100
Review copy provided by Ubisoft. Played on PS5.