Square Enix and Eidos Montreal's Marvel's Guardians Of The Galaxy is finally out on PS4, PS5, Xbox One, Xbox Series X, PC and Nintendo Switch. If you like Mass Effect's choice-driven and dialogue-heavy narrative with a lot more action along with some great comic book fun, this game is definitely for you.
The game actually has a bunch of accessibility options to tweak to the difficulty do that even the most inexperienced gamer can play Marvel's Guardians Of The Galaxy. That said, if you prefer to play on Normal or higher difficulties, check out the tips below:
Marvel's Guardians Of The Galaxy Best Perks To Get First
There's not much of a progression system in this game. Besides getting new Abilities by accumulating experience in battle, you should also be picking up those Components that you find in the game's world. Components can be used to upgrade Star-Lord and unlock Perks.
There are a total of 15 Perks in the game, but here's what you should be getting as early as possible:
Components Localizer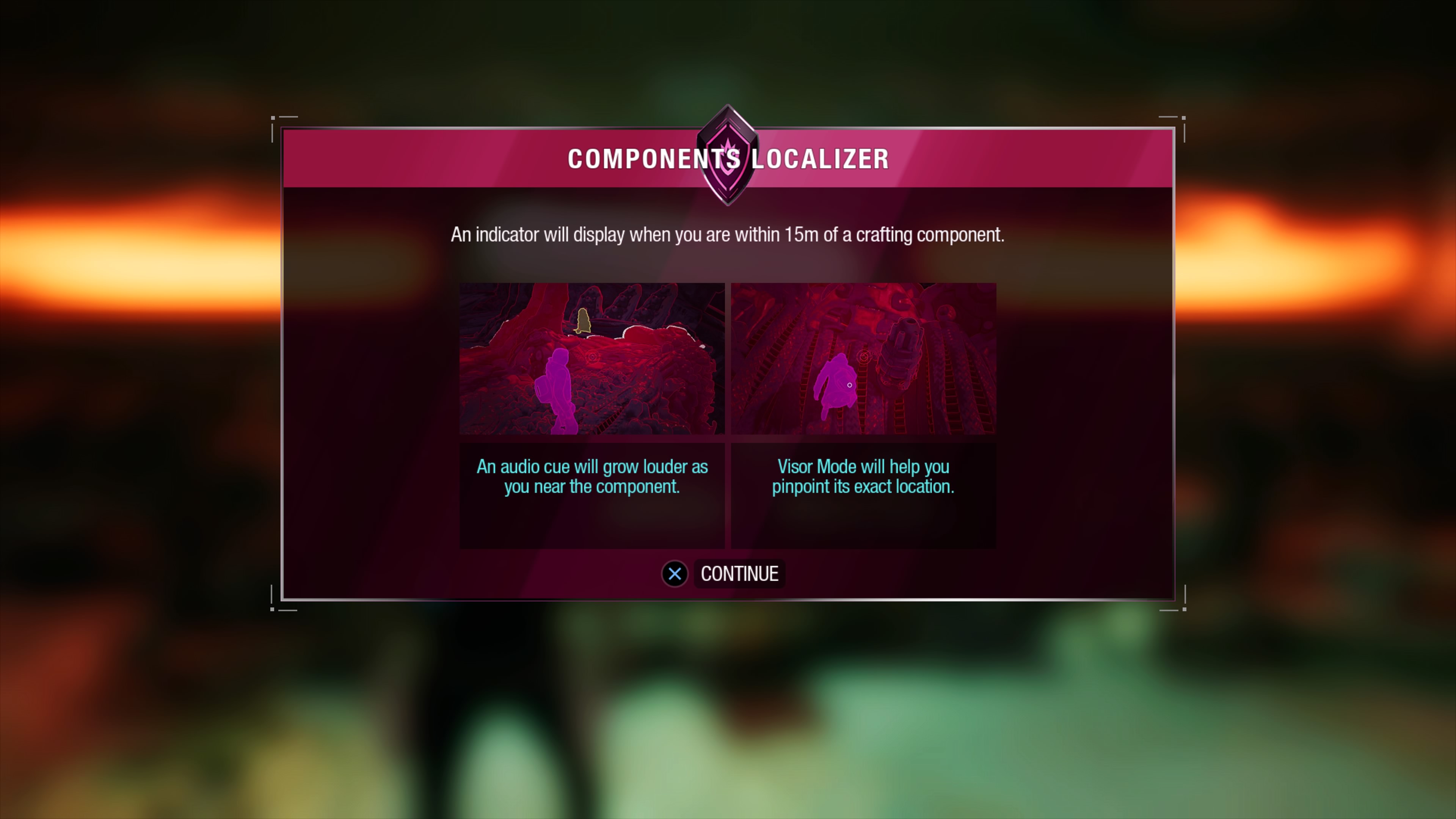 This should be the very first Perk that you unlock. Why? Because you need Components to unlock Perks and this Perk will allow you to easily locate any Components strewn around by using Visor Mode. The Components will be highlighted in Visor Mode.
Rapid Reload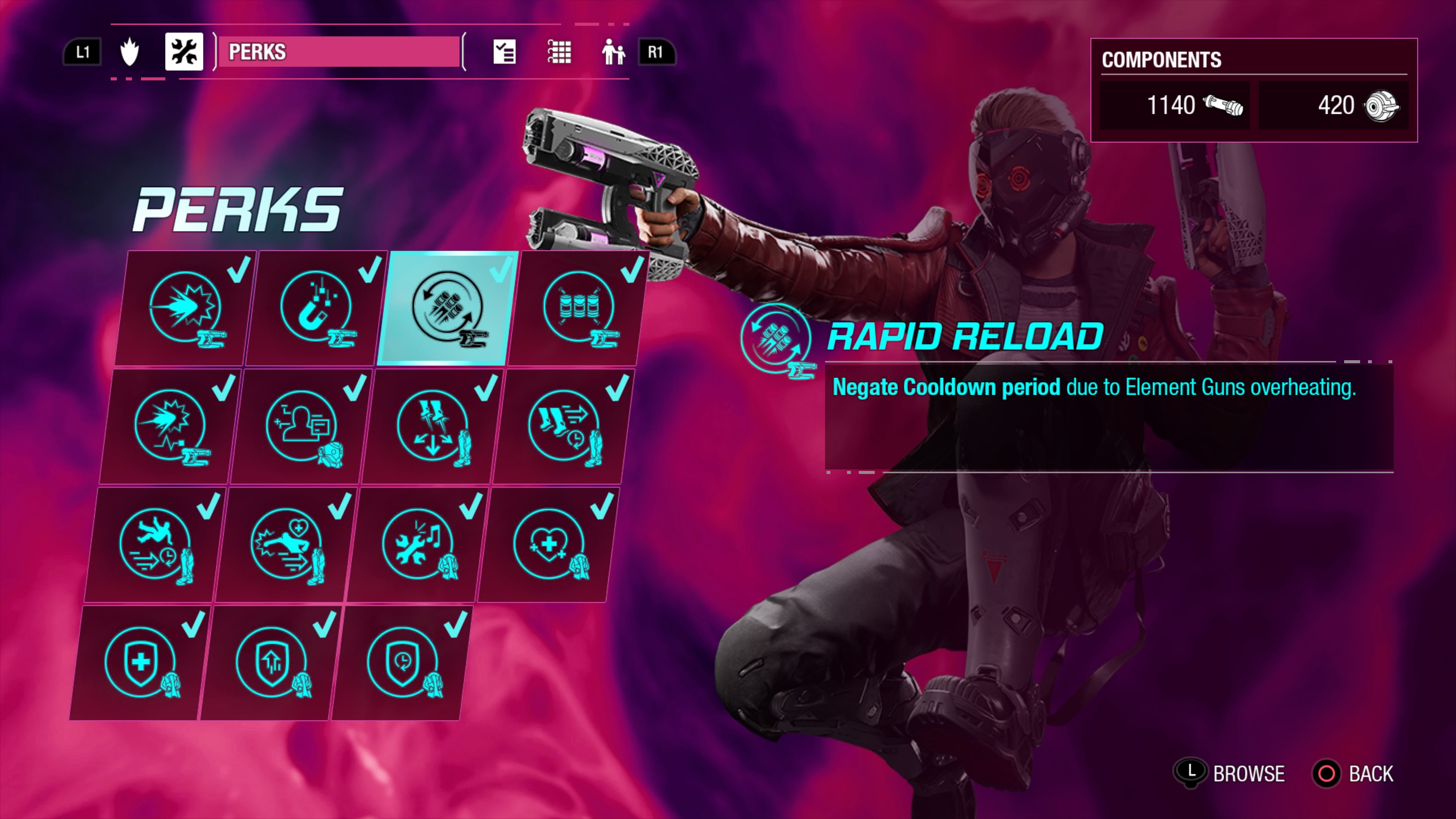 You'll be doing a lot of shooting, so this Perk helps you reload faster. Trust me, you'll be doing A LOT OF SHOOTING.
Charge Consumption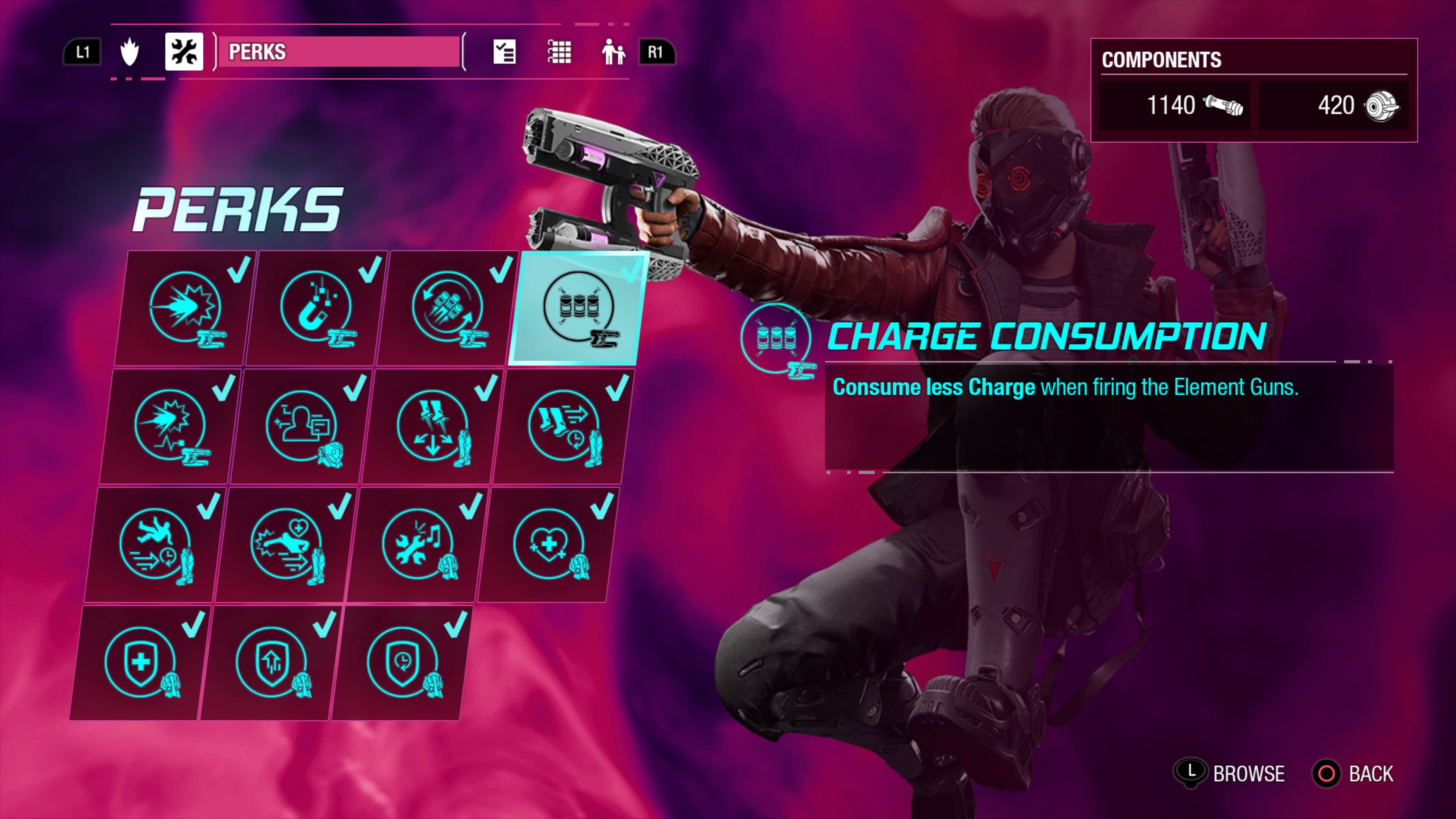 Element Guns are extremely useful in battle for exploiting the weaknesses of enemies. Some enemies can freeze when you blast them with ice, while you can use the wind element to hook an enemy and bring them to you from a ledge or a far away position. This Perk makes it so the Element Guns needs to reload less often, as you'll be consuming less Charge with each shot.
Perfect Dodge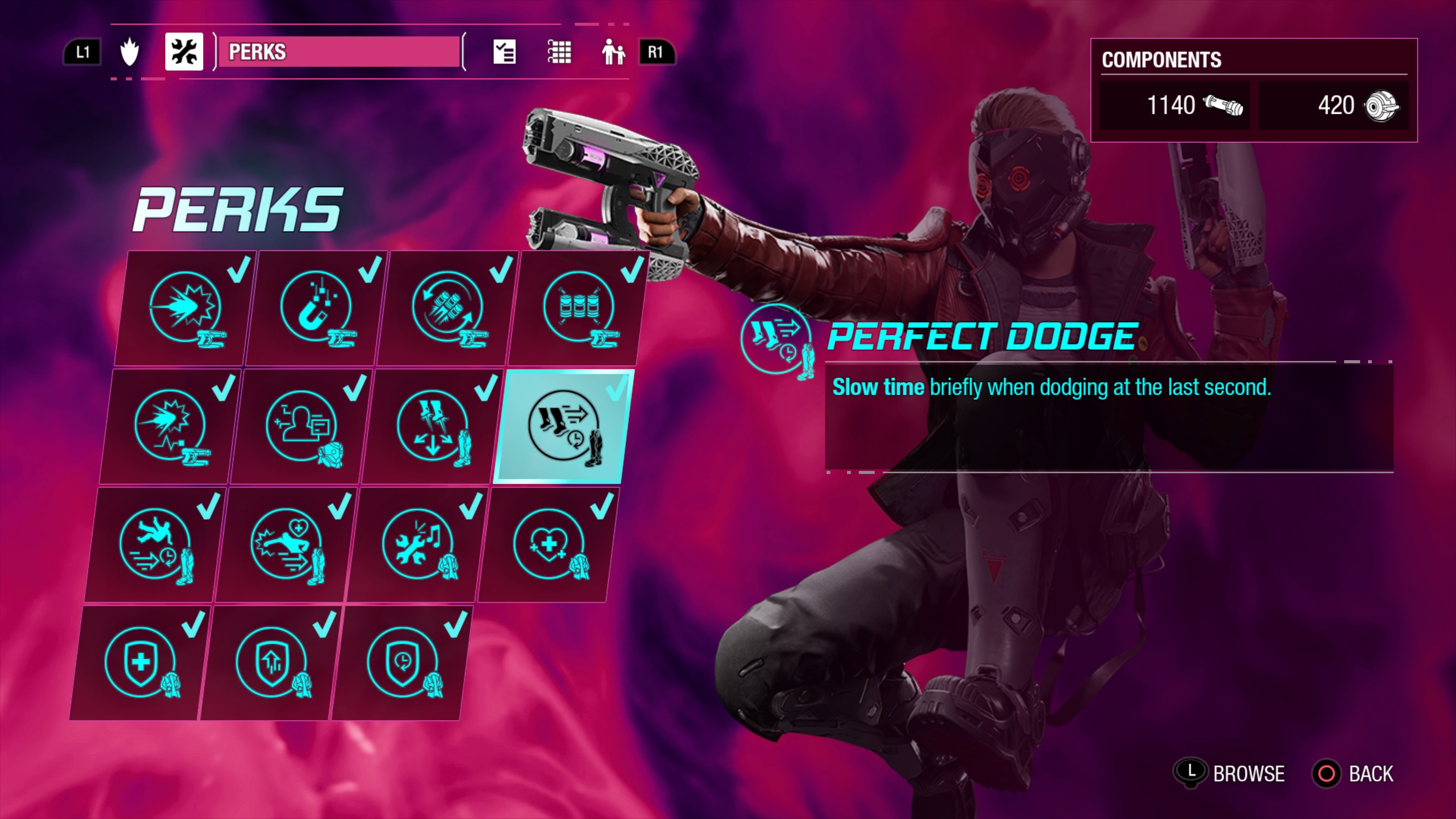 The game likes to send wave after wave of enemies, so it's easy for them to swarm you. You'll be dodging a lot as Star-Lord, and this Perk slows down time after dodging at the last second, which gives you time to call upon the abilities of another Guardian or give them some shots of your own.
Extra Health / Extra Shield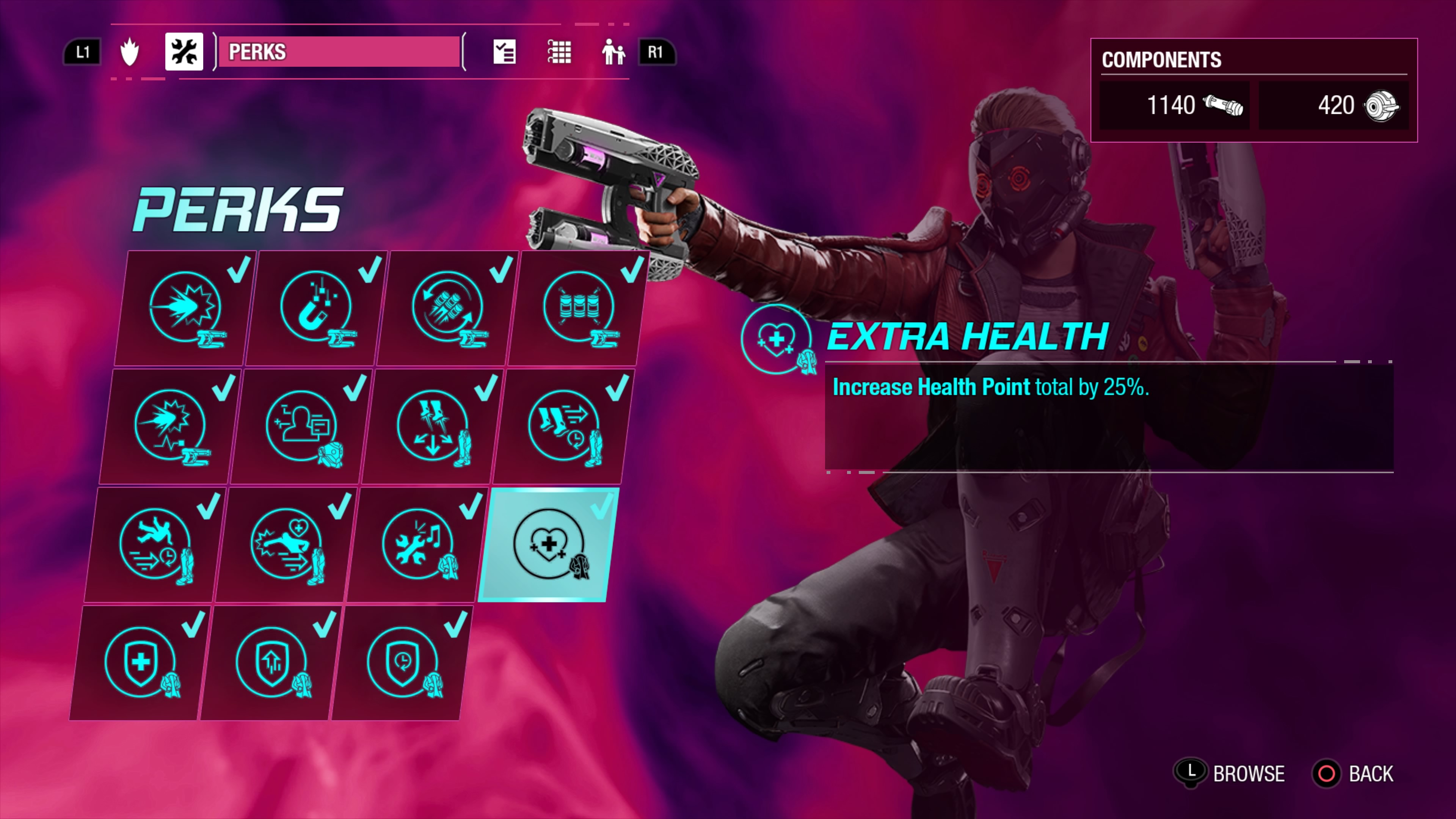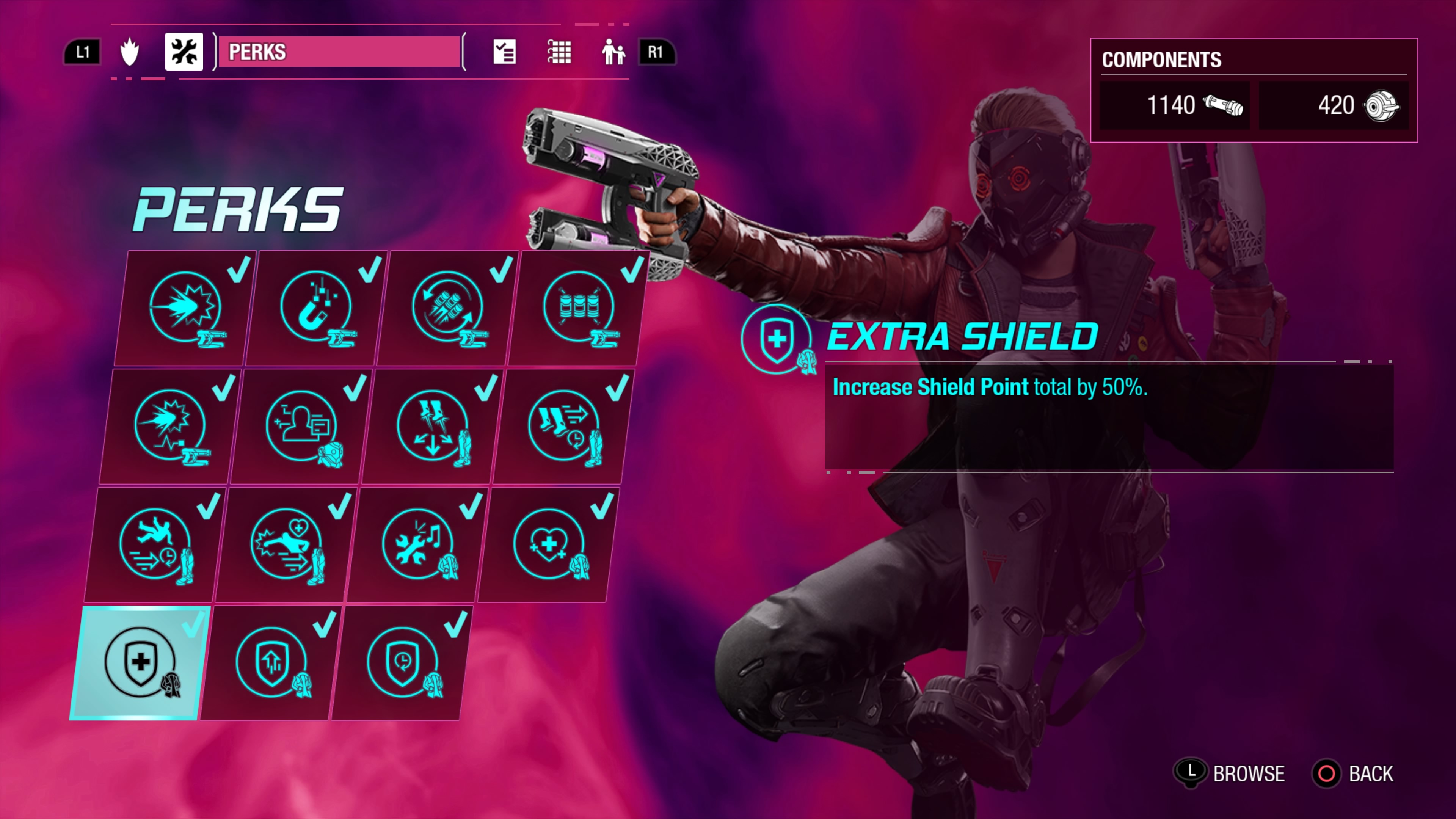 These are actually two separate Perks. They just increase your max Health and max Shield, but you'll need those for the later parts of the game when you'll be fighting wave after wave of enemies.
Try To Get Marvelous In Each Battle
This game features a Devil May Cry-like combo meter. The better result you get, the more experience points you'll get at the end. It has several tiers like Uncanny, Amazing and Marvelous. The highest tier is Marvelous, which nets you the most experience points.
How do you get Marvelous? Just keep spicing up combat by exploiting enemy weakness with your Element Gun, constantly using the Abilities of the other Guardians according to the situation, and don't get hit. Getting hit will lower the combo meter, just like Devil May Cry.
Explore By Finding Secret Paths And Rooms To Find Outfits And Collectibles
Don't just go in the straight line. The game's levels have secret paths and rooms that you can find by exploring. These will have Components, and sometimes even outfits and collectibles.
You'll have to keep an eye out for these and collectibles yourselves. Why? Because the Components Localizer Perk only shows you the locations of Components. However, I noticed that since outfits and collectibles are almost always near Components, you can still somewhat rely on the Perk a little bit.
You Can Visit The Collector's Emporium On Knowhere In Chapter 6 For Some Comic Book Easter Eggs
Yes, in Chapter 6, you'll head to Knowhere for the first time in the game. The Collector's Emporium is located there and it's totally optional. There are two ways to get inside the museum. One is to simply pay your way in, but it requires a whopping 5000 Galactic Credits.
The second way will let you in for free, but for that, you'll need to have successfully "salvaged the friendship you don't remember" with Lipless by choosing the correct dialogue options earlier on in Chapter 6.
---
Video Walkthroughs For The Later Portions Of The Game