LEGO Celebrates The Holidays With Popular Sets & Build-Along Workshops On YouTube
Holiday traditions bond family and friends closer together. This holiday, The LEGO Group is introducing a series of live-streamed build-along workshops on YouTube to encourage parents and children to spend quality time as they build and rebuild. Alongside some of the best-selling favourites and magical Christmas novelties this year, there is a LEGO play experience for everyone with different interests to unbox and create new holidays traditions together. 
To get you started, The LEGO Group has curated 10 popular LEGO sets across themes like LEGO CITY, LEGO Friends, and  LEGO Ninjago to look out for!  
For little builders who love real-world play, they can enjoy hours of imaginative role-playing fun with 41684 LEGO Friends Heartlake City Grand Hotel, a 3-storey set filled with creative details. From the piano bar and reception to en suite bedrooms and outdoor dining area, little builders can now recreate what it is like to stay or work in a  ritzy hotel and story-tell based on their imaginations. 
| | |
| --- | --- |
| 41684 LEGO Friends Heartlake  City Grand Hotel  | 71738 LEGO Ninjago Zane's  Titan Mech Battle |
Those with an adventurous spirit can embark on a stealth mission with the 71738  LEGO NINJAGO Zane's Titan Mech Battle Legacy as they stage thrilling battles,  inspired by Season 5 of the LEGO NINJAGO TV series, with posable legs and arms, a sword and a spinning chainsaw in its hands, 2 spring-loaded shooters and a cockpit for ninja minifigures.  
60277 LEGO City Police Patrol  

Boat

42123 LEGO Technic McLaren  Senna GTR™

76388 LEGO Harry Potter  

Hogsmeadeâ"¢ Village Visit
For lovers of vehicles, they may love an adventure with the exciting 60277 LEGO City  Police Patrol Boat, where they can build a floating toy police boat with a cool control  station and prison hold, fire the net shooter to entangle the crooks, flick a lever to  launch the scuba scooter and create stories featuring LEGO City TV characters. Supercar fans can have their pulses racing too by building 42123 LEGO Technic  McLaren Senna GTR featuring authentic features inspired by the original track 
focused supercar icon. Lastly, for those who love fantasy will be enthralled by the magical 76388 LEGO Harry Potter Hogsmeade Village Visit, a winter wonderland complete with snow-capped roofs. They can put their passion for Harry Potter on show for all to admire, recreate the movie scenes and dream up adventures of their  own with this richly detailed, play-and-display set featuring Honeydukes candy store and The Three Broomsticks pub. 
Other crowd favourites include 71387 LEGO Super Mario Adventures with Luigi  Starter Course, 60295 LEGO City Stunt Show Arena, 41688 LEGO Friends Magical  Caravan, 80024 LEGO Monkie Kid The Legendary Flower Fruit Mountain and 10914  LEGO DUPLO Deluxe Brick Box. 
In the spirit of giving, some of these sets will be available for sale at a discounted price at select retail channels1. For purchases above RM289 at the LEGO Certified Stores between 1 November and 31 December or at the LEGOLAND Malaysia Resort between 15 November and 31 December, shoppers can receive a LEGO gift bag with mystery polybags. Those who spend above RM599 between 26 November and 31 December will receive 40484 Santa's Front Yard as festive gifts with purchase at LEGO Certified Stores and LEGOLAND Malaysia Resort. 
Learn to build and rebuild with LEGO sets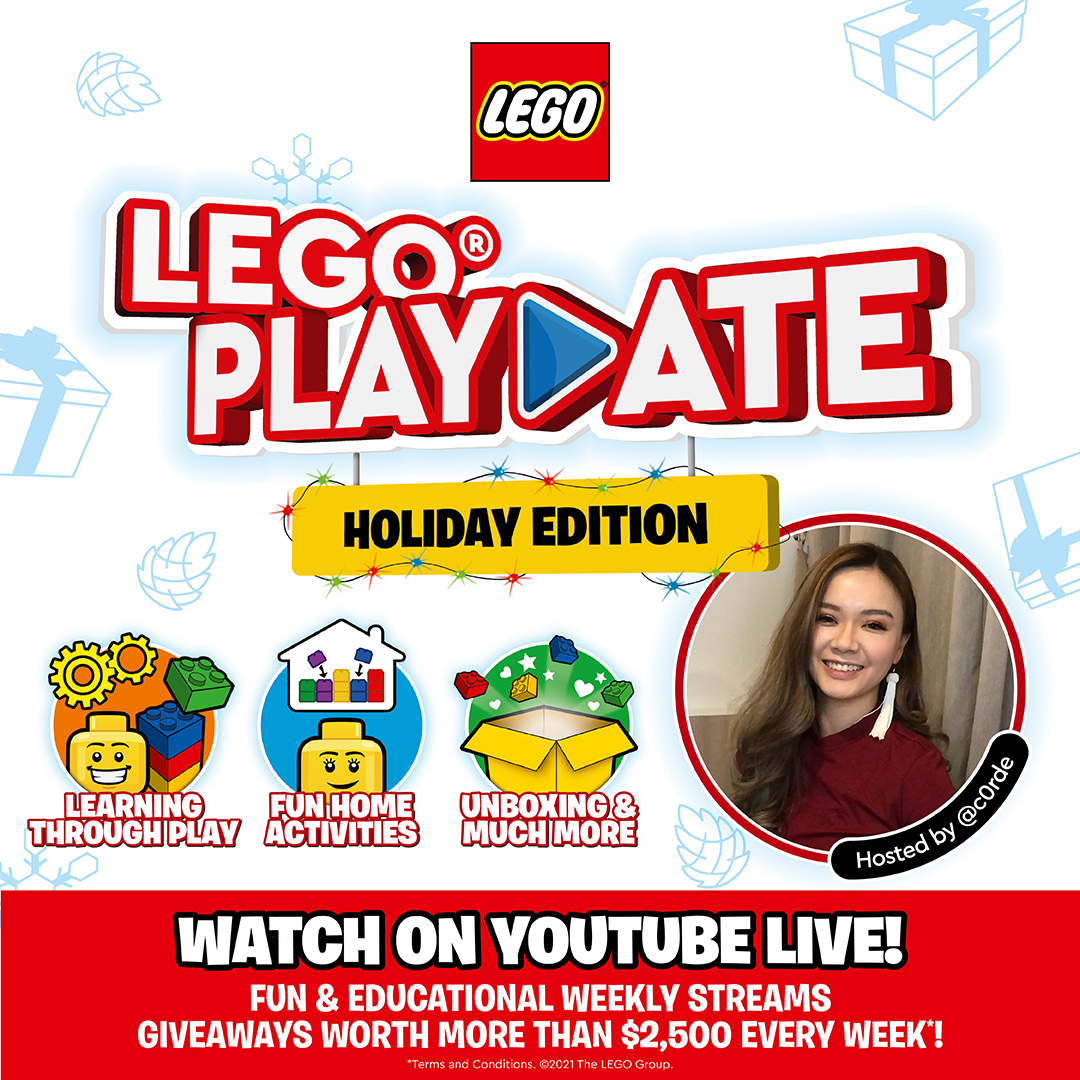 To encourage parents and children to spend quality time together to build and rebuild, The LEGO Group will be launching an exciting YouTube Live series called LEGO Playdate (Holiday edition) with weekly contests and giveaways in November and December. Spanning across Singapore, Malaysia, Indonesia and the Philippines, the series aims to bring fun and joy to families across the region.
Hosted by Singapore-based host-parent, Cordelia Daphne Low, the first episode will kick off on World Children's Day, 20 November 2021. Over the span of six weeks, parents and children will be brought on a journey to explore topics such as Jobs & Aspirations, Simple Machines, Ninjas & Dragons, Books & Magic, Technology in Play, and Dreams Holidays through hands-on activities with LEGO  bricks. Each session will also feature the unboxing of popular LEGO sets, complete with a play demonstration to illustrate the educational benefits of LEGO play.  
Interested parents can mark their calendars for these six sessions which go live on 20  November, 27 November, 4 December, 11 December, 18 December, and 24 December at 2pm Malaysia time. Alternatively, stay tuned to LEGO and LEGO Certified Stores  Facebook Pages and be sure to RSVP once the Facebook event page is live! 
Build a Christmas centrepiece with friends and family this year 
Lastly, The LEGO Group has revealed five Advent Calendars across favourite themes such as LEGO Friends, LEGO City, Star Wars, Marvel and Harry Potter, as well as the charming new 10293 LEGO Santa's Visit set that offers new building experiences  for the family to create a centrepiece display or countdown at home together. 
The design centres on a cosy little house, where a family is busily getting ready for  Santa's arrival. Cards are collected from the mailbox; gifts have been wrapped, and treats have been put out in anticipation of the most exciting time of the year. Once the build is complete, all Santa needs to do is drop down the chimney to spread some  Christmas cheer!
The set is also bursting with tiny details to be discovered, including Winter Village's first illuminated Christmas Tree! Just press down on the top of the tree to trigger the  light brick hidden inside. Other details include a fireplace with stockings, a chimney  (with enough space for Santa to slide down through), a child's bedroom, a detailed  kitchen with decorated dinner table, milk and cookies to leave out for Santa, and a  comfy chair for him to curl up in. The house is also decorated with boughs of holly and includes a snowy gate with a mailbox. At the back, a roof panel articulates outwards for easier access to the bedroom upstairs. 
Rohan Mathur, Marketing Director, Southeast Asia at The LEGO Group:
"This holiday season, we want to encourage families to spend quality time and bond through the creation of new holiday traditions such as building our 10 popular LEGO  sets and counting down to Christmas together. We also hope the build-along sessions can inspire parents and children to build and rebuild with LEGO sets, enabling children to ignite their creativity, imagine limitless possibilities and create something new each time. Happy holidays!"