Platform(s):Â PC
Genre:Â Strategy, Real-Time Strategy, RTS, Turn-Based, Historical, Fantasy
A Total War Saga Troy made a comeback earlier this year with its Mythos expansion. It finally gave fans of the franchise what they wanted; proper full-fledged mythological and historical modes instead of the half-baked 'truth behind the myth' approach the game originally had at launch. That could have been a nice cap to a decent Total War title, but it turns out that Creative Assembly still wasn't done with the game yet.
It was a pleasant surprise when the developer announced earlier this month that the game would receive new playable DLC leaders/factions with the Rhesus and Memnon expansion. However, this has been confirmed to be the game's final DLC as of now, so the question is; are Rhesus and Memnon worth getting?
Rhesus Pieces
What's interesting is that both Epic Heroes (Rhesus and Memnon) are traditionally tied to the Trojans, and it's great to be getting new Trojan factions. It's no secret that most players will probably gravitate towards the Greek factions, since they're significantly more well-known and iconic, not to mention that it sounds more exciting to have a final endgame goal of reaching and capturing the city of Troy. However, the problem with the Greek factions is that most of them have similar generic units, which gets really old quite fast. Meanwhile, the Trojan factions usually have more variety compared to the Greeks, but a lot of them are still similar and repetitive in a lot of ways.
The Rhesus and Memnon expansion alleviates this problem by adding two new factions with not only new mechanics but also brand new units not shared with any of the other factions. Also, while they're allied with the Trojans, they're not culturally Trojan, or Greek, for that matter. That's huge in terms of spicing things up and making your campaigns interesting again. Plus, I know I initially wrote above that reaching and capturing Troy is 'exciting', but it gets repetitive as hell when all Greek factions have the same endgame goal. As Trojan factions, Rhesus and Memnon both have unique endgame goals, as well as unique mechanics of their own, which makes the game feel fresher.
First things first, let's look at Rhesus. He's the king of Thrace, a region that's to the far north of the campaign map in A Total War Saga Troy. In the present day, most of Thrace is now Bulgaria and the rest of the Balkans. As I mentioned before, he's not Greek or Trojan. If you're familiar with previous Total War games, Rhesus' Thracian units are essentially the equivalent of barbarian factions from those previous titles. They're not as heavily armoured as the 'civilized' factions, but their units usually have advantages in other aspects.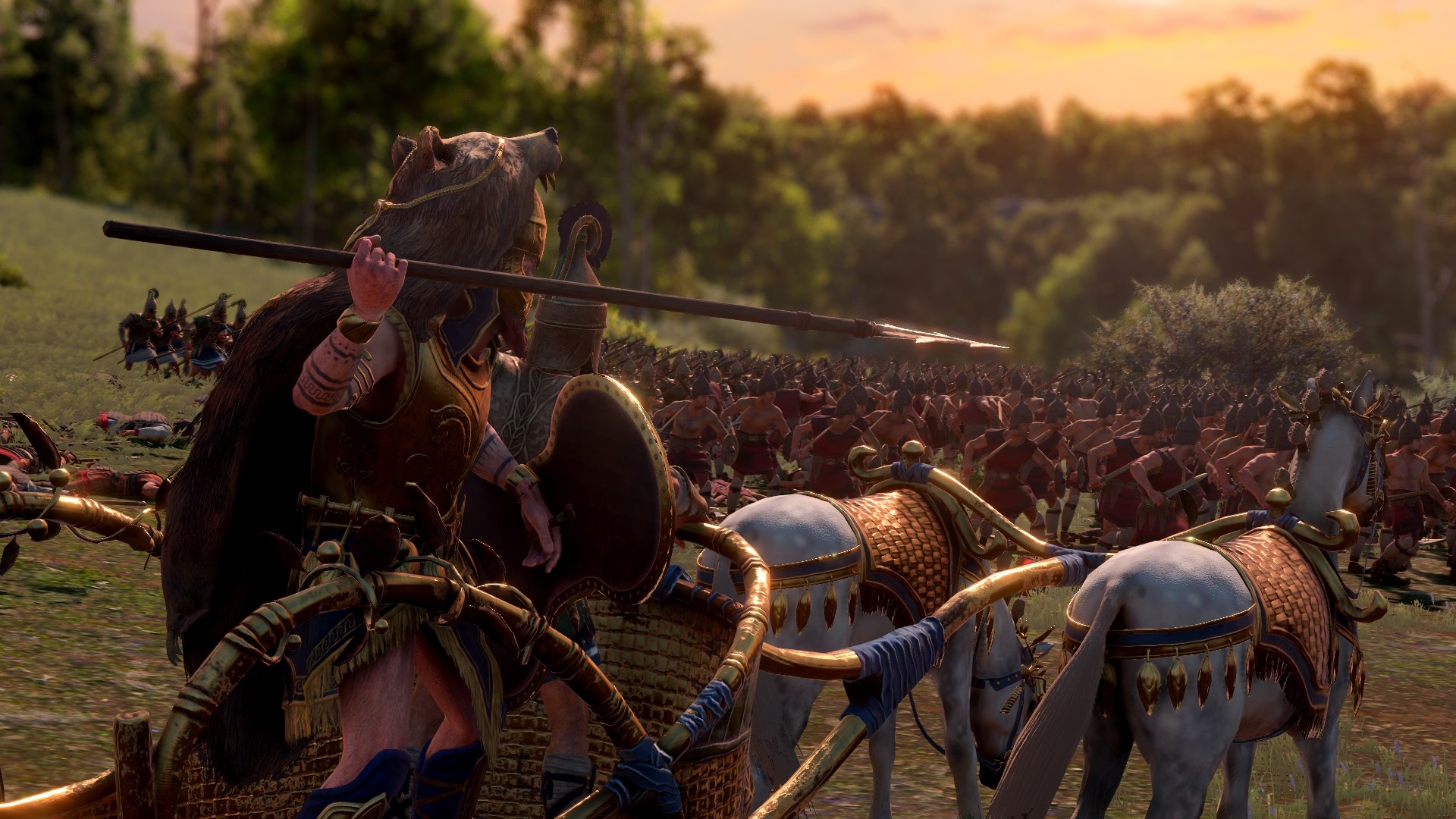 Rhesus's faction features two new unique campaign mechanics; Countless Host and Thracian Rituals. Countless Hosts are special armies you can summon after conquering the forests of Thracia. What distinguishes them from your normal armies is that they don't add to your Administrative Burden, which means that they're a lot cheaper to raise and maintain. If you think that means you can just spam these Countless Host armies, think again. They come with limitations to avoid players from spamming them too much. They can't occupy settlements, only sack or raze them, and they can't replenish themselves.
The Thracian Rituals is a bit more important, as this mechanic introduces a brand new resource unique to the Rhesus' faction; Devotion (in addition to existing ones like bronze, gold and food). Being a non-Greek/Trojan faction, the Thracians have their own gods and pantheons. You can use Devotion and other resources to enact rituals for a bunch of bonuses, including access to special elite units, economic/military buffs, and more. Of course, you can still choose to engage with the Olympian gods mechanic, which is still accessible for Rhesus and his faction. Seriously though, why would you worship boring old Zeus and Poseidon when you can ask for the blessings of gods with exotic names like Zalmoxis and others that I can't properly spell or pronounce.
Besides Rhesus' new units and mechanics, I find his faction's starting point to be refreshing as well. Veteran Total War fans will understand how even something as simple as where a faction's starting settlement location can determine not only how easy or hard the ensuing campaign will be, but also the different strategies and plans you'll have to think of in terms of growing and expanding your empire.
Gone Memnon
Out of the two new factions, Memnon was definitely the bigger highlight of this new expansion. There was previously only one other horde faction in A Total War Saga Troy and it was one of the two Amazon tribes. Now, we have Memnon's horde faction, which is the most diverse in the entire game. How is that possible? Well, just like Rhesus, Memnon may be tied to the Trojans but his faction is neither Greek nor Trojan. However, unlike Rhesus, Memnon's faction is even more unique, in that it's not tied to any one culture or race.
Memnon himself hails from Aethiopia (which is now the African nation of Ethiopia), but he comes to the aid of the Trojans on behalf of the Egyptian Pharaoh. That means he can raise armies with units not only from Aethiopia and Egypt but also from other nations of the Bronze Age era, including Canaan (what is now parts of Syria, Israel, Palestine, etc.) and Susa (Persia). Imagine having a multi-cultural unified army filled with Aethiopians, Egyptians, Canaanites, and Persians. What other Greek or Trojan faction can beat that level of diversity?
As a horde faction, Memnon can't occupy settlements at all, which means that you'll be rampaging through Greece, sacking and razing the land. Similar to the Amazons or the Huns in Total War Attila, part of the fun in using a horde faction is in not having to worry about building or defending an empire, as well as having the luxury of always going on the offensive. In addition, Memnon doesn't have access to traditional Total War agents, but he can employ camp followers using the Resourceful Strategists, which comes with pretty OP buffs like being able to disable settlement towers in siege battles and more.
Memnon's sheer diversity of units and non-conforming horde playstyle makes it the best for anyone looking for a less conventional experience in A Total War Saga Troy. The potential is ripe. You could potentially just destroy the entire map, Greek or Trojan be damned. By the Pharaoh, it's goddamned fun, and I say this as someone who's played thousands of hours of Total War.
Trojan Defenders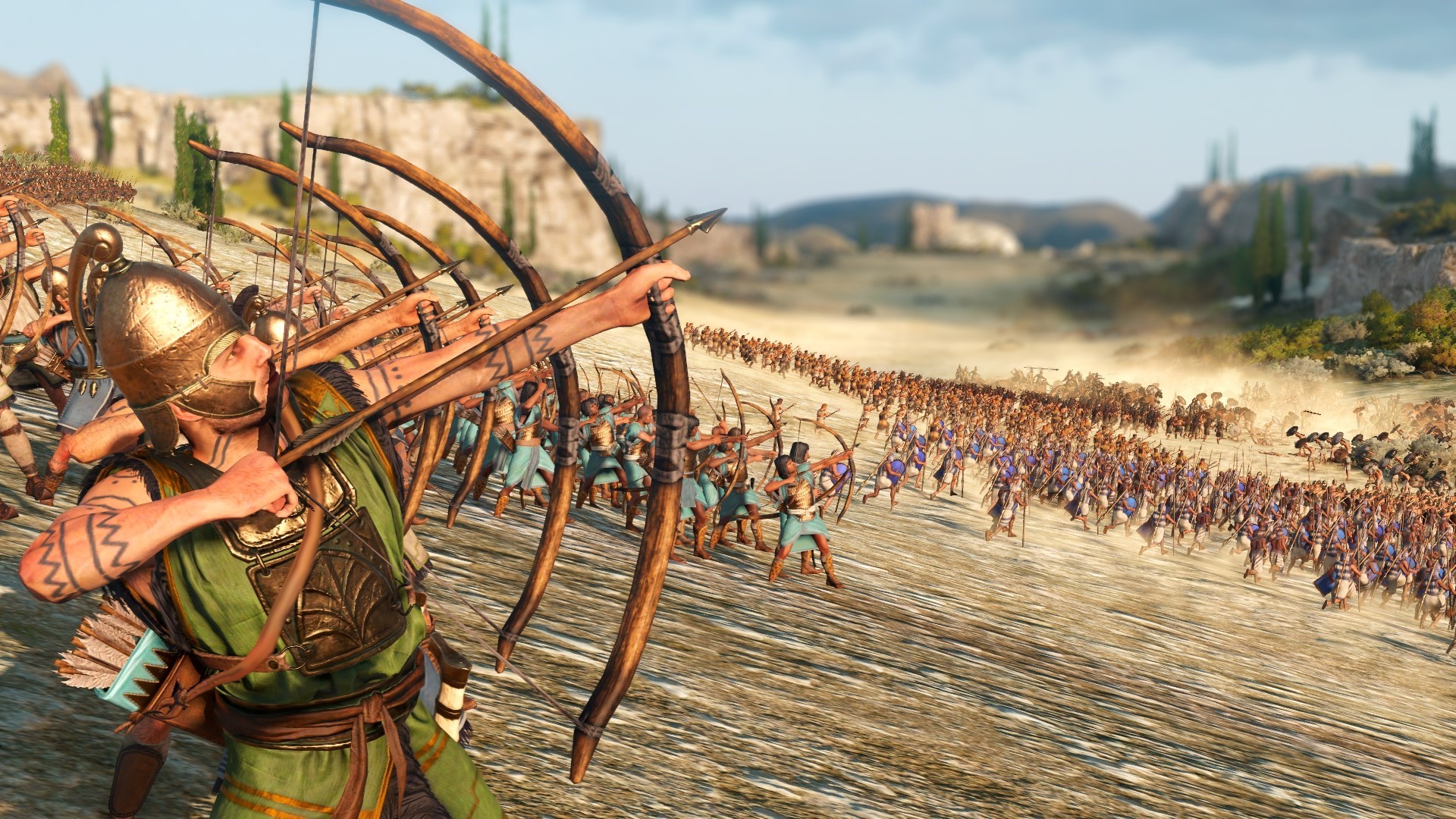 Ultimately, both Rhesus and Memnon are great and worthy additions to A Total War Saga Troy. They offer refreshing experiences with brand new mechanics and units not shared by any of the other factions, which is important in selling a DLC or expansion as a must-buy. Previous Total War games like Total War Rome 2 have suffered from issues like having paid DLC that felt like merely lazy reskins.
The Rhesus and Memnon DLC doesn't have that problem. If there's one DLC you want to get for A Total War Saga Troy, let it be the Mythos expansion first, but the Rhesus and Memnon expansion comes in a close second. Rhesus and Memnon will add hours and hours of gameplay even if you've already sunk in a chunk of time into the game.
A Total War Saga Troy is still one of the most stable and optimized modern Total War games out there with a compromise for fans of both the historical and fantasy titles, even if that only really applies to the Mythos version of the game (check out my full review for why that is).
Review copy provided by Sega. Played on PC. A Total War Saga Troy Rhesus and Memnon will release on both Steam and Epic Games Store on 14 December 2021.