Get ready, VCT Game Changers is back for a second year! Held in collaboration with FSL, SEA's premier women gaming circuit, VCT Game Changers is a competitive series that aims to create new opportunities and exposure for women and other marginalized genders within the  VALORANT esports ecosystem.  
The Game Changers APAC 2022 Series will supplement the ongoing VCT competitive season by providing a pro player circuit that reflects the diversity and global nature of the VALORANT community and player talent seen in the region. 
TOURNAMENT OVERVIEW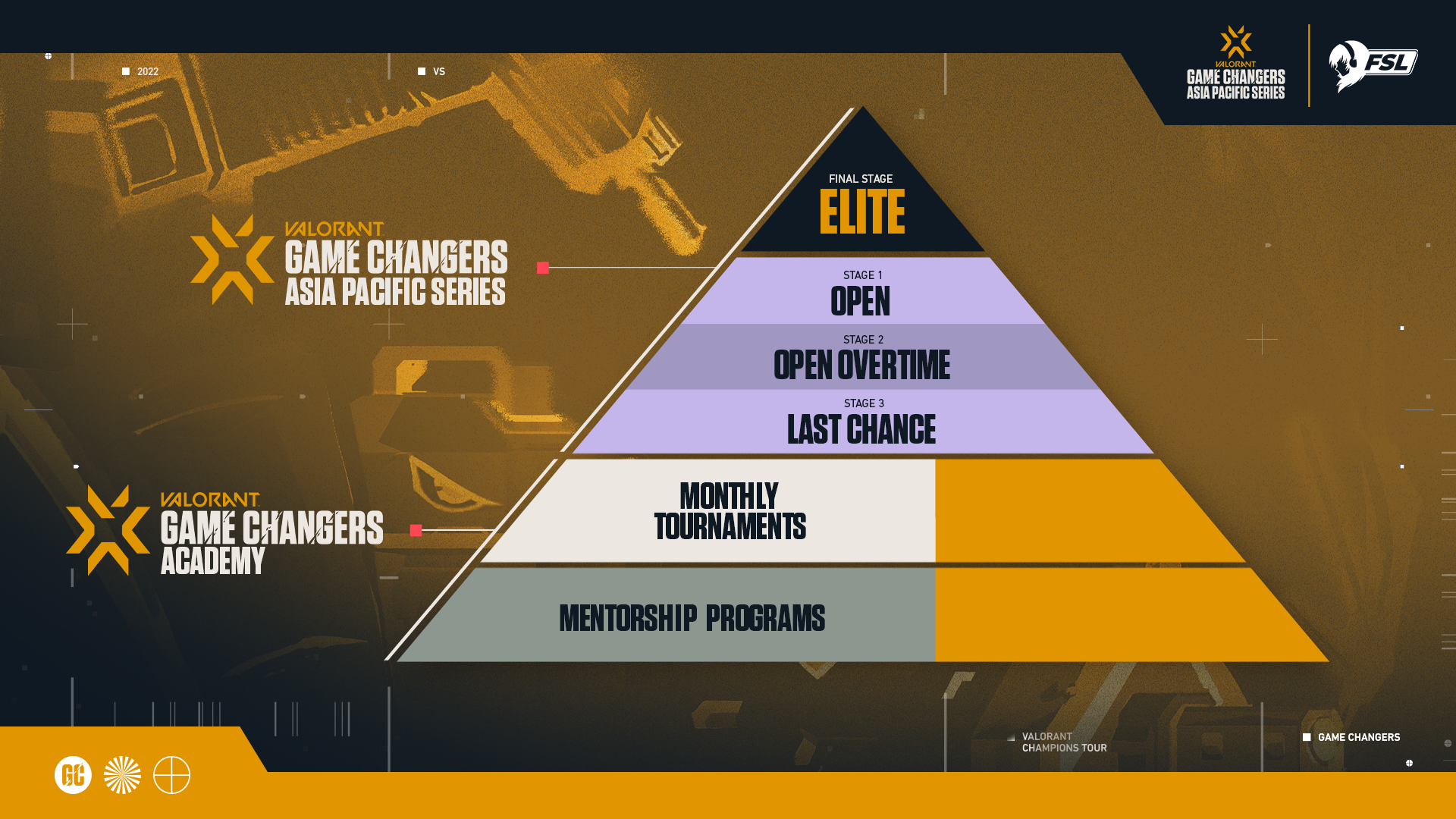 This year's series consists of 4 stages with a total prize pool of USD60,000 up for grabs throughout the year. This year's stages are as follows: 
VCT Game Changers APAC Open 1 – 4: A maximum of 64 teams will compete in a series of double elimination rounds across 4 Open tournaments to win points. The top 3 teams on the leaderboard will qualify for the APAC Elite stage. Teams stand to win USD5,000 at each stage of the Open tournaments. 
VCT Game Changers APAC Open Overtime: 8 teams ranked 4th to 11th in the previous  APAC Open stage have another chance to qualify for the APAC Elite tournament. Matches will be played in a double-elimination format and the top 3 teams will qualify for the APAC Elite stage. 
VCT Game Changers APAC Last Chance: This is the final opportunity for teams who have not qualified for the APAC Elite tournament to fight for one of 2 final qualification slots. A maximum of 64 teams will fight through a series of double elimination brackets. Successful teams also stand to win a USD5,000 prize.  
VCT Game Changers APAC Elite: This is the grand final stage in the APAC 2022 series. The final 8 qualifying teams will compete over two weekends for a chance to be crowned the champion in APAC. They will also be fighting for a part of the final USD35,000 prize pool and a  chance to be invited to participate in Riot Games' global Game Changers tournament later in the year. More details about this global tournament will be released closer to the date.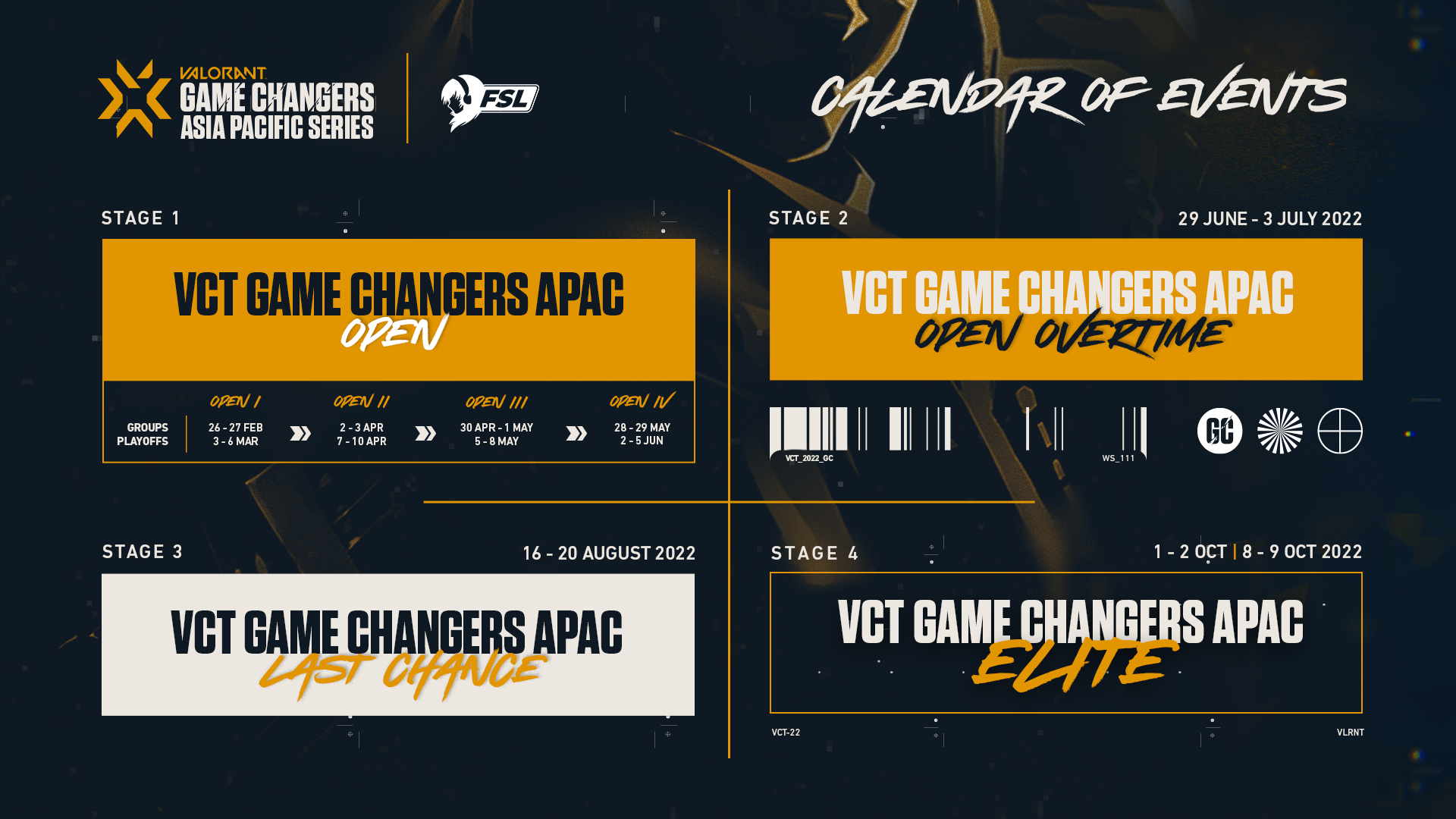 TOURNAMENT DATES
VCT Game Changers APAC Open 1 -Â 
Registration: February 7 – 20Â 

Groups: February 26 – 27Â Â 

Playoffs: March 3 – 6Â 
VCT Game Changers APAC Open 2 -Â 
VCT Game Changers APAC Open 3 -Â 
Registration: April 15 – 26Â 

Groups: April 30 – May 1Â Â 

Playoffs: May 5 – 8Â 
VCT Game Changers APAC Open 4 -Â 
VCT Game Changers APAC Open Overtime -Â 
VCT Game Changers APAC Last Chance -Â 
VCT Game Changers APAC Elite -Â 
REGISTRATION
Individuals and teams from the APAC region (excluding Korea, China, Japan) are eligible to register for this year's series.  
For more information on participant eligibility requirements, please visit the FSL Game Changers rules and guidelines. 
Registration links will be made available soon on the official VALORANT website. 
WHERE CAN I FOLLOW THE ACTION ON VCT GAME CHANGERS APAC 2022?
Playoff matches will be broadcast live in English, Bahasa Indonesia and Thai! Keep up with all  the action on FSL's channels:  
For the latest updates on VCT Game Changers APAC, follow FSL on Facebook, Instagram, and Twitter. For more information, you can always contact FSL directly via their Discord channel.