Platform(s): PC (version reviewed), Xbox One, PS4, Nintendo Switch
Genre: 1v1 2D sports game that's secretly a fighting game
The 90s era of arcade gaming was really packed with underrated gems, especially on the Neo Geo arcade hardware. If there's one game that really, REALLY needs to make a comeback from the SNK and Neo Geo 90s arcade 1v1 days, it's clearly the versus shmup Twinkle Star Sprites, which has gone on for far too long without a 2D-art sequel.
But, if I were to put away my biases and pick a close second, it'll definitely be Data East's Windjammers. The Dotemu folks have taken up the task of bringing a true sequel to life in 2022. And damn, does it deliver!
Tosser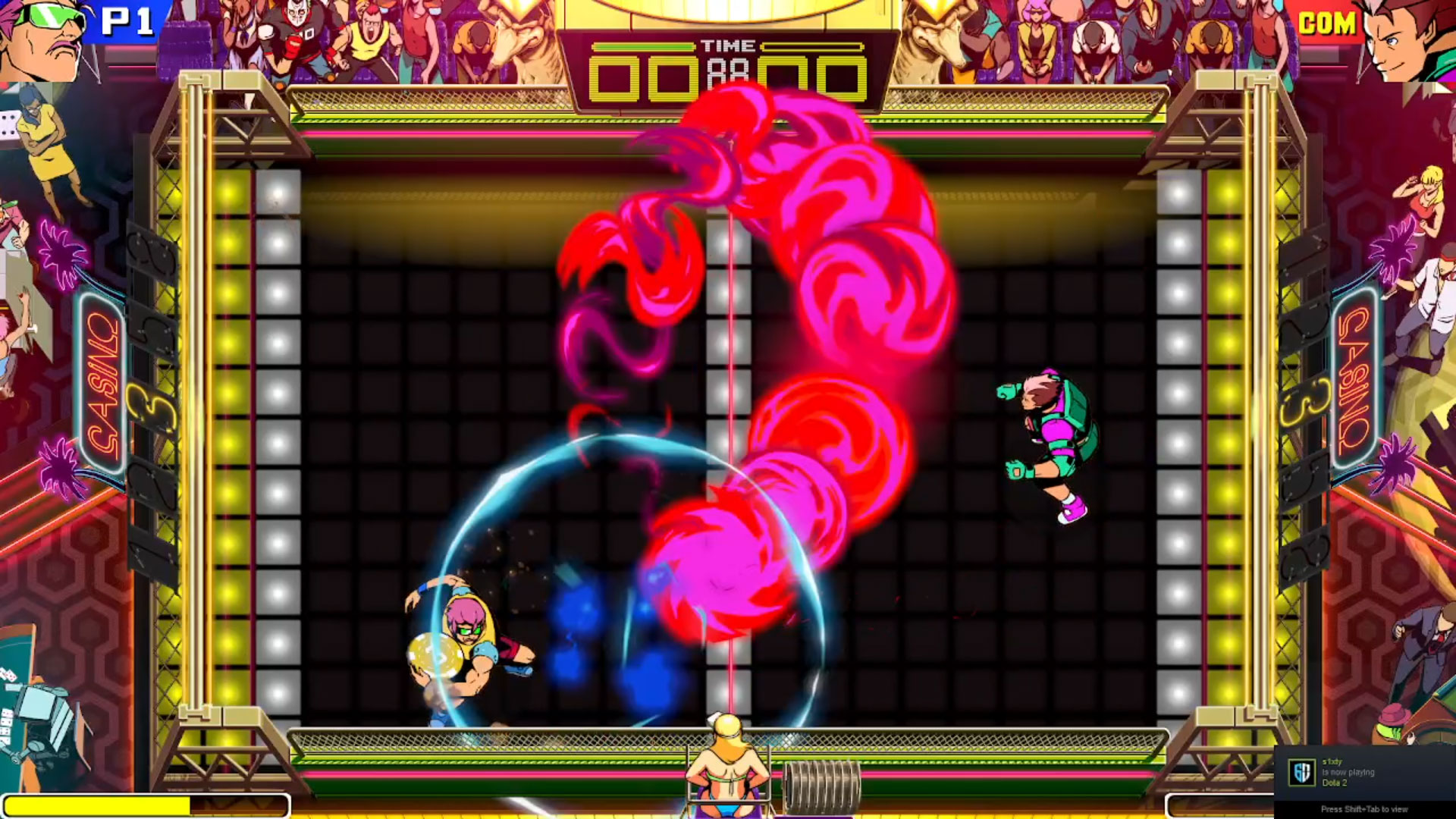 So what is Windjammers 2 about? It's basically a sequel to the 90s arcade sleeper hit that has gained cult status for the past few years or so, with various esports tournaments hosting it as a side game for fighting game tournaments like EVO. Windjammers 2 pits two players against each other in a sports competition involving flying power discs, or frisbees if you will. The objective is to throw your flying disc to the opponent's goal to score points. Whoever reaches 15 points or beyond wins a set; you win 2 sets, you win the entire match. Of course, your opponent will catch and toss the flying disc back and also try to score points on his/her end.
Sounds basically like Pong and Tennis, right? Well yes, but there are a few key differences. First, the goal is divided into yellow and red; yellow goals you 3 points while red goals you 5 points. Each stage usually have their reds and yellows shuffled around; some levels have the red bars as the centre post and the side being yellow, while others switch them around.
Second, you can catch and throw the flying disc faster than usual if you time your button presses, or even deflect it to send it up into the air; stand under the crosshairs of the flipping disc to charge up and throw a power shot of your own. These special throws are different depending on the character you use; some go in a zig-zag while others cling to the left or right side of the arena. Different characters have different super throws and power lobs, as well as power curve throws.
And third: you can parry and counter ANY type of throw with a simple button press, be it a regular or superpowered one. As long as you're fast enough and your timing is spot-on, you can catch a zig-zagging power throw from George Scott, then toss it back to his face. You can also pause for half a second and purposely toss a slow shot just to mess with your opponent. And you can also deflect oncoming throws in any direction. With all this back and forth going on, you start to see how this becomes a 1v1 fighting game; perfecting throws and countering them is just as crucial as aiming your power discs to your opponent's goal. There is just a ton of strategy and factors to consider that make Windjammer 2 matches exhilarating to play and watch.
For veterans, there are two new mechanics that help enhance the game further: the jump and the Super reset. Each character can jump and catch a lobbed disc, countering it with a toss of their own be it a simple ground plant to a rolling lob. The Super reset lets you use your full stick of meter to deflect oncoming discs and have it flip in the air for you to catch or charge with; just make sure to use the Super when the disc is on your side of the court.
Disc World
All of this makes for a frenetic and fast-paced game of super Pong, with different characters having a multitude of shots and also trying to inflict mind games with their opponents. If you see your opponent standing way at the back, use a punt to have the disc land close to the net so that he/she cannot catch the disc in time. You can also use a power shot; if your opponent is at the back of the goal and didn't press the deflect button in time, he/she slides back to the goal, netting you the points.
You can play it at both a casual level and at a high level; Windjammers 2's mechanics are simple to pick up after a few rounds, but tough to master due to the additional layers present as you dive deeper.
You have to factor in shot timings, slow/fast throws at given situations, leading opponents on with your throws, lobs, and counters, and also not have your back turned when taking a shot otherwise you get stunned temporarily.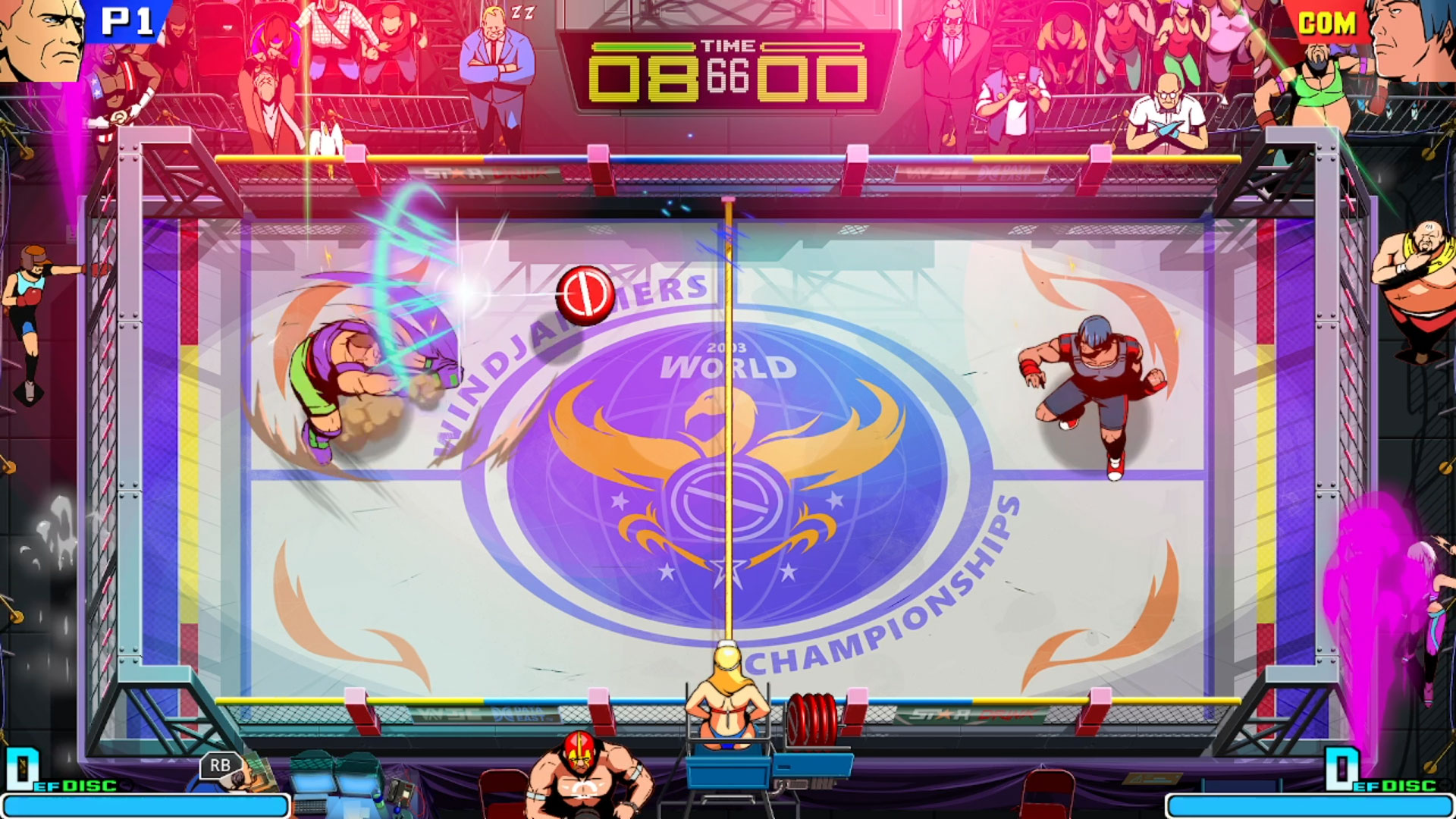 As such, playing locally with another person is also a blast. Players of equal skill level will be tossing the flying disc back and forth trying to score points while also deflecting oncoming throws while also gearing up for their own. The throws get faster and faster as you press the right inputs and timing, and special throws and shots get chucked at left and right to the point where it becomes a Dragon Ball Z-style projectile-tossing fight. Think Pong and Tennis, but anime. Windjammers 2 is at its best when real-life players are duking it out. The arenas you duke it out are also noteworthy, from narrow to regular-sized courts with various red/yellow goal placements, to even a Casino-themed stage where the disc you throw and the scoreboard determines the number of points you get when you score a goal. It's the sole stage where chaos can be your friend; you can just land a game-winning score of 8 points from just a well-timed deflect.
Having said that, the game needs extra modes badly, like a training mode or some other extras that help up your game for competitive play. Sure, you can learn tactics & try things out from playing against the AI, and get some mileage out of the game's Arcade mode. But having a challenge mode that teaches you how to deflect shots properly and timing your catches so you can do the charging up thing helps immensely. Heck, have a training feature with the game's disc-tossing machine during the Arcade Mode's bonus round.
We also tried out some online play within Malaysia; the ping is less than ideal for now. The game's rollback netcode works wonders; during my sessions on launch day, the games I've played on quick match are pretty smooth and come with less ping than I anticipated. That said, it took a while finding ranked matches , but this Dotemu game is made by a smaller team compared to bigwig online titles out there for the past half year or so. Dotemu did say that the game will be getting updates ahead of the game's launch day, so here's hoping things improve in the next few months.
With a little bit more polish and hopefully some extra mode updates down the line, I'm very confident that Windjammers 2 will be 2022's most fun 1v1 fighting game masquerading as a sports game. Or is that a sports game masquerading as a fighting game? It's hard to say, but Windjammers 2 is fun frisbee flying power disc tossing action all the way through.
Pros
Great 1v1 sports & fighting hybrid gameplay.
Fun stages & challenges.
Lovely aesthetics.
AI can work up a sweat.
Rollback netcode works well.
Cons
Lack of extra modes & training opportunities.
Final Score: 80/100