Chrono Cross Remastered Tier List: The Best Characters To Recruit In This 1999 Classic Made New
The Chrono Cross remaster is finally out this week. While the port is barebones, the 1999 classic JRPG is really fun to play and is (arguably) a unique sequel to Chrono Cross. It also features a HUGE cast of characters to recruit. This means that it's tough to pick the right one for your play session.
So who is the best party member to add in your 3-person group and power through the game? Well, we're here to sort that out for you.
On this Chrono Cross guide, we will list down the best characters and list them down in tiers, as well as mention how to recruit them throughout the course of the game. We may touch on spoilers, of course, so be wary.
S Tier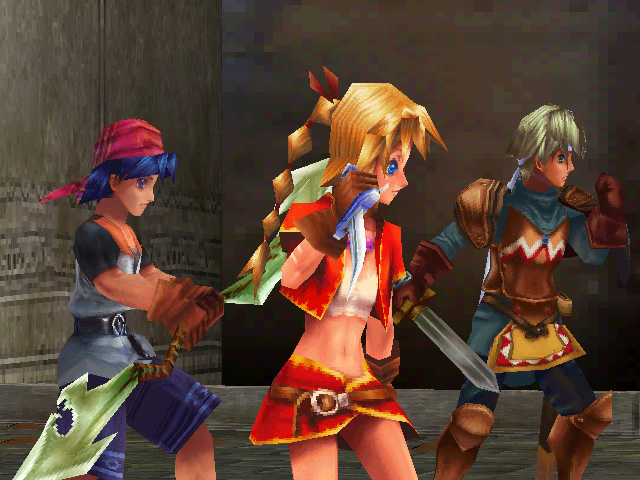 Serge, Glenn, Fargo, Harle, Lynx, Leena
Of course your two main characters will be top tier; we're referring to Serge (White) and Lynx (Black). These two will have the essential stats and skills to complement anyone you recruit in your party. Harle too will join the party in story mode, and is one of the best magic users in the game, even for a short bit.
As for the others, Glenn (Green), Fargo (Blue), and Leena (Blue) are must-haves in your party. Glenn deals big damage with his Dual Wield skill. Fargo has access to Pillage which means free loot for you and your party. Leena has kickass spells to support any party with two damage dealers.
How To Get Glenn: First, refuse to get the Hydra Humour for Kid. Then, return to Termina with Macha and listen to Glenn's conversation with a flower lady at the entrance of town. Then, return to the boat and Glenn will ask if you want to share a boat ride. Be sure to listen in to the conversation of Glenn at the entrance of Termina.
How To Get Fargo: Fargo will join Serge's party after Riddel is rescued from the Porre Army at Viper Manor (Another World).
How To Get Leena: Turn down Kidd's offer three times at Cape Howl (Another World) after defeating Karsh, Solt, and Peppor. Leena will join you the next morning.
A Tier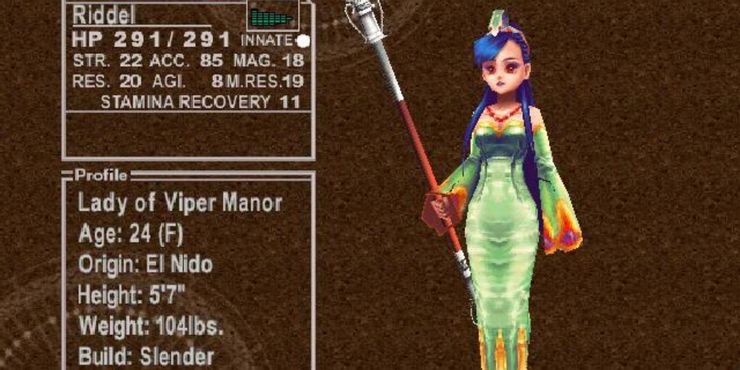 Kid, Draggy, Guile, Riddel, Norris, Starky, Orlha, Grobyc, Sprigg, Leah, Karsh, Greco
You cannot go wrong with these characters in your party. In fact, half of them will automatically join you in the course of the story.
Kid is the best Red character hands-down, while Draggy (Red) has high stamina and defense stats to tank for your party.
Guile is the best Black spellcaster out there and can sub for Harle when she's not available. Riddel has great White spells and buffs. Norris (Yellow) has high accuracy and damage, while Starky (White) deals good White damage and has an AoE level 5 tech that can wipe most enemies out.
Orlha is the best physical Blue damage dealer in the game, while Grobyc (Black) is the best damage dealer in his color category. Sprigg is a tough character to master, but with the right transformations, he's a beast. Leah hits hard in the Yellow innate department, while Karsh is the Green equivalent.
How To Get Kid: She's essential to the game and will join you if you agree to her shenanigans. However, you will need to refuse her offers and not bother to save her if you plan on recruiting other top-tier characters on this list. Don't worry: she lives and will join you in the late game.
How To Get Draggy: Steal the Big Egg from the Dodo's nest in Fossil Valley (Another World). Head to Fort Dragonia (Home World), head downwards, and place the Big Egg in the center incubator. The egg will hatch Draggy, who will join your party.
How To Get Guile: When prompted, let him take you to Viper Manor. You will see him in Termina (Another World) at a bar.
How To Get Riddel: You will rescue her from the Porre Army at Viper Manor (Another World).
How To Get Norris: First, unlock Radius at Arni Village (Home World). Then, visit Viper Manor Ruins (Home World) with Radius in your party, and find Norris in the basement.
How To Get Starky: In the center of El Nido Triangle (Home World), find the chest containing the Star Fragment. Then head to Sky Dragon Isle (Home World) and check ou the paranormal phenomenon.
How To Get Orlha: When you become Lynx, defeat Orlha in Guldove (Another World). She will give you the Sapphire Brooch. When you become Serge later in the game, head to Orlha's bar and show her the Sapphire Brooch. She will join your party.
How To Get Grobyc: Defeat him during the Riddel rescue quest in Viper Manor (Another World). He will assist you later on and join you.
How To Get Sprigg: After you become Lynx halfway in the game story, you will be sent to the Dimensional Vortex. Interact with the berry tree in the area to lure Sprigg out of her house. Then, sneak into her house before she can beat you back to the door. You will then rest for the night and she will join you then.
How To Get Leah: She will join you when the party reaches Gaea's Navel (Home World).
How To Get Karsh: When initiating the Riddel rescue quest from the Porre Army, pick Karsh over Zoah. If you picked Zoah, Karsh will join you later on the S.S Invincible (Another World).
How To Get Greco: After fighting Lynx at Viper Manonr, head to the Termina (Another World) shrine and follow Greco to his house. He will then join your party following a cutscene.
B Tier
Nikki, Miki, Irenes, Zoah, Steena, Marcy, Radius, Macha, Viper, Razzly, Pip, Orcha, Korcha, Janice, Luccia, Skelly, Mojo, Pierre, Turnip, Van, NeoFio, Mel, Funguy, poshul, sneff, Doc, Zappa
These characters are fine and useful in their own right, but they're overshadowed by everyone in the S and A tier list in terms of power, utility, and overall stats.
Note: you will need to recruit Macha if you plan on recruiting S-tier character Glenn. To recruit her, refuse to find the Hydra Humour for Kid at Guldove (Another World). After Korcha storms out, Macha will tell her son off and will boat you back to Termina. After speaking to Glenn by the entrance of Termina, return to the boat docks and talk to Macha again.