Good video game sequels are hard to come by, at least in the past few generations. In films, you have a Godfather 2 to balance out the numerous Friday The 13th sequel churns that span more than a trilogy. In games, it's arguably rare to find a sequel that completely trumps over its predecessor.
Back in the late 80s and 90s of 8-bit and 16-bit gaming though? That era was a goldmine for video game sequels that pushed the boundaries of quality and fun.
Granted, game developers didn't really have much of a choice but to push forward with the new game IPs they started in the heyday. But compared to now? There wasn't much restriction whatsoever to adhere to brand standards since they were being established and perfected anyway. The sky's the limit, really. You don't need me to tell you that Super Mario Bros. 2 (the Doki Doki Panic one) and Super Mario Bros. 3 made the first NES Super Mario entry arguably obsolete.
And then there was Sonic The Hedgehog 2, the magnified and "bigger, better, and more badass" sequel to the 1991 hit game for the Sega Megadrive/Genesis.
The Fastest Thing Alive
What was supposed to be a "hey f*** you" move from Sega to Nintendo to show how "sluggish" and "out of touch" Mario and his games were was beyond just theatrics, crafty marketing, and showmanship ala Saul Goodman. There was actually a great and well-made 2D platformer that combines craft level design and speed to the mix, and was only exclusive to one gaming platform only.
The first Sonic The Hedgehog game gives you a blue Sega mascot that had a unique survival mechanic at the time: you can't die from enemy hits as long as you're holding one ring, he also controlled different. Getting momentum and speeding forward while controlling where he's going on a course that's new to you is part of the fun and challenge of the best 2D Sonic games; something that got lost in translation post-Dreamcast Sonic Adventures era. Sonic The Hedgehog 2 just amped it up further, throwing in new and awesome levels, a rocking soundtrack and aesthetic that's both old and new, and a sorely-needed new move to let players gain a boost of speed anywhere on the ground.
Sonic's new Spin Dash move is not only a great way to speed up anywhere as long as you're on terra firma, but it's essential to get through the tougher parts of the game where you need to get out of moving obstacles and scrolling stages as soon as possible. It's the most important tool that's included in every Sonic game since. Yes, Sonic The Hedgehog 2 had Tails in the game as the main protag's sidekick, but he was more an accessory than an actual character. He was more fleshed-out gameplay-wise in future titles, but in Sonic 2, it's all about the main protag.
There's just so much to love about Sonic 2 that everyone has already talked to death about it. There's the way the first stage starts off, Emerald Hill zone, that's similar to part 1's Green Hill but bigger and expansive, and slightly tricky. There's the second stage, the Chemical Plant Zone with the catchiest stage theme -among the many in Masato "Dream Come True" Nakamura's magnificent Yamaha-synth compositions and soundtrack- and the game's challenging layout. It's also the stage that tells newbie players that mammals in the Sonic universe cannot breathe underwater for too long.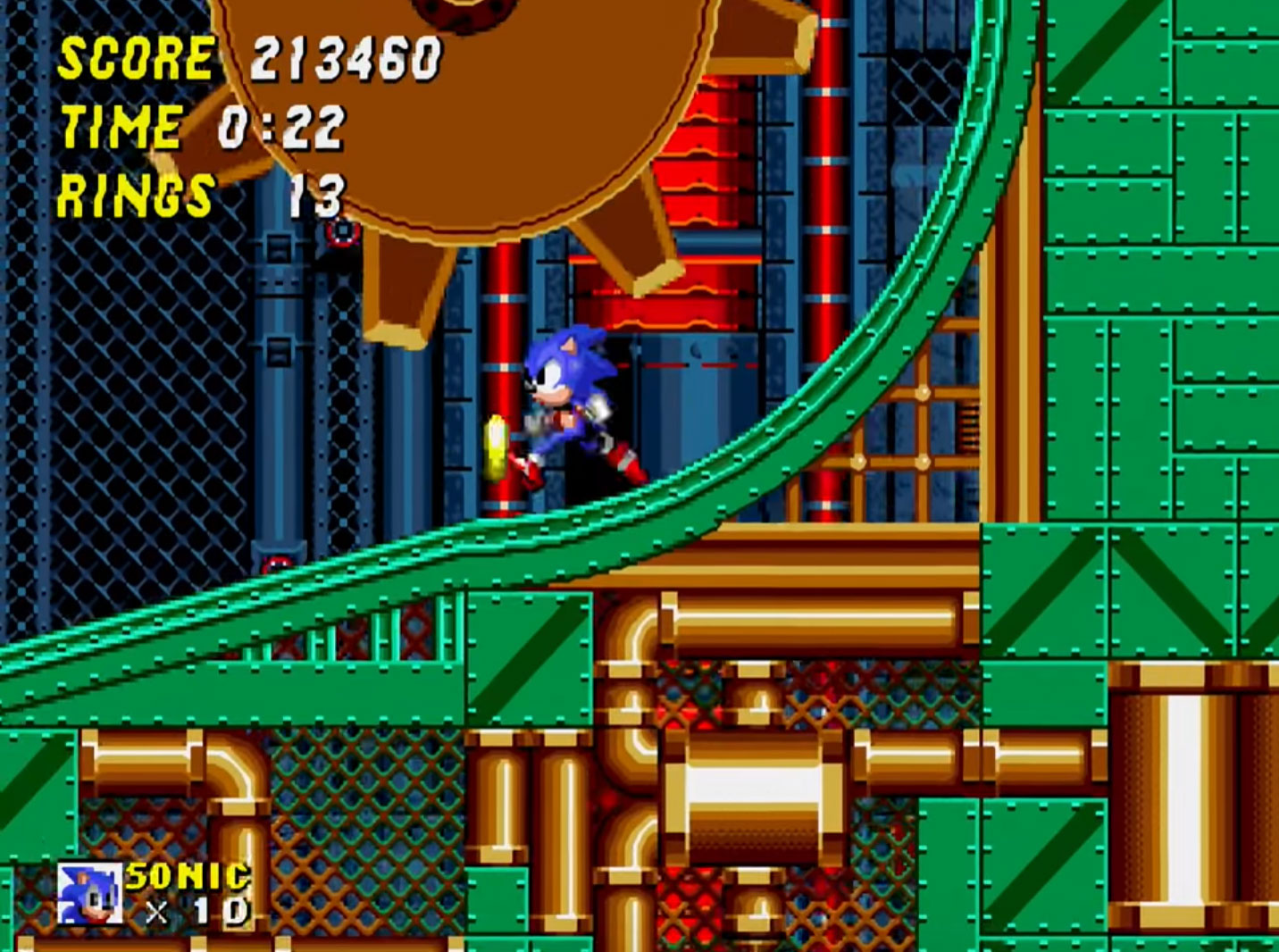 From the funky Casino Night Zone where you can gamble with your rings for 1-ups and such while dealing with pinball bumpers as stage hazards to the excruciating Metropolis Zone with its factory layout and deathtraps, the Sega Technical Institute alongside wunderkind programmer Yuji Naka (way, way before the Balan Wonderworld kerfuffle) and leads Masaharu Yoshii and Shinobu Toyoda went all-out with the laid-out foundations like as if it was their last days on Earth. Simply put, all the levels and design work in Sonic 2 are the best anyone has seen and are pretty much up there with the greats like the Super Mario Bros. 1-1 stage and whatever bit you liked in Half-Life 2 and Portal.
Are You Up 2 It?
So it isn't surprising that Sonic The Hedgehog 2 was getting all the acclaim and limelight in 1992, given the fact that Sega spent about US$10 million in marketing and made the game's pre-launch and eventual launch a celebration rather than a game release. It was unheard of at the time, but this sort of big launches are now part and parcel of the games industry these days. You can thank Sonic 2 for being textbook examples on how to launch a game on a massive and global scale.
I mean, the recently-out-in-US-and-Europe Sonic The Hedgehog 2 movie has a poster that's tailored after the Sonic 2 USA box art, now with a Jim Carrey with a giant mustache and aviator goggles that's channeling the Sonic Adventures Eggman.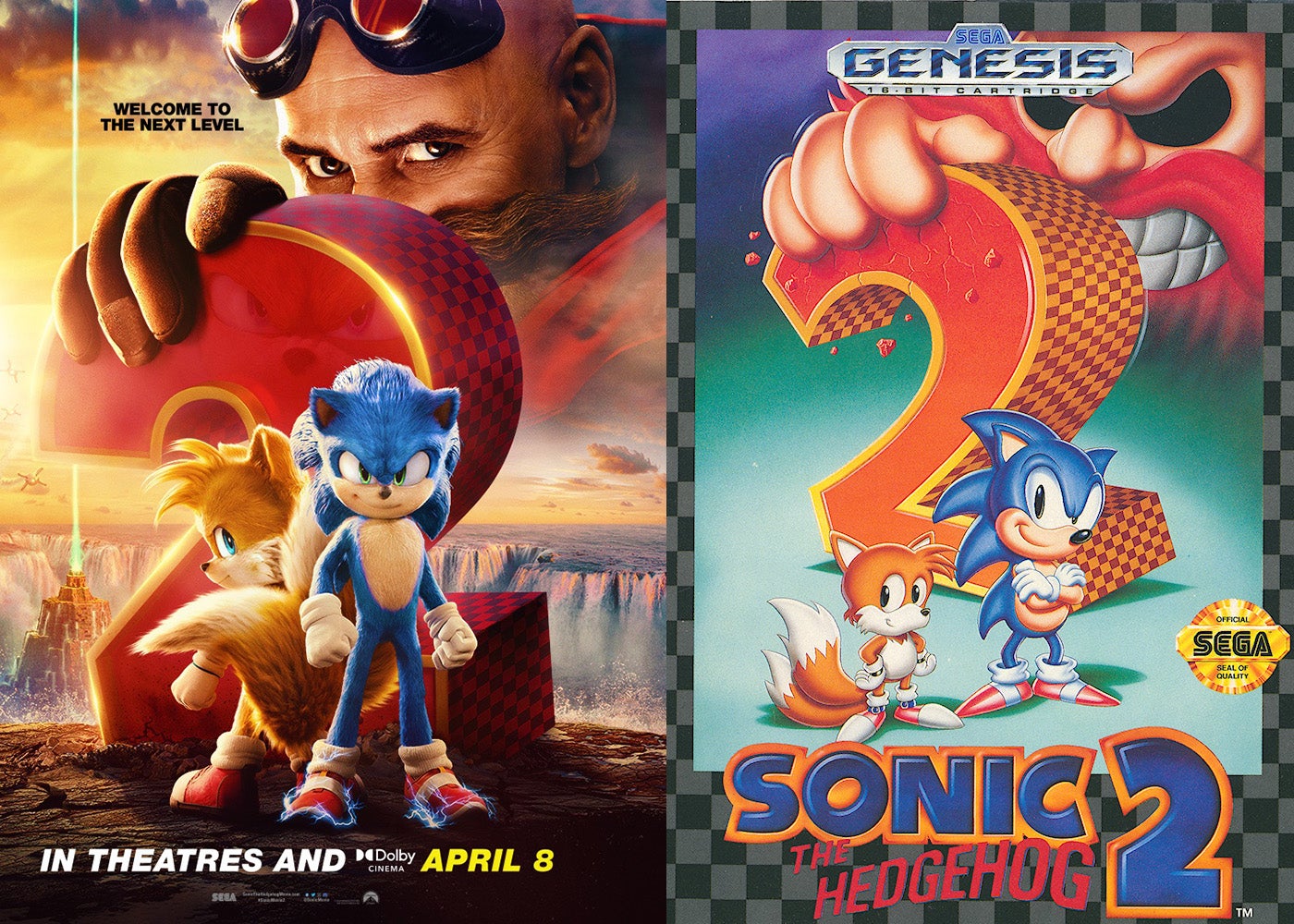 Long story short, Sega's Blue Blur pulls off a Godfather 2: being the best at what he's good at in a sequel that blows the original out of the water from a gameplay standpoint. One can argue that Sonic The Hedgehog 3 and Sonic & Knuckles is the better 2D sequel. But those games had a troubled development cycle of sorts and used to be one big game during production. Sonic The Hedgehog 2 was the complete package from the get-go. Sega got it right from just one sequel that more or less set the standard for 2D platformers that emphasized on speed and expansive scrolling levels with many, many layouts and stage gimmicks to keep the mind afresh.
Seriously, if you haven't touched Sonic The Hedgehog 2, just do yourself a favour and play it right now or this weekend. It's pretty much available everywhere, legally. You can start with the Sega Collection version on Steam if you need a heads up. It's one of the few masterclass examples in making a sequel to a promising game, and would usually be on the top 3 of any Best Sonic Games Ranked listicle that everyone's jumping on this month.
Related