Universal Entertainment has recently filed a trademark for "Shadow Hearts" on 27 April in Japan (via Gematsu); this was made public recently. That's good news for retro JRPG fans since a trademark like this may indicate a re-release or remaster. Or heck, even a reboot.
Or it could mean that the game will be on the renewed PlayStation Plus service, which is also good news. Universal Entertainment did state previously that there are currently no plans to remake or create a sequel to Shadow Hearts. For now.
For those who played a ton of JRPGs in the 2000s, you have probably heard of the Shadow Hearts series, made by Secret of Mana composer Hiroki Kikuta and his team at the now-defunct Sacnoth. This series is set during 1913 in China and Europe (World War 1 era, Prohibition era in future games). You play a demon-morphing main character named Yuri who fights the forces of evil and also meets up with historical figures like H.P Lovecraft and Roger Bacon. It was a pretty unique narrative, taking place in a revisionist history setting.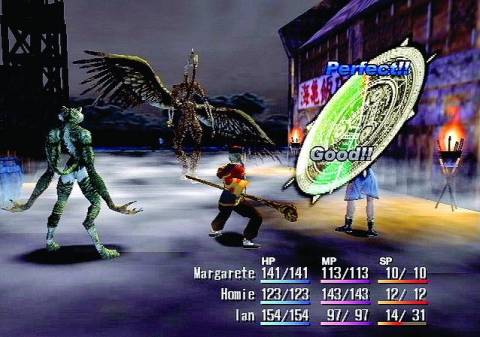 The games also featured a Judgement Ring system; you spin a marker on a wheel during turn-based combat after selecting a command, and you hit red and brown sections & ticks to deal critical damage to enemies and gain buffs. Miss and you don't get it.
It's also one of the few games where you help collect homoerotic pornography for a shopkeeper to unlock one of your party member's best weapons and Ultimate skills. Yeah, it has a bizarre sense of humour.
The series was popular enough in that era that the first game (on PS2 released on November, 2003) spawned a sequel Shadow Hearts: Covenant (19 February, 2004) and Shadow Hearts: From the New World (28 July, 2005). These games came out on PS2 exclusively. It's great that the game will see a resurgence this year and beyond, especially on the new PS Plus service where classic PS2 games can be replayed without you scouting high and low for a physical copy that costs four times the initial price at launch.