Genshin Impact's 2.7 update is now live and features a new Archon Quest called the Perilous Trail, which is being released in segments.
The update also introduces new 5-star Hydro bow user Yelan, who hails from Liyue and is a keeper of the country's top secrets. She's a great combo of badass and sexy according to the fanbase. There's a lot of content to get through with this update, and this guide will tell you more about them, from the Perilous Trail's solutions to Yelan's best setups and kit.
Disclaimer: Update 2.7 is still being rolled out, so this guide will be periodically updated. Also, the Perilous Trail quest will be running from 31st May to 20th June.
---
Genshin Impact Perilous Trail Walkthrough
To unlock this quest, you need to complete the following and meet these criteria:
Adventure Rank 28
Archon Quest Chapter 1: Act 3 – A New Star Approaches
World Quest – Wherefore Did the Spiritstone Descend (a.k.a the whole Chasm questline; all six of them!)
Part 1
The questline for this part is pretty simple: just head to the marked location in The Chasm and you'll start talking to all the characters involved from Yanfei to Arataki Itto.
Eventually you'll head to the Chamber of Twistd Cranes Domain. Here, you'll fight Slimes and Hilichurls (big ones too) to unlock switches. Activating switches will cause the landscape connected to it to rotate. Head to 26:22 on the video above for the solution.
Part 2
Here, you'll be talking to the same group of folks. This time, you'll be heading to a new Domain where you need to solve a puzzle.
There are four different symbols pointing to a connecting room. When you enter the symbol's corresponding room, you need to search for that symbol and activate it by stepping on it. If you step on the wrong symbol, you take damage.
After you activate 4 of the symbols in the room, you have to fight a group of enemies. After killing them, you then need to tinker with two laser pointer devices so that they hit the symbols at the top. See 7:19 on the video above for the full solution.
Once that's done for all four rooms, you then head to another room with a giant hole in the middle. Head there to continue on with the story.
Part 3 (Coming soon)
Perilous Trail Event Shop
During the quest and in the special Realms of Guile and War Challenges, you can win currency called Moonlit Cragstone. Here is a list of what you can win:
| | | |
| --- | --- | --- |
| Reward | Moonlit Cragstone Cost | Purchase Limit |
| Crown of Insight | 500 | 1 |
| Glowing Gem – Fading Twilight refinement material | 800 | 2 |
| Liyue weapon ascension materials (rare/blue) | 15 | 12 |
| Liyue weapon ascension materials (epic/purple) | 45 | 4 |
| Liyue talent leveling materials (rare/blue) | 20 | 9 |
| Liyue talent leveling materials (rare/blue) | 60 | 3 |
| Hero's Wit | 10 | 60 |
| Mystic Enhancement Ore | 5 | 60 |
| 10,000 Mora | 10 | 60 |
---
Yelan Guide: The Best Artifacts, Weapons, And Talents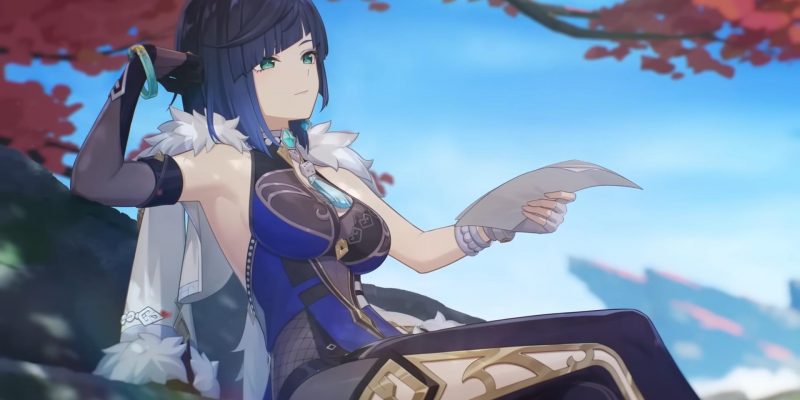 Yelan is a Hydro bow user, so attacking enemies and keeping away from them is her game. Her regular shots are ranged, while her charged shots deal Hydro damage. Here are her skills:
Normal Passive: Breakthrough – If not in combat for five seconds, Yelan's next charged shot has an 80% decreased charge time. You can then fire it to create a Breakthrough Barb which does AoE Hydro damage based on Yelan's max HP.
Elemental Skill: Lingering Lifeline – Moves through enemies and marks them. After this action, the marked opponents are hit with Lifeline explosion for Hydro damage based on Yelan's max HP.
Breakthrough – Enemies hit by the Lifeline explosion grant a 34% chance to reset Yelan's Breakthrough state.
Elemental Burst: Depth – Clarion Dice – Deals AoE Hydro damage then spawns an Exquisite Throw.
Exquisite Throw – Follows your character around and will deal Hydro damage based on Yelan's max HP. The damage instance can occur whenever your active character uses a normal attack and when Yelan's Lifeline hits enemies.
Passive Talents
Necessary Calculation – +25% more rewards when dispatched on a Liyue Expedition for 20 hours.
Turn Control – Yelan's max HP is increased by 6%/12%/18%/30% if the party has 1/2/3/4 elemental types.
Adapt With Ease – As long as Exquisite Throw is active, your character will deal +1% damage up to 3.5% damage every second. The maximum damage increase is 50%, reset only if Yelan's elemental burst is over or recast.
Constellations
C1: Enter the Plotters – Elemental skill gains +1 charge.
C2: Taking All Comers – When Exquisite Throw does a coordinated attack, it will shoot an additional projectile that deals 14% of Yelan's max HP as Hydro damage.
C3: Beware the Tricksters Dice – +3 levels for your elemental burst; maximum level is 15.
C4: Bait and Switch – All party members' HP is increased by 10% for 25 seconds for every enemy marked by Lifeline when it explodes; maximum increase of 40% HP.
C5: Dealer's Sleight – +3 levels for your elemental skill; maximum level is 15.
C6: Winner Takes All – After using her burst, Yelan enters the Mastermind state where all her normal attacks will be akin to her charged attacks (i.e., Breakthrough Barbs). These deal 156% of a normal Breakthrough Barb's damage. The Mastermind state lasts for 20 seconds or until Yelan shoots five arrows.
Best Weapons For Yelan
Aqua Simulacra – Great critical damage, but hard to gacha since it's a 5-star bow.
Polar Star – Great critical rate, and has decent stats for a 5-star bow.
Elegy for the End – Great for energy recharge. 5-star bow.
Fading Twilight, Favonius Warbow – Free-to-play bows of choice, and comes with decent stats and energy recharge ability.
Best Artifacts For Yelan
Emblem of Severed Fate (4-piece): this combo always gives Yelan burst options, and also buffs her burst damage.
2-piece bonus – +20% energy recharge.
4-piece bonus – Increases elemental burst damage by 25% of energy recharge; max of 75%.
Noblesse Oblige (4-piece): This combo gives Yelan good elemental burst damage and a party ATK buff.
2-piece bonus – +20% elemental burst damage.
4-piece bonus – Party members gain +20% ATK for 12 seconds after using an elemental burst.
Yelan Ascension Materials & Where To Find Them
These are the materials you need to ascend Yelan.
Fatui Insignia – Dropped by Fatui Skirmishers/Agents/Mages.
Varunada Lazurite – Dropped by the Oceanid and Hydro Hypostasis. Purchased from Souvenir Shop. Higher-tier versions can be crafted by an alchemist NPC.
Runic Fang – Dropped by the Ruin Serpent in The Chasm.
Starconch – These are found along the beaches of Yaoguang Shoal and Guyun Stone Forest.