Marvel's next adventure for Paul Rudd's Scott Lang/Ant-Man finally has an official poster via Marvel Studio's panel at San Diego Comicon 2022.
It's looking colour-coded as far as superhero uniforms are concerned. And there's Kang the Conqueror in the background, serving as the third Ant-Man film's antagonist.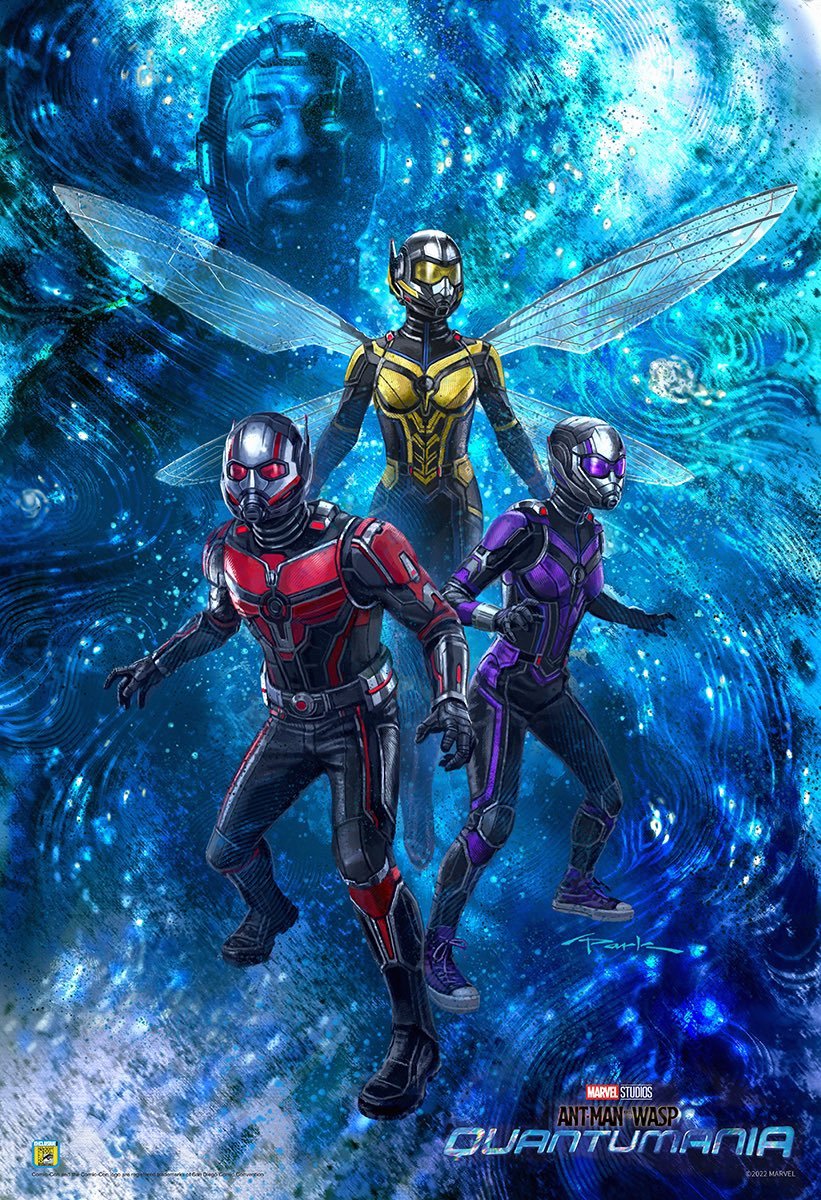 And who is the person in the purple Ant-Man suit? Why it's Scott Lang's daughter Cassie Lang (Kathryn Newton), who will be teaming up with her dad. Here's what we know about the film based on previews at SDCC 2022 (via io9).
The trailer begins with Scott Lang doing a reading of his new book Look Out for the Little Guy at the City Lights bookstore. The crowd is littered with kids dressed as Ant-Man and as he ends he gets a call on his cell phone: "Why is jail calling?" Turns out his daughter, Cassie (Kathryn Newton) is in jail. Apparently, she's been working with the Van Dynes but Scott doesn't want that life for her.

Both families sit around a dinner table. Scott mentions that he saved the universe for the billionth time. "Oh, you've never mentioned it, you should write a book about it," Janet (Michelle Pfeiffer) says. They all give him crap. "You're welcome for all not being dust," he says. They laugh. We see Scott and Cassie driving. Scott and Hope are on a red carpet. It looks like life is good.

A voiceover then begins. It's Kang (Jonathan Winters) though we don't see him yet. "Time isn't what you think," he says. An experiment goes wrong and a blue light pops out of what looks like an Arc Reactor. It sucks all the Langs and Van Dynes into, we believe, the Quantum Realm. It looks like an alien planet from Star Wars. Lots of weird aliens and creatures… as well as Bill Murray. He remembers Janet from her time there.

Kang emerges and Scott tells him "I don't know who you are, but I have to warn you, I'm an Avenger." Kang reveals himself and says "An Avenger… have I killed you before?"
The footage also showed off MODOK, a Marvel villain known for its giant head and tiny arms, as well as its science and murderous aptitude, who will be making its appearance in the Marvel Cinematic Universe. Kang the Conqueror will be the main bad guy not just for this Ant-Man movie, but also for the MCU since there's a movie called Avengers: Kang Dynasty coming out in the far future.
Ant-Man and the Wasp: Quantumania will kick off Phase 5 of the MCU and will premiere on 17 February, 2023.