Move over, dad God of War; there's a new sheriff in town.
Stray has become the highest user-rated game on Steam this year according to aggregate site Steam250. As of now, Stray's rating is at 8.61 based on 42,665 mostly positive votes. For comparison, God of War (2018) has a score of 8.56 based on 53,101 mostly positive votes. This pushes the PlayStation and Santa Monica Studio-made game to second place.
The top 10 games are as follows:
Stray
God of War
PowerWash Simulator
Teardown
Dorfromantik
Neon White
The Looker
Wobbledogs
The Planet Crafter
Raft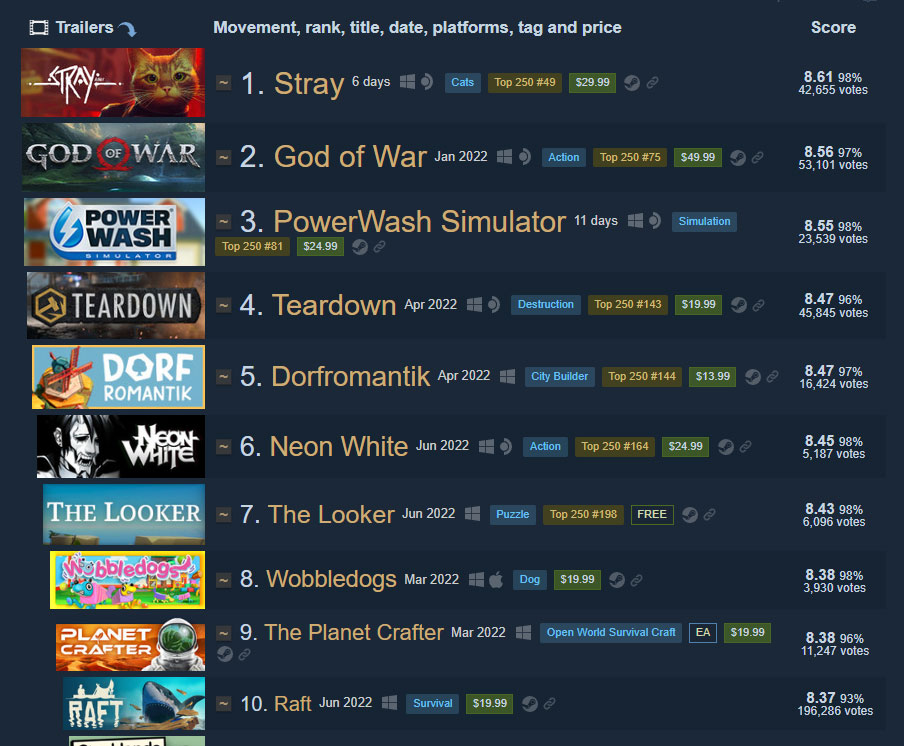 If we're talking best-rated PC game of all time, however, Stray is sitting at number 49. The top game is Portal 2 which has a rating of 8.83 based on 301,930 votes of which 99% are positive. This is followed by Terraria, Stardew Valley, Hades, and People Playground.
Stray had a peak of over 62,000 players when it released this month. It's not surprising, considering that the game has all the elements of a great adventure game: a likeable cat protagonist, a supporting companion with its own story, a lush dystopian to explore, and simple puzzles to tackle. Check out our glowing review of the game.