Platform(s): PC (version reviewed), PS4, PS5
Genre: Adventure game where you control a pussy…cat
Most games these days put you in a power fantasy kind of role, be it a soldier who knows his way with an AK-47 to even a knight or vagabond warrior powering through a dark fantasy hellhole. But what about being put in the paws of a cat who knows jack about the world it's in and just wants to explore and get back to its kitty paradise?
That's pretty much the objective of developer BlueTwelve Studio's newest indie adventure title Stray, where you play an orange cat who ends up in a dead civilization run by robots. No special powers, no crazy abilities, nothing: just a cat who is agile and runs real fast, as well as jump real high. And can meow on command with a button press. And finds places to sleep at. And scratch carpets and furniture with reckless abandon.
And you know what? All that and more warrants Stray as one of this year's finest indie titles.
Biscuit-Making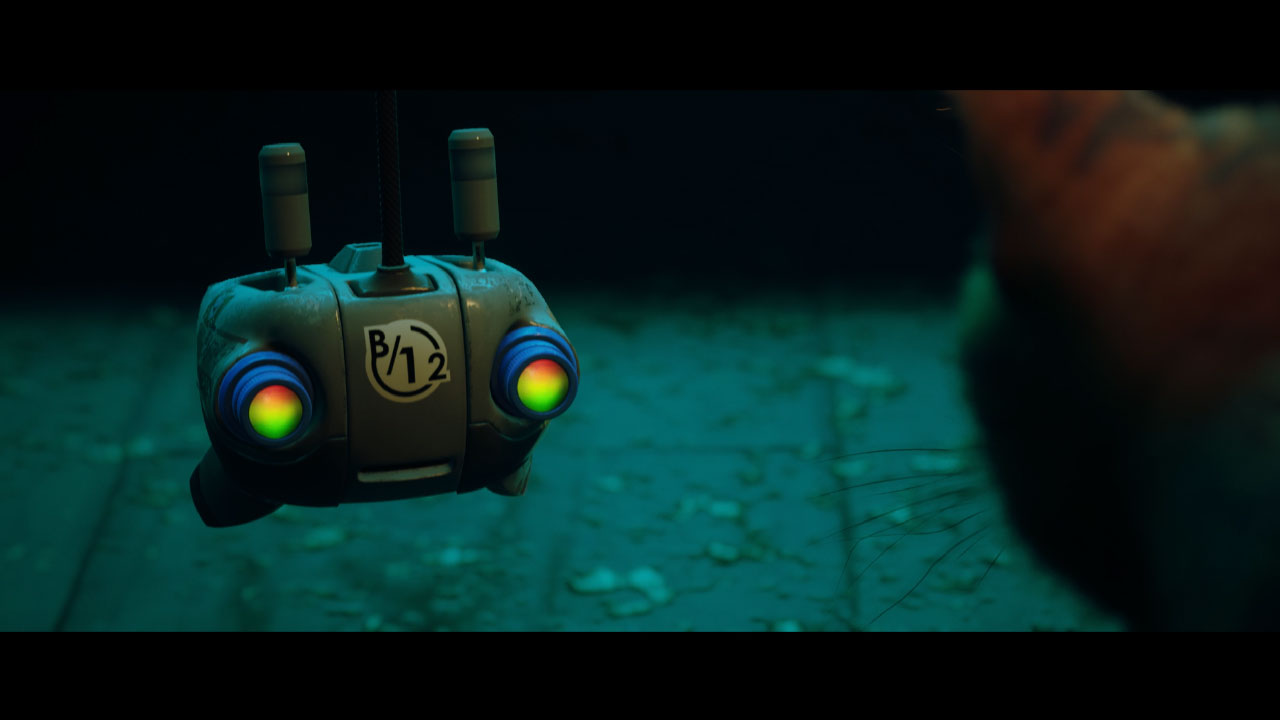 Part of Stray's charm is its soundtrack and art style: it's mysterious, enchanting, and alluring all at once. As a curious cat, you explore the long-buried civilization built by robots, presumably, as you find out its history and its downfall; you can clearly see from the trailers that the place your kitty protagonist is exploring has seen better days.
Of course, cats cannot talk, so the game gives you a talking flying robot buddy in the form of B-12 whom you activate after the first few chapters. B-12 is the support character who talks to the robots, scans memories to give you insight on what's up with the city and its history, and also activate switches. That latter bit is handy as the game will throw a bunch of puzzles for you to progress.
The game is no catwalk to a straight line; you have to figure out the best path to take and the spots to climb, jump, and cling onto to get from point A to B, as well as carry batteries with your mouth to power up switches and barriers to open. Your robot companion can turn on and off certain generators and gates to help with certain puzzles and prevent hazards from killing off kitty. And since the cat can't fight proper, you'll have to resort to flight when confronting the game's antagonists. These puzzles and conundrums aren't incredibly hard or taxing, though they can get tricky if you don't scan your surroundings enough.
The game knows when to balance between breezy cat simulation bits and adventure puzzle sections with its chapters. Some chapters require you to just take it easy and explore the cityscape you're in, talking to robot bystanders and gathering clues on how to proceed. What I love about Stray is that it doesn't hold your hand at all and demands you push your curiosity forward in your first playthrough. It did take me a while to figure out some of the environmental puzzles, particularly the later chapters involving a cityscape environment and the bits with the underground sewer network and pipelines all glossed in foreboding red lighting. To mention way more than that is going into spoiler territory; you need to play Stray blind to get wrapped up and immersed in whatever adventure that unfolds.
The 12 chapters are pretty meaty for an adventure game, with a few segments ripe for exploration and taking place in city areas. You will be compelled to explore every nook and crannie to unlock B12's memories, or just do cat-like things and take in the sights and sounds.
Cat Call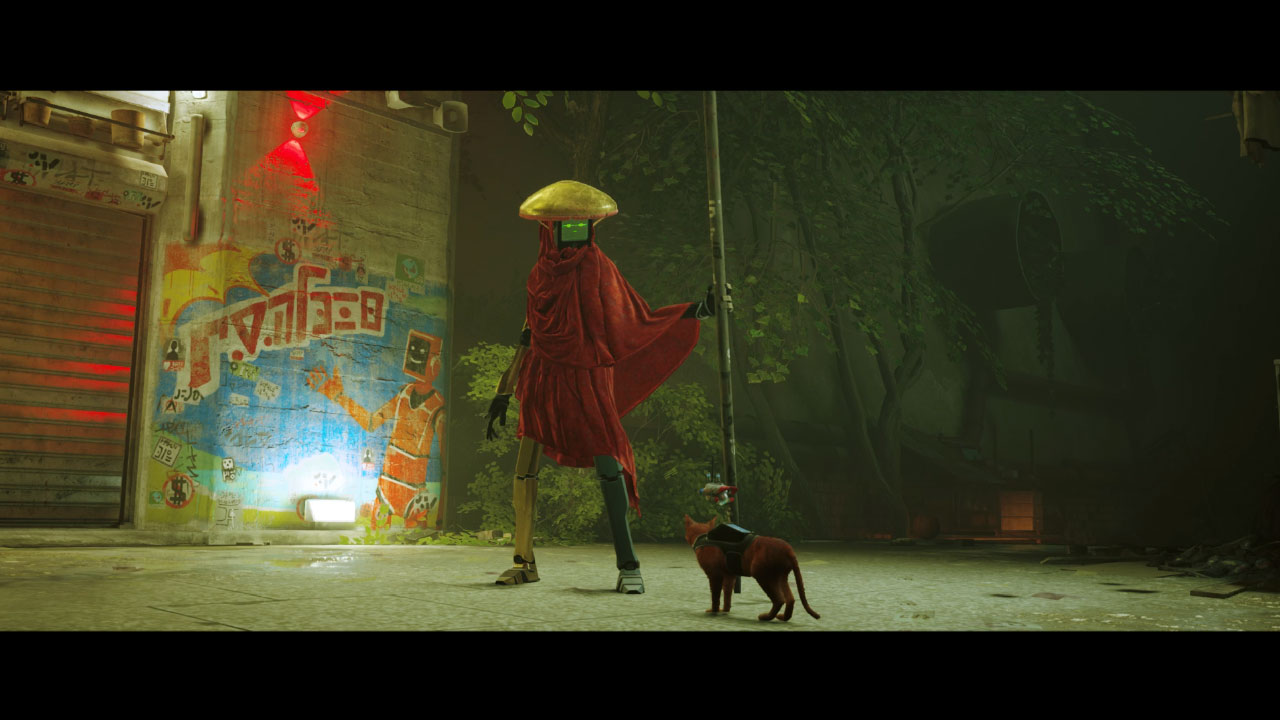 Even with its length -I finished it in about 5 hours with some faffing about- there's a little bit of replayability in Stray that will make you hunt those trophies and Steam achievements down thanks to revisitable chapters. Getting everything will at least will take you less than 10 hours tops.
Will you forget your "brief" experience though? Definitely not; even it feels like the novelty of playing an agile cat in a dystopian setting is clearly there, BlueTwelve and Annapurna Interactive aren't just banking on that alone. Stray succeeds because it's an engrossing adventure title with atmosphere, well-made aesthetics, a cool but not quite on-the-nose plot about a crumbled society trying to break out of its self-made chains, and some great adventure gaming gameplay that mixes puzzles with cat grace action. And the whole package is made for cat people & lovers in mind.
Stray is the game that made me shift my perspective a tad; you don't need a game to be filled with reflexes gymnastics to be the best. Sometimes all it takes is a perfectly-executed narrative, appropriate aesthetics, and a few environmental challenges in-between to win me over. A wombo combo of indie pleasures, if you will.

While Elden Ring and TMNT: Shredder's Revenge take my top spots of 2022 in the gameplay department, Stray finally broke down my jaded walls of gaming perspectives and catered to my story and adventure-experience sensibilities. In any case, it at least deserves a spot in people's top 5 titles of this year.
Besides, you can even get an achievement if you spend some time catnapping;that's staying in character from start to finish and unabashed about the fact that you're controlling a cat who yearns for escape. What's seriously not to love about that?
Pros
The best adventure game where you play as a regular cat.
B-12's story and overall world's lore is well-crafted.
Great puzzles & adventure bits.
Sublime graphics and music.
Some worthy replayability for an indie story-driven game.
Cons
Final Score: 90/100
Review copy given by Annapurna Interactive.