The recent announcement of Dotemu and Tribute Games' Teenage Mutant Ninja Turtles: Shredder's Revenge is another addition to the awesome wave of new-yet-kinda-old beat-em-ups we've been seeing since 2019's River City Girls. It's also a stark reminder that the Teenage Mutant Ninja Turtles had been a merchandise juggernaut since the 90s, video games included.
From 1989 until now, we had a slew of Teenage Mutant Ninja Turtles games based on various incarnations of the fab four, be it the original animated series to the Nickelodeon reboots. While most of them are average, there are a few gems that players remember fondly. And within those troves of gems lie the turds that still solidify the "license games are always bad" stigma.
We're going to point out the best and worst of the lot. There's a crapload of these licensed ninja turtle games to go through, so we're limiting our selections down to ten games (5 bad, 5 good), starting with the bottom of the turtle barrel to the cream of the Ooze crop. And with the release of the Cowabunga Collection later this week courtesy of Konami, now's a better time than any to sort out which game you should play first on the upcoming retro collection.
Worst 5
#5. Teenage Mutant Ninja Turtles (NES | 1989)
The first Ninja Turtles game of its kind had a lot to live up to. Back then, we had slim pickings and this single-player 2D action game with four different playable turtles was quite a wild ride and a replayable trip.
In retrospect, it was replayable for the wrong reasons. It was absurdly difficult, even for NES game standards. This game was punishing and cheap, had some questionable level design and boss fights, and made old-school gamers fear the term "underwater levels".
At the very least, this NES "classic" spearheaded the charge which led to better games down the line.
#4. TMNT – Mutants in Manhattan (Xbox 360 and PS3 | 2014)
On paper, having a 3D action game with an on-the-fly switchable cast being made by action game auteurs PlatinumGames is a great idea. In practice, however, the game was a jumbled mess.
While the game controls just fine on a basic level, the missions were just tired and repetitive. It also ran on 30fps which was below par for the devs. Most importantly, it was super-short and lacking in content, thus it didn't justify its triple-A price tag. It's one of the very few stains in PlatinumGames' track record for a reason; we expected better from such a company.
#3. Teenage Mutant Ninja Turtles Tournament Fighters (Sega Megadrive | 1993)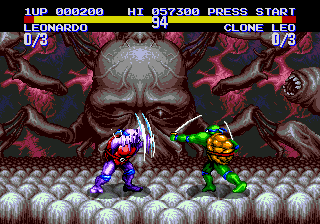 Konami had an interesting idea in making each port of its Ninja Turtles fighting game different from one another, mechanics-wise and gameplay-wise. The problem? One of these ports got the short end of the stick.
We're referring to the Sega Megadrive version, which had piss-poor controls coupled with a rigid fighting game engine, terrible and murky graphics, a lacklustre roster count, and a really cheap AI that just read your moves from start to finish. We're talking Street Fighter 2 single-player levels of difficulty.
The only good point I can bring up is that Casey Jones and April O'Neil are selectable fighting game characters. Heck, even the NES version was considered superior to this garish garbage fire.
#2. Teenage Mutant Ninja Turtles: Out Of The Shadows (Xbox 360, PC, & PS3 | 2013)
In this trash game, the developers took a popular superhero game template -the Batman Arkham series- and did not do anything new with it. In fact, the devs created an even cheaper version of that concept and slapped the TMNT brand onto it. Not only did the game felt and played like a watered-down action game, but it also featured a ton of audio and visual glitches that made it near-unplayable.
Even with its bargain price (as it was a downloadable Xbox Live/PSN game), you're better off paying a little extra for a better and well-polished superhero/comic book tie-in game.
#1. Teenage Mutant Ninja Turtles – Turtles In Time Re-Shelled (Xbox 360 & PS3 | 2009)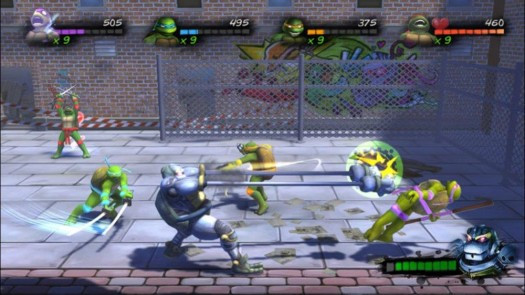 A clear case example of how NOT to remaster & revamp an arcade classic. Terrible 3D graphics and character models that don't stand out. Unnecessary 8-way direction gameplay made even more plodding with basic level design that doesn't change much from the original. Inferior replacement music.
Sure, there were probably a number of behind-the-scenes issues on why Ubisoft couldn't remaster the superior SNES version and just add in 4-player co-op; Nintendo can be hard-up about licensing. However, that didn't stop Ubisoft from pushing this out for possible cash-grabbing reasons.
The result is a piss-poor effort in getting people to play a good co-op beat-em-up Turtles-themed game. You're better off emulating the SNES and arcade versions.
---
Best 5
#5. Teenage Mutant Ninja Turtles – The Arcade Game (Arcade, Xbox 360 | 1989)
Four-player co-op. Cartoony and over-the-top beat-em-up action. Loads of levels to go through. Cheap as all hell. These are the features of the first-ever Ninja Turtles game that took the arcade scene by storm.
With colourful graphics and tight controls, coupled with the same "replayability via difficulty" mantra that all arcade games had at the time, this title was the definitive template for all great Ninja Turtle games to base their future games on. This was also one of the many games that put Konami on the map way before #fuckkonami, as well as proof that you can make great license game tie-ins if you just trust its developers to run wild with the license's universe.
#4. Teenage Mutant Ninja Turtles – The Hyperstone Heist (Sega Megadrive | 1992)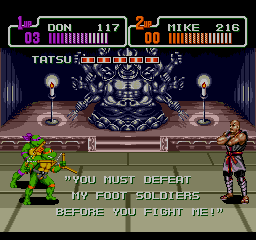 A "best of" version of the NES and SNES beat-em-ups, this Megadrive revamp is more than just a port. TMNT: The Hyperstone Heist refines the controls, rearranged existing challenges into new ones, and add in a few new stages to make this a brand new title for those who missed out on the Ninja Turtles arcade beat-em-up craze.
Remember: Konami couldn't make games on the Sega Megadrive due to Nintendo's past draconian exclusivity laws. It was a heckuva different time back then. This TMNT game is a reflection of that era: a game that recaptures the beats of the past SNES beat-em-up game and repackages it for those who missed out. As such, TMNT: Hyperstone Heist has a place here in the top 5 for doing just that.
#3. Teenage Mutant Ninja Turtles III – The Manhattan Project (NES | 1991)
Superior to the NES port of the arcade game in every single way. This follow-up to the NES game is the perfect capstone to the system's obligatory Ninja Turtle offering back in the 90s.
The game's graphics and music are stellar, with catchy earwigs from the Konami team that rival even their best works in the era. The levels are fun and inventive from a surfing stage to a bunch of cityscapes set afloat by Shredder and Krang's latest plan. The enemies and bosses are fun to fight against. The Ninja Turtles have distinctive special moves to separate them from one another.
All this, crammed into and made playable on an 8-bit console, shows that even Konami's B-team (the A-team was working on the newer arcade games in the 90s) produced titles that are even better than it had any right to be.
#2. Teenage Mutant Ninja Turtles: Tournament Fighters (SNES | 1993)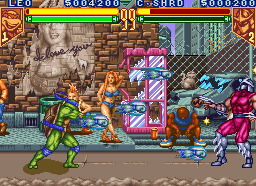 Street Fighter 2 clones were a dime a dozen back in the 90s. Teenage Mutant Ninja Turtles: Tournament Fighters was exactly that: a 1v1 2D fighting game born out of the success of Capcom's fighting sequel. However, there's a lot of love put into this fighter.
The game's graphics do stand out as being colourful and in-tune with the vibe of the cartoon. The controls are easy and tight; four attack buttons, and a button press to unleash your Super move if you build up the meter fast enough with aggressive attacks. The roster is distinctive enough, with Raphael being a Dictator stand-in (with a fireball) to the TMNT comicverse's Wingnut being an air attacks-focused archetype.
Also, I would never imagine Rat King being a grappler, yet this game ended up doing just that. There's a lot of liberties being taken by Konami's developers here, but it's usually for the better.
#1. Teenage Mutant Ninja Turtles IV: Turtles In Time (SNES | 1992)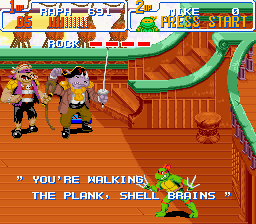 The apex predator of the TMNT license game grabbag is revered by many for a reason: it's just fun to play and a blast to sit through with your co-op partner. The graphics and aesthetics are colourful and catchy. The new stage additions and extra bosses are noteworthy and are a slight improvement over the already-stellar arcade version. The controls are just as tight as responsive as they should be for a beat-em-up that's just made for quarter-munching and co-op play.
There's no 4-player co-op, but all the additions for this SNES exclusive cement this game's place as the best TMNT game of all time. Not even a terrible 2009 3D remake can taint the legacy of this time-travelling beat-em-up escapade.