Platform(s): PC (version reviewed), Xbox One, Xbox Series, Nintendo Switch, PS4, PS5
Genre: Part Roguelite action RPG, Part cult-managing simulation
It's not every day you have a winning combination of adorableness and blood-themed cults working in tandem. Yet that's what Cult of the Lamb actually achieves with flying colours. It makes the work of managing a cult look fun, even though it clearly is immoral.
Keep The Faith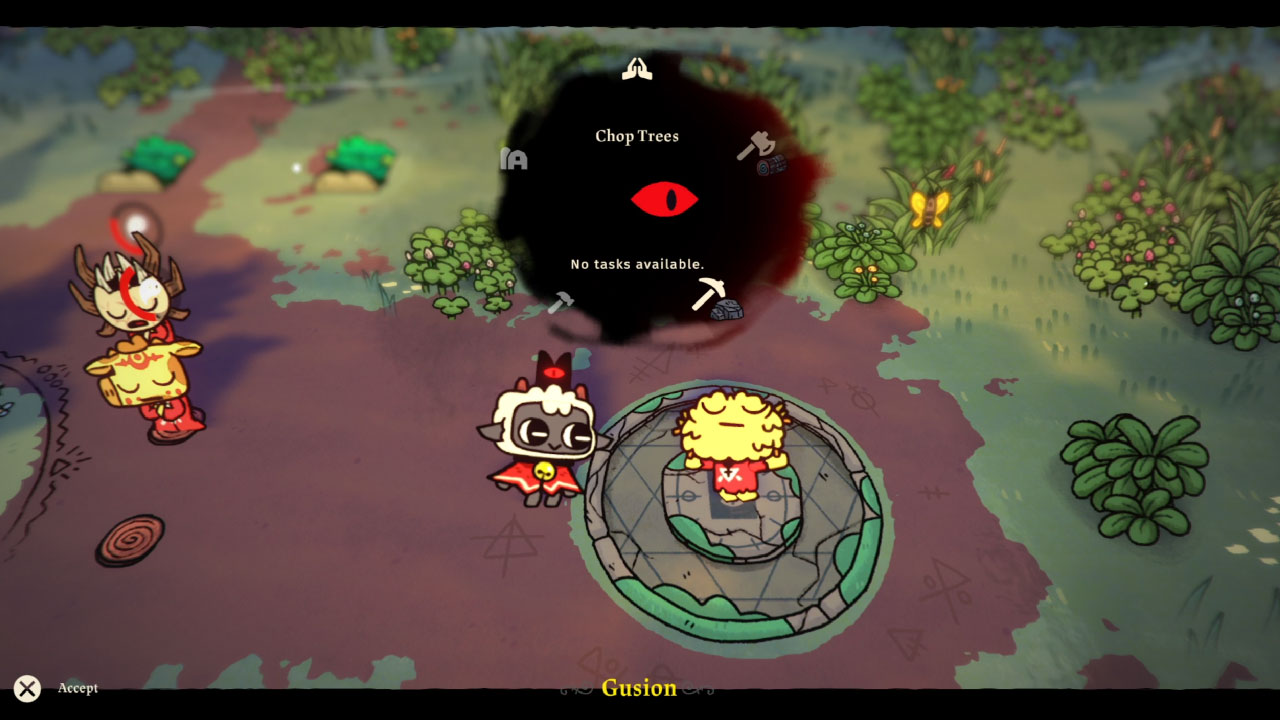 Cult of the Lamb pits you as the titular Lamb as it gets resurrected by an unknown (and clearly sinister) deity, who then gives Lamb powers to fight rival cultists and even form one of its own. From there on, you cultivate your own sect and make sure it has some members and is going on strong, while you go on a crusade to fight rivals off in standard top-down 2D roguelite fashion. For that bit, you go through a slew of levels, pick different paths that either lead to resources, surprises, or more battles, which all culminate in the stage's big boss. If you die while on a Crusade, you lose all items gathered and have to start over.
That's where your cult comes in. If you build your homestead proper with a good amount of amenities and have enough beds and a cooking station to feed your followers, they'll be happy. When they're happy, they're prime to give you more spirit energy when you perform obligatory sermons and will dish out more devotion points at your shrine. Yes, you have a shrine (or tabernacle) for your devout followers for them to worship you; fill up the devotion meter and you get Divination points which let you build new structures or upgrade existing ones. That straw bed isn't good enough for your followers? Get them to worship you more and you can build tents and grand houses for them to sleep better in and work better. The more devotion and spirit you get, the better your weapons and magic (curses in Cult of the Lamb) and your chances of survival are in a Crusade.
There isn't a free ride for your followers, don't worry. In exchange for joining your cult, you can have them working the farms you built, mine for wood and rock for resources, or even have them consecrate existing resources for better ones. They're also willing to either marry you (for faith points) or even have themselves up for sacrifice for devotion points. Heck, they'd even ask you to do quests for them so you can level them up and max out their personal faith to give you. Some of them even involve you feeding them their own poop, or other followers the cache of feces you found on your sacred grounds. Speaking of which, there's a lot of bowel activities going on in the early parts of the game when you don't have a toilet accessible in the building tree, resulting in a lot of potential fertilizer all over your sacred grounds. When your cult has low Faith, there's a good chance a follower may dissent and spread lies about your cult, which results in followers leaving you. You can either jail them or murder them away from prying eyes (when you unlock that option).
And no, it doesn't stop being funny and morbid at the same time. There's a lot of charm here in the aesthetics and the noises your cultists make, glossing over the fact that you're really indoctrinating and brainwashing innocent people to be part of your sect. And watching it thrive is a thrill of its own just like how one loves seeing their Animal Crossing resort or The Sims playground get fertile and rich. Only in Cult of the Lamb, you can lace your followers with mushrooms to keep them brainwashed and happy, as well as turn them cannibalistic via the eventually dead followers who croak to old age.
The sim aspects are not that basic, but not too complex; it walks that fine line between manageable and accessible, especially if you play a particular way. You can customize your Cult's behaviour and said playstyle by unlocking Doctrines. Whether you want to have followers give you money through taxes, have them kill off the elderly for bonus faith & devotion points, or even open up the option to marry multiple followers, it's all up to you. I personally love to preserve the elderly, as well as have a perk that gives me bonus faith if no one goes to jail in a day. And open up the Ocean Bounty ritual that lets me have double rewards when I fish in a nearby town.
Don't Have A (Sacrificial) Cow, Man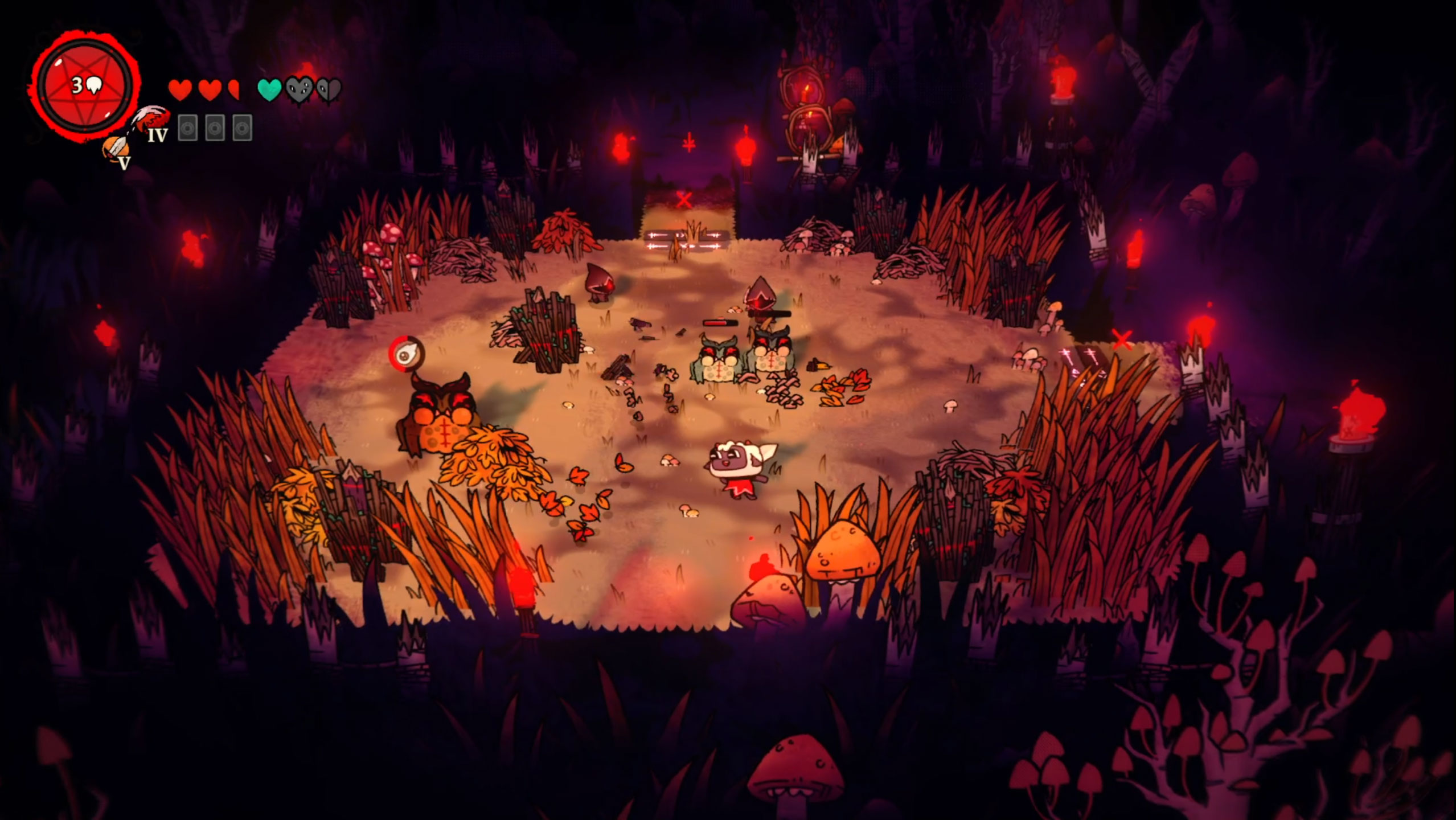 It's not just a sim game, but also a roguelite action title that happens to have spot-on controls. Your Lamb can dodge and attack like a beast, and is very quick on its feet. The random stages and pathways you come across in the roguelite segments have you slicing rogue cultists and monsters, as well as coming across resource caches and Tarot Card hubs that let you carry a card with a powerup for the length of the crusade. Some rooms even open up new sections in the sim portion of the game; nearby villages and spots that let you fish, play a dice minigame with random denizens for resources and unlockables, or even sacrifice your followers for gold by applying a literal Midas touch to them. You can even unlock different tunics to alter your playstyle, ranging from wearing ones that give you 4 Tarot Card buffs but that's it, to giving you Diseased Hearts that damage enemies on-screen if you get hit.
Much like its sim portion, the combat and difficulty is manageable while also keeping the controls arcade-like and feeling great. The bosses can be tricky but can be dealt with, and you are given a choice to continue the same Crusade multiple times once you kill off its Cult boss. Long story short: your Cult's prosperity, longevity, and growth is your skill tree for the roguelite sections; if it falters, so too will your strength. It's a great marriage of gameplay design and themes that make for a fun time.
There's a ton of replayability and unlockables even after the credits roll (give or take 12 hours), where the multiple Crusade run lets you get bigger rewards until you lose it all by being careless or too cocky. I'd say my only issue with the game is that the default difficulty can get a bit easy, so bump it up if you feel like you're not being tested enough.
Sacred
Cult of the Lamb is a damn fine combination of a life sim (albeit a twisted one involving poop-eating and cannibalization), an action game, and a parable about the meek inheriting the earth, but using googly eyes and an adorable aesthetic to juxtapose its obviously mature themes. Alone, each mechanic won't last or support the title thoroughly, but together like a groupthink tribe, they stand out among the plethora of games of 2022.
This indie title impresses with its fun simulation aspects, great controls, lovely-if-simple action roguelite portions, and all-around cheekiness of making the act of running your own version of Heaven's Gate look almost endearing. Simply put, this is one cult of personality you want to dive into.
Final Score: 90/100
Review code provided by Digital Devolver & its PR partners.