Platform(s): Xbox Series (version reviewed), PC (version tested), Xbox One, PlayStation 5, PlayStation 4
Genre: Open-world sandbox action adventure crime game, but wacky
The Saints Row open-world action-adventure games where you play a mob boss for a fledging purple colour-scheme gang have always been a good counterpoint to the narrative-focused Rockstar open-world games; it's essentially a different strokes for different folks kind of ordeal. So what happens if you have a new reboot of a game when this sub-section of a genre is all but gone in this current generation of gaming, with other big-budget games and companies like Ubisoft adopting the format and template?
Well, you have an outlier of sorts in the form of publisher Deep Silver and developer Volition's apology for their previous trash game Agents of Mayhem. It's a lovely and heartfelt apology, if I'm being frank, though it's not as "out there" and ground-breaking as Volition's past efforts.
Mexi-Can!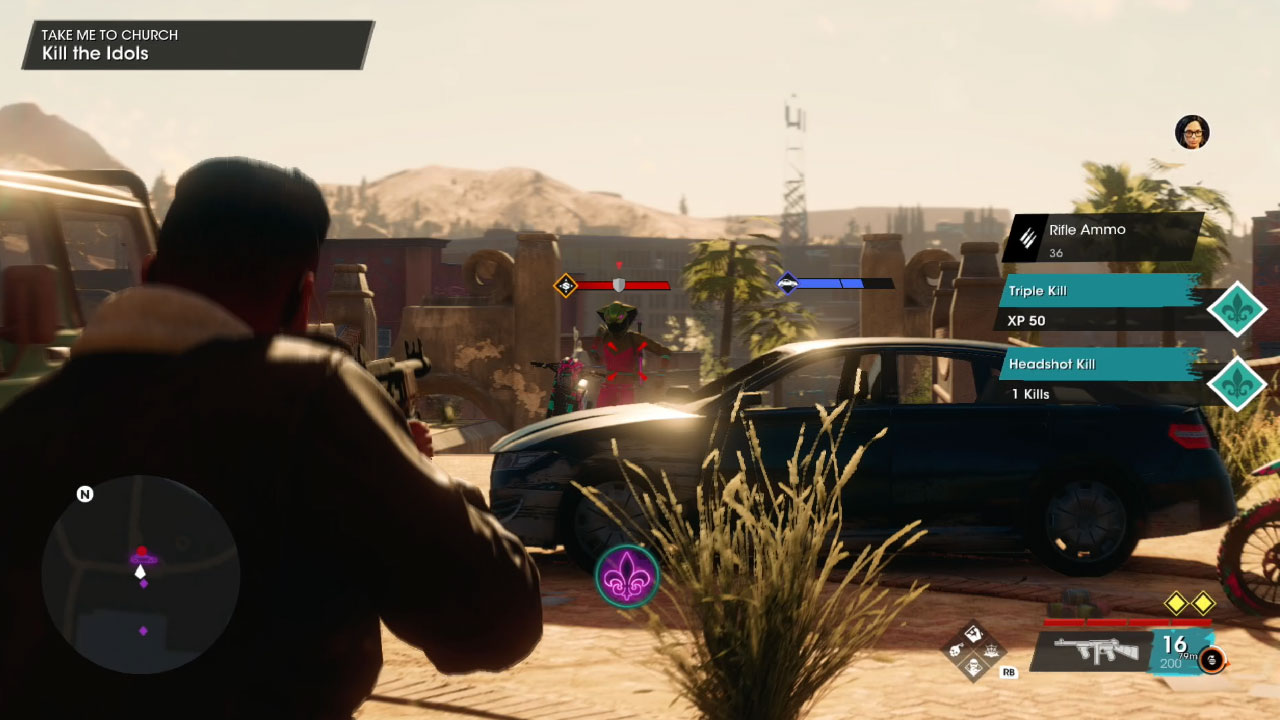 The Saints Row reboot is about a group of punks trying to work in odd jobs, usually involving gangs and illicit activities, and then somehow breaking away from those shackles to form a new Saints gang. Doing this requires them to set up shop in an abandoned cathedral (hence the group name) and expand your team's Criminal Venture -you buy different companies who act as fronts for your illicit-yet-humorous money-making activities. Yes, you can dive headfirst and dick around in the open-world city of Santo Ileso (essentially New Mexico by Volition) but you'll need funding to keep yourself going and experience points (XP) to power your character up.
To get income and money for weapons, vehicles, and all sorts of customization, you'll need to do different venture company side missions and quest chains, many side hustles, and complete main quests. Doing the quest chains means a bigger payout cash-wise and levelling up your Criminal Venture tier, which means more companies to buy and more passive income to earn. You can boost the latter by dealing with gang members in your turf, be it the police/Marshall Industries, the Icons, and Los Panteros, each with their own quirks and skills. The Marshall Industry troops are usually armed with high-tech military gear, while Los Panteros have muscle cars and big-bodied melee meatheads to deal with. The Icons are all flashy and neon billboard-lit up and have their flashy grenade launchers and bullet-deflecting party favours to combat you with.
You gain XP by just doing what you do best: kill enemies and fools in your way, perform stunts while driving (airtime, driving through oncoming traffic), and complete missions. The XP you gain will make you level up and unlock new skills, ranging from using a nearby opponent as a makeshift grenade, to tossing smoke bombs and even doing a flame punch. Don't ask: fictional gang leaders somehow have access to ninja skills if they're good at their jobs. There's a lovely sense of progression in Saints Row: every nook and cranny in the big city of Santo Ileso opens up new avenues of destruction and tools of the trade, as well as getting enough money from activities like insurance fraud (where you toss yourself like a rag doll, getting money from being knocked by cars in heavy traffic) and stealing food trucks from aggressive fast food branches. Your due diligence in exploring and completing tasks here and there will be rewarded with powerful weapons like rocket launchers and high-tech sniper rifles, big vehicles like monster trucks and tanks, and extra skills like the Quantum Aperture that lets you shoot through walls.
And you get a pretty awesome hoverboard AND wingsuit to mess around too, with comes with a fun ground pound move for the former and a Super Mario 3-like move that gives you more airtime when you take down someone. What's seriously not to love here?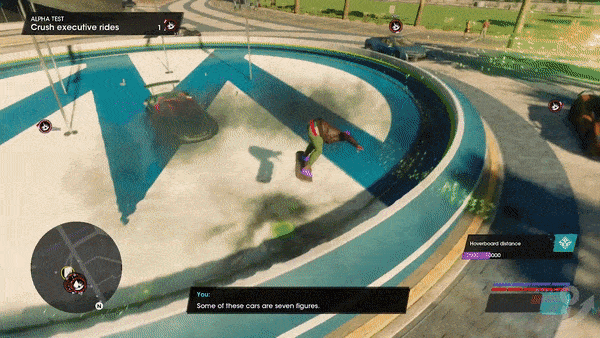 Even with all the fun time to be had with this new Saints Row game, it does pale in comparison to past games in some aspects. The characters here aren't that memorable and feel like retreads of archetypes you've seen in recent millennial TV shows, but more homicidal. There are a few gags here and there that are funny, and there's a lot of thought put into the personalities you've seen, but they just didn't gel with me or anyone who wants memorable two-dimensional characters.
And the bugs: oh man, the bugs. There are a number of graphical glitches here and there that really threw me off immersion-wise, like cutscenes with assets missing and the game's camera getting too close for comfort unless I do something drastic mid-game like getting out of the car in the middle of a road firefight. There were also instances in enemy wave missions where the bad guys don't arrive in the area I'm in, leading me to risk leaving the mission zone to pick them off, and possibly force me to restart from the checkpoint. There weren't any game-breaking bugs and hard crashes (that I know of), but it's safe to say you'll need multiple save files for this in case the proverbial s*** hits the fan. These issues do make the game a bit annoying to go through at times.
If you aren't a fan of archaic mission design, you'll probably find lots to hate in the Saints Row reboot. Personally, with all the goodies you unlock through the campaign, this aspect doesn't really bother me that much. I do however wish that the game gives you the option to change your cars and access your garage when you're early in the mission, rather than have me jack a random car which takes time. Sure, restrict me with your specific setups if I'm in the actual mission, but don't make me slog all the way if I haven't even set foot at the place yet.
Half-Baked Taco?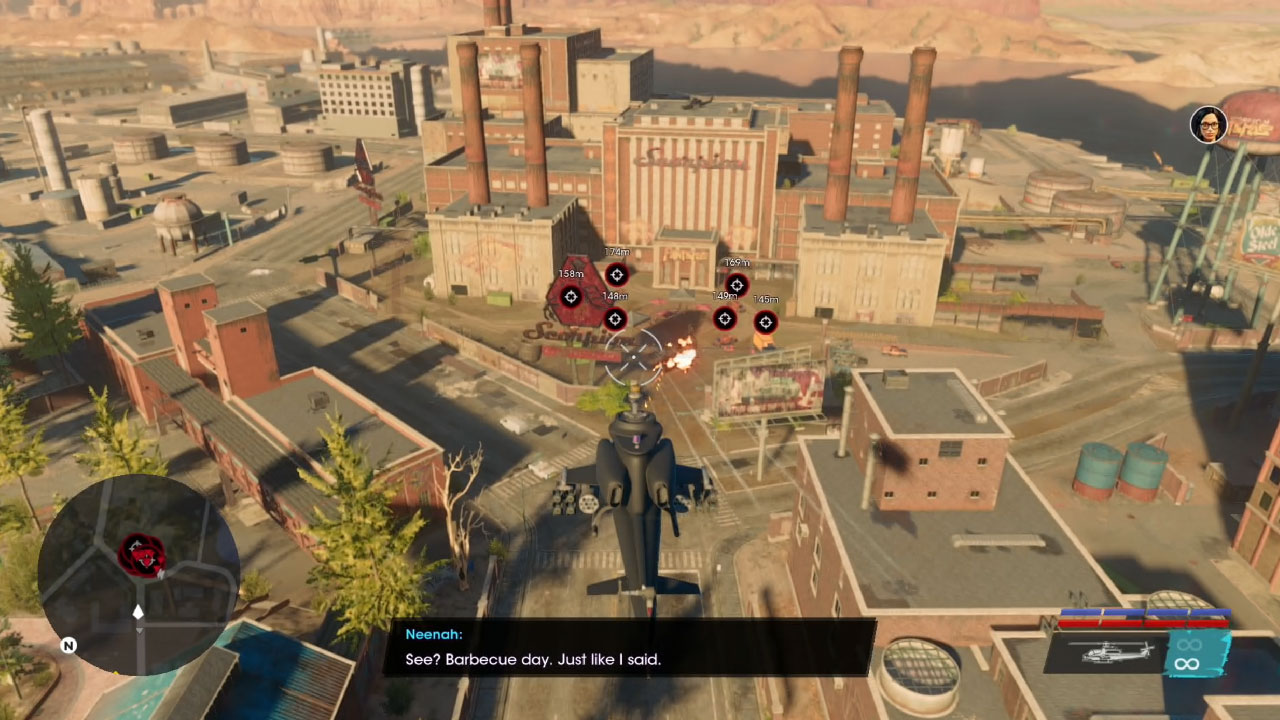 The Saints Row 2022 reboot may feel unnecessary, and at times feel like it needs more time in the oven. The fact that this is Volition's umpteenth open-world game since the early Saints Row days boggles the mind as to how average this entry feels. However, I'd be lying if I didn't like the new additions in the formula like the wingsuit, the monster trucks, the revised melee/takedown and special skills system, and the overall open-world activities on hand.
Plus, it's not like this generation is littered with open-world street crime titles anyway; you could do worse. Besides, how can you say "no" to a crime game that lets you shoot through walls, use hoverboards, have jumping cars that can do barrel rolls, have vehicles that can launch you to the sky, and use an on-the-fly wingsuit? And with co-op play to boot? It's hard; I should know.
The fact that you have a stylish car-jacking animation where you jump through the side window/windscreen with perfect grace shows that this is truly Volition's passion project.
Compared to Saints Row IV and Saints Row The Third, this reboot feels more like a glorified retread than an evolution. But to people new to the sandbox crime game genre and who just want a lot of punchy fun & surprises out of their crime games for 25+ hours? It's a decent introduction and a case study on how to make the genre seem fun again, as well as keep the series grounded to its Grand Theft Auto-inspired roots. Just prepare multiple saves when going in, and mind the day one (out of possibly many) patches. Crime time still pays, with boatloads of fun.
Pros
Open-world crime sandbox fun!
Monster truck & other fun tools are a blast to play with.
A plethora to do via Criminal Ventures & customization.
Cons
Lacklustre character writing & narrative.
A number of immersion-breaking bugs & mission-breaking glitches.
Final Score: 70/100