2022 now has a medieval online battle fix that isn't called Chivalry 2. And it's from the same folks who gave us the Nier Replicant remake.
Enter the aptly-named Warlander, a free-to-play multiplayer title that pits 40 players (and more) against each other in team-based combat and castle-sieging, but streamlined in a way that it feels great as a pick-up-and-play experience. You enter a game, get assigned into teams, then a class plus loadout, then go fight and storm the opponent's castle by damaging and destroying the faction's orb housed within. You can speed up the process by building catapults, taking over towers for more respawn points closer to enemy territory, and getting a cataclysm spell that lets you cast a devastating meteor shower to hamper opposing defenses.
Think 40-players skirmishes between two armies (and even five armies for bigger 100-people games), with combinations of For Honor, Chivalry, and any multiplayer online title: that's pretty much Warlander. And it's a heckaton of fun so far.
For King And Country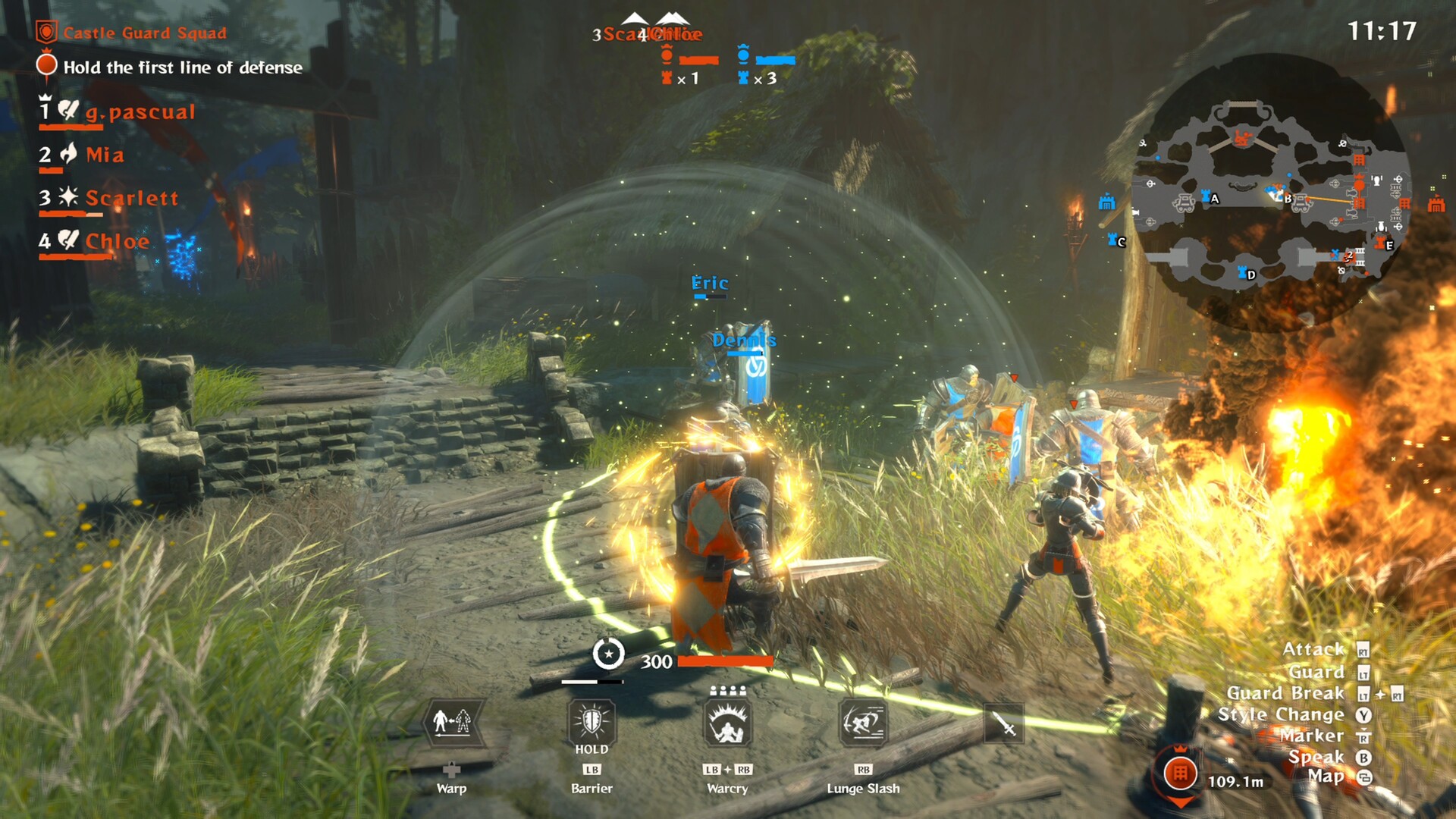 We played a couple of rounds of the open beta build of Warlander, with the online process being easy enough. Throughout our playtest of an hour or two, we noticed that the game runs very, VERY smoothly. Considering I'm playing the game all the way from Asia and most of my journalist/content creator contemporaries are playing in Europe and US of A, the fact that Warlander runs smoothly is a testament to the game's massive scale netcode. It remains to be seen if it'll hold up with the rest of the world since our playing conditions are of a smaller scale, but it shows promise.
The game itself is fun, fast, and chaotic at times. You can pick between starting classes Warrior or Cleric -one hits hard and the other supports- with each of them having both melee and ranged attacks you can switch between with the middle mouse button wheel. If you want better and beefier classes, you can do so but you need to gather up Valor. That means you need to get kills, complete quests, and just help your team in meaningful ways to gather those points.
You have a loadout deck where you can determine your starting classes and Valor Leveled classes; the former are basic roles while the latter are higher-leveled classes with better attacks and powerups. Gathering up those Valor points will net you a Wizard class that can deal ranged damage and can even snipe foes from afar with specific spells. Of course, Wizards will die fast from melee attacks, so keep your distance and let your teammates take the front.
Our 40-man skirmishes were pretty chaotic, especially when it comes to taking the front gates where we are either defending heavily or attacking the front while attempting to flank the castle. Sometimes, we have to chase down a single target who has a cataclysm spell and is getting away with it -for balancing's sake the game will tell the opposing team who has the cataclysm spell since it's a huge tide-turner item.
On my side of things, I managed to save a number of people with my Warrior, just slashing and attacking people from the back while they were distracted with their objectives. But honestly, I'm better as a support to help leaders in the squad to complete objectives, be it building catapults for easier sieging to fortifying towers for closer respawn points.
Your team composition and individual roles may vary depending on the situation, but you are free to adopt a particular playstyle if it helps your group and team in the long run. There's no one-man army situation here, as class hit points aren't as generous and team play is highly encouraged.
And we haven't even experienced the 100-man battles, where teams of 5 duke it out to be the last team remaining. That's a five-way fort-invasion session that can last minutes and even to an hour, depending on skill level. Of course, you can form temporary alliances with the other team(s) to take down opposing enemies, but if friendly fire comes into play, you can break off the truce just as easily.
Beyond The Wall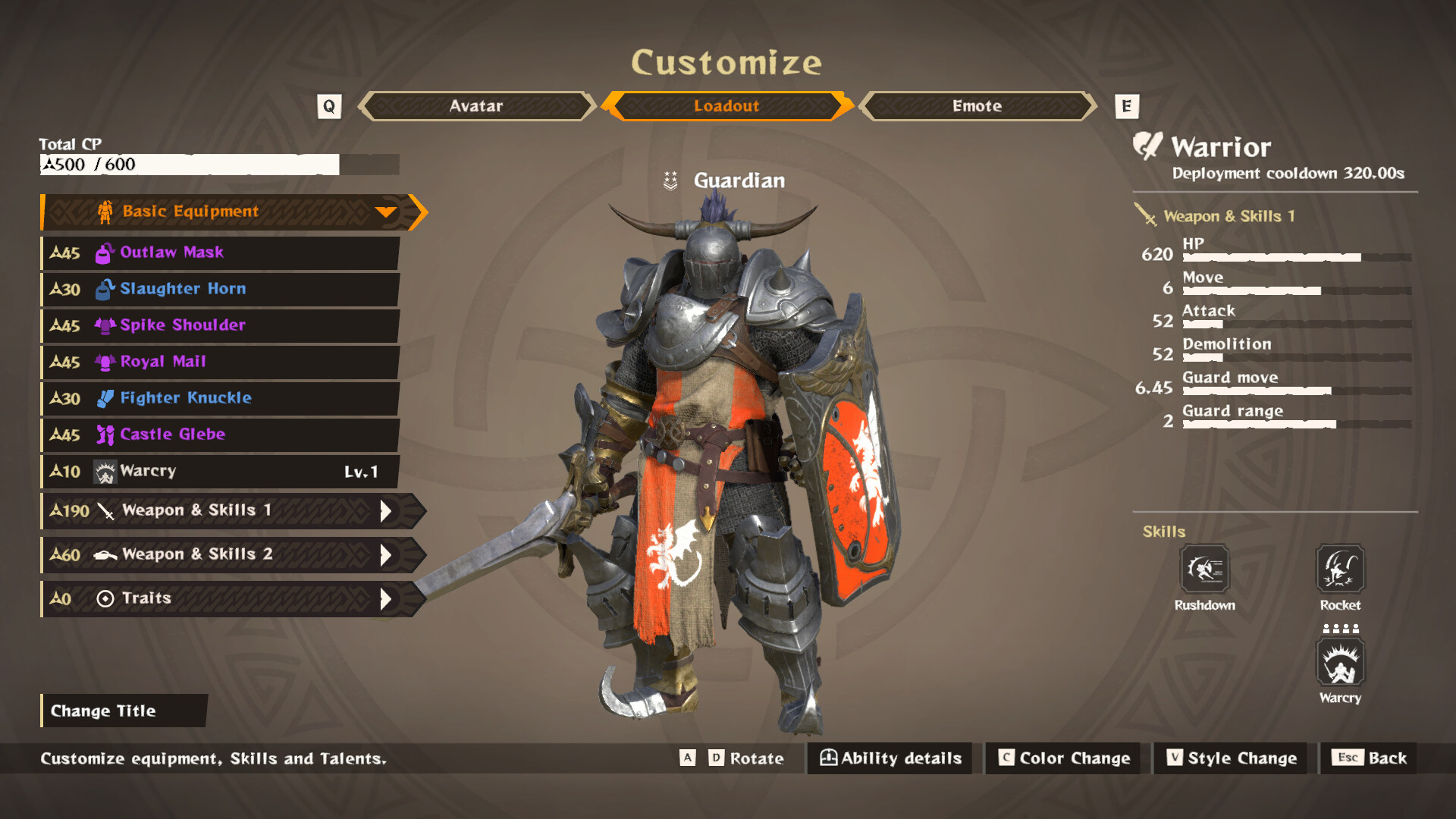 This being Toylogic's free-to-play venture, how will it earn its money back from development? Microtransactions! But it's all cosmetics, emblems, armour parts for style, and anything that isn't affected by gameplay and in-game mechanics. Toylogic has gone on record during the hands-on session that the company is strongly against pay-to-win. They've even stated that the game is being worked on by 90 people and is a high-priority title for the company, with the team working hard to also get feedback from open beta players and users on how to improve the game further.
If you ask me, I do hope the team can sort out how the chaotic nature of the battlefield can be, well, less messy. As fun as it is to dogpile onto ongoing skirmishes mid-match as this is an unavoidable situation in most online games, it'll be great to have clearer indicators on who is on my team and who isn't.
For now, Warlander is a combination of every multiplayer trope: attack, defend, capture, all rolled into one medieval-esque castle-storming game. On the marketing front, it's part Dota 2, part For Honor, part battle royale, and part multiplayer shooter. But for now? Call it a good time with weapons sort of deal, provided you have friends who fancy a familiar-yet-entertaining multiplayer action game that's easy to get into.
Warlander's open beta is out now on PC (Steam).