By Alleef Ashaari|October 4, 2022|
Microids has announced the details of Arkanoid Eternal Battle's unique cross-play Battle Royale mode in a new trailer, as well as the content for the game's Limited Edition package. Developed by talented studio Pastagames, Arkanoid Eternal Battle invites players to discover or rediscover the iconic block breaker in a fully modernized and revamped version where you can compete online with up to 25 players in the Eternal Battle mode.
A playable demo of the game's Battle Royale mode is available now on Steam. Speaking of retail versions, players who feel deep nostalgia for the arcades of the '80s and '90s can now check out the content of the cool retro-looking Limited Edition package, which is already available for pre-order.
The Limited Edition includes:
The full game for PS5, PS4 or Nintendo Switch
A 3D lenticular
A 16-page instructions booklet
The original soundtrack (digital format)
A sheet of stickers
Exclusive in-game bonuses
Additionally, players who pre-order the retail version at participating retailers will get the Space Scout Pack, a set of exclusive digital bonuses including a dedicated in-game Arkanoid background and a series of frame layouts.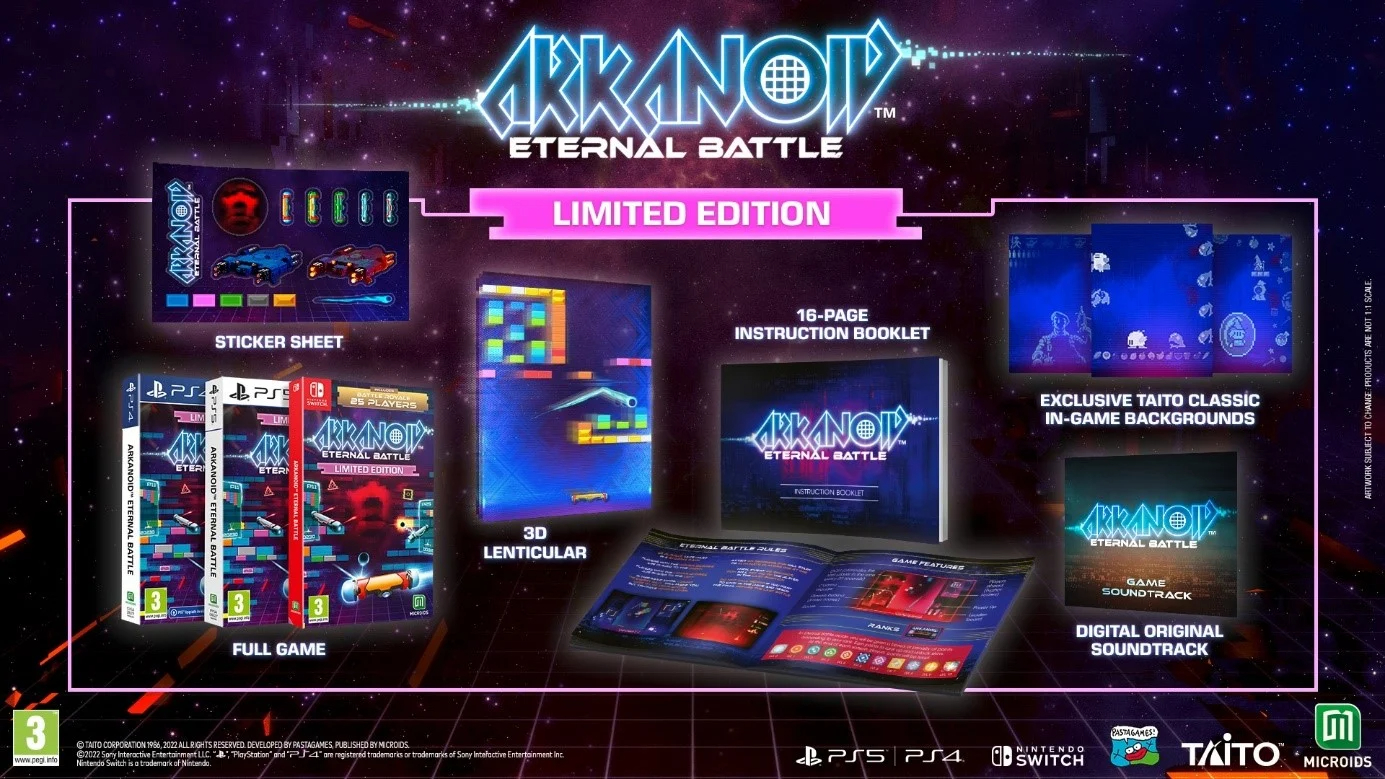 In the Eternal Battle mode, 25 players must compete in a scoring race where the winner is the very last one standing. Players have infinite lives, but losing the energy ball decreases your score by 10%, and players with the lowest score will be eliminated at regular intervals. You can save yourself from elimination by taking advantage of a signature Arkanoid feature: special powers. You will be granted access to an assortment of abilities, depending on your position in the race.
When only 4 players are left, the Eternal Battle enters its final stage. Your opponent becomes none other than DOH himself. Hit him as many times as you can to score some juicy extra points. Every 45 seconds, DOH will get rid of the player with the lowest score. The player with the highest score at the end of this phase faces DOH alone. If you manage to defeat him, you'll win the game.
Arkanoid Eternal Battle will launch on 27 October 2022 on PS5, PS4, Nintendo Switch, Xbox One consoles, Xbox Series X/S and PC. In North America, the retail versions will be available on 8 November 2022.
Related