Bayonetta 3 Voice Acting Controversy Reveals Hellena Taylor Allegedly Wanted Six Figure Salary [Update]
By Mr Toffee|October 24, 2022|
The Bayonetta 3 voice actor controversy plot has thickened, it seems.
Original Bayonetta VO Hellena Taylor said on Twitter that she was offered a grand total of US$4,000 for her role in Bayonetta 3 via PlatinumGames, which is very low given the prestige of the character. She also implored people to boycott the game and give their money to charity instead. Also, PlatinumGames vice president Hideki Kamiya's Twitter has been restricted following the fiasco and denied these allegations from Taylor, who also happened to break a non-disclosure agreement regarding Bayonetta 3's VO work.
However, sources told Bloomberg that the actress was offered at least US$15,000 total: PlatinumGames sought to hire her for at least five sessions for US$3,000 to US$4,000 each for four hours. The total fee would have amounted beyond the final US$4,000 she claimed in her video.
Taylor said she rejected the offer and "asked for a six-figure sum as well as residuals". PlatinumGames made the business decision to go for prolific voice actor Jennifer Hale to take over the role.
Her response to this new information? She said that Bloomberg's sources are an "absolute lie" and that PlatinumGames is trying to save face. PlatinumGames has yet to make a response to Taylor's claims. It should be noted that PlatinumGames used the voice actor's union minimum rates for Bayonetta 3.
However you see this panning out, one thing is for certain: residuals for high-profile roles should at least be a thing. If a game made millions, some fraction of that should at least go to the people who gave life and character to the main roles in the game, as they end up creating the role that's iconic.
Update [24 October 2022]: Hellena Taylor has confirmed on Twitter that the alleged salary demand was real via Twitter.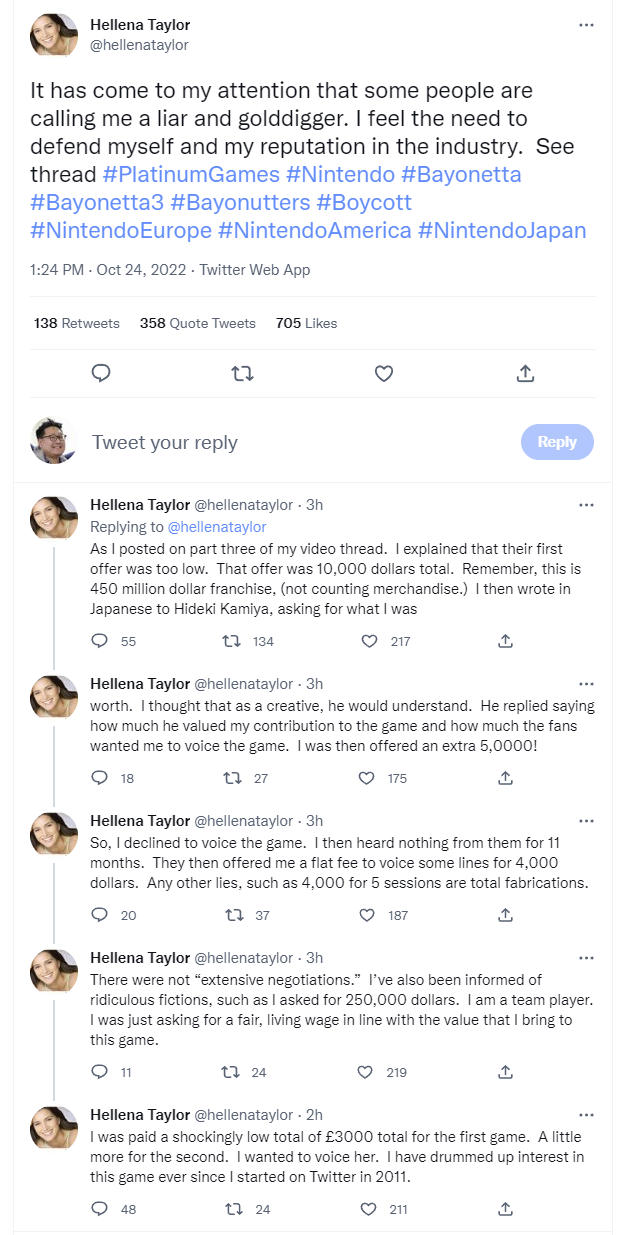 Related