Bayonetta Original Voice Actor Finally Explains Why She Isn't In Bayonetta 3 [Update]
By Mr Toffee|October 19, 2022|
[Update: 19/10/22] Added Bloomberg sources that dispute the claims in the payment story below.
Sources in a Bloomberg report have disputed claims from Hellena Taylor. PlatinumGames intended to rehire Taylor last summer for at least five sessions, with each paying US$3,000 to US$4,000 for four hours in the studio. This brings the payment to US$15,000, representing a significant increase on Taylor's fee for the second game.
According to PlatinumGames, Hellena asked for a six-figure sum as well as residuals on the game. She denied this, as well as stated on Videogames Chronicle that the aforementioned offer was "categorically untrue".
Original story published on 15 October.
If you've seen the Bayonetta 3 trailers, you notice that the voice actress for the titular hair-raising witch is a different person. It's not original actress Hellena Taylor but long-time VO Jennifer Hale (of Mass Effect and Totally Spies fame).
A lot of people speculated whether her exclusion was either meant to be a secret bonus where she'll guest-star as one of the Bayonettas in the new game (which deals with multiple versions of the witch), or it was contractual reasons. Well, Hellena Taylor has taken to Twitter to speak out about why she isn't back.
Long story short, she was only offered a US$4,000 buyout for the entire VO work for the whole game. For someone with 7-and-a-half years of high-level voice actor experience, this was insulting to the actress. She instead implores fans to boycott the game and instead give money to charity.
"The Bayonetta franchise made an approximated $450 million, and that's not including merchandise.

As an actor I trained for a total of seven and a half years – three years at the London Academy of Music and Dramatic Arts with voice coach Barbara Berkery, and four and a half years with the legendary Larry Moss in Los Angeles. 

And what did they think this was worth? What did they offer to pay me? The final offer to do the whole game – as a buyout, flat rate – was four thousand US dollars.

This is an insult to me, the amount of time that I took to work on my talent, and everything that I have given to this game and the fans.

I didn't want the world; I didn't ask for too much. I was just asking for a decent dignified living wage. What they did was legal, but it was immoral.

I decided to [speak out] to stand up in solidarity with people all over the world who do not get paid properly for their talents. 

[…] This is not right, not acceptable. It impacts mental health. I suffered from depression and anxiety. I worried that I was going to be on the streets. That terrified me so much, that once I was suicidal."
It should be noted that she spoke out despite the non-disclosure agreement she signed regarding this. It's also uncertain how long her part is in the third game, as that can determine how fair the final offer is or not.. We'll be sure to update this story once more info drops; Nintendo and PlatinumGames have yet to respond to this.
Update #1 [12:09am, 16/10/2022]: PlatinumGames vice president Hideki Kamiya has responded to Taylor's claims, calling them false.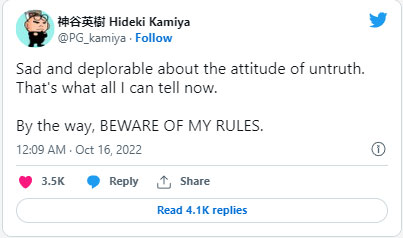 Update #2 [16/10/2022]: A now-deleted tweet from an ex-PlatinumGames producer who worked on Bayonetta 3 reads:
"I'm so incredibly disappointed. The Bayonetta team did not deserve what happened to them today. I don't believe that is the full story. At all. And I hate that all the internet knows how to do is retweet. I love Hellena. I love the team. But what happened today is shameful."
Update #3 [1:36am, 17/10/2022]: Hideki Kamiya's Twitter account is now gone following the earlier statement calling these allegations false (via Nibel).
Related