Star Wars Tales Of The Jedi is an anthology of six all-new animated shorts produced by Lucasfilm Animation and created by Dave Filoni ("Star Wars: The Clone Wars," "Star Wars Rebels"). Based on Star Wars and characters created by George Lucas, the series is set during the prequel era and spotlights important moments in the lives of fan-favourite characters Ahsoka Tano and Jedi-turned-Sith Lord Count Dooku as they embark on respective paths toward heroism and villainy.
Star Wars Tales Of The Jedi features the voices of Ashley Eckstein as Ahsoka Tano; Corey Burton as Count Dooku; Janina Gavankar as Ahsoka's mother, Pav-ti; Micheal Richardson as young Qui-Gon Jinn; TC Carson as Mace Windu; Ian McDiarmid as Darth Sidious; Liam Neeson as Qui-Gon Jinn; Phil Lamarr as Bail Organa; Clancy Brown as Inquisitor; Matt Lanter as Anakin Skywalker; and James Arnold Taylor as Obi-Wan Kenobi.
Dave Filoni is the creator, supervising director, executive producer, and writer of five of the six shorts: "Life and Death"; "Justice"; "The Sith Lord"; "Practice Makes Perfect"; and "Coda." Charles Murray and Élan Murray are the writers of "Choices." Nathaniel Villanueva directs "Life and Death"; Charles Murray directs "Choices"; Saul Ruiz directs "Justice"; "The Sith Lord"; "Practice Makes Perfect"; and "Coda." In addition to Filoni, Athena Yvette Portillo and Carrie Beck are executive producers; Alex Spotswood and Josh Rimes are producers.
Episode 1
Baby Ahsoka
Move over, Grogu AKA Baby Yoda. It's time for Baby Ahsoka to shine.
The Names Of Ahsoka's Parents
The name of Ahsoka's father is Nak-il (below) while the name of Ahsoka's mother is Pav-ti (above).
Ahsoka Was Already Force-Sensitive As A Baby
The Togruti village elder realises that Ahsoka is Force-sensitive and is destined to be a Jedi as she's able to calm down and connect to the tiger creature. One common Force-sensitive ability in Star Wars lore is being able to connect to all living things. In this way, many Jedi can pacify even the most ferocious beasts.
Episode 2
A Young Count Dooku & His Padawan, An Even Younger Qui-Gon Jinn
Yeah, that's a young Count Dooku (left) as a Jedi master before he eventually became the Sith Lord Darth Tyranus and an even younger Qui-Gon Jinn (right) as his Padawan apprentice.
Count Dooku Uses Force Choke, Foreshadowing His Fall To The Dark Side
Count Dooku uses Force Choke on Senator Dagonet, which means that even years ago, he was already leaning towards the Dark Side. Force Choke is an ability often categorised as a Sith ability.
Episode 3
Funeral Of A Jedi
It's interesting to see a proper funeral of a Jedi Master taking place at the Jedi Temple on Coruscant.
Mace Windu Became A Jedi Council Member To Replace The Late Master Katri
Mace Windu became a member of the Jedi Council due to the death of Jedi Master Katri.
Count Dooku's Road To The Dark Side Mirrors That Of Anakin Skywalker
It's interesting how Count Dooku is moving towards the Dark Side similar to Anakin's journey in the Prequels. Both of them starting losing faith in both the Republic (which is becoming more corrupt) and a Jedi Council that cares more for politics than truly protecting the Galaxy.
Episode 4
Star Wars Attack Of The Clones Easter Egg
The reason why Obi-Wan Kenobi couldn't find Planet Kamino in 2002's Star Wars Episode II Attack Of The Clones has been revealed. We already know that it was deleted in the Jedi Archives but it turns out that Count Dooku was the one who did it.
That's not a surprise, considering that it was Count Dooku who caused the death of Master Sifo-Dyas in the first place. Count Dooku killed Master Sifo-Dyas because he (and Darth Sidious AKA Palpatine) took over the Clone Army started by Master Sifo-Dyas on Kamino, which is what made Order 66 in Star Wars Episode III Revenge Of The Sith possible.
The First Half Of This Episode Takes Place During Episode 1 The Phantom Menace
Master Jocasta Nu mentions that Qui-Gon Jinn claims that he encountered a Sith. That Sith is probably Darth Maul, which means that this episode is taking place during the events of Star Wars Episode I The Phantom Menace.
Yaddle Makes An Appearance
This is the first time in Star Wars canon that we see Yaddle actually speaking and walking. She made her first appearance in Star Wars Episode I The Phantom Menace as a member of the Jedi Council.
If you don't remember, this was Yaddle in the movie: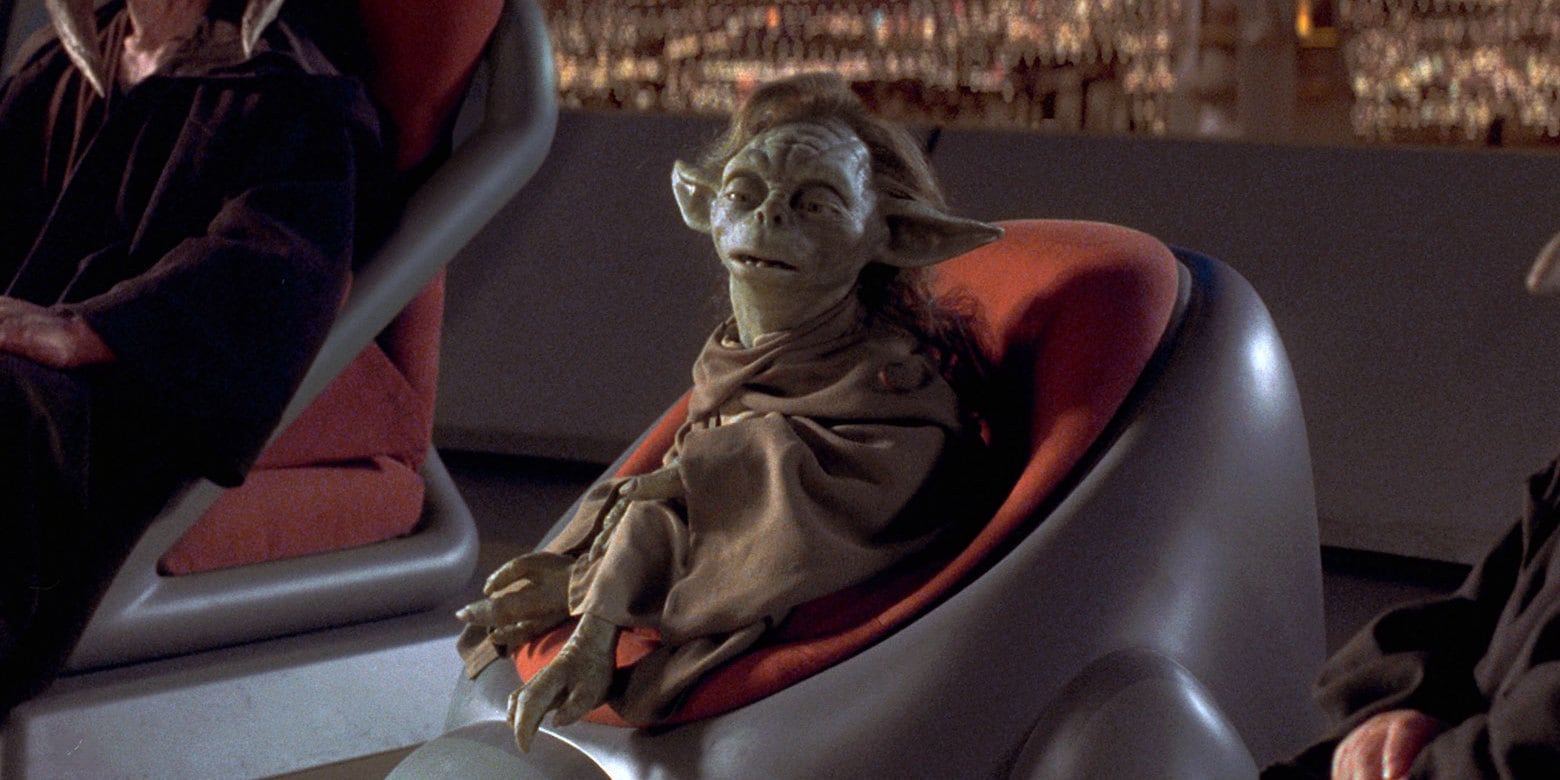 Yaddle Left The Jedi Council Before She Gets Killed By Count Dooku
So that's why we never see her in future movies. And because she voluntarily left the Jedi Council before getting killed by Count Dooku, that's probably why no one found her being MIA suspicious.
Ian McDiarmid And Liam Neeson Reprised Their Roles, Bryce Dallas Howard Voices Yaddle
Remember when I said that Yaddle never spoke in the movie? It's great to see Bryce Dallas Howard voicing Yaddle. She directed two episodes of The Mandalorian and one episode of The Book Of Boba Fett.
Also, Ian McDiarmid and Liam Neeson returning is a treat for Star Wars fans.
Episode 5
A Young Kanan Jarrus Makes An Appearance
Yes, during Ahsoka Tano's training, that was a young Padawan Kanan Jarrus who was spectating alongside his Master, Depa Bilabba. Kanan would eventually grow up to survive Order 66 and later become a rebel, training Ezra Bridger in the Star Wars Rebels animated series set during the era of the Empire.
This Whole Episode Is Basically How She Started Using The Jar'Kai Stance
She started with one lightsaber but goes to use her iconic stance of two lightsabers. It's called the Jar'Kai stance, a method of utilizing two lightsabers in combat. Jar'Kai could be employed with two standard-length lightsabers, a primary weapon in addition to a shorter shoto blade, which is what is employed by Ahsoka Tano during this time.
Episode 6
Ahsoka Tano Was There At Padme's Funeral
Star Wars fans have long questioned what would Ahsoka Tano's reaction to Padme's death be. Now we've finally gotten that, and it's heartbreaking.
Ahsoka Tano Became A Farmer In Between The End Of Episode III And Rebels
So that's what Ahsoka was doing all those years between the end of Star Wars Episode III Revenge Of The Sith and Star Wars Rebels.
An Inquisitor
Ahsoka Tano Defeats An Inquisitor Without Using A Lightsaber
Ahsoka Tano defeats an Inquisitor without even using her own lightsaber.
After that, she calls Bail Organa and is ready to join the Rebels, which is what leads to the events of Star Wars Rebels.
Related