Platform(s): PlayStation 5 (version played), PlayStation 4
Genre: Action RPG using the Valkyrie Square Enix legacy brand
When your Square Enix title (mothership or spin-off) has the Final Fantasy name anywhere, the sky's the limit. If it doesn't, the limit's the sky.
Such is the case of Valkyrie Elysium, a fun action game that's a spin-off of a legacy Square Enix franchise that is unfortunately saddled with presentation restrictions, making it look and feel like it's a second-rate game.
Riding High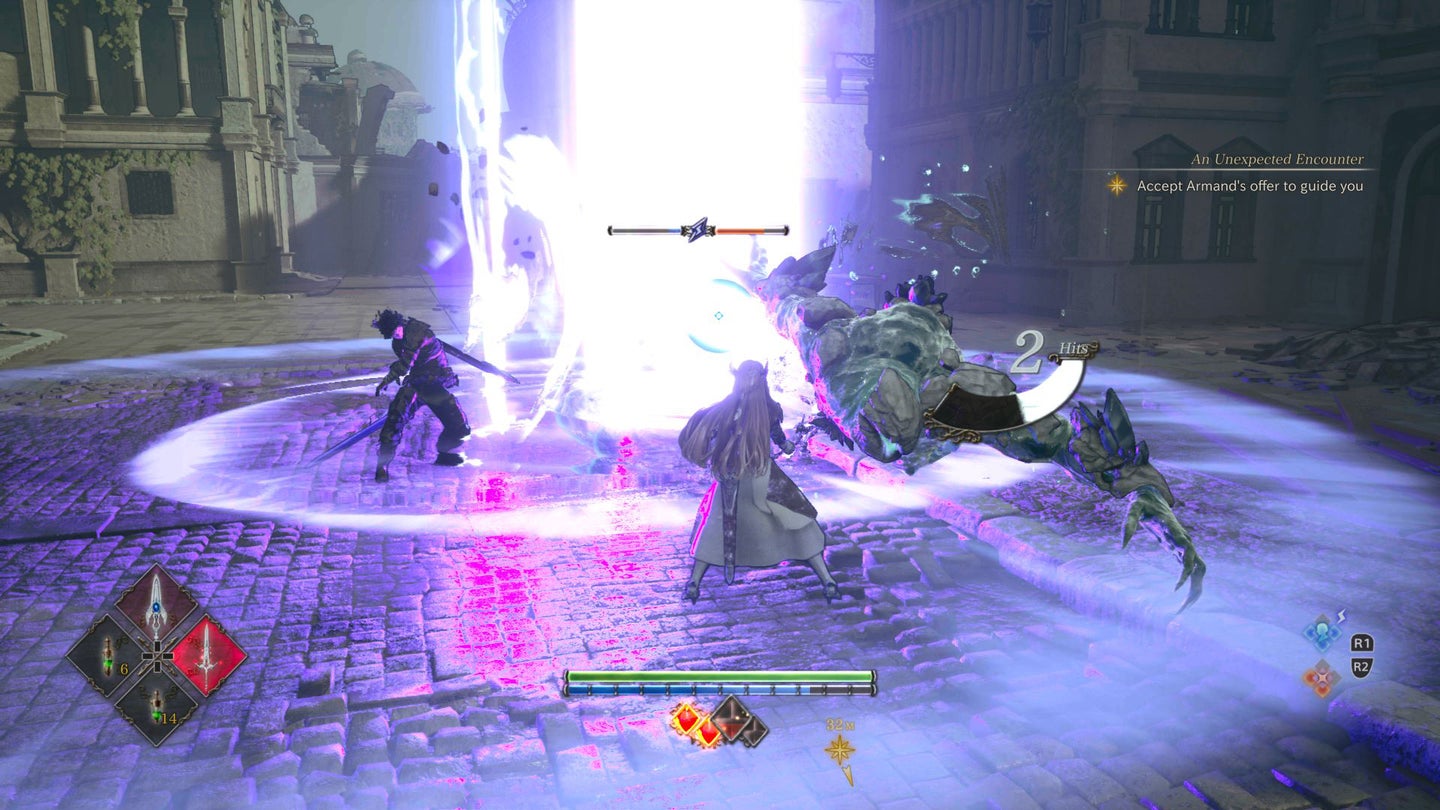 The gist of Valkyrie Elysium's story is this: you're a new Valkyrie who has to release and purify souls for your boss Odin The All-Father. You also get to recruit and summon Einherjars -fallen warriors- to aid you in purging the undead and all sorts of monsters threatening the human realm of Midgard. As you can tell, this is Square Enix's retelling of Norse mythology but as an anime RPG; it even has backstories involving your main character that needs uncovering via the collectibles in each of the game's many chapters.
From start to finish, you fight enemies in real-time action combat. Less Final Fantasy VII Remake and more Nier Automata/Devil May Cry, where your Valkyrie can evade, parry, dodge, and counterattack enemies with stylish and hard-hitting moves with various weapons she collects in her holy pilgrimage. Your Valkyrie's spells can also deal Elemental damage and status effects; use a fire wall spell on enemies weak to fire, and you'll stun and cripple them, making you either wail on them easily or focus on other active threats.
She also has a Soul Chain that lets you grapple and zip to enemies far away from you. At first, you only start with a basic dodge and attack kit, but as you progress and level up, you can get Attack, Defense, and Support upgrades to equip and peruse as you see fit. Pretty soon, you'll be doing a lot of Soul Chain shenanigans, while also dodging and parrying blows and attacks to get the game's version of Bullet Time/Witch Time, slowing down time to a crawl while you attack and combo enemies like normal. When the fighting gets intense, you'll start using all your tools to the fullest; all this plethora of action and fighting is Valkyrie Elysium at its finest. And if you're terrible at it? You can practice at the game's training stage, and the levels have generous checkpoint spots so that restarting your progress is only just a few minutes' worth of lost time, much like your Devil May Cry and Bayonetta entries.
While I applaud developer Soleil for putting their efforts into the one core aspect that matters -the fighting and combat- it's clear as they that the team had to allocate a majority of their budget onto this portion. The game's presentation, many talking head moments that could have been meaningful in-game cutscenes, cookie cutter level design, and story isn't anything to shout about, nor is it gripping and enthralling. The game has a story that unfolds over time and it involves a conspiracy involving your Norse warrior role and the Einherjars involved. However, you've seen this plot a number of times in other JRPGs and Japanese-made action titles.
In fact, most of Valkyrie Elysium's story is a dumbed-down retelling of 2000's Valkyrie Profile story, but with different names and none of the intrigue and Einherjar backstories that made the original as epic as a Völsunga. You're just on the main quests and side content for the Valkyrie powerups and combat options, not so much for the characters and story payoff. I will give credit for the devs giving players multiple endings that are accessible in the same playthrough though, rather than forcing players to start new playthroughs. But for the most parts, I'm just skipping to the good parts: the mythological magic-filled ass-kicking.
Broken Wings
Valkyrie Elysium may not look like much, but underneath its modest budget lies a really fun and "chillax" action game you can grind and have fun with. The Einherjar summoning system and elemental exploitation system, coupled with chain attacks and your Spider-Man-like Soul Chain grapple all gel together for one entertaining action-packed experience. The game's bigger enemies can be challenging, but it's nothing a few rounds of practice cannot handle, backed by how easy and fast it is to continue from where you left off a few seconds ago. I won't lie to you: it's a joy to see a couple of your cooler-looking Einherjars fighting on-screen while you're flanking the undead with your Valkyrie-version Stingers and air combos, after tossing a few fire and lightning AoE spells to soften them up.
At its current price tag, it may be a bit too much unless you're really craving a real-time action game from a long-lost Square Enix 90s brand. But if you can get it for a discount or wait a while, you can do a lot worse.
Pros
Fun combat and elemental exploiting mechanics.
Great controls and feel.
Decent music & English VO work.
Cons
Bland story & subpar presentation.
Rote side missions & levels.
Final Score: 70/100
Related