When the COVID-19 pandemic went global, the world as we knew it changed. From work culture to habits, the video games industry was also severely affected. 
Employing more than 3,500 people all around the world which include three studios in China — Shanghai, Chengdu and Xian — Virtuos was affected when the lockdown was suddenly in effect at the start of 2020.  Add that to two studios in Vietnam and the recently launched studio in Malaysia which is about 100 people strong, and it is safe to assume that Virtuos is one of, if not the largest games developer studios in Southeast Asia in terms of the number of people employed. 
We spoke to Philippe Angely, Virtuos' Senior Director of Business Development in Europe & Asia at Gamescom Asia in October 2022 on how his company coped with it and how video game development has changed in a post-pandemic world. 
How badly did the pandemic affect you guys and how did you cope?
Philippe Angely: The IT setup was the most challenging because suddenly we only had a few days to have all of our employees working from home. We had an IT infrastructure and security which were very dense which caused a lot of constraints. For us, it was a challenge to find a quick solution to keep the level of security when everyone was working from home.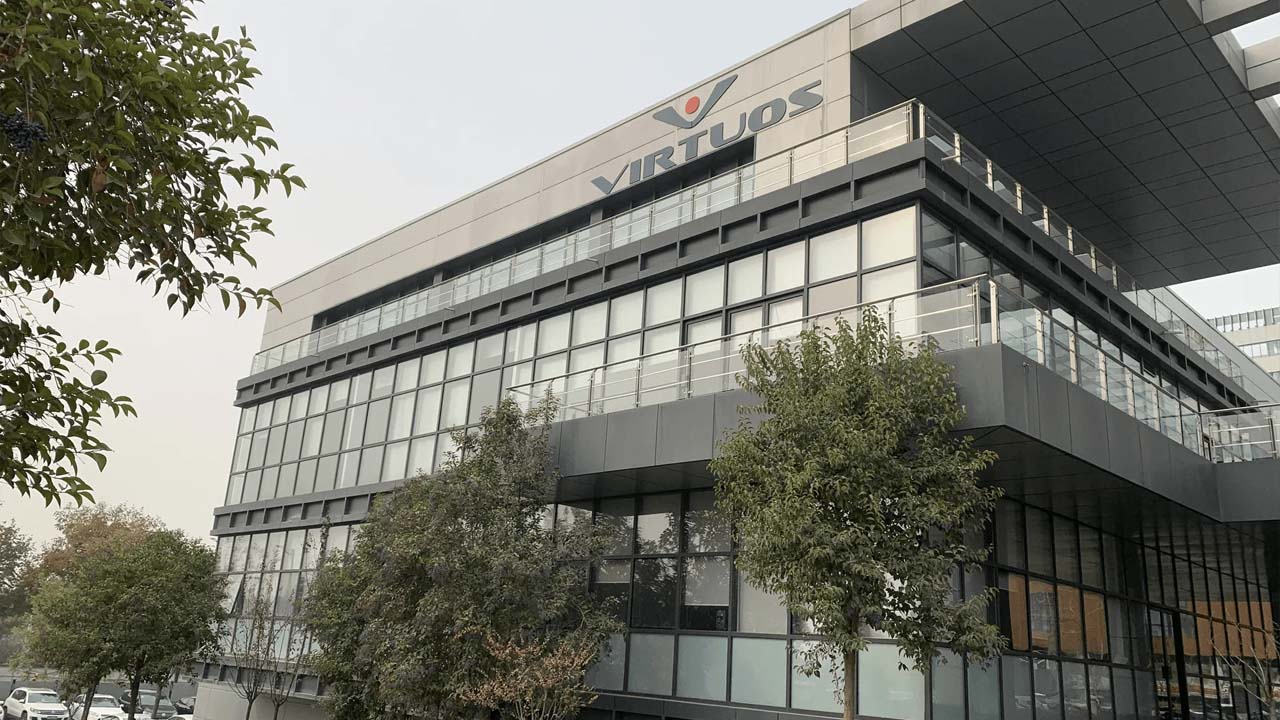 So we eventually managed that starting with (our) China (studios). After what happened in China, we decided it could happen everywhere in the world so we leveraged what we had learned from China. 
We created an IT infrastructure where everyone could suddenly work from home. We had just over a month where we had to buy hardware for the people who were not equipped at home. So basically, the fastest solution was that they keep their [work] PCs in our infrastructure and connect their home PCs via WiFi to their work ones. Sometimes we had to pay for their internet connection which was not fast enough. So we were very flexible on what we had to bring to the staff so that they could work from home. We recovered the time that we lost very quickly. 
So after one or two months of changing the way we work, the industry grew a lot with people being stuck at home, a way to spend time was playing games, so people started investing and buying more consoles, and more games. So our clients suddenly had much more money and much more revenue than they were expecting. So it was great news for the industry because more revenue to game developers means bigger games, better quality and more projects greenlit.
It's quite ironic that video games are one of the few industries that actually grew because of the pandemic.
Philippe Angely: But that came with a big constraint that people weren't moving anymore and people don't want to change jobs in this condition. So these developers suddenly have more budget to spend but they couldn't hire more. 
Another downside is that everybody was less efficient. Because we're in a creative industry and creative processes are more efficient with face-to-face time, brainstorming, and finding solutions together. This is even much more challenging at the beginning of production when you have to set up your vision of the game and at the end of production when you have to fix a lot of problems. So everyone in the industry was slightly less efficient by working from home fully. 
This is why this year, you can see so many delayed games. So, fortunately, publishers and developers got more revenue because now they are spending more than anticipated to ship their games, spending up to 20-30% more. 
So now everywhere in the world is back to normal, except China, so we're back to the origin. The big benefit is that everybody learned how to work from home and that was not something that video game studios tend to do too much because it was difficult to make engines (infrastructures) available to everybody remotely. 
In the past, video game companies preferred everybody to be in the same space to access in the most secure way to the same tools. But now everybody has fixed this problem, everyone can work remotely in-engine, opening new horizons to the entire industry. Everyone can work from anywhere, so I think it's bringing a lot of freedom to the staff. 
Based on what you've learned these past three years, on a scale from one to ten, do you feel that Virtuos is now well-equipped if or when another pandemic comes? 
Philippe Angely: Ten! It happened in Chengdu two months ago. Suddenly they were like "tomorrow we close the city" so we were able to have all of our people working from home in 24 hours.
In comparison to your peers, by how much is Virtuos coping better? 
Philippe Angely: Regarding competitors, I don't know. But the ones we communicate with are [coping] the same. They are just as well-equipped as we are and I think all of the big names are able to switch to a "work-from-home setup" where the majority are 2 days in the office, 3 days in the studio. Some are even still working from home. So I'd say about 80% of our clients are working in this hybrid model. 
Would you say that the pandemic accelerated the improvement when it comes to game development and how game studios are being run?
Philippe Angely: Yes definitely accelerated the IT infrastructure. The way that we were able to deploy all the pipeline work remotely and was done very quickly. But before that, nobody felt obliged to do it as they found it more comfortable to work at the same place. So it was a big tech acceleration. 
In terms of work culture, would you say that Virtuos is very French?
Philippe Angely: I wouldn't say very French, I mean yes I'm French, the CEO is French but if you look at the senior directors it's a big mix. French are definitely not the majority. If you take the senior directors, only about a quarter are French. Our CFO is Singaporean, we have Americans and Chinese too. 
With studios all around the world, China, Vietnam, and Malaysia, how do you find a common ground? Because it is a challenge when you have different studios from different countries and different countries have different quirks. So what do you do to make sure that everyone is on the same page? 
Philippe Angely: First, we only hire people who're passionate about video games. We can be flexible with other things but the basic requirements are that everyone needs to speak English and everyone needs to love games. So it's a common culture, we speak a lot about video games. We need people who're open to working for an international company. Not necessarily a French company, we aren't a French company, we're a Singapore-based company with roots in China. Our CEO spent 20 years in China so he has a great understanding of Asia. So [they need to be open to] international culture.
We also have a big mobility program, so all the staff can rotate studios, so if you work in Chengdu, you want to work two years in Europe, we have a program for that and we encourage our staff to do that. So we take care of everything, their move, their visa, and prepare for the position in Europe. Because English is a requirement, the working environment in Paris will not be different from China.
Would you say that the majority of your staff is from the younger generation like millennials? Because it is said that millennials are very hard to manage and are very demanding in terms of self-fulfilment. So what's been done on your side to make sure you can retain them and avoid poaching? 
Philippe Angely: Everyone wants to have fun and everybody wants to have a secure environment where they can express their creativity and share their ideas with their peers. So I don't think it's the new generation trend. 
So we don't have a particular setup for the new generation. About half the staff is below 30 years old and 90% of our staff are below 40. We are a very young team, we're a very young company. We're celebrating 18 years. But it is strange to see that I'm one of the oldest in the company. I don't feel old. 
So we have a very egalitarian policy as well. For example, we don't have ex-pat contracts, it just doesn't exist at Virtuos. So everybody has a local contract with the same conditions as everyone else. 
So when I was in Shanghai, I had the same number of holidays as anybody else in the studio and the same benefits. So a good French root is that we are very keen on holidays in France, so we try to do the same thing at Virtuos, everywhere in the world. In China, we were one of the few companies that propose three weeks of paid holidays and we add an extra day every few years of employment. So some people have an entire month's paid holiday on top of the legal holidays in China. In the US it's the same, so we give three weeks' paid holiday to our staff.
So in a way, you guys are one of the earliest studios set up to support other studios? How do you think your presence benefits the indie scene? 
Philippe Angely: What we're very good at is training. Every year we hire young graduates in 3D or traditional art and we train them in video games. We have a program which we've developed over the past 15 years that allows people to enter video game production after six months of training. We did that because, at the time in China, they did not have 3D schools. So we were one of the first ones to have a dedicated team in charge of training and it's the same for what we do in Malaysia. 
We are trying to promote the video game industry, to show young Malaysians graduating in engineering or art that a career in the games industry is great. The more noise you make the more people will be interested and people will be interested to work at Virtuos or independent studios to develop games. What we are trying to do also is to bring back Malaysians who have left the country to work in Europe and North America because they couldn't work on AAA games in Malaysia. We want them to know that we have big projects for them to work on and that they can return to Malaysia and be closer to their family while working on AAA games.
How helpful have the local bodies in Malaysia such as MDEC been and to what extent have they helped?
Philippe Angely: They were very supportive of the idea and interested that we do game development—especially the really creative things like level design and quest design. The majority of our studio has worked on art for games such as CrossfireX. It took time to have real support and have something on paper, but we officially announced a few months ago that MIDA will help us with a grant.
We have big ambitions for Malaysia. We have 100 employees now and we intend to grow by 30% within the next 12 months. Our goal is to have 300 people in our Kuala Lumpur studio within five years, working on a variety of interesting projects from games to AAA art.
Thinking further, where do you see Virtuos? What's your next move and where are you looking at?
Philippe Angely: We have two development strategies — one is to be closer to our clients, and the other is to get access to unutilised talent pools. That was part of the reason we acquired Sparx* – a Virtuos studio in Vietnam. What we look for are large numbers of people, passionate about video games and well-trained.
Our next move will be to look for areas to grow, we haven't decided yet, which could be South America, for example. Huge population, a lot of artists and engineers. So that's something we're looking at. Being close to our clients is also why we opened our co-development studio in San Francisco. We're probably going to open a new studio in Europe, to be close to this big hub for video games. We'll probably want to increase our teams in Japan. We'll be happy to have a studio if possible. The industry is dynamic and everybody is looking for talent, so we want to help to train people in more markets so that they're able to work in video games.
Lastly, what are your honest thoughts on the metaverse?
Philippe Angely: Metaverse is a big subject. Metaverse and NFTs are very trendy terms. The way I see the metaverse is a rebranding of something that has existed for a very long time. 
Fortnite to me is the biggest metaverse, World of Warcraft too. The new thing is now that you have non-gaming companies who want to use the metaverse to get more exposure. Which is fair enough but they don't capitalise on the experience that comes from video games. 
In my eyes, Epic is much more equipped for a metaverse than Facebook. But it's good for everybody because it gives access to a 3D world to many more people than before. So I think that's what Facebook is trying to do, is to give the opportunity for non-gamers to have a 3D place where they can share. So it's the perfect [opportunity] for people to get a VR headset which is easy to set up. The younger generation, they are very tech-oriented so they're used to PCs and consoles, so Facebook is targeting them more.