Platforms: PS4, PS5, Nintendo Switch
Genre: Rhythm Game, Music, JRPG
Rhythm games based on JRPG franchises are nothing new. Atlus has made several of them based on the Persona games, and most recently, Square Enix released Kingdom Hearts Melody Of Memory in 2020.
Now it's 2022, and Square Enix has released the latest and most complete entry in the Theatrhythm series of rhythm games based on music from the Final Fantasy franchise; Theatrhythm Final Bar Line. While it's a shoe-in for fans of the long-running JRPG series, is it enough to cater to everyone else?
Exclusively For Fans
The Final Fantasy franchise is famous for its epic and soaring soundtracks and music, which is why it's no wonder that Square Enix has turned all that into a rhythm game. Of course, fans of the franchise would lap it all up, but what about casual fans or those who aren't familiar with the games? I myself am only familiar with several select Final Fantasy titles, and so beyond a few nostalgic trips of playing through music from games I've played like Final Fantasy X and Final Fantasy XV, there's really not much here for those who aren't hardcore fans that have can boast of having played every game in the franchise.
The biggest drawback of Theatrhythm Final Bar Line is that it has nothing else to speak of, besides simply playing through the music from Final Fantasy games. For instance, the biggest selling point of Square Enix's own Kingdom Hearts Melody Of Memory game from 2020 was that it would continue the canon storyline and pick things up from the ending of 2019's Kingdom Hearts 3. Because of that reason, Kingdom Hearts fans felt compelled to buy the game. Unfortunately, Theatrhythm Final Bar Line doesn't have any of that at all.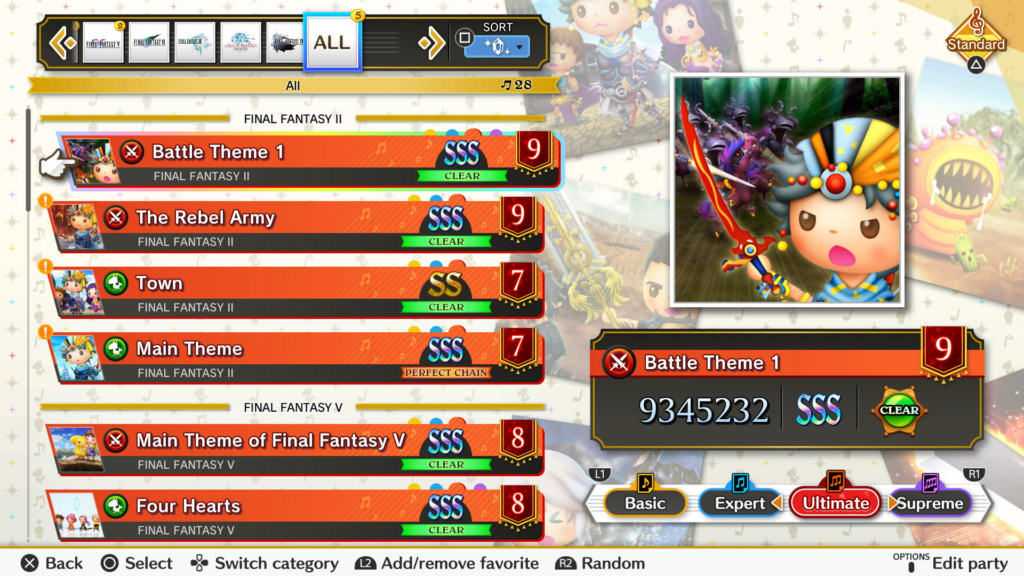 Here's what you'll do in Theatrhythm Final Bar Line; you start by choosing any of the many Final Fantasy titles in the game and play through its music. After you've cleared at least four songs or so from that soundtrack, you'll gain a key, which will then unlock another Final Fantasy title for you to choose from. Yeah, you still have to unlock these soundtracks to play through them by progressing through the game. You're not just free to simply go through every Final Fantasy title when you first boot up the game.
Theatrhythm Final Bar Line contains three modes. Series Quests is the main mode, where you play through music from each Final Fantasy title. Music Stages is the free mode where you can play the music you've unlocked and Multi Battle is the game's multiplayer mode. What can I say about the core gameplay? It's just like any other rhythm game. After selecting a song, players will press buttons along to its rhythm via three types of notes: red, which requires a single button press; yellow, which requires flicking the joystick in a given direction; and green, where you have to hold the buttons.
Since it has music from Final Fantasy, the game does have some barebones and rudimentary JRPG elements. However, these don't really impact the way you play. They're just there to complete optional side objectives to earn extra content like cosmetics, abilities and virtual collectable cards. These don't affect gameplay, so these elements feel like they have to be there just because the game is based on the Final Fantasy franchise. The only fun element is being able to create parties of four members consisting of any Final Fantasy character. Do you want Cloud, Tidus, Noctis and Zidane in one party? You can do that, but ultimately, the novelty wears off pretty quickly since you can't really do anything with them.
Essentially, one of the only good things about the game (besides the fact that it has a whopping 385 music tracks) is how easy it is to understand, pick up and play. Unlike Kingdom Hearts Melody Of Memory (which had a more active element to complement its rhythm game mechanics), the mechanics in Theatrhythm Final Bar Line aren't as complicated or annoying, unless you count the light JRPG elements. I also appreciate the accessibility features, such as Simple mode, which converts everything to single button inputs, making it accessible to even the most inexperienced rhythm game player. Interestingly, there's also a co-op Pair Mode, where you play every song with another player.
Rhythm For All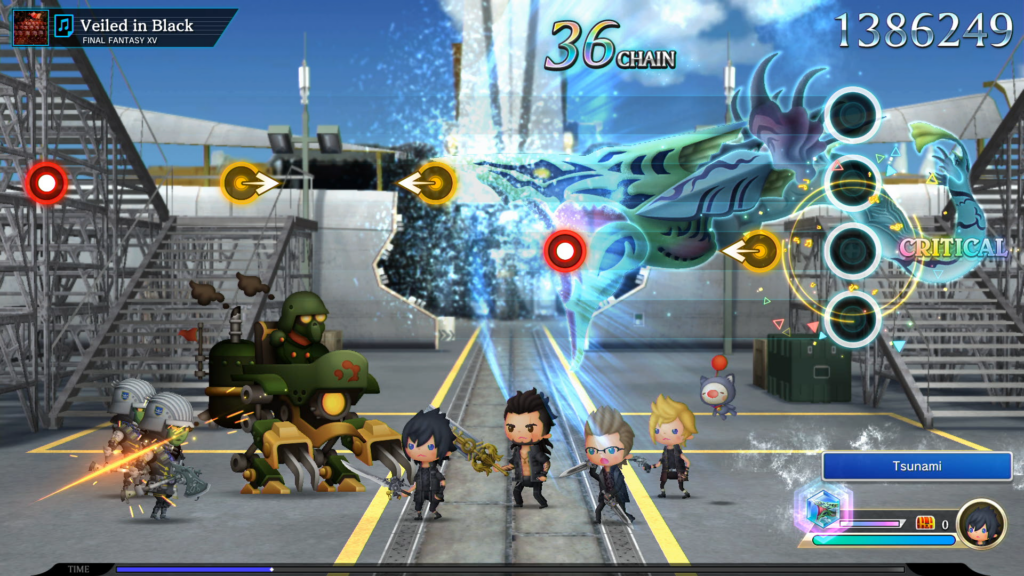 If you're not a fan of the Final Fantasy franchise, there's really not much of a reason to pick up Theatrhythm Final Bar Line. This is a game that only the most hardcore Final Fantasy fans, or maybe even fans of rhythm games in general, can truly enjoy to the fullest. For everyone else, you're basically just paying for the music, and nothing much else. Personally, I'd rather spend my time just listening to them on Spotify or any other music streaming service.
PROS
Almost all the music in the Final Fantasy franchise.
Mechanics are simple and easy to understand even if you're not used to rhythm games.
CONS
Not much else in terms of content (no new story content, etc.)
Barebones and tacked-on JRPG elements.
You have to unlock the music by progressing through the game, which will take many hours.
FINAL SCORE: 50/100
Theatrhythm Final Bar Line was reviewed on PS5 based on a review copy provided by Square Enix. It is now available for PS4, PS5 and Nintendo Switch.
Related