By Alleef Ashaari|March 28, 2023|
It looks like the release date for Marvel's Secret Invasion TV series may possibly have been leaked via Disney+ themselves, as the Secret Invasion page on Disney+ US showed that it will premiere on 21 June 2023 (via Nerdist).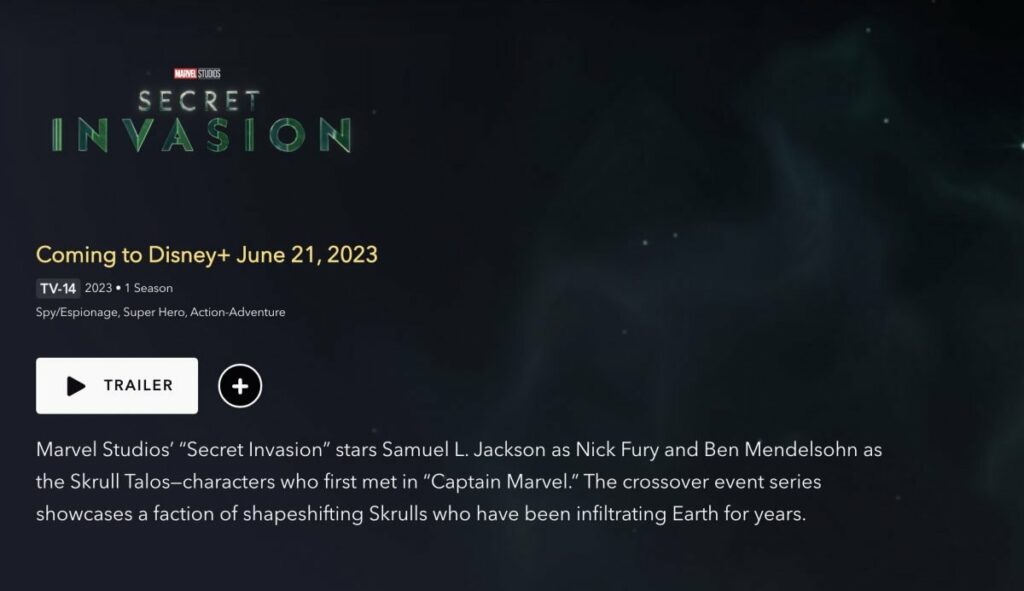 However, as of now, it's best to take this with a grain of salt. Disney and Marvel Studios have yet to officially confirm the news at the time of writing. It's been a while since the last official news on Secret Invasion. In addition, the last Marvel TV series was She-Hulk Attorney At Law, which premiered in August 2022 and released the final episode of its first season in October 2022, while the last Marvel special on Disney+ was The Guardians of the Galaxy Holiday Special in November 2022.
Why did it take so long for a new series to premiere? Kevin Feige previously confirmed that there will be fewer Marvel releases on Disney+ in the future.
Samuel L. Jackson will reprise his role as Nick Fury, Ben Mendelsohn will return as the Skrull warrior Talos, Don Cheadle is back as James "Rhodey" Rhodes, Cobie Smulders returns as Maria Hill, plus Emilia Clarke, Kingsley Ben-Adir and Olivia Colman also star. Kyle Bradstreet serves as executive producer and writer.
In the series, Fury returns to Earth and teams up with Talos to prevent a Skrull invasion. Hill has been calling Fury to help back on the planet, but this time he's finally back to deal with the dangerous Skrull threat. In one scene, Talos faces down Ben-Adir's character as other Skrulls in the room take on the same appearance as Ben-Adir.
In the meantime, re-watch the trailer below: