Platform(s): PC (version reviewed), Xbox Series, Xbox One, PlayStation 5, PlayStation 4, Nintendo Switch
Genre: Visual novel with 2D pixel art and coffee/tea-making
In the Toge Productions-developed visual novel adventure title Coffee Talk Episode 2: Hibiscus & Butterfly, you take the role of a barista who serves coffee and/or tea to your local patrons. The key difference? You're in an alternate Earth where fantasy creatures like banshees, satyrs, orcs, and elves live alongside humans and beasts alike. The contemporary fuses with the mythical in this unique story where you play an observer and listener who hears about everyone's tale of ambition, woe, drama, and everyday foibles, and occasionally get a drink right or wrong, depending on what results you want to achieve from the visual novel dialogue and story branching pathway.
However, if you already played the first episode back in early 2020, you'll be glad to know that the charm and aesthetics have been left untouched since three years ago. New additions like Lucas the social media influencer satyr and Riona the aspiring singer who happens to be a banshee are sure to charm you with their quirks and outlook on life, with you being the person deciding their ending of the 15-day barista run (alongside other returning cast) with whatever drink you serve.
Hot To The Touch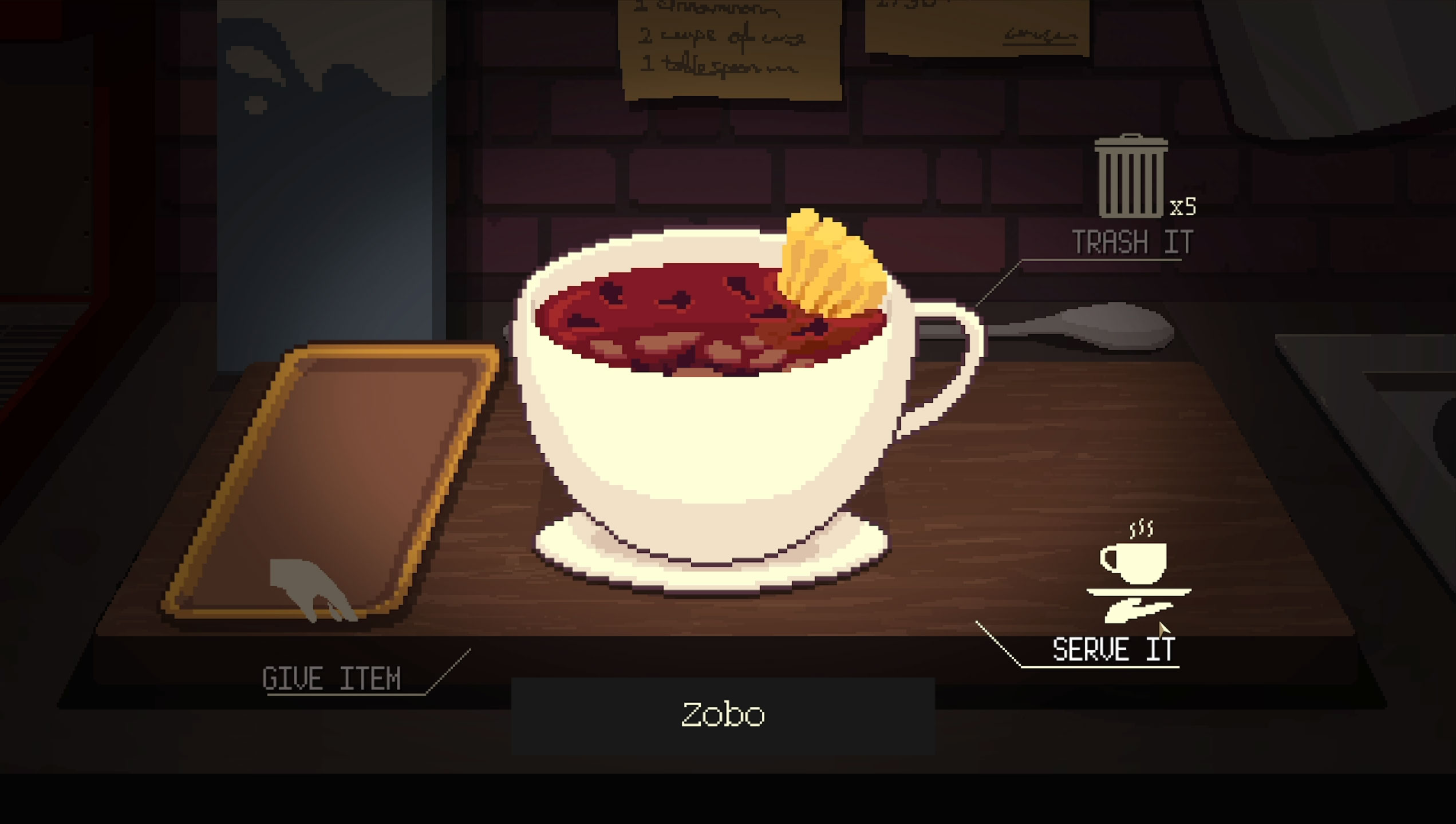 For barista fans of the first game, you now have hibiscus and blue peat tea powder as additional ingredients to make more drinks, as well as a "Give" option. See, the patrons will sometimes pass items to you, or accidentally leave something behind. When it comes to serving drinks and confirming orders, you have the option to put one item in the newly-created tray, though it'll only be used if it's given to the right person. It's just one additional command to access more stories and branching paths, provided you pay attention to where the narrative is heading.
All of Coffee Talk Episode 2's drink puzzles can be solved by just looking back at the conversation, or just a quick recipe Google search. Some can leave you stumped, which means a lot of save-scumming and trial-and-error mixing between three ingredient slots. The order for each ingredient is very specific to each drink, that you will end up looking at your recipe tablet moreso than usual. Still, Coffee Talk Episode 2 isn't a game you rush; it's one you revel in with its vibe, 2D pixel art lovingly-crafted and reiterated, and read thoroughly thanks to its fun chat and social topics regarding fame and prejudice, alongside other discussions I wouldn't spoil since I'm still giving this title a recommendation.
Plus, from a visual novel gameplay and user experience standpoint, it's easy to go through and intuitive to control if you wish to fast-forward through plot points that you've already gone through once. Or if you want to revisit past days and get the "correct" state be it giving an item to a person of interest or purposely flubbing someone's order to open up the alternate ending for a person or two.
Order Up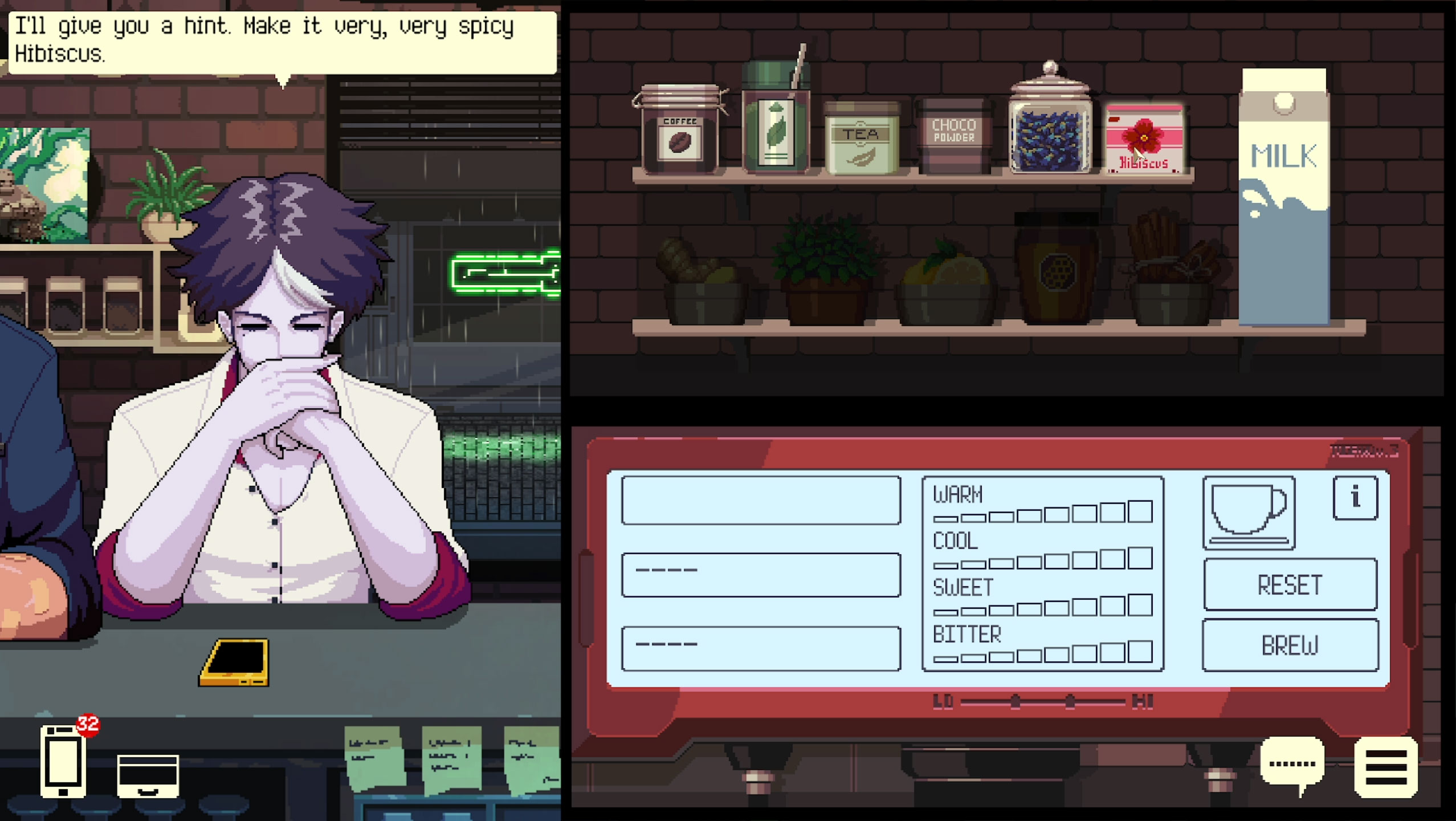 Just don't expect Coffee Talk: Episode 2 to be vastly different from the first game; it's more an expansion than a full-fledged sequel in case the title isn't a dead giveaway. You're still getting more stories, resolutions, and continuations from the first game. In fact, if you're jumping straight into this without prior knowledge from part 1, you'll be lost here. Much like any visual novel with prequels, I suggest you play the first game to get in the groove of the second game.
There aren't many changes here gameplay-wise, but whatever additions from the teas to the item gifting mechanic are welcome in a game that just requires your attention.
Final Score: 70/100
Review code provided by Toge Productions.