Magic The Gathering: Lord of the Rings Tales of Middle Earth Preview – Mirkwood Spider & Hobbit's Sting
Two of the biggest fantasy giants are coming together for one amazing collaboration on 23 June.
Lord of the Rings and Magic: The Gathering are dropping a new expansion, "Lord of the Rings: Tales of Middle Earth" and thanks to Wizards of the Coast, we have a couple of awesome cards to show off.
Before we get to them, here's the lowdown on the new upcoming set: Lord of the Rings: Tales of Middle Earth is a 233-card expansion to the world's most popular TCG (Trading Card Game), Magic: The Gathering. The expansion features characters, key story moments, and of course, the One Ring itself.
Whether you've read the books, watched the movies, or seen the TV series, you'll find all your favourites within this set. The expansion also features a special mechanic that pays homage to the One Ring. Certain cards have the text "the Ring tempts you". When this happens, you select a creature to be your ringbearer, which will then gain a series of buffs that develop as the ring tempts you further.
Boil 'Em, Mash 'Em, Put 'Em In A Stew…
Of course, you couldn't have a set filled with Hobbits without the mention of food.
Throughout the set, you'll see many of them, especially on Hobbit-themed cards, that have the ability to create food tokens. These tokens are artifacts that you can cash in to fill you up and restore some lost life. Of course, it's not just Hobbits that like food. Some would consider the Hobbits to be a delicacy.
Shelob, the giant spider, for example, makes an appearance with her own card, and has the ability to turn any fallen creature into a delicious snack.
And where you'll find Shelob, you'll no doubt find her brood. So watch out, or our first preview card will turn you into a snack. Check out: Mirkwood Spider.
Mirkwood Spider
Mirkwood Spider is a green, 1 mana, 1/1, but don't let its small size trick you, this little bugger comes packing with Deathtouch. This means it doesn't matter how big or how strong a creature is. If it takes a single point of damage from Mirkwood Spider, it will die.
In addition, when Mirkwood Spider attacks, it grants this awesome ability to another legendary creature until the end of turn. Perhaps even making some little Hobbits just as deadly.
Speaking of, let's check out our second preview card, Hobbit's Sting.
Hobbit's Sting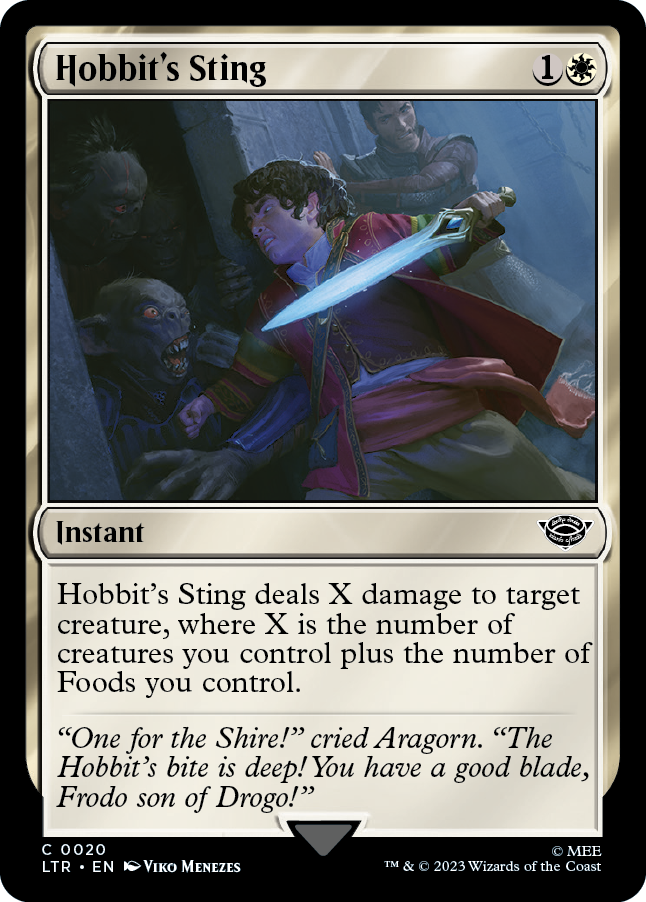 Hobbit's Sting is a white, 2 mana Instant card that deals damage to a creature equal to the number of creatures you control, plus the number of food tokens you control. The more creatures you have, the more damage it deals. White decks are often known for getting lots of creatures in play and most of the Hobbit cards previewed so far are also in white. As we mentioned, the Hobbit cards have strong food synergies.
I don't think these cards make the cut for competitive play, but they're definitely excellent cards you'll see in drafts or your Pre-releases.
If you want to get an early hands-on with these new cards, you can head down to your LGS (Local Game Store) and see if they're running a Pre-release event. You can find a list of locations here. Pre-releases will be running all through the weekend of 16th June. If you can't make it to a Pre-release event, launch day is a week later, on the 23rd of June.