Note: This opinion is solely based on the recent Star Wars Battlefront II Beta which we played on the PlayStation 4Â 
---
My first experience with Battlefront II was at the Star Wars Celebration Day in Orlando earlier this year. Flown by EA to catch the world premiere and presentation of the game in Florida, the hype was real as we finally get a story mode for the game on top of what we soon come to know; a larger, more expansive multiplayer experience.
Let's be honest. The first one (2015's Battlefront) while it was a technological marvel with EA presenting a  Star Wars to video game in the most spectacular manner graphically to date, was a complete disaster overall no thanks to its super slim offering, shitty post-release content and was severely overpriced. When the second one was revealed set to come with a story mode cannon to the Star Wars universe, many of us including those who are not hardcore Star Wars fans took note. Maybe this it'll be different this time around. Maybe there's … hope.
[youtube https://www.youtube.com/watch?v=Kae-JjbLsgA&w=560&h=315]
Nope.
A couple months back, during E3 if I'm not mistaken, EA dropped a bombshell – announcing that the game will come with a stat-affecting lootbox system. In other titles which utilizes the lootbox method like Overwatch and CS: GO, the drops in these games do not affect the abilities of the characters. These items only enhance the aesthetics of their characters and does not play any role in altering the balance of the game. You need to rack up XP to rank up and you receive lootboxes for each level you gain. Of course you can skip all this and purchase the lootboxes via the in-game store but ultimately, they do not make you invincible in the game.
Enter Battlefront II where everything go tits up. While details were sketchy the first time their lootbox system was revealed, little did we know then that it's gonna blow like Alderaan in Episode IV once the Beta hits. It's a convoluted clusterfuck of terms and methods and classes so allow us to summarize it for you here. (If we miss out details or got the terms wrong, do tell! Thanks!)
In essence, Battlefront II does not reward players based on skill. Instead, experience gained via matches (and other means) will be converted to credits which players then use to purchase lootboxes which in turn serve you star cards. The ranking system is so messed up from the start that being good at any class does not guarantee you will get better gear for them, unlike in say, CoD games.
[youtube https://www.youtube.com/watch?v=_q51LZ2HpbE&w=560&h=315]
Some thought the inclusion of various classes will make the game more exciting. Sounds good on paper. But little did we know that it was a sly tactic to subtly force gullible folks to shell out more money. Put it this way. You have four classes of footsoldiers and each have four slots for star cards; three of which that modify or replace your base abilities, and one that provides an overall passive bonus. Heroes have two Star Cards slots that modify their standard abilities. These abilities can only be activated or powered up via star cards received through the lootboxes – which can only be obtained via grinding as mentioned above. Are you keeping count of the stats you have to keep track of? We lost count already. Oh yes. Don't forget the vehicles too – as they are also upgradable.
OK. So far your standard FPS affair ala Battlefield with special, boosted characters. Passable maybe? Wait. Here comes the shit part.
[youtube https://www.youtube.com/watch?v=G-juTDqv6QA&w=560&h=315]
Your arsenal and power will only improve IF and WHEN you get THE RIGHT CARD which corresponds TO YOUR CLASS OR CHARACTER OR VEHICLE OF CHOICE. So if you play Heavy and you get an assault card, it will be deemed useless. Want a Rey card? Here. A Han Solo ability instead. It gets worse.
These cards come in tiers, each with incremental effects that will throw the balance right out the window. Say a card to make Boba Fett invincible during barrage. You want to focus on this but you only have a bronze card. No matter how hard you play and good you get, your chance of upgrading your Boba Barrage can only happen once you get a silver or better version of that card ability. Or crafting. We'll discuss a little about crafting later.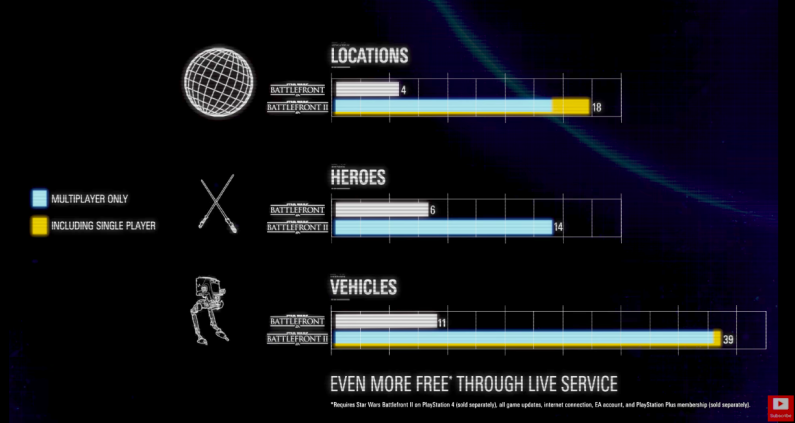 Now multiply the grind with the insane amount of various heroes, vehicles and skins in the game. Let me remind you that you will get all three trilogies of Star Wars packed into the game – soldiers on both sides across nine Star Wars movies (including Rogue One). Imagine the chances of landing that specific care with that specific tier that you require. Add the fourteen heroes with three abilities each and if I'm not mistaken, more to come. Want a better card? Sure. Crafting solves it but you can only craft using crafting materials that drop via replicated drops, and these cost a ton of in-game crafting material.
Tiring isn't it? Well. According to EA, you can do the quick way – take part in the microtransaction but that too, will not guarantee you getting that specific card you are after. Cuz don't you know? Lootboxes are a lottery.
This stinks more than a tauntaun's carcass.
---
BOTTOMLINE
To be frank, judging the game through its gameplay alone via the beta, is tons of fun. It felt exactly like how a Star Wars game should look and feel like. The weapons are punchier, the sound is spectacular and we love the way it is presented. This is current gen gaming. You know the folks who worked on the game put all their love and passion into making the game into what it is and I am pretty sure the story mode will kick ass. But the microtransactions and lootbox system will be the death of it.
Hopefully EA will take heed of all the complaints following the beta and shelve this approach once the final version of the game drops. Just allow players to allocate their earned XP to whichever class, character and vehicle of their liking, EA. If you want to still include a microtransaction and lootbox system, follow Blizzard's approach with Overwatch. People will be much more forgiving and you will easily earn gamers' trust in the long run.
---
Are you gonna get Battlefront II once it drops? What did you think of the recent beta? Feel free to agree or disagree and share your thoughts in the comments section below.