Overwatch League – Philly Pips Shock as Dynasty Stomps Mayhem & Outlaw Record First Win
Day 1 of the Second Week of the Overwatch League kicked off earlier this morning with a great mix of close matches and stomps as Philadelphia Fusion goes 2-1, Houston recording their first win of the season and Seoul Dynasty going to the top of the league with a 3-0 record following a stomp on the tepid Florida Mayhem.
Philly Wins First Ever Orange Bowl 
In a matchup dubbed 'The Orange Bowl', Philadelphia Fusion narrowly pipped past San Francisco Shock to improve their season record to 2-1. Despite going down 0-1 following the early loss on Dorado, Fusion bounced back with a convincing win on Temple of Anubis. Poko's trademark D.Va Bomb again became the highlight of Fusion's win on Oasis as he connected with ShaDowBurn's Graviton Surge en route to the win which secured the series win. On the Shock side, they appear to be wanting at times, especially on the DPS end as Babybay and Danteh struggled against their counterparts. Sinatraa and Super cannot join the team soon enough to address this issue and while it is still too early to press the panic button, would be interesting to see how Shock fare against Boston Uprising in their second match of the week come Sunday.
The result sends Philadelphia 2-1 in the league, with Shock falling to 1-2.
Dynasty Stomps Mayhem To Go Top Of the League
Seoul Dynasty fielded an all-new, never seen team composition going into the match yet still prove to be too strong for Florida Mayhem. Despite the absence of Miro who was benched in favor of Kuki, Dynasty never looked like losing as they showcased their squad depth. Fielding two flex players in Gido and XepheR, the boys from Korea varied their approaches throughout to show the gulf between them and the one-dimensional Mayhem who has the smallest squad in all of the league. Florida, who relied on TVIQ popping off to stand any chance of a win failed to threaten Dynasty as he was constantly shut down by Fleta.
Surprising tho, Dynasty only used seven players throughout the match, with Tobi subbing in for Gido after the first map. Still, it made no difference as Dynasty cleaved through Mayhem like a hot Genji Dragon Blade through butter. The ever-reliable Ryujehong was named MVP of the series and rightly so as the best support player in the world healed, revived and nulled countless enemy ults to lead his team to an easy 4-0 win.
Houston Grab First Win Of the Season 
This match was hardly a contest as the Dragons were clearly outplayed and outmatched by the Houston Outlaws who consigned them to their third match loss. While JAKE stole the limelight with his flashy kills as Junkrat and Soldier 76, it was Muma who played the major role for the Outlaws, even going as far as not dying on Junkertown and was only eliminated five times in the entirety of the series.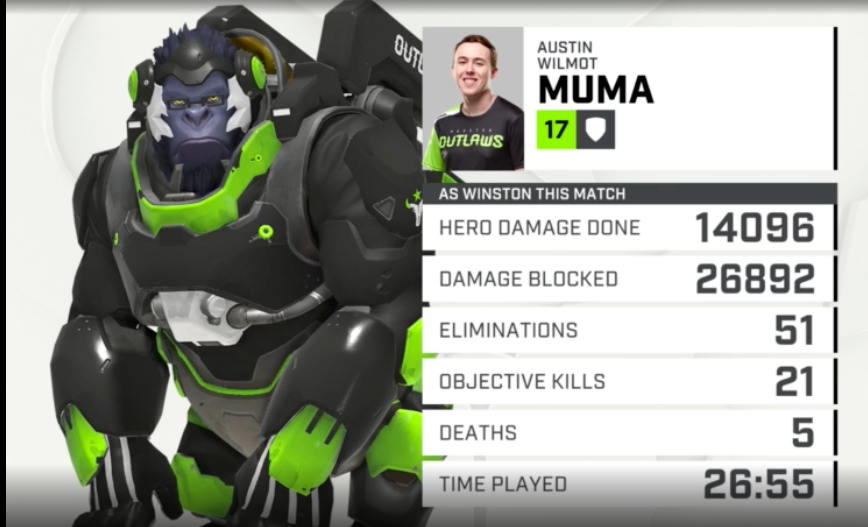 The Dragons really need to take a hard look at themselves and figure out how the are to carry on in the season as they are starting to look like they do not deserve to be playing in the OWL. While no one is questioning the abilities and mechanical skills of their players, the team does not look anything like a team competing in a top-tier competition.  Roshan kept getting eliminated early which snowballs to numerous team wipes while Diya's inconsistencies on Widow is now even more apparent as his positioning and approaches have become too predictable. The Dragons have the perfect opportunity to bag the first win of the season on Saturday as they face the struggling Florida Mayhem in a battle of two 0-3 teams.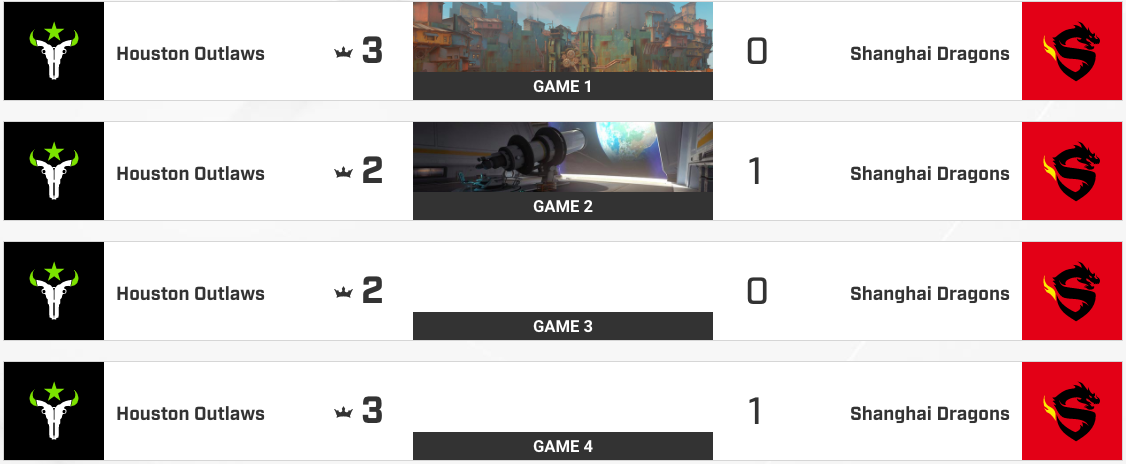 ---
Week 2 OWL action continues tomorrow as Dallas Fuel seek their first week of the season as they face Houston Outlaws at 6AM Kuala Lumpur/ Singapore time. It will be followed by a cracker of a match as two 2-0 teams face each other – New York Excelsior take on Los Angeles Valiant at 8AM. Fusion returns as they play their second match of the week, this time against Los Angeles Gladiators who impressed many in Week 1.