Overwatch League – Valiant Shocks Fuel, Boston Impressive While Shock Grabs First Win
By Kenn Leandre|January 13, 2018|
Day three of the Overwatch League saw early-season favorites Dallas Fuel falling to the hugely impressive Los Angeles Valiant to close out a disastrous weekend while both Boston and San Francisco bounced back from a first match losses with a morale-boosting win their respective second matches.
Los Angeles Valiant Steps Up Against Out-of-Sorts Dallas Fuel – Valiant Win 3-0Â 
Fuel played their full roster against Valiant but were still unable to stymie the rampant Los Angeles team sporting green and yellow en route, which to many, the first upset of the season. The starting lineup saw a pro-Genji showdown as both sides started with Agilities and Seagull on Junkertown. In what may very well be the longest series in the competition so far, – almost 45 minutes – both team brawled to a final 8-7 score favoring the Valiant. The next match on Horizon played to a breathtaking 5-5 tie and in the do-or-die series on Ilios, Valiant sealed their win by capturing both points. By the time they head to Numbani, the Fuel were utterly spent and they went out with a whimper, failing to secure even the payload to lose the series 0-3. Following their earlier loss to Seoul Dynasty on opening day, this was not a start they were expecting. Valiant on the other hand are on a high and while is still early, now have legit claim to the title of 'Best Western Team' in the Overwatch League.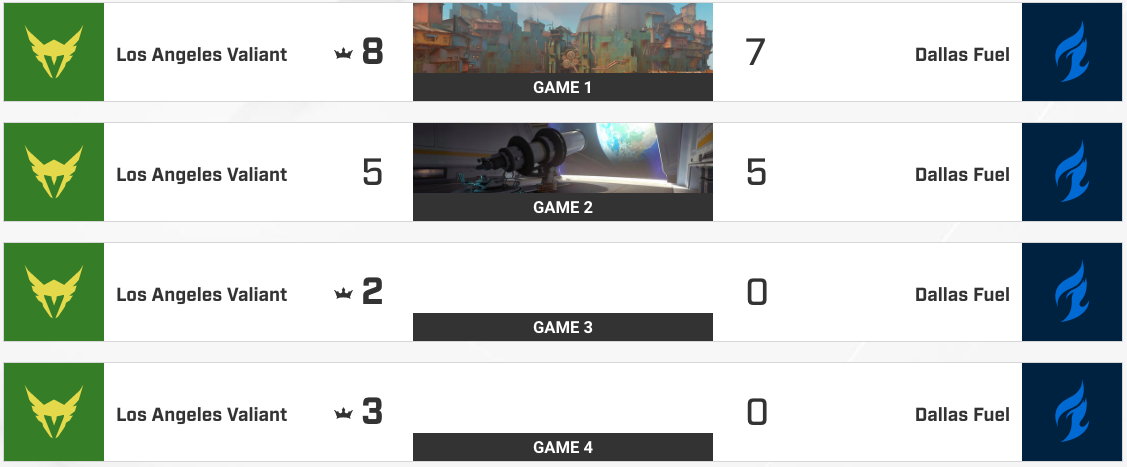 Boston Bounce Back With Emphatic Win Over Mayhem – Uprising Win 4-0
We knew after pre-season that this Boston team carries so much potential going forward but we didn't expect them to improve so much in the span of three weeks as they have shown against Mayhem. While their first match loss to NYXL yesterday was a formality given their opponent's overall quality, the way Boston dismissed Mayhem en route to a 4-0 win was unprecedented. Just like everyone else in the audience, we expected a much closer contest considering Mayhem consist of seasoned pros and that both teams being ranked close to each other in the power rankings. The Boston Uprising are the real deal and you'd be wise to keep a close eye on them. Mayhem on the other hand, would find the loss a bitter pill to swallow as their tie against Boston should be considered winnable following their expected loss to London in their opener. They next face Seoul Dynasty where no one in the crowd would bet against, followed by another 'winnable' bout vs Shanghai Dragons in Week 2.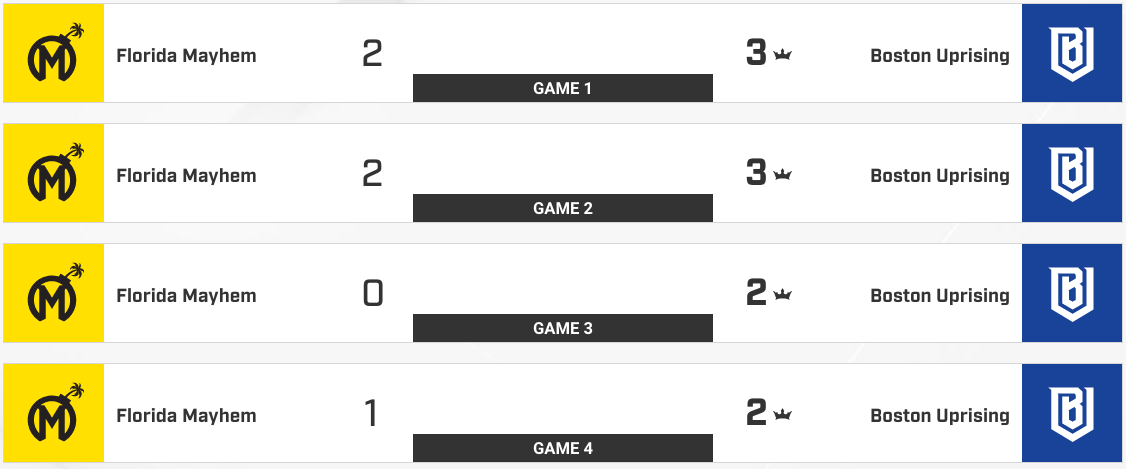 Shock Consign Dragons to Second Defeat
San Francisco Shock didn't let an opening day 0-4 defeat to Valiant derail them as they responded brilliantly with a 3-1 win against Shanghai Dragons. It was a battle of star DPS players as both teams traded kills, with Babybay and Danteh spearheading the Shock offense while Dragons countered it with equal measure in the form of the Undead and Diya combo.  Following a scrappy affair on Junkertown, both teams went on very unconventional and passive approaches on Horizon which saw the Dragons coming out on top. Resounding wins on Ilios and Numbani sees the Sinatraa-less Shock grab their first win of the season ahead of their mouth-watering showdown against the Philadelphia Fusion next week. In spite of Diya and Undead stepping up, the rest of the Dragons appear to be a couple of steps behind which proven to be the undoing for the Chinese team. Roshan got eliminated way to easily and frequent to derail almost every team fight while Freefeel and Altering weren't effective enough to keep their teammates alive. The Dragons have so many issues to sort and unless they fix them quick, will find themselves being cannon fodder to other teams as the season progresses.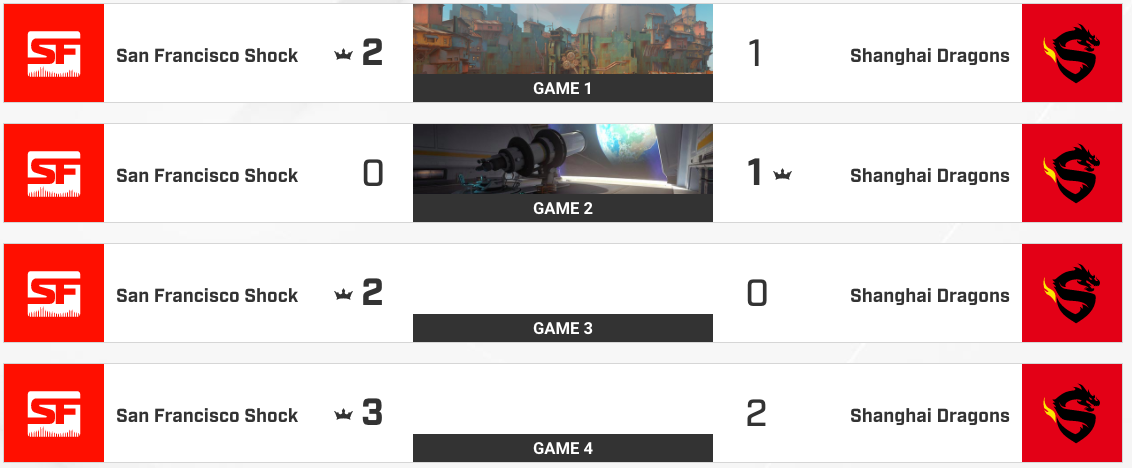 ---
The final three matches of Overwatch League for Week 1 of the First Stage happens tomorrow with the following matches:
Will Spitfire chalk up their second win against the Philadelphia Fusion or will Carpe play spoilsport for his Korean brethren? Does Houston Outlaws have enough firepower to counter Saebyeolbe & Co and can Los Angeles Gladiators put up a fight against the might of Seoul Dynasty? Only time will tell. See you folks tomorrow!
---