It is finally here.
After eight months of competition, 240 regular season matches, ten stage final matches and twelve exhilarating playoff contests, we are down to two teams competing for the big prize in the inaugural Overwatch League season's Grand Finals.
In one corner, we have the Philadelphia Fusion; a rag-tag team consisting a bunch of established players without title success to their names along with several unknowns; a team whose journey to the season's biggest stage started in the worst case possible, by missing out on pre-season and had one of their expected tank starters suspended.
On the other end, we have the London Spitfire. They are a superteam of sorts which combined a group of proven winners who just prior to the Overwatch League stamped their mark in the Korean Overwatch scene.
Since day one of OWL competition, both teams faced their own ups and downs as they charted their own unique path towards immortality. Both faced slumps in the season but somehow dug deep enough to find ways to book their tickets and with that, a shot at the cool US$1million prize money. Regardless of which team that walks out of the Barclays Center in Brooklyn as winners this weekend, it would be a story of redemption and triumph when the odds were stacked against them.
This is a preview of the Overwatch League Grand Finals, which will be airing on Twitch this weekend, 27th and 28th July.
Quick Recap: Past Meets – Tied 2-2 for regular season, Fusion leads 3-2 overall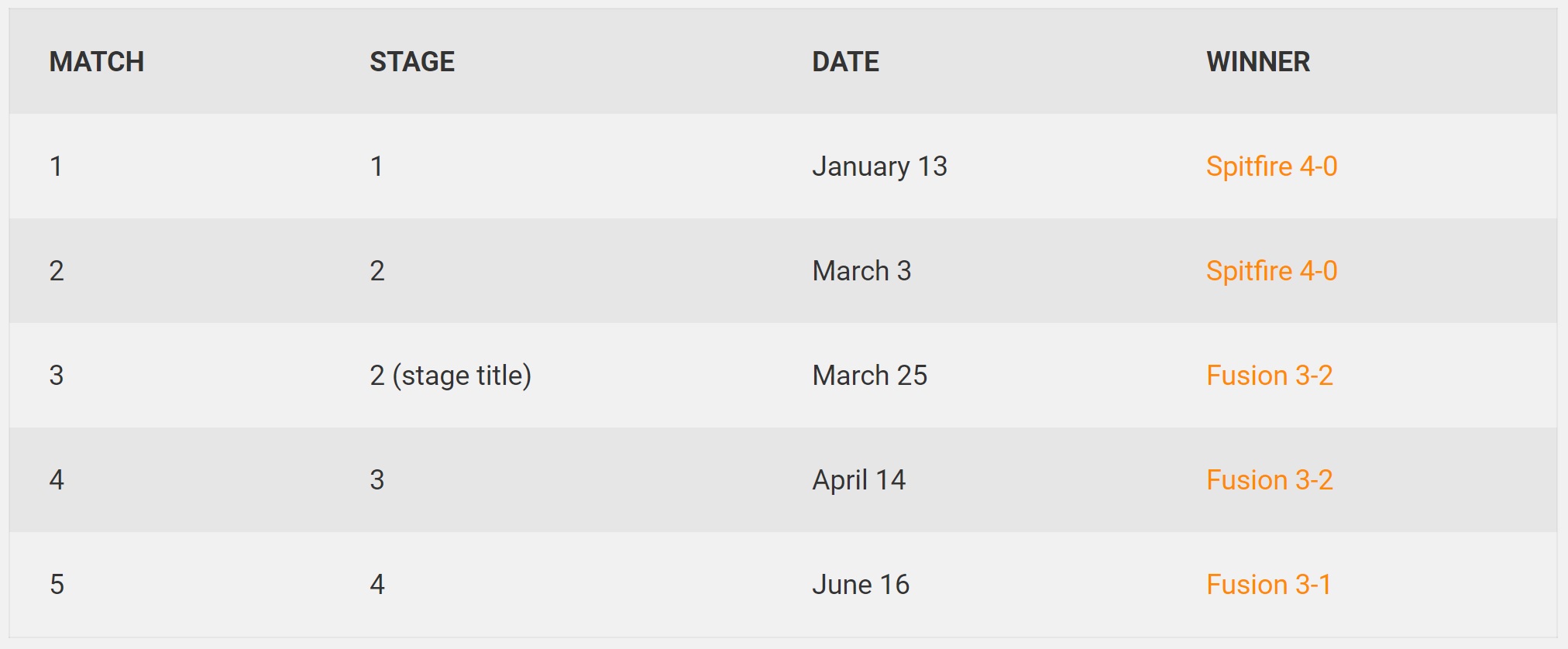 Philadelphia Fusion
No one would have predicted to see the Philadelphia Fusion hit big time this season, let alone reach the Grand Finals. Having missed out on the pre-season due to the team's inability to field a complete squad, their preparation was disrupted even more with the 30-game suspension of main tank, Su-Min 'Sado' Kim for account boosting.  That left them with only one main tank – Fragi who was normally seen sharing tanking duties with flex-tank and D.Va Bomb expert, Poko.
No one gave them much hope and even predicted them to finish amongst the bottom third of the final league standings. Boy, were we proven wrong.

Expected Starters: Boombox, Neptuno, Sado, Poko, Carpe, Eqo
Style
The Philadelphia Fusion are easily one of the most fun teams to watch in the Overwatch League thanks to their super aggro playstyle which focuses a lot on using their dive to disrupt their opponents' backline. They are one of the teams who practice the mantra 'go big or go home' and just like another (fictional) Philly native, Rocky Balboa, are a hard team to beat.
They've unearthed some diamonds in the rough throughout the season as well, with the likes of Snillo and Eqo dislodging ShaDowBurn off the second DPS role. The return of Sado in Stage 4 gave the Fusion a new lease of life in their hunt for the playoff spot and the shift to sniper-heavy meta allowed the team to flourish even more.
Strengths 
Their ability to prolong teamfights even when the odds are against them makes them one of the neutrals' favorite to watch throughout the season. But that's not to say they are always on the defensive. In Fusion we have one of the most potent DPS corps which has grown from strength to strength. Led by Jae-Hyeok 'Carpe' Lee who is a monster on Widowmaker, McCree and Genji, the Fusion has got a huge array of DPS talent at the disposal such as ShaDowBurn, EQO and Snillo.
One of if not the deadliest when it comes to hitscan heroes, Carpe's superhuman ability to hit unreal shots is even scarier when paired with ShaDowBurn's wide range of heroes, Snillo's Tracer or EQO's Genji plays.
Keys to Victory
Carpe winning his Widowmaker duels
Eqo surviving long enough to inflict significant damage and disruption to Spitfire's backline
Silencing opposition tanks early
Not choking in the big stage
---
London Spitfire
While their opponents were pretty much the story of nobodies skyrocketing to stardom, the story of London Spitfire was the complete opposite. It was almost a half-season-long turmoil for the all-Korean team and the fact that they overcame it to reach the Grand Finals is astounding. Formed consisting of two of the most storied Overwatch squads in OGN Apex's history – KongDoo Panthera and GC Busan, many expected the London Spitfire to be among the frontrunners once the Overwatch League gets underway. And many were right considering the Spitfire's 7-3 finish in Stage 1 coupled with their epic comeback win in the Stage Finals against NYXL.
However, since then, the team's fortune went the opposite direction -not only they parted ways with their coach, they also made some questionable roster movements, mostly which involved dismantling of the super team with the departure of ex-KongDoo players in Rascal to Dallas and Fissure to Gladiators. As part of their streamlining their team and a bid to correct their course following abysmal showings in Stage 3, they've also parted ways with almost half of the remaining roster leaving only seven players left in the squad.

Expected Starters: NUS, Bdosin, Gesture, Fury, Profit, birdring
Style 
True to their name, the London Spitfire is one of the deadliest teams when attacking. They spew hot lead like it's running out of style and once they click, not even the best defensive teams in the league such as Seoul Dynasty, LA Valiant & NYXL are able to cope with their firepower. The team is decisive and very coordinated in their attacks and once the floodgates open, you rarely see any of the opposing team players standing alive. Similar to the Fusion, they are a dive-heavy team but with much less reliance on their DPS despite having a more potent duo in Birdring and Profit.
Strengths 
The Spitfire is one of the most cohesive units in the league with heavy reliance on tanks to open up space for their DPS players to wreck havoc. Many questioned the Spitfire when they traded away Fissure who was regarded by many to be the best tank in the league. But these people always forgot the player who outshone him in the Spitfire. Gesture has been one of the best players to be often overlooked but has been immense in paving the way for his teammates. Selfless and not the sort who'd go for glory, his team-oriented approach has brought his team to the Grand Finals.
The rest of the Spitfire crew ain't that bad either. Collectively more talented than their opponents, the Spitfire also possess a better adaptability and chemistry with each other having played alongside for a longer period. In support, NUS and Bdosin have a knack of not only keeping their tanks and DPS players alive longer, they also have higher survival rate thanks to their effective partnership in the backline.
Keys to Victory
Profit effectively disrupting Fusion's backlines (Support & Carpe's Widowmaker)
Effective diving – Gesture allowed to do his work
Nullifying Sado early in team fights
Capitalizing on Neptuno's high-risk Mercy plays
---
Our Prediction
It has to be the London Spitfire.
Now before you shout "Korean bias!", hear us out.
The team is on a roll and appears to have grasped the current meta comfortably. Unlike Fusion whose win condition mostly relying on Carpe popping off, the Spitfire have plenty in their arsenal to shift the match to their favor. If Birdring is able to silence Carpe for long periods of time, rest assured that the rest of the Spitfire would not have much issues cleaning house.
The Spitfire are more adaptable as well and with Fury's ability to flex to either tank or DPS on a fly, should catch the Fusion off-guard. Many would point out Profit to be the star player in the finals but we'd keep a close eye to Gesture whose dives would be pivotal in shifting the momentum to London.
Final Score: 2-0 to the London Spitfire 
You can catch the Overwatch League Grand Finals featuring the London Spitfire vs Philadelphia Fusion live on Twitch at Overwatch League's official channel starting 7am Malaysia/ SG/ HK or 6am for Jakarta on Saturday, 28th July 2018 and on the same channel starting 4am (3am for Jakarta) on Sunday.
It will be a best-of-three maps format, with the first team to win two maps being crowned winner, and the first ever Overwatch League Grand Final Champion.
---
Which team do you think would win? Sound off in the comments section below.